2023 Apparel and Fashion Sector Report
We share with you our comprehensive 2023 digital marketing report for the Apparel and Fashion industry in UAE.
Content of the Report
In this report, where we examined the Apparel & Fashion industry in the UAE on a Q4 basis in 2021 and 2022, we have compiled trends and predictions for 2023, as well as changes in traffic volume, traffic shares of websites, channel usage, user intent, and keyword searches in the industry.
Despite the negative impact of the pandemic on the Apparel & Fashion sector, the sector has reached a better position after the restrictions were lifted. Increasing online shopping habits are expected to support the growth of the apparel market in the coming periods. Manufacturers now have the opportunity to sell their products on a much broader platform than before, which means they can expand their customer portfolio globally. The expanding customer base is expected to accelerate the growth of the garment manufacturing sector. Increasing per capita income, favorable demographics, and a shift in branded product preference are also likely to drive demand for the market.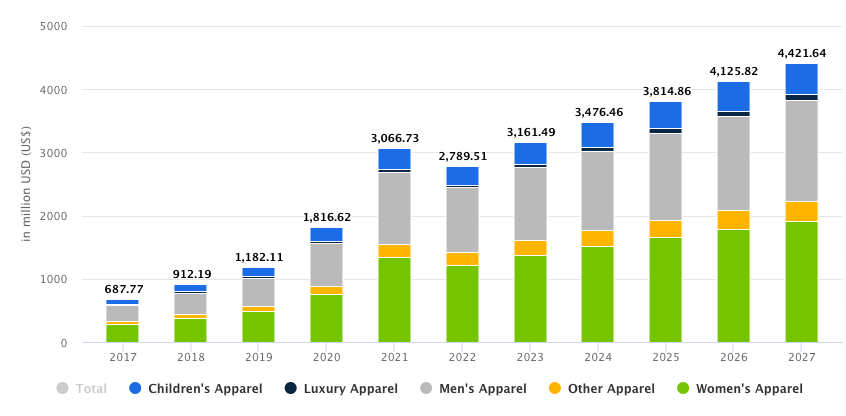 Source: Statista
According to Statista's research, revenue in the Apparel segment is estimated to reach US$ 3,162.00 million in 2023. Revenue is expected to show an annual growth rate of 8.75% and reach a market volume of US$ 4,422.00 million by 2027. In the Apparel segment, the number of users is expected to reach 5.5 million by 2027. In 2020, when pandemic restrictions intensified, revenue was lower compared to 2021 and 2022. In 2021, when the effects of the pandemic continued, the increase in revenue can be interpreted as a result of the demand for online shopping.
Likewise when we look at the Fashion sector: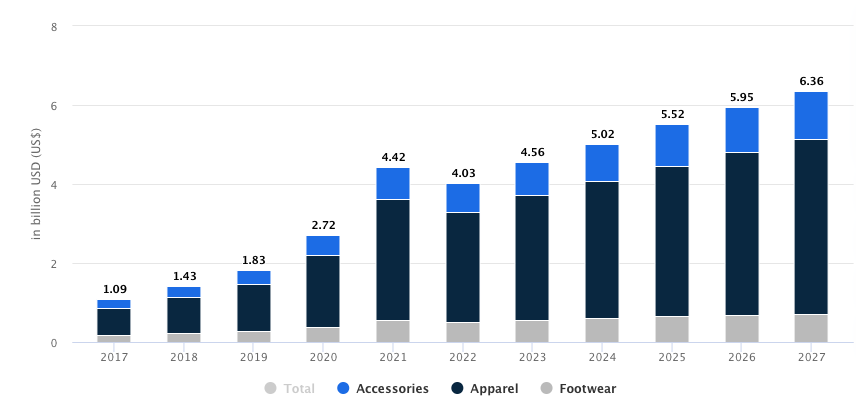 Source: Statista
Revenue in the Fashion segment is estimated to reach US$4.56 billion in 2023, growing at an annual growth rate of 8.65% and reaching a market volume of US$6.36 billion by 2027. In the fashion segment, the number of users is estimated to reach 6.7 million users by 2027.
Apparel & Fashion is one of the sectors where e-commerce can be biased. In order to increase customer experience, it is also very important that the model's body measurements in the photos, AR-supported solutions, users leaving realistic and constructive comments on the products they buy, and presenting all the information about the product accurately and clearly.
In conclusion, during times of crisis such as Covid-19, businesses have used social media platforms for marketing communication and increased their presence on various platforms to ensure the best communication with their customers. Online shopping habits, which existed before the pandemic, have increased even more with the pandemic. For this reason, businesses need to protect their digital assets and continue their digital marketing efforts in order to adapt to such crisis periods in the best way.