2023 Food & Beverages Sector Report
We share with you our comprehensive 2023 digital marketing report for the Food & Beverages industry in UAE.
In this report, where we examined the Food & Beverages sector in the UAE on a Q4 basis in 2021 and 2022, we have compiled trends and predictions for 2023, as well as changes in traffic volume, traffic shares of websites, channel usage, user intent, and keyword searches in the sector.
The United Arab Emirates has a young and growing population. In addition, the number of tourists entering the country, cultural diversity, and high disposable incomes increase the demand for this sector. With the increase in local and international restaurant chains, consumers are getting a better experience. The Food & Beverage sector continues to grow due to the demand for various brands and population diversity (Statista).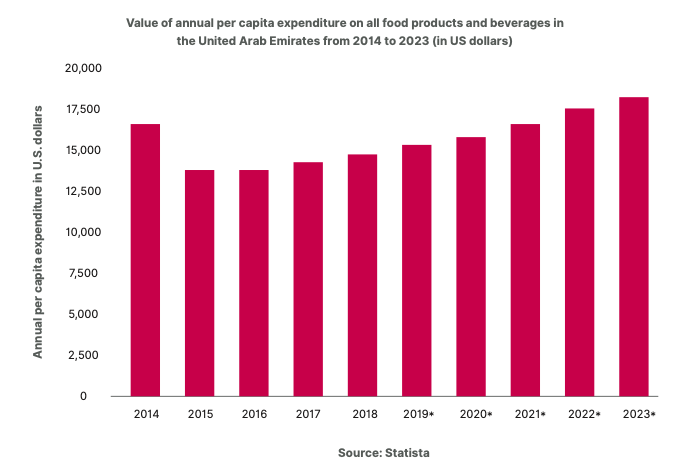 According to Statista's research, the graph above shows the annual per capita expenditure per capita on all food and beverages in the United Arab Emirates between 2014 and 2018 and the forecast value until 2023. As of 2018, the annual per capita expenditure on all food and beverages in the UAE is approximately USD 14.5 thousand and is projected to increase to approximately USD 17.8 thousand by 2023.
The use of various digital channels is very important for the sector. Indicating communication channels to the user on your website, having a useful mobile application, providing user interaction via social media, and communicating with the user will also contribute positively to brand awareness. Brand awareness and correct communication with the user are very important for the FBR sector, where direct channels are quite dominant. It is important to conduct keyword research for content and mass communication, understand the search habits of users, and optimize content production accordingly.
Two query types dominate the industry: online ordering and local search. For performance in local searches; Google My Business profile optimization should not be forgotten, and accurate and up-to-date contact information and information such as business hours should be presented in detail.