2023 Home & Furniture Sector Report
We share with you our comprehensive 2023 digital marketing report for the Home and Furniture industry in UAE.
Content of the Report
In this report, we have analyzed the Home & Furniture industry in the UAE on a Q4 basis in 2021 and 2022, we have compiled trends and predictions for 2023, as well as changes in traffic volume, traffic shares of websites, channel usage, user intent, and keyword searches in the industry.
Abu Dhabi and Dubai are home to numerous people of different nationalities, so the region continues to develop as a potential market for all types of furniture. Demand for high-end luxury furniture products has increased over the years due to the diversity of the population and the booming market.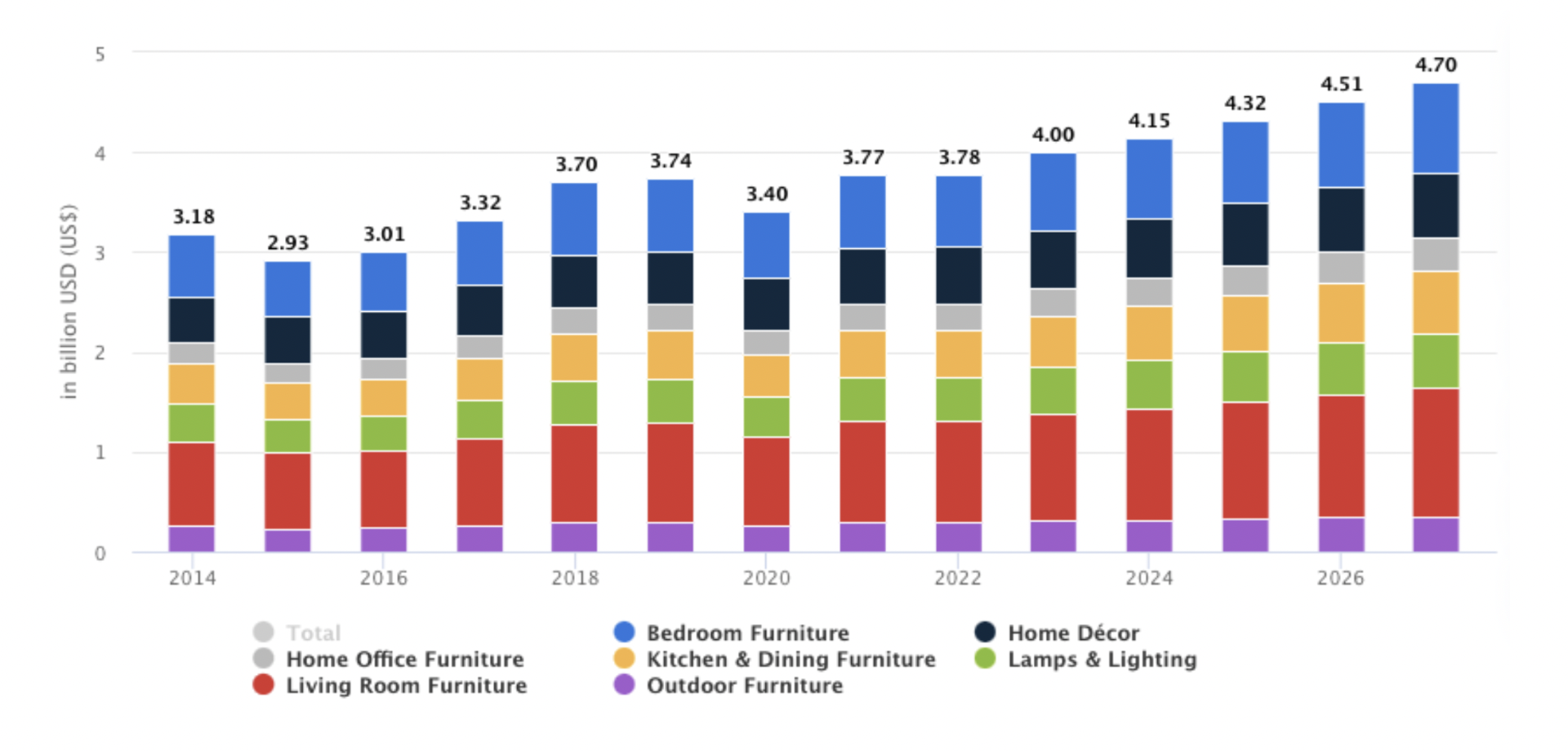 Source: Statista
While there was no decline in revenues in 2019, the start year of the pandemic, there was a decline in revenues in 2020, when the negative effects of the pandemic became more frequent. In 2021, revenues started to rise again and are expected to increase in the coming years. According to Statista, the revenue in the Furniture market will amount to USD 4.00 billion in 2023. The market is expected to grow at an annual rate of 4.16%. The largest segment of the market is Living Room Furniture with a market volume of USD 1.08 billion in 2023.
With the impact of Covid-19, only physical stores were badly affected and lost revenue. It has become a necessity for them to develop their online channels to generate revenue.
Last but not least, the full implementation of basic actions such as understanding the target audience correctly, choosing the right keywords, and prioritizing the user experience can make you an important player in the industry. Also, analyzing industry-specific changes and adjusting the content strategy accordingly is another item to consider.