2023 Jewelry & Luxury Products Sector Report
We share with you our comprehensive 2023 digital marketing report for the Jewelry & Luxury Products industry in UAE.
In this report, where we examined the Jewelry & Luxury Products industry in the UAE on a Q4 basis in 2021 and 2022, we have compiled trends and predictions for 2023, as well as changes in traffic volume, traffic shares of websites, channel usage, user intent, and keyword searches in the sector.
The Jewelry and Luxury Goods market experienced a decline due to COVID-19. This has had a major impact on the economy and discouraged consumers from spending on luxury goods. Also, lockdowns and restrictions have further limited the growth of the market in the last few years. This has mainly reduced sales through offline retail channels and affected companies. As a result, many brands have started developing digital channels.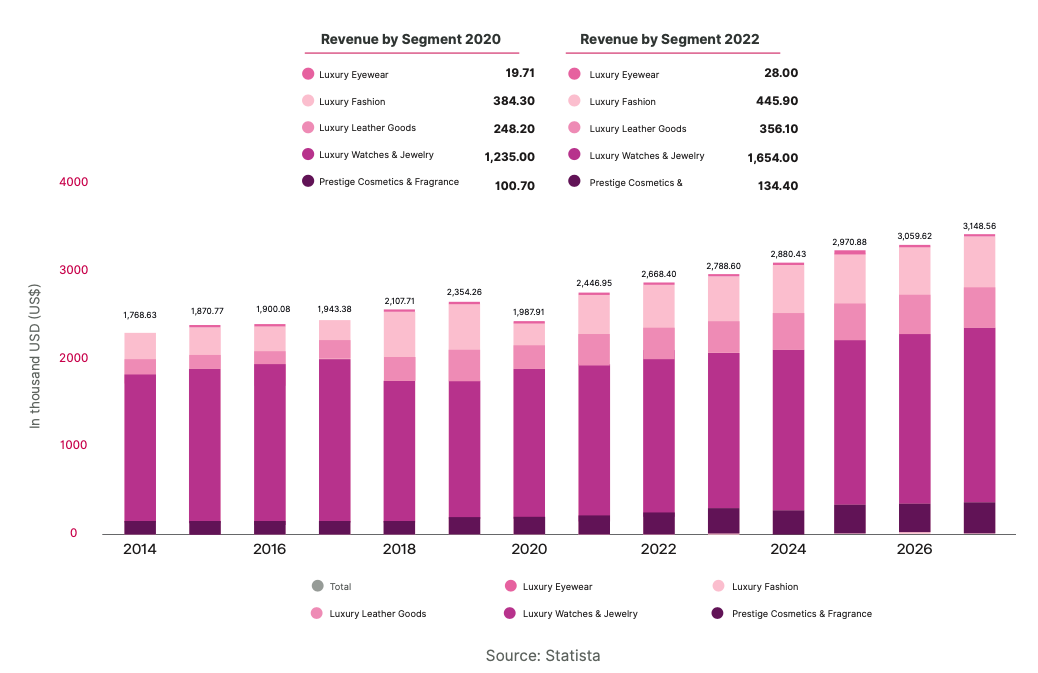 According to Statista, the decline in revenue due to Covid-19 in 2020 and 2021 is also observed in the graph. Revenues increased with the decrease in pandemic restrictions. Revenue in the Luxury Goods market is USD 2,789.00 million in 2023. While the market is expected to grow at an annual rate of 3.07%, 18.0% of the total revenue in the Luxury Goods market is estimated to be generated from online sales by 2023.
The Covid-19 period, when personal spending decreased, harmed the sector, but this effect has disappeared over time. In 2021, the intensity of personal spending decreased as time spent at home increased due to pandemic restrictions. Consumers expect personalized products from brands due to the increased use of social media platforms and mass consumption. One in five luxury shoppers believes that personalization or tailoring is necessary to purchase luxury goods.
As a result, we can say that you should closely follow your competitors and product trends in the sector in order to make positive use of the growing market volume. You can positively affect your SEO performance by supporting your new pages with a good technical infrastructure.