2023 Q1 Airlines Industry Report
We share with you our comprehensive 2023 Q1 digital marketing report for the Airlines industry in UAE.
In this report, we examined the Airlines industry in the UAE on a Q1 basis in 2022 and 2023, we have compiled trends and predictions for 2024, as well as changes in traffic volume, traffic shares of websites, channel usage, user intent, and keyword searches in the sector.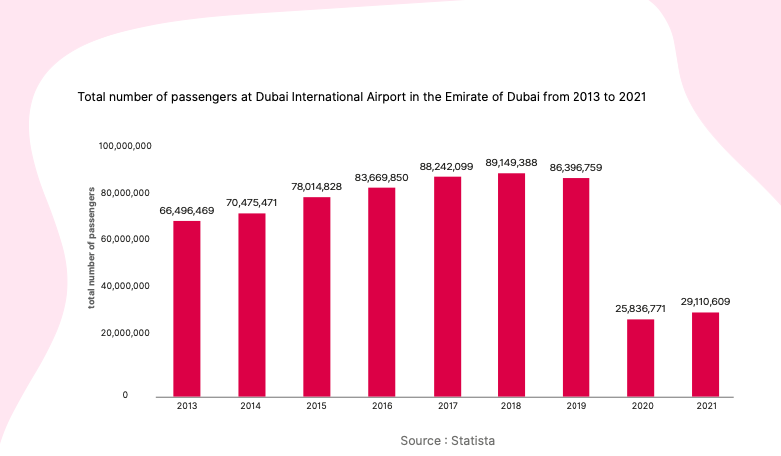 The Airlines industry in the UAE is one of the sectors that contribute greatly to the economy. The International Air Transport Association (IATA) has stated that prior to the coronavirus, the airline transportation sector supported approximately 800,000 jobs and contributed $47.4 billion to GDP. This corresponds to 13.3% of the UAE's GDP (ITA).
Looking at the above statistic provided by Statista, we see the total number of passengers at Dubai International Airport between 2013 and 2021. In 2020, the number of passengers dropped sharply from 86 million to 26 million. In 2021, the number of passengers, which increased to approximately 29 million, is expected to return to its previous momentum in the coming years.
The airline industry in the UAE is gradually developing. The strong digital presence of the analyzed websites and keeping up with new trends make them preferable in the eyes of users.
In the airline industry, where competition, search volume, and the number of visitors increase in direct proportion, it is very valuable for site owners to optimize the landing pages that can be used to purchase tickets, i.e. flight tickets and campaigns, for users. Today, it has become inevitable to present the pages in the structure that users want to see by evaluating additional modules that can provide meaningful information and experience about the relevant service on the landing pages where airline tickets are purchased. In addition to the web focus, site owners can turn the increasing mobile usage into an opportunity. Here, especially with the App Store Optimization (ASO) focus, actions that will contribute to the transformation of the marketplace can be prioritized.
Digital marketing efforts and the integration of AI into marketing strategies play an important role in delivering a personalized user experience. In our report, you can see how digital marketing and AI are impacting the industry.