2023 Q1 Consumer Electronics Industry Report
We share with you our comprehensive 2023 Q1 digital marketing report for the Consumer Electronics industry in UAE.
In this report, we examined the Consumer Electronics industry in the UAE on a Q1 basis in 2022 and 2023, we have compiled trends and predictions for 2024, as well as changes in traffic volume, traffic shares of websites, channel usage, user intent, and keyword searches in the sector.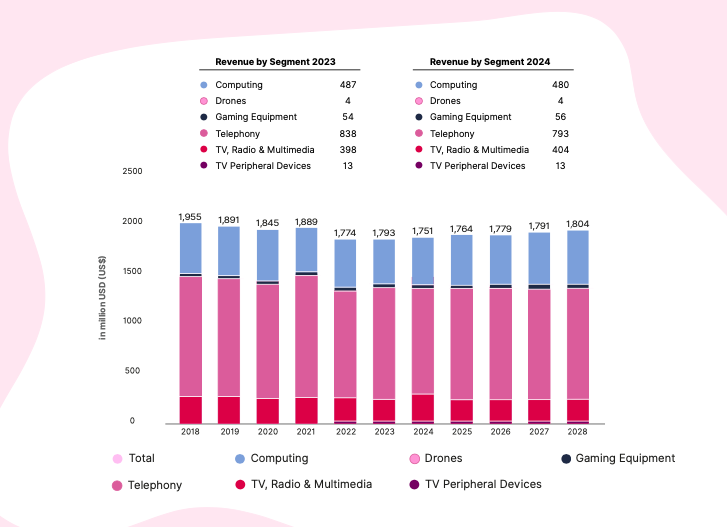 Source: Statista
The consumer electronics sector experienced a slight contraction in 2022 due to economic fluctuations. In 2022, the sector experienced a 4.4% decline compared to the previous year and generated revenues of USD 987 billion and it's expected to grow in the coming years.
According to data provided by Statista, the revenue in the consumer electronics market will reach USD 1,793 million in 2023. The market is expected to grow at an annual rate of 0.12% between 2023 and 2024. The largest segment of the sector is the Telephony segment with a market volume of USD 838 million in 2023.
Across the websites and industries analyzed in our report, we shared insights into the trends driving the consumer electronics industry, from smart homes to wearables, and how digital marketing and AI are amplifying their impact.
The report's keyword analysis reveals the industry's search intentions and shows that these keywords are mostly related to products such as phone models and headsets. Improving issues such as mobile compatibility and fast loading times of websites can increase conversions. The adoption of digital marketing plays a vital role in increasing brand awareness and customer interactions. Companies working in this direction have higher brand visibility.
In conclusion, to succeed in the Consumer Electronics industry, it is crucial to effectively utilize digital marketing, SEO, and AI technologies, which play a critical role in building a sustainable brand presence in the rapidly changing and evolving Consumer Electronics industry.