2023 Q1 Health Industry Report
We share with you our comprehensive 2023 Q1 digital marketing report for the Health industry in UAE.
In this report, we examined the Health industry in the UAE on a Q1 basis in 2022 and 2023, we have compiled trends and predictions for 2024, as well as changes in traffic volume, traffic shares of websites, channel usage, user intent, and keyword searches in the sector.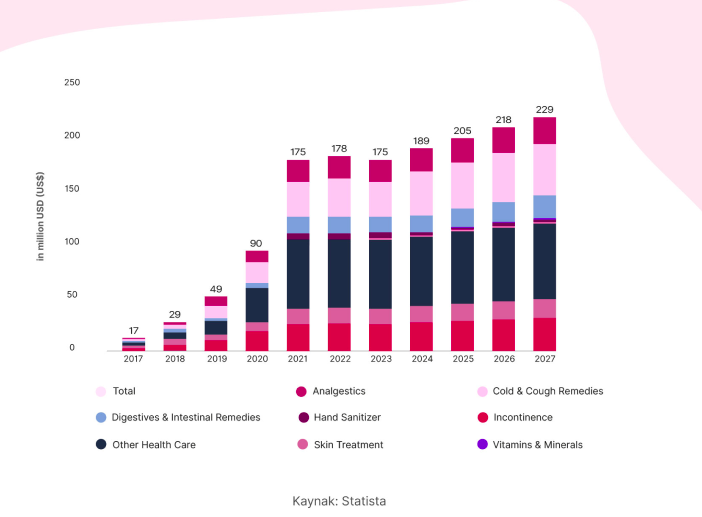 The Health sector in the UAE is being developed to meet both the needs of the burgeoning and growing UAE population and the country's ambition to become a medical tourism hub. Arab Health, the healthcare conference and trade event held annually in Dubai, continues to be a hub for collaboration and innovation (ITA).
According to Statista's research, revenue in the market is estimated to reach US$ 175 million in 2023. By 2027, the market volume is projected to reach USD 229 million.
In our report, we have touched on how digital marketing enables interaction between healthcare organizations and patients, and how artificial intelligence is used to provide personalized experiences.
The healthcare sector has always been a growth sector, so the use of digital marketing and artificial intelligence by healthcare organizations to keep up with new trends and maintain their digital presence will make them preferable for users.
It is very valuable for websites in the health sector, which is one of the first sectors that comes to mind when it comes to YMYL (Your Money or Your Life), to develop their content according to E-E-A-T guidelines. In this context, emphasize the areas of expertise of the authors or editors who prepare the content published on your site. When creating content, do not neglect to include reliable sources such as official health organizations, university research, and expert opinions. When providing health information, you can include reliable sources and references that support your information. It is also important to manage your health website's reputation positively. Respond to negative comments and criticism in a professional manner and make corrections when necessary. Additionally, focus on improving site speed, mobile compatibility, and technical issues to improve the user experience.