2023 Q1 Insurance Industry Report
We share with you our comprehensive 2023 Q1 digital marketing report for the Insurance industry in UAE.
In this report, we examined the Insurance industry in the UAE on a Q1 basis in 2022 and 2023, we have compiled trends and predictions for 2024, as well as changes in traffic volume, traffic shares of websites, channel usage, user intent, and keyword searches in the sector.
The premium of the UAE life insurance market in 2022 is set at AED 7.5 billion. It is projected to achieve a CAGR of over 4% between 2023 and 2027. Group life and individual life insurance products are the main insurance products driving the insurance sector.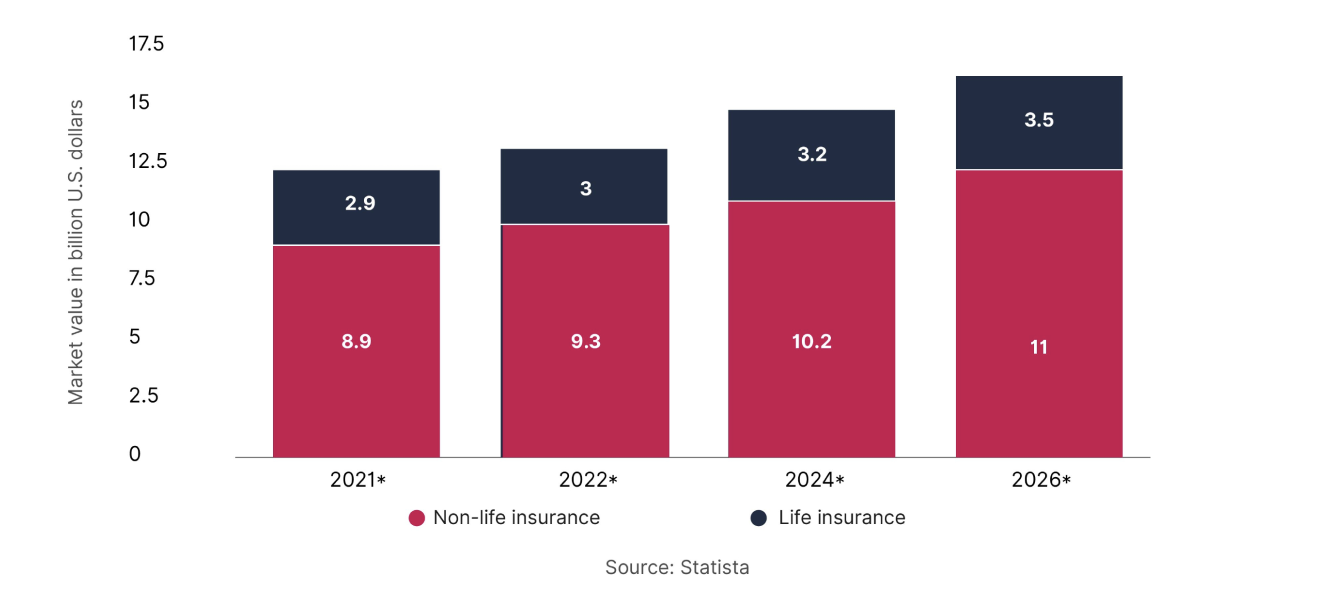 Source: Statista
According to Statista's research, non-life insurance accounts for most of the projected market size of the insurance sector in the UAE by segment from 2021 to 2026. In 2024, the non-life segment of the insurance industry in the UAE is estimated to reach approximately USD 11 billion.
In SEO strategies, it's important to pay attention to the differences in website volumes between 2022 and 2023. The fact that mobile traffic is greater than desktop traffic, an observed increase in the number of visitors and traffic, implies that insurance companies should implement a strong SEO strategy focusing on mobile compatibility.
When the sector data are analyzed, it is observed that there has been an increase in online insurance purchases. The shift in consumer behavior to digital reveals that insurance companies need to increase their digital presence in purchasing processes. In addition, customer experience and loyalty can be increased by utilizing artificial intelligence-supported solutions in the insurance sector. By following social media trends, insurance companies can increase brand loyalty among the younger population.
The insurance industry is one of the most suitable industries for the extensive use of artificial intelligence (AI) technologies. AI can assist insurance companies in automating customer services and enhancing risk management, and fraud prevention abilities. Therefore, SEO strategies should be updated considering the increasing use of AI technologies.
In conclusion, to succeed in the rapidly developing insurance industry, it is important that SEO strategies adapt to industry trends and user behaviors. Closely following digital marketing and SEO trends in the insurance sector has become the key to success.