2023 Recipes Sector Report
We share with you our comprehensive 2023 digital marketing report for the Recipes industry in UAE.
In this report, where we examined the Recipes industry in the UAE on a Q4 basis in 2021 and 2022, we have compiled trends and predictions for 2023, as well as changes in traffic volume, traffic shares of websites, channel usage, user intent, and keyword searches in the sector.
One of the most critical factors contributing to the Recipes sector is the growing interest of users in cooking. Consumers who tend towards healthy eating patterns and healthy food frequently try recipes within this scope. One of the most important factors that pushed people to cook at home was the pandemic. For this reason, users primarily benefited from recipe applications during that period. Consumer behavior, which changed due to the pandemic, did not experience a significant change after the effects of the pandemic passed.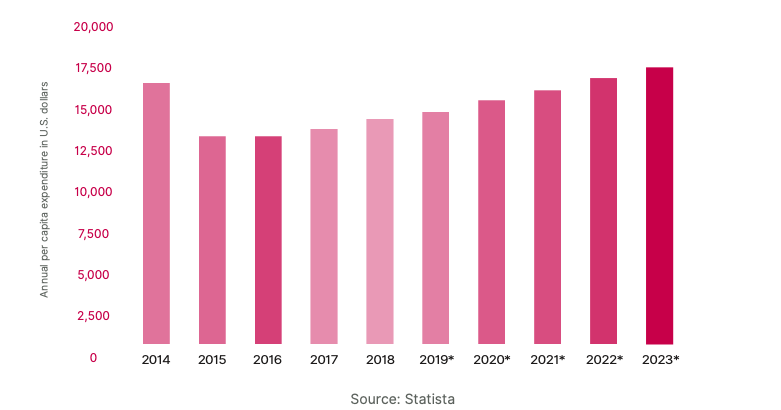 According to Statista's research, the graph above shows the annual per capita expenditure per capita on all food and beverages in the United Arab Emirates between 2014 and 2018 and the forecast value until 2023. As of 2018, the annual per capita expenditure on all food and beverages in the UAE is approximately USD 14.5 thousand and is projected to increase to approximately USD 17.8 thousand by 2023.
As a result, the Recipes sector is growing and diversifying, leading to increased search volumes. The impact of internet trends on user search and demand has been observed. In the recipe industry, user experience is often about generating organic traffic first and direct traffic second. Therefore, SEO will have the essential marketing strategy. However, to get direct traffic, it is also necessary to increase brand awareness. When analyzing the needs and interests of the target audience, we should also consider the ex-pat audience of Abu Dhabi and Dubai, which are the regions with the most recipe searches. It is necessary to develop the content strategy by producing content suitable for the cultures of the immigrant audiences living in these regions.