2023 Tourism & Travel & Hospitality Sector Report
We share with you our comprehensive 2023 digital marketing report for the Tourism & Travel & Hospitality industry in UAE.
In this report, where we examined the Tourism and Travel sector in the UAE on a Q4 basis in 2021 and 2022, we have compiled trends and predictions for 2023, as well as changes in traffic volume, traffic shares of websites, channel usage, user intent, and keyword searches in the sector.
The Tourism and Travel sector, which had a strong volume in the UAE before the pandemic, was negatively affected by Covid-19, but then entered a recovery process. According to the World Travel & Tourism Council (WTTC), The travel and tourism sector in the UAE has recovered strongly, achieving the third-fastest growth in the Middle East region in 2021.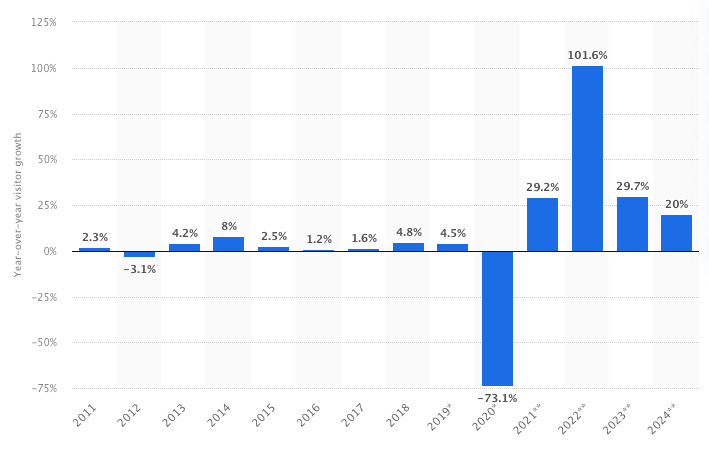 Source: Statista
According to Statista, visitor arrivals to the Middle East fell by 73% in 2020 due to the worldwide COVID-19 pandemic and associated lockdown measures. This figure is expected to recover in 2022 with a growth of over 100 percent. The UAE, which has a large volume in the tourism and travel sector, has the potential to grow faster than in the pre-pandemic period. The current and projected growth expectations in the chart support this interpretation.
Especially in the UAE, which has a large share in this sector, there is a return to the pre-pandemic period. Based on this result, it is predicted that it will reach a better point than the pre-pandemic period. Following and implementing trends in digital marketing will take your business to a much better point. It has been observed that businesses that actively use social media have a growing volume in the sector.
In summary, the UAE's tourism industry has shown remarkable resilience in the face of the COVID-19 pandemic. Through the government's swift actions, such as implementing strict health measures, accelerating vaccination efforts, and providing financial support to businesses, the sector has experienced a strong resurgence. The increasing interest in travel to the UAE, as evidenced by search query trends, highlights the country's successful efforts to attract visitors and bolster its tourism industry. As the pandemic's impact continues to recede, the UAE's tourism sector is well-positioned to thrive and provide unforgettable experiences to travelers from around the world.