Semrush: The Ultimate Guide with Tutorial
---
Semrush is one of the most prominent digital marketing tools that helps to regularly monitor the performance metrics of websites as well as their competitors, especially in terms of SEO and PPC. In this comprehensive guide, you will find detailed information on how to use Semrush and its various tools.
Adding the website as a new project is the first step towards measuring the online visibility of websites. Semrush is very user-friendly in terms of adding projects.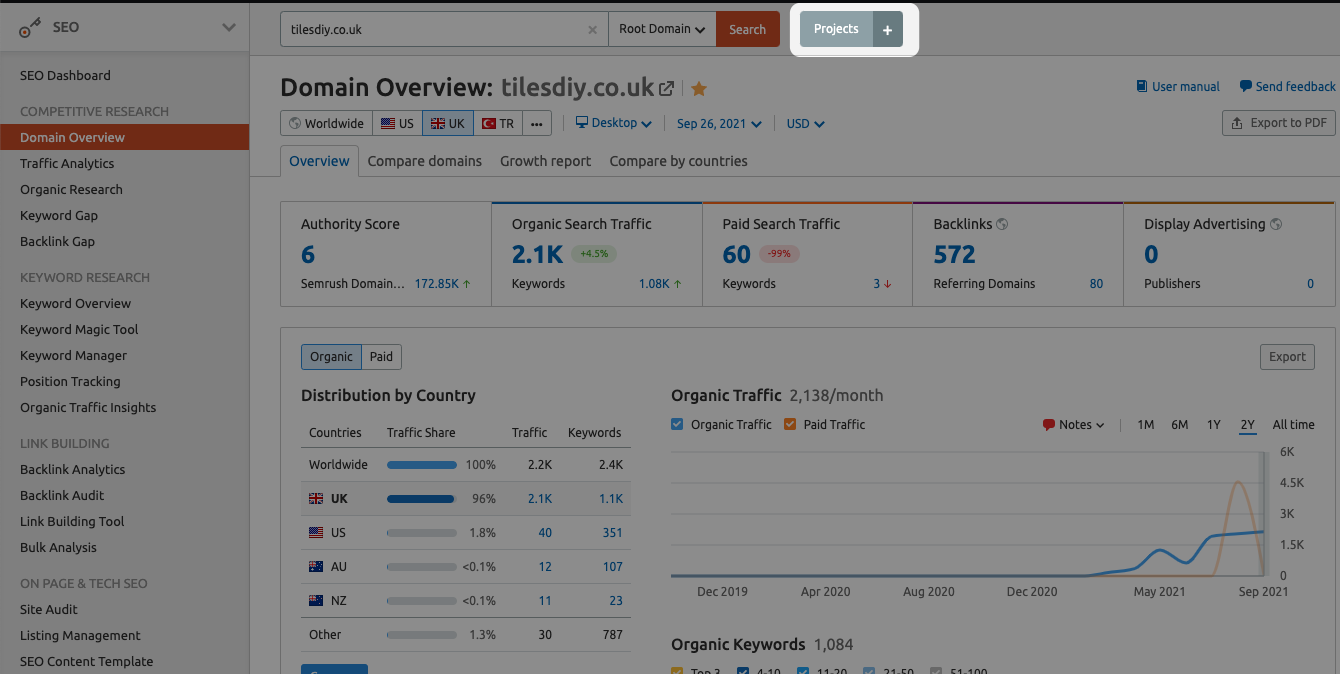 After creating a Project, you can configure 11 different project tools of Semrush (Site Audit, Position Tracking, On Page SEO Checker, Social Media Tracker, Social Media Poster, Brand Monitoring, Backlink Audit, Link Building, PPC Keyword Tool, Organic Traffic Insights, and Content Analyzer) which help measure a website's online visibility and manage campaigns aimed at increasing it.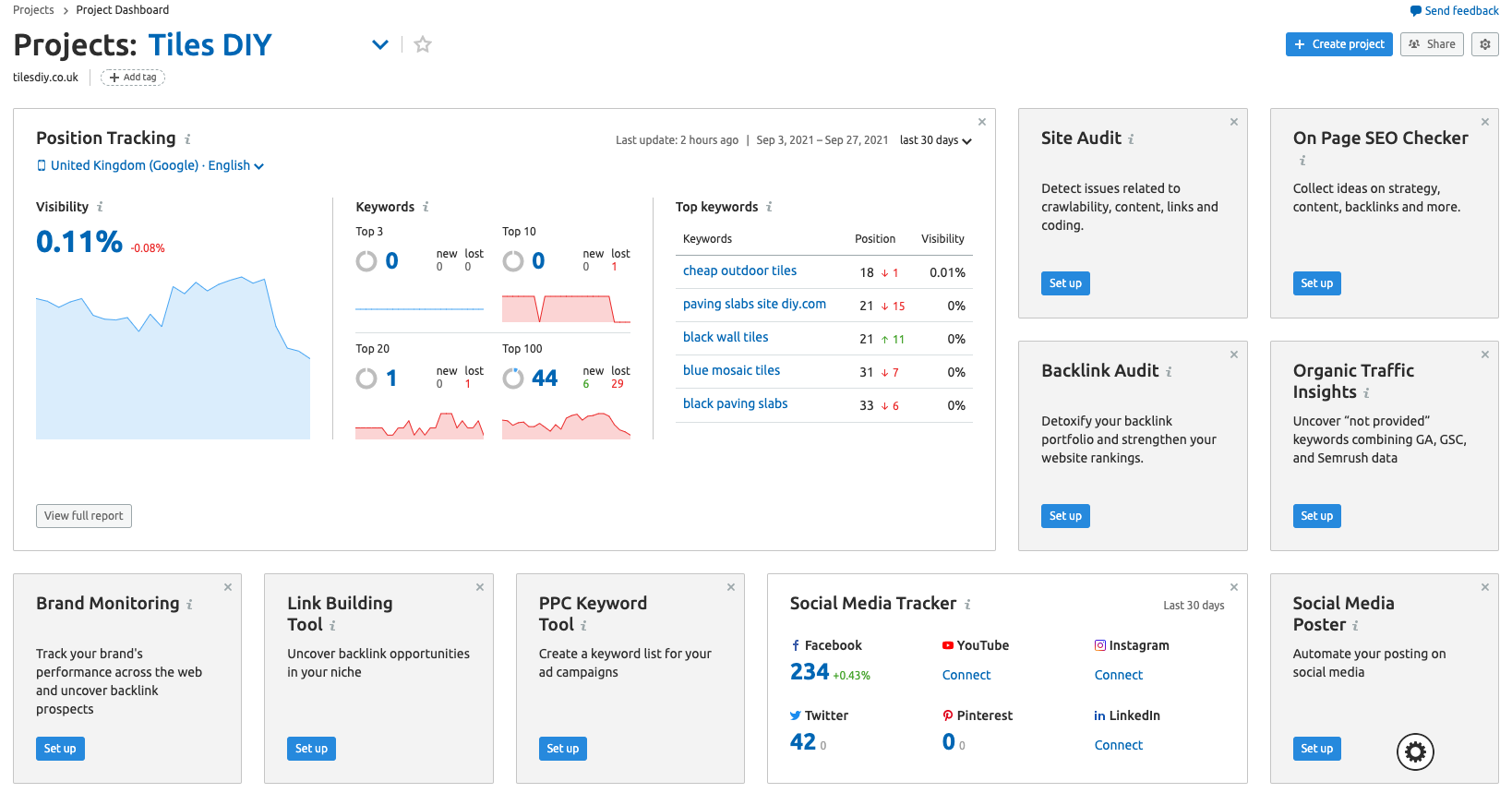 You can turn the data you extract from these different tools into reports in different file formats using the Semrush PDF Builder. It is especially convenient for creating various types of reports quickly and easily.


1a) Semrush Site Audit


The Site Audit tool offers useful insights into technical errors of a website. With this tool, you can get detailed information about the condition of the website. It crawls the web sites like Googlebots do and prepares a report about technical issues affecting website health and organic performance.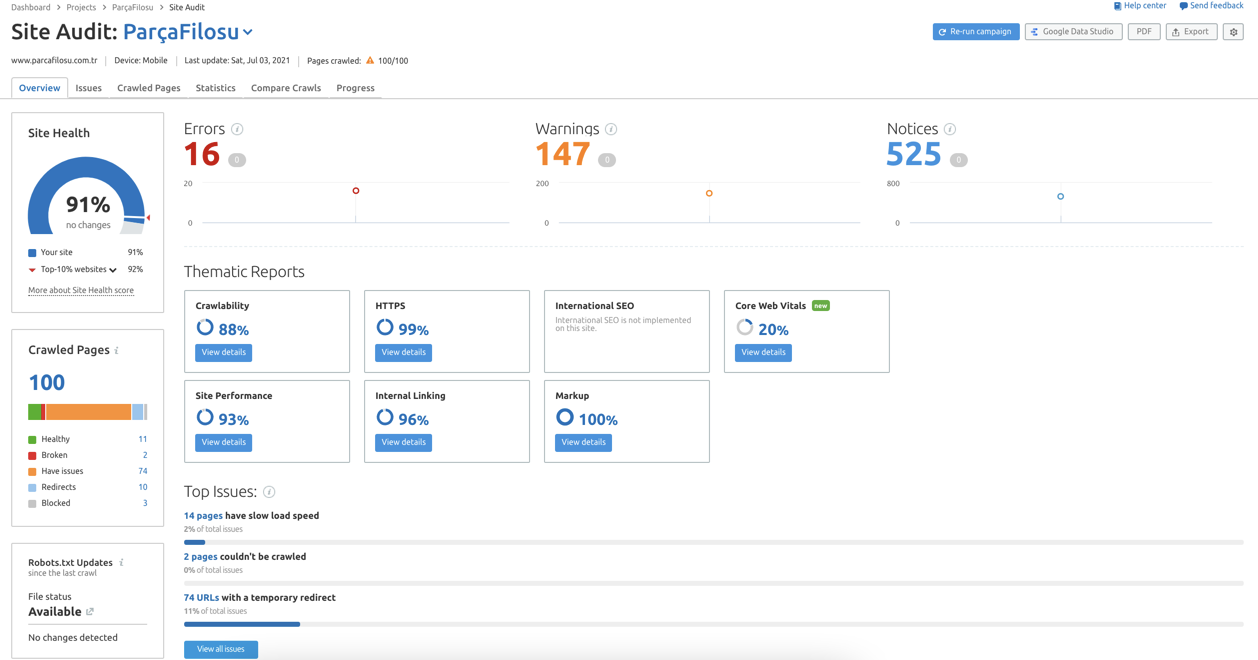 In the Site Audit Overview Report, you will find the crawling results under the categories of 'Site Health', 'Errors', 'Warnings' and 'Notices'. Site Health is basically a website quality score. Errors refer to severe issues found during the crawl, Warnings refer to less severe issues, and Notices refer to recommendations on increasing quality by sending better signals to search engine bots. With scheduled audits, you can regularly catch up on changes in the quality score and overall website health.
1b) Semrush Position Tracking Tool
After you determine your target keywords for your campaign, you can keep track of these words using Position Tracker. The target keywords can be tracked in various different ways (manually, as part of campaigns, using analytics accounts, etc.).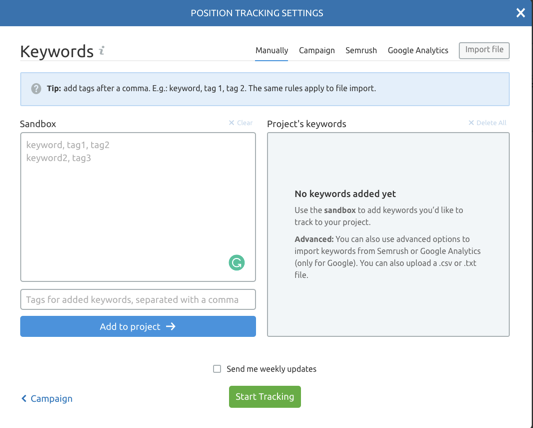 Also, you can follow your competitors' rankings for the same keywords, and monitor changes in your competitors' rankings, and thus be up-to-date on the performance of your competitors. With this tool, you can view the best and worst performing tracked keywords, and get information on the average rankings and SERP Features that can improve visibility in the searches of these keywords. In addition, you can create dynamic dashboards thanks to Google Data Studio integration.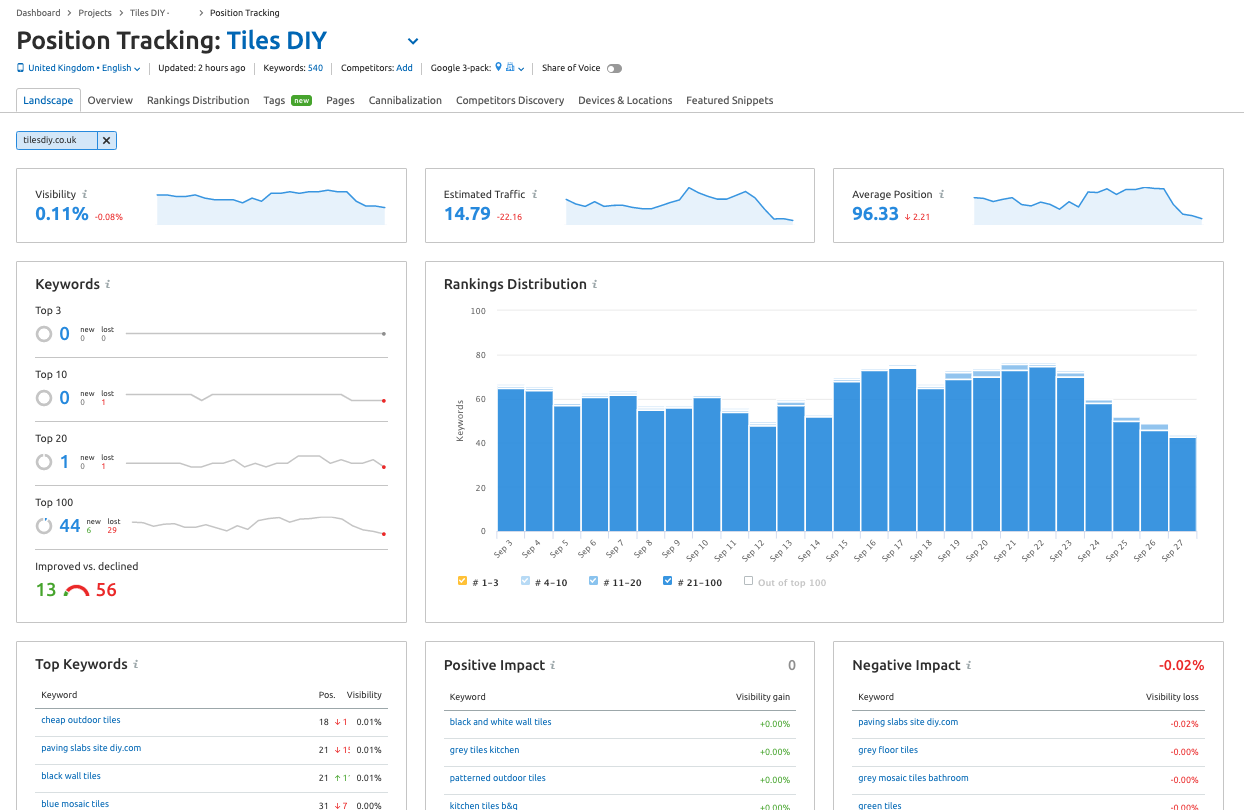 1c) Semrush On-Page SEO Checker
The On-Page SEO Checker offers a list of steps that can be taken in order to improve your rankings in your target keywords. After determining your organic search performance, you can improve your on-page SEO using this tool.





Based on the data provided by this tool, you can decide what next steps to take, from making technical SEO improvements to increasing the number of keywords with high visibility and trying to get more backlinks. In addition to the Site Audit tool, On-Page SEO Checker is yet another straightforward means of improving website health through easy modifications.
1d) Semrush Backlink Audit Tool
Backlink Audit reviews your domain's backlink profile to help you avoid getting Google penalties due to toxic backlinks. The tool offers users a workflow to audit all links, analyze toxic signals associated with suspicious links, send emails to website owners, and ultimately create a disavow file to send to Google.
The tool is integrated with Google Search Console, Google Analytics, and Majestic in order to ensure the most accurate backlink data, and it enables you to generate reports to keep track of new or lost backlinks.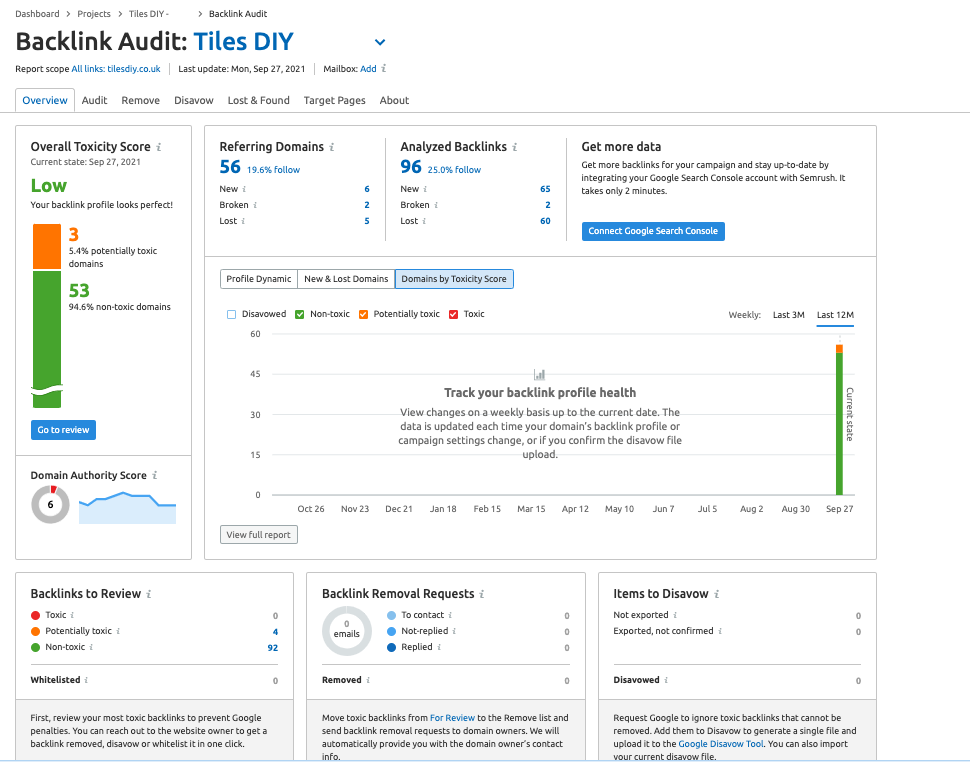 1e) Semrush Link Building Tool
The Link Building Tool compiles a list of link-building opportunities for a domain, and provides users with a management interface to run an outreach campaign in order to acquire potential links, and thus enables you to do a competitive analysis on your SEO competitors, as well as an outreach analysis.




You can create comprehensive lists of outreach prospects based on target keywords and competitors to provide a workflow in managing the outreach campaign, and with Gmail and Google Search Console integration, you can further accelerate this process. Also, the "Monitor" report helps you keep track of the progress of your campaign over time. Additionally, you can use automatic contact information retrieval on target websites during your outreach process.
1f) Semrush Content Analyzer
Content Analyzer helps you find out how your digital content is performing both on and off site. This tool is used to measure social shares, backlinks, and keyword rankings, as well as Google Analytics data such as sessions and bounce rate. The tool has two main functions, which are auditing website content engagement (Content Audit), and measuring the reach of your off-site content (Post Tracking).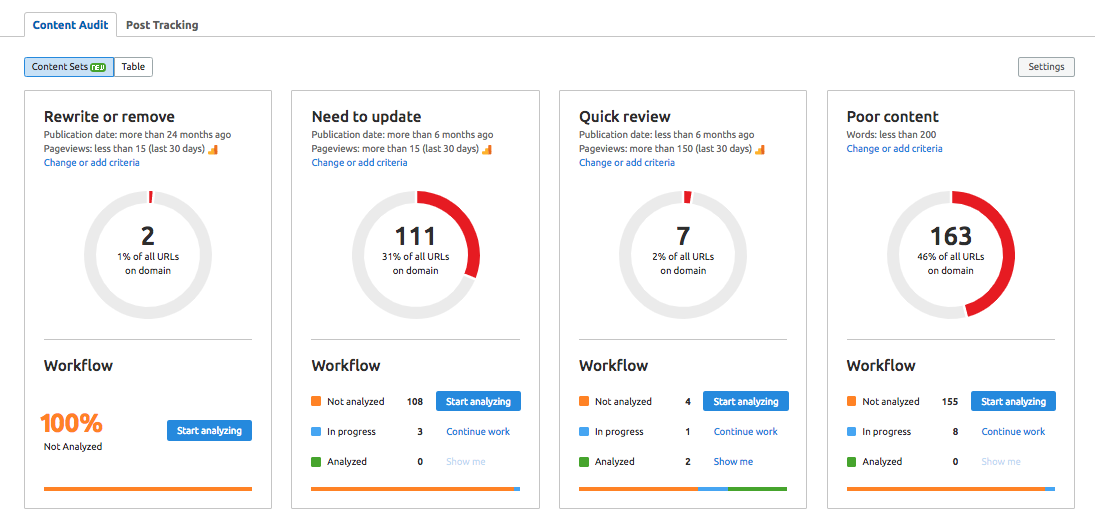 This tool can be made even more efficient with adjustable content audit tables, as well as the feature of integration with project management tools such as Google Calendar or Trello. The ability to integrate with Google Analytics and Google Search Console helps you better monitor content performance.
1g) Semrush Organic Traffic Insights
This tool brings together all Google Analytics, Google Search Console, and Semrush data in a single dashboard. The data in question include those such as click-through rate (CTR), sessions, keyword volume, and organic keywords and rankings, obtained by Semrush and Google Search Console.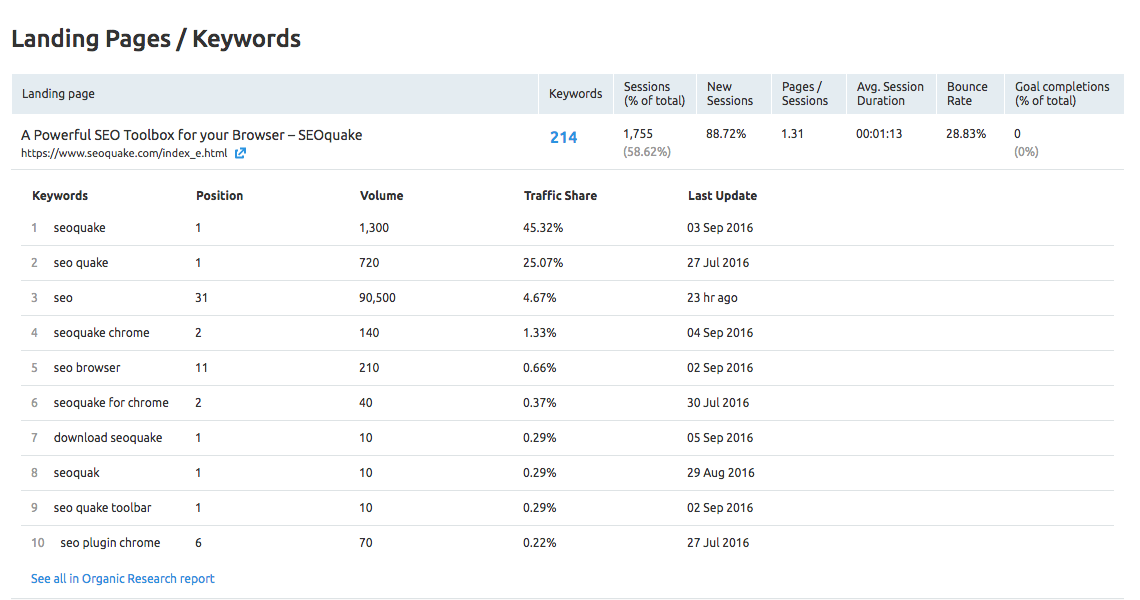 With this dashboard created using data from 3 different tools to monitor the organic search performance of your website, you can identify the keywords that are labeled "not-provided" by Google Analytics. With this tool, you can perform desktop, mobile, and tablet analysis, as well as traffic analysis based on geographic location, and further increase your coverage and insights.
2a) Organic Research Tool
With Semrush, you can obtain data not only about the websites of your industrial competitors but also any website in any industry that outperforms you in your target keywords.
One of the simplest ways to find your organic search competitors and get quick insights is to use the Organic Research tool in the Competitive Research toolkit. With this tool, you can
→ Discover your competitors' desktop and mobile keyword rankings, and
glance at the landing pages displayed in SERPs for specific keywords.
In addition, you can view how much a search term increases organic traffic.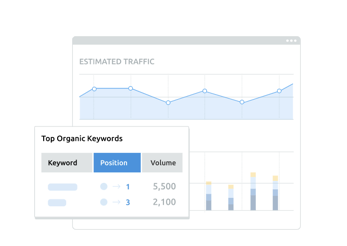 → You can closely keep track of the robust competition, and view graphs to see where your website stands among other organic search competitors. You can also see a list of other competitors with whom you are competing for rankings on Google and Bing search results.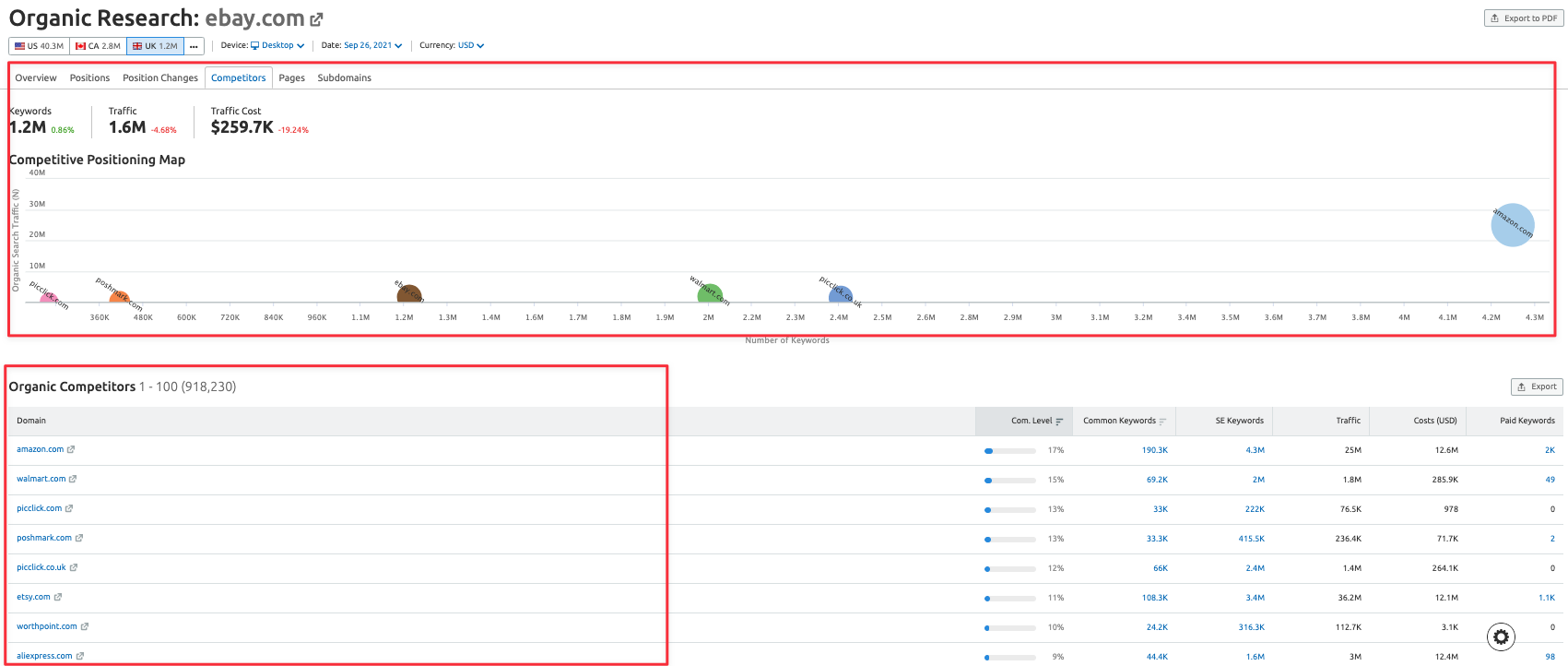 → You can track how your competitors' positions change in organic search results,
and identify keywords that helped your competitors gain more visibility and higher rankings. You can also assess the results of your improvements and determine whether further optimization is necessary.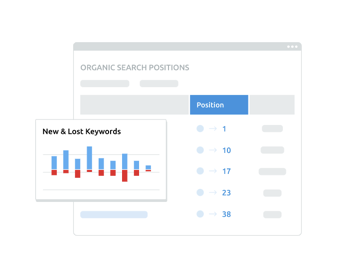 After identifying your competitors, you can use the following tools to be informed about their strategies, measure where they stand vis-a-vis key performance metrics, and compare your metrics with those of your competitors':
2b)
Traffic Analytics
Traffic Analytics makes it possible for you to get a complete view of the search performance of any website, and view all metrics related to online performance. You can also compare the traffic data of several websites side by side.
→ From the Overview window, you can check the traffic metrics for any website and make comparisons with multiple competitors.
You can view the number of visits, unique visitors, and user engagement metrics on desktop and mobile.
In addition, you can view the direct, referral, search, social, and paid traffic of any website, and identify markets by viewing the geographic distribution of website traffic.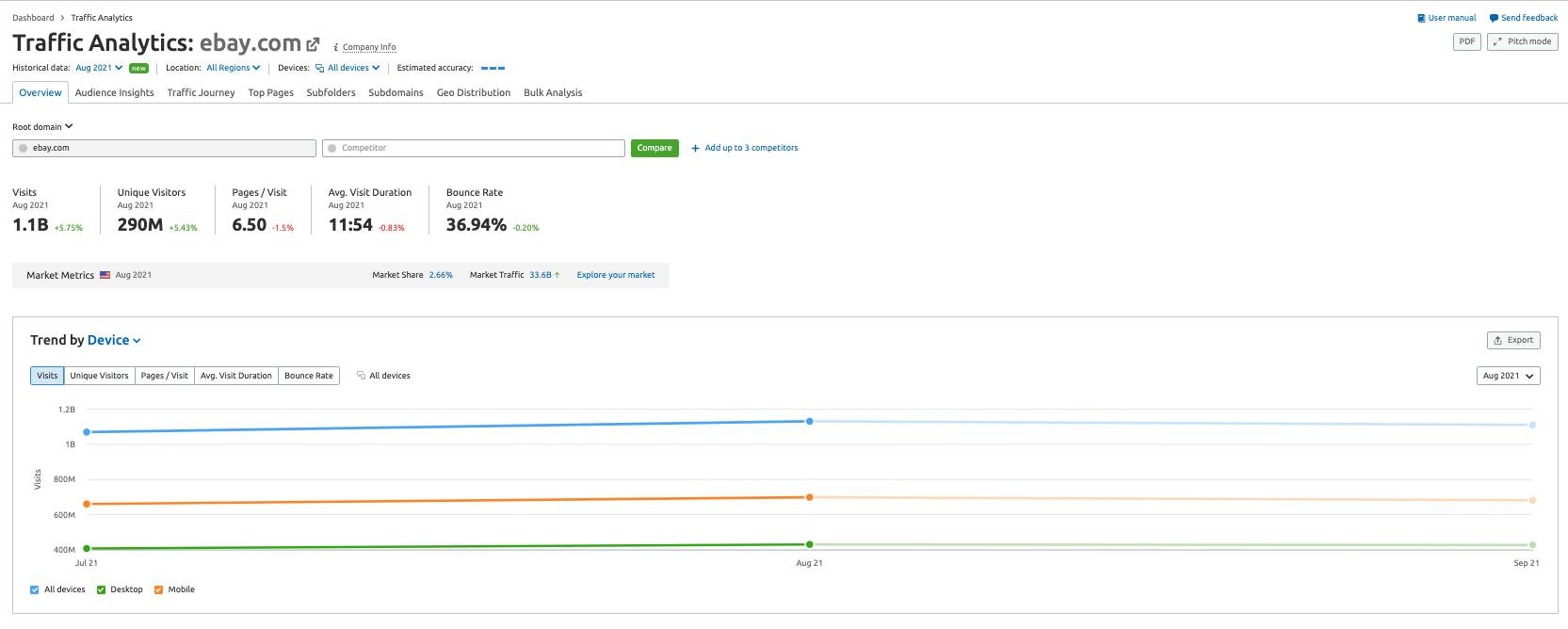 →Audience Insights window shows you how many people visited your competitors' websites as well, and you can gain insight into target audience overlap.
You can also get a complete list of websites that your visitors go to, and compare unique and shared audiences.
In addition, you can measure the potential reach of your website, view category and brand preferences of users.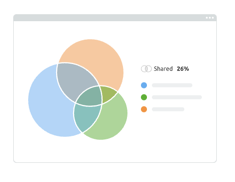 →Traffic Journey window helps you analyze where your audience comes from, and what factors play a role in their attraction to your website.
Using this tool, you can identify websites that refer the most users, and identify their marketing strategies. On the other hand, you can view the social network platforms that bring the most traffic, which will give you further insight into your audience.


→In the Top Pages window, you can gain insights into the customer journey by viewing the most popular pages and content for any domain.
This window displays the most important pages on a given website by finding out which products and services the competitors are actively promoting and on which channels.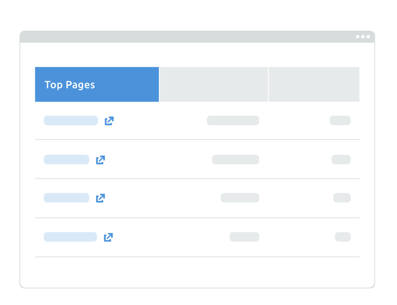 →With the Bulk Web Traffic Analysis window, you can check traffic data, along with aggregated traffic analysis, of up to 200 websites in a single report.
You can check the website traffic statistics of all your competitors, potential partners, or potential customers, and export the main statistics as a report in the .csv format.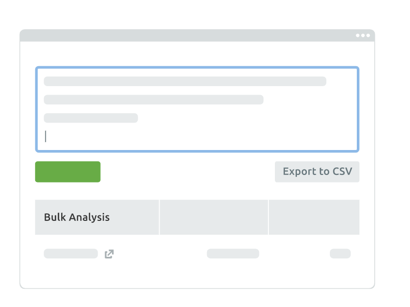 → The Geo Distribution window allows you to find the most profitable markets for any website around the world.
By identifying the countries and regions where your competitors get most of their visitors, you can observe how user behavior varies across countries.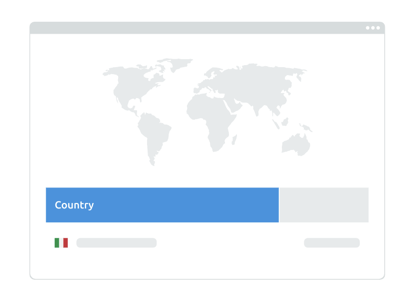 2-c) Backlink Analytics
Semrush Backlink Analytics allows you to view the backlink profile of any domain.
In order to provide the clearest picture of a given backlink profile, Semrush regularly cleans up duplicate and irrelevant links from its database, thus offering the most up-to-date and largest (+43 billion) backlink database in the industry.
The Backlink Analytics tool notifies the users when new backlinks start pointing to the website or existing backlinks are deleted or lost. For a limited period of time, you can view data on new and lost backlinks.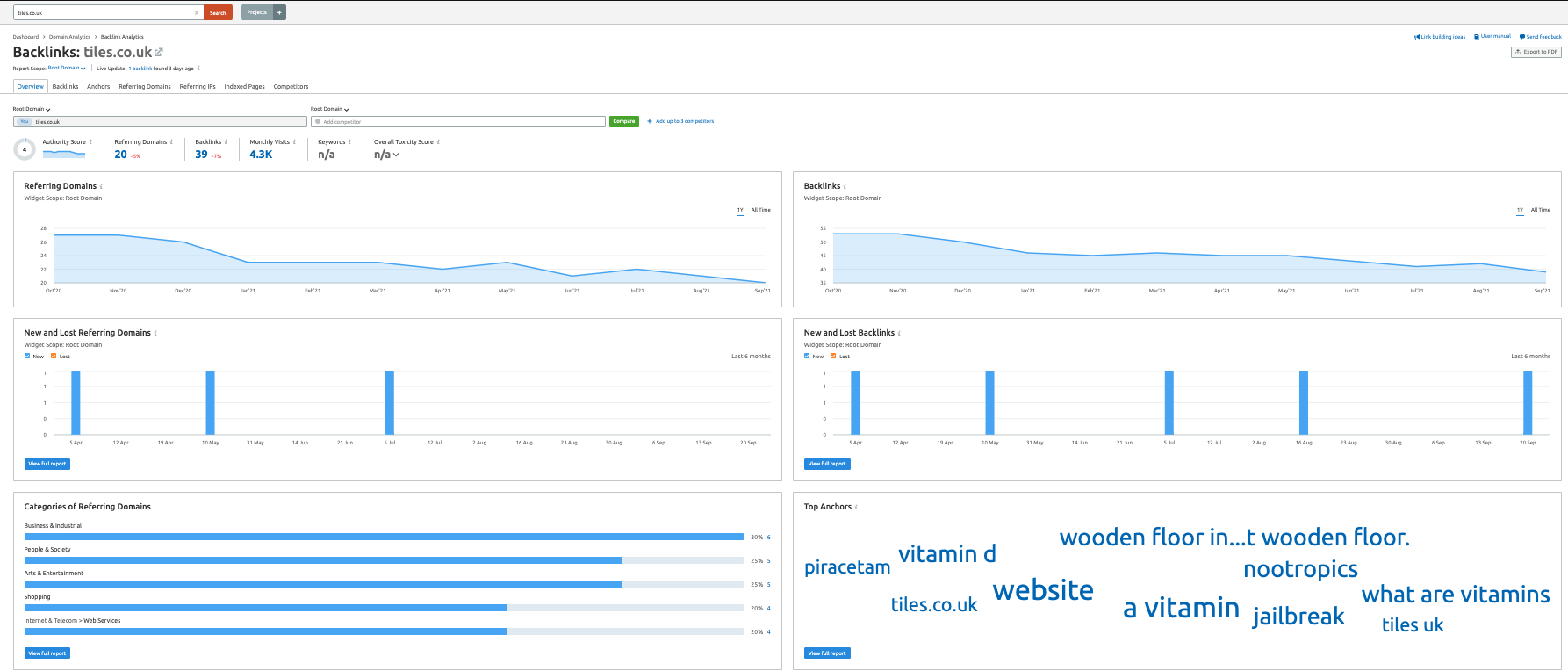 With this tool, you can discover all backlinks acquired from all domains, subdomains or URLs, and view IP, TLD and location distribution.
According to the type of backlinks, you can use text/image/form/frame or follow/nofollow/sitewide filters to perform more detailed analyses, along with determining which pages have the most backlinks and what the anchor texts of those backlinks are.
By finding out the authoritativeness level of a referring domain, as well as its location, you can gain broad insights into your backlink profile.

2-d) Keyword Gap
Keyword Gap provides a side by side comparison between keyword profiles of up to five competitors.
You need to enter the domains of your competitors and choose the types of rankings (organic, paid, or PLA keywords) to be analyzed. Then, you will be able to view all of the top rankings for each website, total keyword overlap, common keywords shared by different sites, and much more.
→ Simply enter the domains you want to compare. You can utilize the Organic Research Competitors report or Advertising Research Competitors tool to identify your top competitors and other domains with similar keyword rankings.
After you enter your domain name, the tool will automatically list some of the top competitors in the drop-down menu below the competitors field.
It is also possible to specify an exact URL, subdomain, or subfolder in one of these fields to compare keywords more thoroughly.
→After entering the domains to be compared, select the "keyword type". This filter allows you to select the type of search engine results you are analyzing.
Organic keywords are those in which a domain has an organic ranking within the top 100 search results.
Paid keywords are keywords in which the domain is ranking on Google's top 8 positions, thanks to Google Ads.
PLA keywords are those that trigger the domain's product listing ads, which are paid for through Google Shopping.


By clicking on the "select keyword type for each domain" option, you can compare different types of keywords between websites. For example, you can compare your paid keywords to a competitor's organic keywords. In addition, you can compare different keyword types on the same domain, or enter the domain twice and set the keyword types accordingly.
After setting the parameters, choose the regional database, and click on "Compare". Afterwards, the report will present the relevant information under Top Opportunities widget, Keyword Gap chart, and keyword table at the bottom.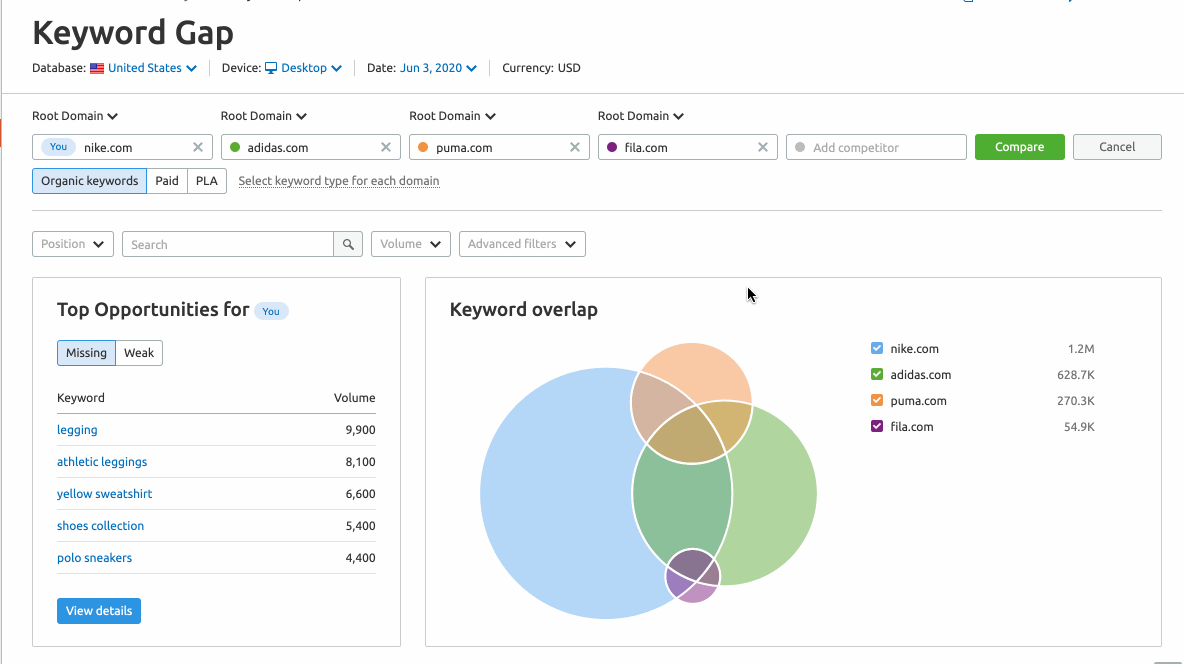 The Top Opportunities widget lists the best keyword opportunities for the website labeled "You" (the domain entered in the first field).
This information, along with the rest of the report, will be adjusted based on all selected filters. For example, you can search for the top opportunities based on a filter including a keyword, such as "nike". Below are the search results of the keyword "nike".

→ The Keyword Gap visualization shows you the keyword overlaps between competitors. When you click on a specific intersection, the report will only show keywords that are inside that intersection. You can enter other filters to adjust the data accordingly.
→ The Keyword Table is the table at the bottom, where details of each site, as well as how their keyword profile intersects with their competitors, can be examined. There are 5 types of main filters in this table:
Shared: Shows keywords for which the analyzed websites ranks.
Missing: Shows keywords for which all of your competitors rank, but your website (the site entered in the first field labeled "You") does not.
Weak: Shows keywords for which your website ranks lower than all of your competitors.
Strong: Shows keywords for which your website ranks higher than all competitors.
Untapped: Shows keywords for which you do not rank, but one of your competitors does.
Unique: Shows keywords for which you rank, but none of your competitors do.
All keywords: Shows the combined list of all keyword rankings between the competitors.


2e) Backlink Gap
With the Backlink Gap tool, you can simultaneously compare backlink profiles of up to five competing domains. After you enter the domains, Semrush will create a list of all referring domains that are linking to these websites. By making use of filters, you can identify the backlinks that point to your competitors' websites, but not to yours. This may help you collect information about your competitors' outreach strategies, and find potential SEO opportunities. Backlink Gap offers a graph display of competing sites' backlink growth over time, which in turn will help you identify the backlinks you are missing out on. You can get actionable link building and outreach insight reports in the form of Excel and csv files.
→ There are several different ways of selecting competitors to add to the report. After entering the domain you want to analyze, you can click on one of the input fields to see auto-suggested competitors (sourced from the Backlinks Competitors report). You can also use the Organic Competitors report if you wish to look for more than just your organic search competitors.


→ The tool will present a graph and a table showing the comparison between the competitors' backlink profiles. You can see which competitors get the most backlinks in the trend graph at the top. You can switch the time frame and see the number of backlinks over the past 3 months, the past year, or all time. In addition, you can see important notes from Semrush or Google that may have affected the number of backlinks for that given day.
The table that is located right underneath the chart shows all of the referring domains that is providing backlinks to the websites entered. These data are also available in the Backlink Audit tool.




Authority Score (AS): It is a compound metric that measures the quality of a given domain.
Matches: This column shows the number of analyzed domains to which the respective referring domain is linked. These matches are made based on the analyzed domains.
Referring Domains: This list of referring domains can be narrowed down by filtering out specific domains. Simply click on the drop-down menu located right above the table.
After you expand the row, you will be able to view the new, lost, or follow links from a given competitor. To do so, simply click on the view dropdown in the column of the competitor you want to analyze further.
Using the Keyword Magic Tool, you can gain insights into the target keywords you want to research, analyze the data, and make improvements to increase your rankings on target keywords. You can search by entering either your target keywords or your domain, and view the automatically grouped keywords.



With Competitive Density, you can learn about the level of competition among advertisers who bid for a specific keyword in PPC campaigns;
with Keyword Difficulty, you can find out how much SEO effort may be required in order to organically rank a page in the top 20 results on Google for a certain keyword;
with Search Volume, you can obtain the monthly average search volume of a given keyword, which will help you evaluate potential search engine traffic for the keyword in question; and, with SERP Features, you can see which SERP features are available on the search results of your tracked keywords and how many of your pages are featured.

In addition, Semrush provides an extended keyword database with global keyword research possibilities. This way you can do keyword research for multilingual websites, optimize your content with keywords automatically grouped by topic. You can even use the question filter to find question-based search queries.


3a) Long Tail Keyword Research with Semrush Keyword Magic Tool
After determining the general topics and target keywords, you can use the Keyword Magic tool to take things to the next level in terms of keyword research.
For more keyword ideas, enter your target keyword here as a "short-tail keyword" (for example, "tiles").

To identify the easy-to-target and relevant keywords, you can filter for KD % (Keyword Difficulty), and to find long tail keywords containing at least four or more words, apply Word Count filter.




Take a look at the long-tail keywords in this report and search for relevant topics to add to your list. If there are many long-tail keywords around a single subtopic, targeting it may be a good opportunity. Below are the examples of long-tail keywords for the keyword "tiles".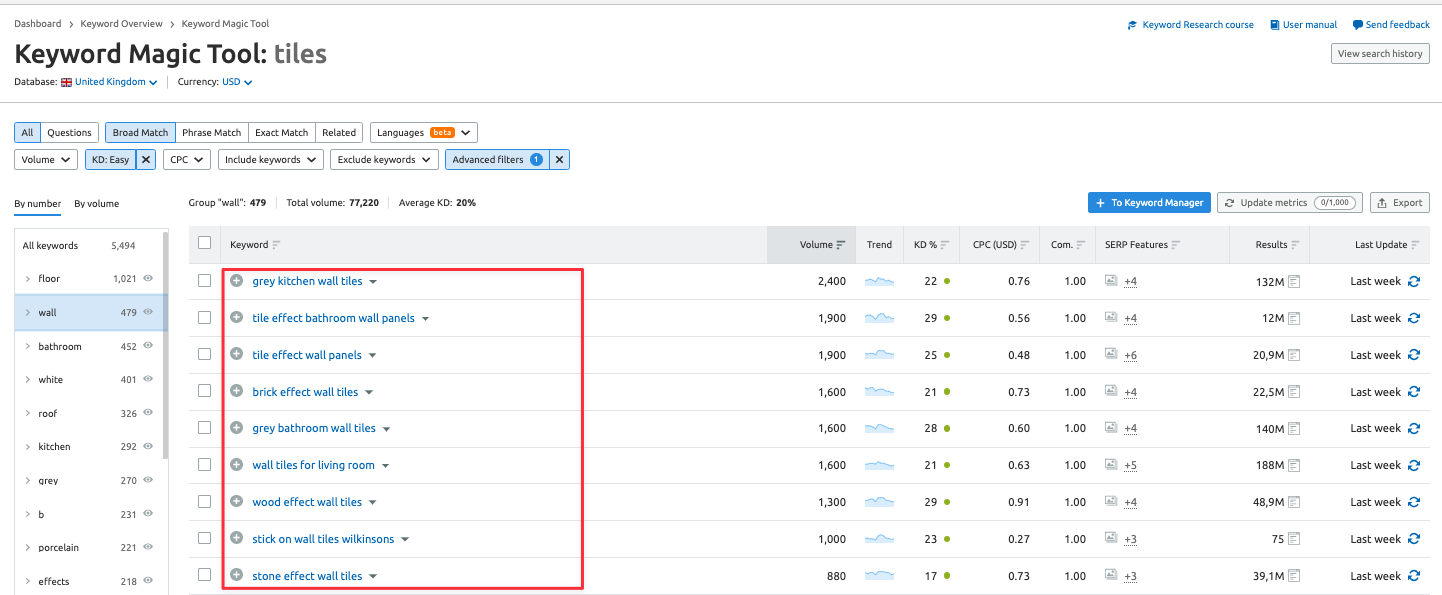 In order to improve the SEO performance of your website, you must regularly produce SEO-friendly content. The SEO Content Template tool is one of the tools you can use when you are creating content for the optimal results.

Semrush analyzes the content in the top 10 pages of Google search results of target keywords, and thus allows you to create SEO-friendly content by providing a template of recommendations based on relevant keywords.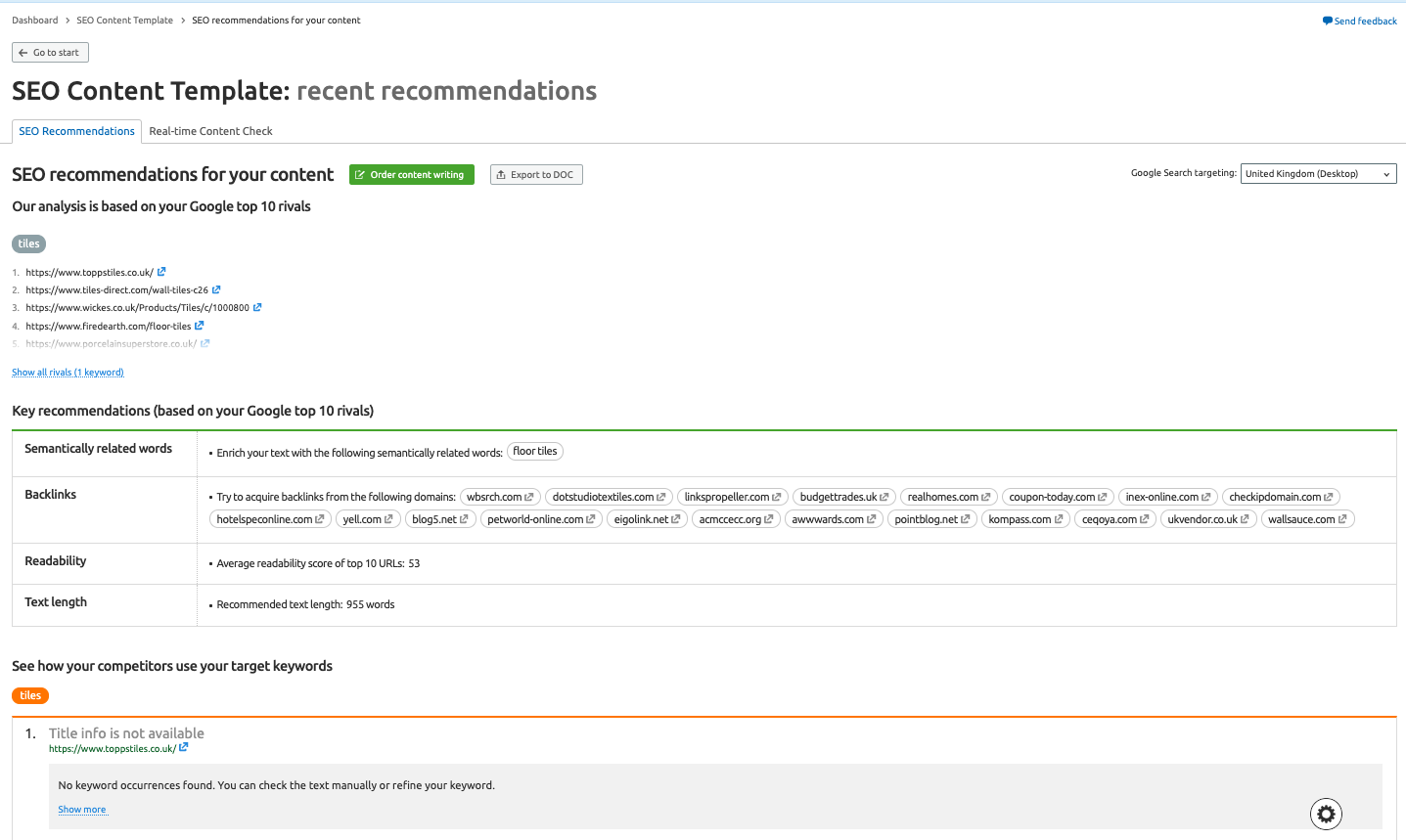 SEO Writing Assistant is an add-on that can be integrated into Google Docs and Wordpress that connects your SEO Content Template to your Google Docs or Wordpress account. You can take content optimization a step further using this tool. With SEO Writing Assistant, you can see your content score and optimization recommendations in real-time while editing your content.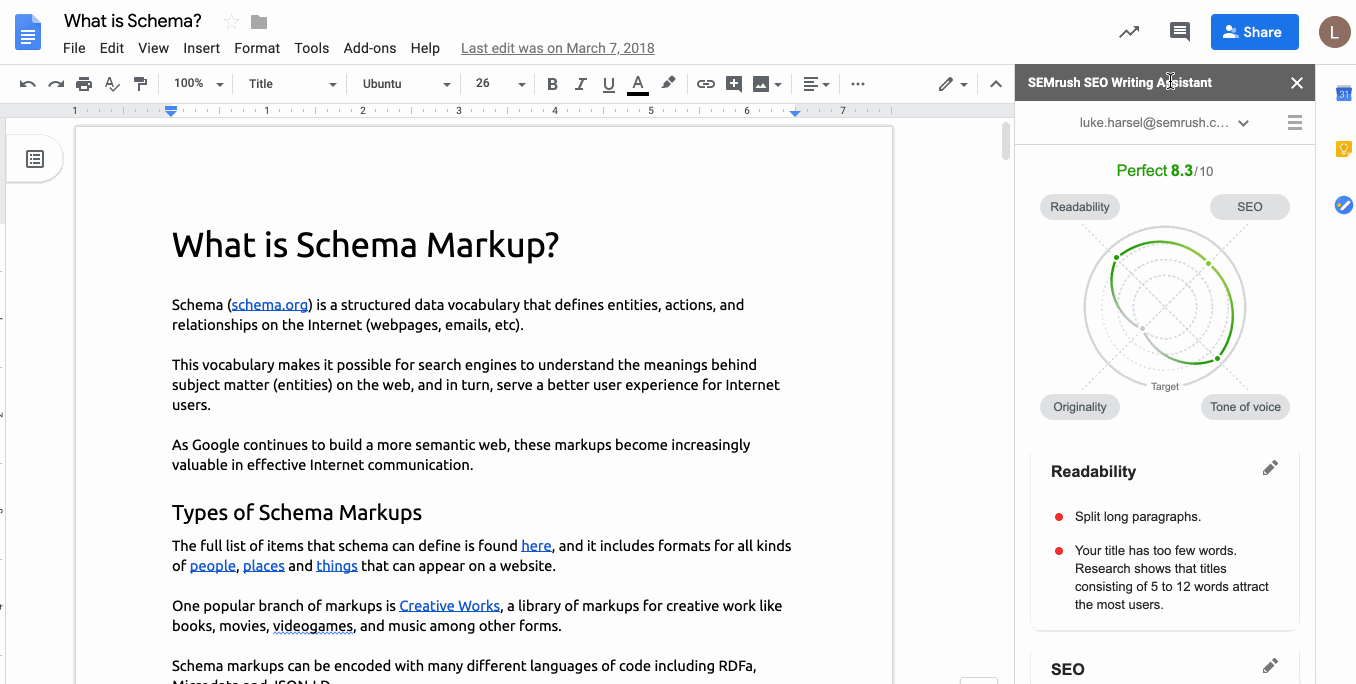 → Dashboard
When you log into your Semrush account, the first thing you will see is the dashboard, which shows an overview of your projects.
1- You can perform searches in the search bar at the top of the page,
2- You can go to reports from the navigation menu,
3- You can even customize your menu in a way to show only the tools related to your expertise,
4- You can use the green "Add domain" button to add domains to your control panel,
5- You can add a new project or open the projects panel.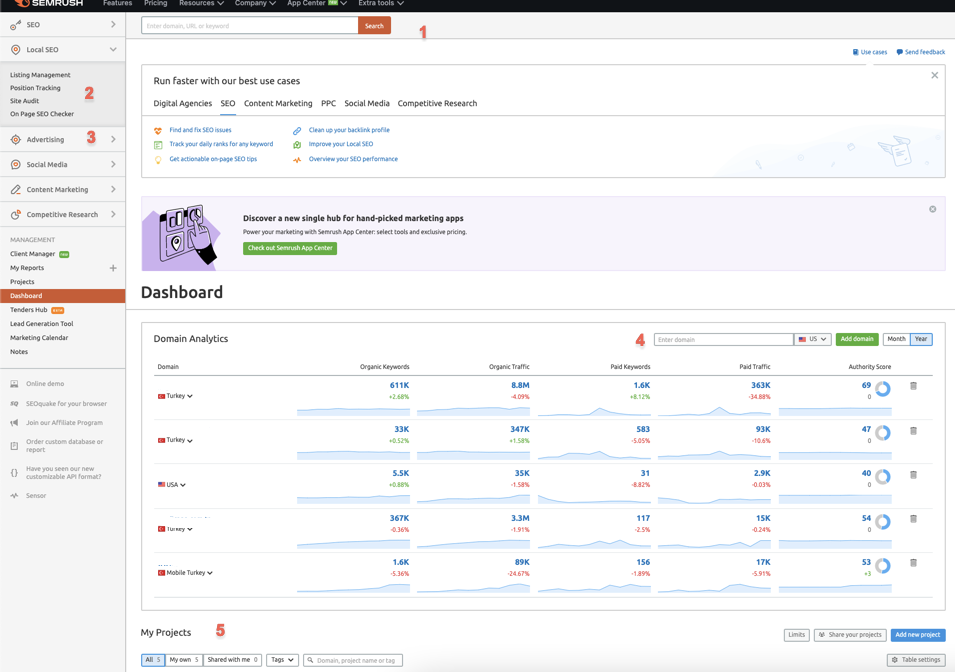 → In addition, there are three main tools on Semrush:
Analytics reports

Project tools

Specialty products
Analytics reports are the reports on the searches you perform using the search bar.

In this report, you can take a look at the outputs of Domain Analytics, Keyword Research, Backlink Analytics, Gap Analysis, or Advertising Research modules. After performing a search using the search bar, you can view the relevant report in the navigation menu to the left.
Project Tools, on the other hand, are special tools that enable the analysis of a single domain. You can access Site Audit, Position Tracking, Backlink Audit, and Social Media tools here. It is quite easy to add a new project on Semrush, and you can view the details of your projects on the projects dashboard.
There are some Specialty products offered by Semrush to be used in tackling certain tasks. You can access most of these tools from the tool menu on the left.
→ The default navigation menu displays the "SEO Toolkit ". If you wish, you can change the menu in a way to show only tools from another toolkit. Here, you can access different modules such as Local SEO, SEO, Advertising, Social Media, Content Marketing, and Competitive Research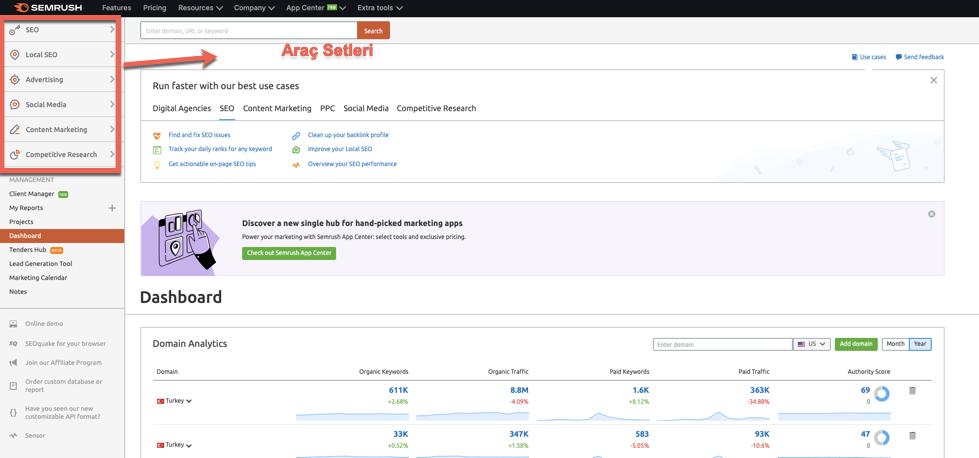 In this guide, we tried to elaborate on the modules and tools of SEMRush in detail. We hope you find it useful. Hope to see you in our next tool guide!