Shopify SEO Guide: Mastering SEO for Your E-Commerce Store
---
Google scans web pages to decide which pages will be the most helpful to users searching on Google and ranks these pages according to their relevance. Search engine optimization (SEO) is the process of improving the quality and quantity of organic traffic to a particular website. SEO aims to feature your website higher on the results page.
There are four types of SEO, which require different skill sets:
On-page SEO

Off-page SEO

Local SEO

Technical SEO
Website owners work with third-party companies to create SEO-friendly web pages and improve their website traffic.
Why Should You Trust Shopify?
Shopify is an all-inclusive e-commerce platform that allows you to build, grow, and run a company. Merchants use Shopify to build online stores and sell in various domains, including web pages, mobile applications, social media accounts, and online marketplaces.
1.75 million businesses use Shopify around the world.

The Shopify app store has over 3200 applications that help shop owners personalize their stores.

Shopify employs about 10,000 people.

5.6 million online stores use Shopify.

Over 2.1 million daily active users visit Shopify stores.
Why SEO Is Important for Shopify?
Based on Google search statistics, Google handles 63,000 search inquiries every second. According to this, there are 5.6 billion daily searches and nearly two trillion yearly searches. Google is used by over half of the world's population. Every year the Google search engine analyzes 16% to 20% of new keywords and at least 91% of the internet searches come from Google.
SEO is crucial for your website as it increases the visibility on search rankings, which means more visitors and an opportunity to turn users into customers. It's also an effective tool for increasing brand awareness and promoting yourself as an authoritative and trustworthy expert in your field. Page authority (PA) is becoming more important to web users as authority indicates that your website is reliable, relevant, and has something to offer. Another reason SEO is essential is that it improves the user-friendliness of your site and promotes a positive user experience when you produce great content.
Why Is Shopify a Great Choice for SEO?
BuiltWith usage statistics show that 4.02% of the top 10,000 sites and 2.64% of the top 100,000 sites are using Shopify. 44% of users start online shopping through a search engine, and 37.5% of all website traffic to e-commerce websites comes from search engines.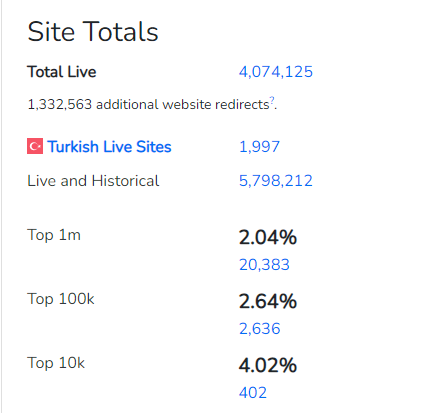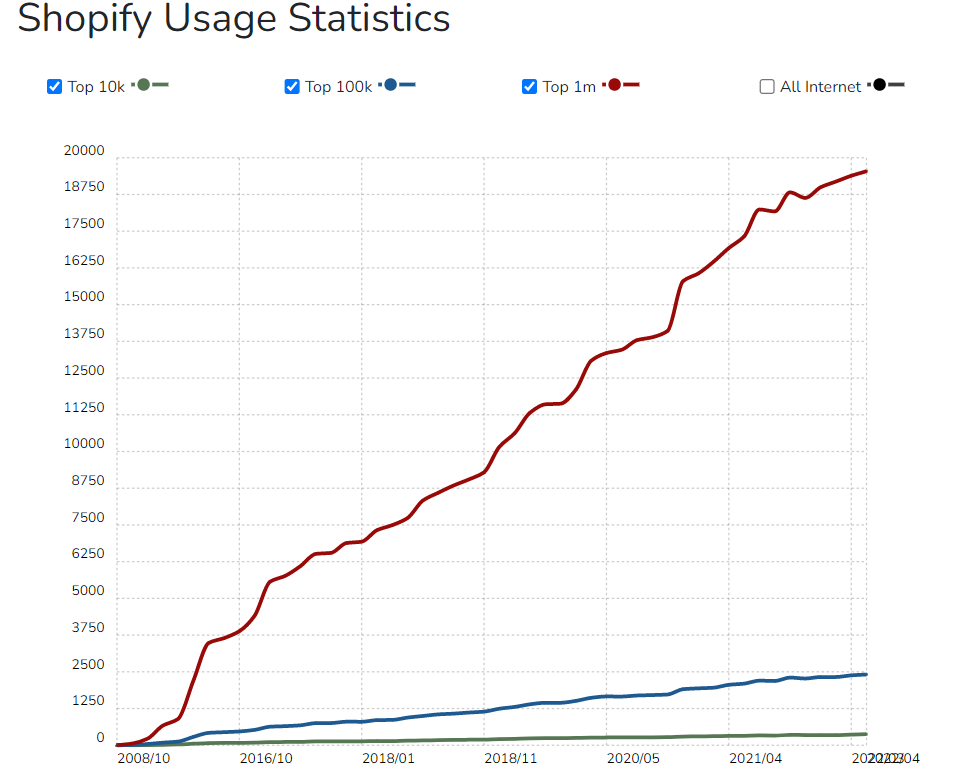 Most e-commerce platforms provide several options that assist shop owners in optimizing their online store for search engines such as Google and Bing. SEO evaluates many elements, including user experience, website speed, meta tags, and much more, you need to find a platform that operates well in terms of all these elements and has access to sophisticated SEO tools.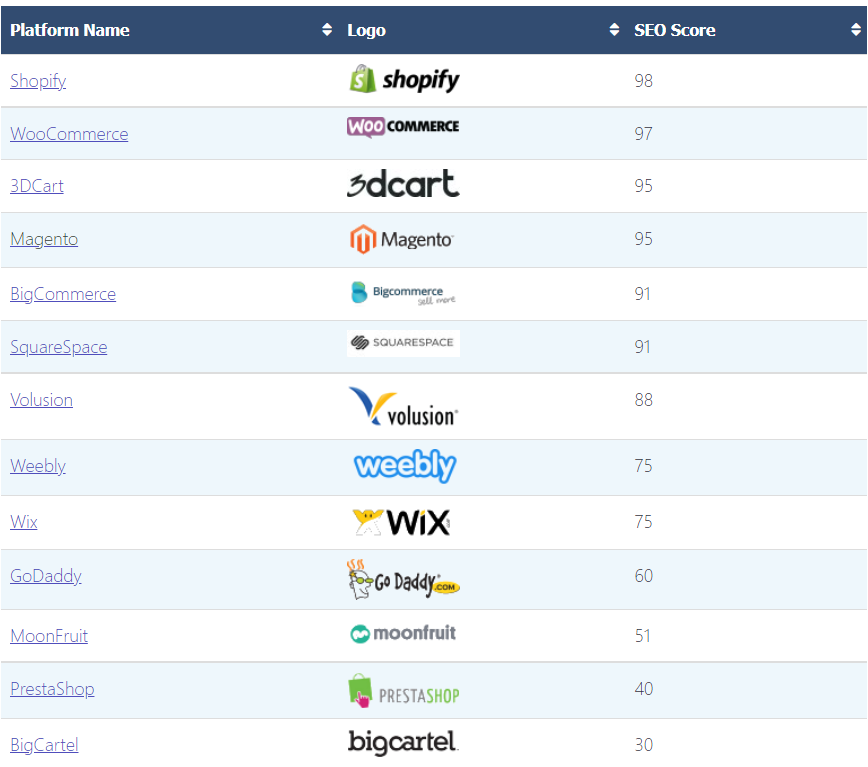 Here are Shopify's competitors that you can use to have different features for your e-commerce platform:
WooCommerce is an alternative to Shopify as it is an open-source annexe designed to transform WordPress websites and blogs into e-commerce websites and ensures user-friendliness for website owners familiar with WordPress.
3dcart

is an e-commerce software platform with a range of features that makes building and running an online store easy and fast. 3dcart provides third-party integrations and free templates with their software to customize your website.

Magento is an open-source platform by Adobe offering backend features for small businesses to customize and access third-party apps for SEO optimization.
BigCommerce is a NASDAQ-listed e-commerce platform that offers software, online store building, SEO optimization, marketing, and security services to businesses.
Squarespace is a website development and administration firm where users can build web pages with pre-built website templates.
Competitor analysis, also known as competitive analysis, includes determining competitors in your business and analysing their marketing strategies to evaluate your company's advantages and disadvantages. Therefore, you can learn more about their products, sales rates, and marketing strategies.
Competitor analysis can also help you to obtain brief information about the competitors to redirect visitors to a more specific landing page. Analysing your competitors' landing pages will help you find hints about what's good for SEO and not. For example, you can notice different keywords or phrases you don't use or elements you don't have in your website layout to adjust your strategy for successfully competing in your field of expertise.
What Do You Need to Know for Shopify SEO? What Is Shopify SEO?
Users search for topics on search engines like Google or Bing. These search engines use a bunch of information to create a ranking list of a search query. Search engines algorithm determine which websites are most relevant to the search query and rank the results by their relevance. To expand your Shopify store to a wider audience, you should check your store's SEO options and use them effectively. Shopify offers its users different learning materials like articles and video tutorials.
Shopify also offers apps that help you automatize your SEO activities, identify SEO issues, and optimize your shop to be SEO-friendly. Shopify also gives basic SEO options that every store owner would need. Making your Shopify store SEO-friendly is not different from making a store on another e-commerce platform SEO-friendly. For example, technical SEO, keyword research, link building, and other things about SEO are the same for Shopify SEO. However, implementation of these strategies differs as Shopify has its template engine and provides apps on Shopify Marketplace that help shop owners implement SEO strategies.
Shopify is a commerce platform business that can launch e-commerce sites in multiple places like websites or social media platforms. With its cloud-based software and up-to-date data, Shopify helps businesses meet their needs like managing products, inventory, payments, and shipping. Online shopping sites significantly increase their sales rates as companies can reach more people with online stores.
Online shopping is a game-changer in today's business world, but it can also be a mischoice if not used properly. For example, common marketing strategies won't help to reach more customers and can eventually cause losing the old ones. Online shoppers want to find the product they are looking for with one click without spending much time. That is why many people prefer online shopping to old-school shopping, as it gives them more options and helps them filter items to narrow their search for the best product for their needs. This revolutionary change has led to the transformation of common marketing strategies into digital marketing strategies and a brand-new perspective.
There are some important points to know to create a successful digital marketing strategy, such as setting up the correct category hierarchy, using the right keywords, and optimizing the internal linking structure.
Using Keyword Research to Optimize Category Names
Keyword research is a crucial step to follow when it comes to optimizing the category names. Finding the most suitable keywords enables the optimization of product and category pages, and it provides information about the clients.
Why Do We Do Keyword Research?
The visibility of your products is possible only if you use the correct keywords that will pop you up in search and help you reach more customers. To find the keywords that will distinguish your brand in an online search, you should make keyword research thoroughly. Keyword research is the first step for developing a successful website as it helps businesses reach their target customers by identifying and analyzing search terms that people looked on the internet for a particular purpose. Keyword research is similar to market research, it helps you know your clients better by looking into their searching habits and finding the most common keywords to target the relevant people.
To make your brand visible to potential customers, you need to know how people search for the products, services, or information you offer. Identifying the frequently used keywords about a particular subject and using these keywords on your site helps your site rank ahead of your competitors in search results and map your keywords with your pages.
How to Optimize Product/Category Pages for SEO
Google search engine brings the most relevant data to the screen by scanning the huge database after users enter the keyword they are searching. Since there are excessive content and websites, the crucial way to increase your visibility on Google is to use the right keywords and ensure the service or product you provide is in the correct category.
For example, searching for the "online shopping" keyword will result in millions of websites. To increase your ranking in SERP, you should narrow the search parameters by creating niche subcategories to create new ranking opportunities at Google and lead your customers to your website. The first step of this process is finding the most searched keywords on a particular subject. After this stage, you should ensure that you use the correct categories for the service or product you provide. For example, if your site is on pet products, you must have such a category for a customer looking for dog food to come across your site.
To increase your site traffic, you can expand your search parameters by adding more specific niche subcategories. For example, by using keywords such as sterilized dog food, senior dog food, adult dog food, wet dog food, and diet dog food, you can show that you offer different products for the specific needs of customers and increase your visibility in the search engine.
Using Keyword Research Tools to Name Category & Product Names
SEO (Search Engine Optimization) aims to have your website listed at the top of the search engine result pages. The crucial point in SEO optimization is to use the correct keywords at the right amount. In this context, to increase your visitors, you should find the most frequently used keywords in a subject and use them on the right amount on your website. For more people to visit your website, you should determine the search trends in search engines and organize your website content according to them. Finding the right keywords can be daunting at first, but there are a number of keyword search tools to see how often those words are used.
An example of these tools is keywordtool.io. With this tool, you can look for relevant keywords for your service or product in any language. The keyword suggestions are based on many parameters, such as search frequency or region for a particular keyword. For example, when we search for the keyword "dog food", the tool shows us data on the usage frequency of this keyword, questions, prepositions, and words it is used with, and the average trend values of this keyword. For example, the word "dog food" was mostly searched with the keywords "royal canin dog food" and "best dog food" respectively.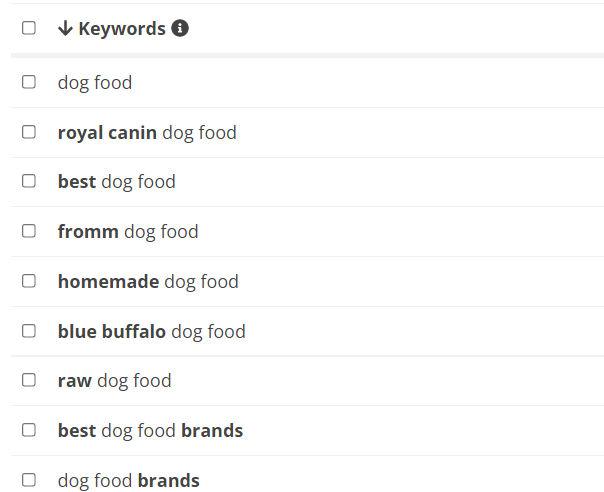 The most searched questions about dog food are "are dog food bags recyclable" and "are dog food bags waterproof".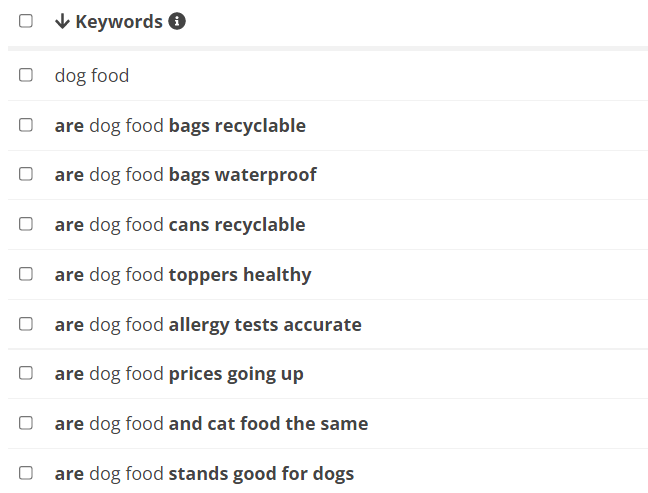 The most used prepositions with this keyword are "dog food about" and "dog food on amazon".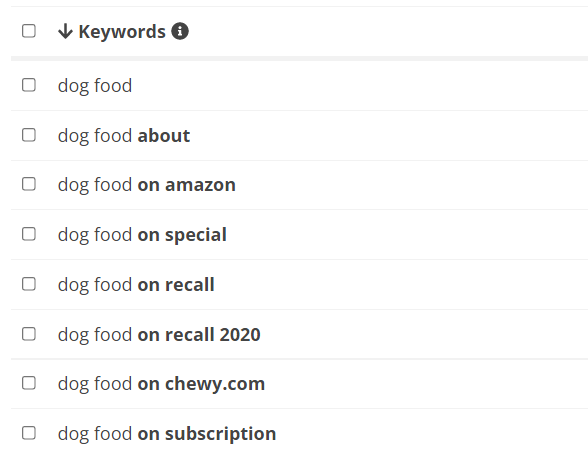 By using relevant keywords from this list on your website content, you can increase your website traffic accordingly.
Finding the Related Keywords on Other Stores Like Amazon
Amazon, one of the largest online shopping sites in the world, uses keywords to bring sellers and customers together and offers keyword ideas for their users you can use for your website. You can browse the categories by typing the keyword you want in Amazon's search box or identify the keywords or products that suit your target audience with Amazon's special tools so that Amazon matches your ads with relevant search terms and products. You can use Amazon's instant search suggestions to decide which keywords are frequently used by customers. For example, if you search for the keyword "dog food" Amazon offers suggestions like "dog food wet" "dog food dry" and "dog food bowls".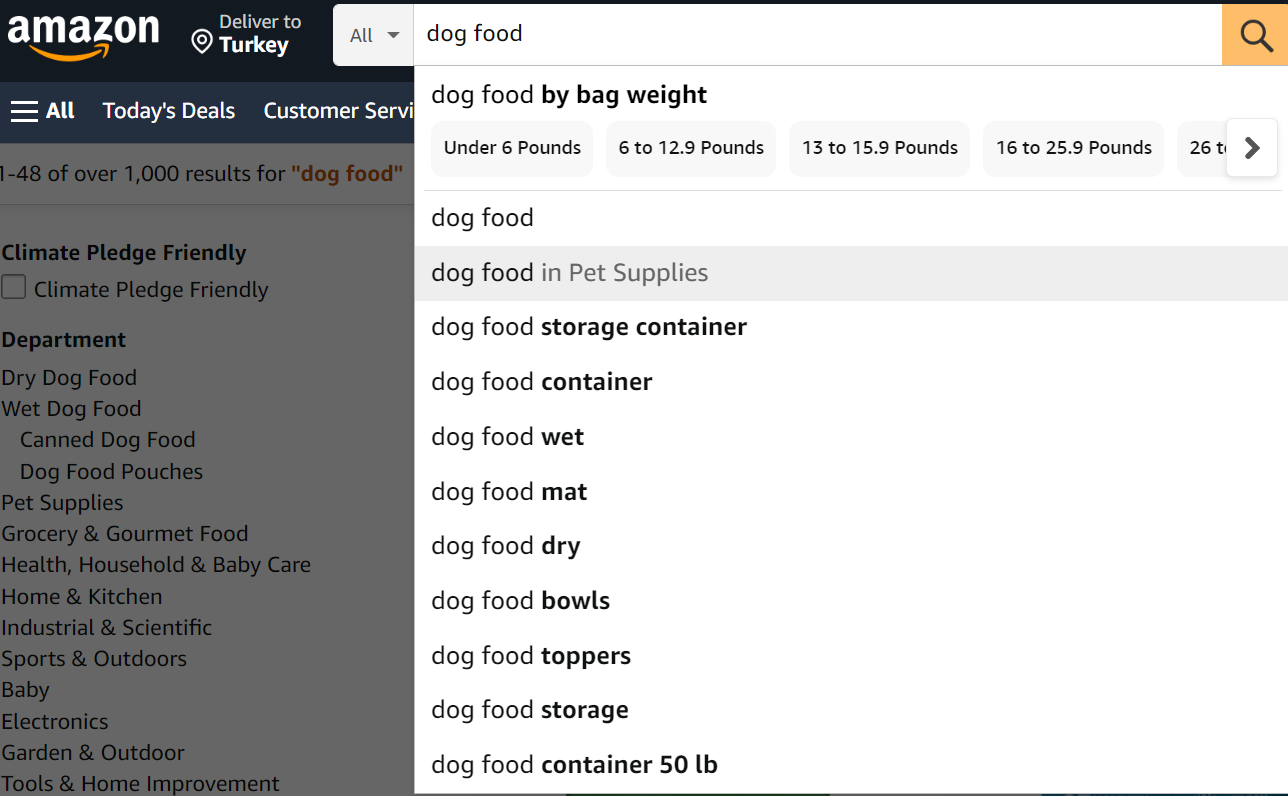 Internal Linking Strategy: Linking the Relevant Ones
Google algorithm follows links to rank website content in the search results. Using relevant links on your website can increase your visibility in search results. Relevant links to your website can help you reach your target users by using keywords and internal linking. Internal linking is a reference from one page on your website to another relevant one for your users to find what they search for in the search engine and website content. These links can refer to related products and articles to help users find more content on the topics they need.
What Is Internal Linking Optimization?
To ensure Google ranks your website accordingly, you need to adopt internal linking optimization strategies aligning with the relevance of your pages with search results and the hierarchy between your pages. The internal links you use on your website should be user-friendly to ensure users can easily navigate your website content. Using too many internal links on your website can confuse users and decrease the visibility of your website on relevant pages. Another important thing about internal link optimization is using relevant linking on your website. For example, a user visiting an online shop's dog food page should not see links to cat food or bird food pages. Instead, a link to wet dog food or sterilized dog food would be appropriate since the user is interested in dog food.
How Can We Use Internal Linking for E-Commerce Platforms?
Linking to your main product or category pages from the website menu helps to increase the user traffic to these pages and the Google algorithm to analyze the hierarchy of your website. When a page has internally linked to the main menu, Google sees it as highly relevant and shows it in search results more often. But it doesn't mean you should put every page on the main menu. The website menu should include top category and product pages and relevant internal links to other pages like dog food and sterilized dog food.
If your website has many products or pages, you can show the relevance of those pages by a navigation scheme that maps the users' position on the website. To have a user-friendly website scheme, you should ensure that when the user views "sterilized dog food" and wants to see other products, the website should redirect to the "sterilized dog food" category, not the "dog food" category. Another method of SEO-compatible internal linking in e-commerce platforms is to link between products and related blogs. When there is no sub-category for a product or when you have trouble finding a product-related category, you can provide detailed information about the product by referencing blog content.
How to Analyze Internal Linking Problems with External Tools
External tools like Screaming Frog and Sitebulb can help you improve your SEO by collecting data and detecting common linking problems and SEO issues. These website crawlers can help you audit broken links, analyze meta descriptions and page content that are not SEO-friendly, and automatically generate website maps aligning with content hierarchy and links.
Search Engine Optimization (SEO) is the modern way of increasing the popularity and visibility of your service by creating a search engine algorithm-aligned website to increase your website quality and traffic. SEO-friendly website increases your company's success and helps you maintain a cutting-edge e-marketing strategy with the help of special tools. It may sound like a game-changer for your website's visibility in search results, but there are common technical issues that can hamper your website's ranking in search engines:
Duplicate Content

Poor link optimization

Poor website layout

Lack of SEO-friendly images

Improper Redirects

Slow loading pages

Irrelevant keywords

Missing meta descriptions
Essentials: Robots.txt & Sitemap.xml Files
Google algorithm provides the most accurate results to their users and lets Google show users your website's certain parts that it finds relevant to a category. Search bots scan web pages and add them to the aligning indexes. In this context, you should decide which part of your website is highlighted by search engine bots. To this end, a text file called robots.txt can be useful. Robots.txt (robots exclusion protocol) is a text file containing instructions for website crawlers on which pages or files they are not allowed to crawl. While crawling a website, Google bots avoid the pages included in the robots.txt file.
Another important file type of website crawling is sitemap.xml. It helps Google to crawl effectively by guiding the bots about which pages they should index. Sitemap.xml tells Google the structure of your website and the hierarchy of your pages and ranks the pages according to their importance. Therefore, search engines access more information about pages, which accordingly affects the speed of the indexing process and the display of the website in the search results while providing easy monitoring of the indexed pages.
Shopify automatically generates and updates a sitemap.xml file containing links to all your products, primary product images, pages, and blog posts. Besides, it sets a default robots.txt file for its users. But for users who want to make changes according to their e-marketing plans, Shopify lets its users change robots.txt manually.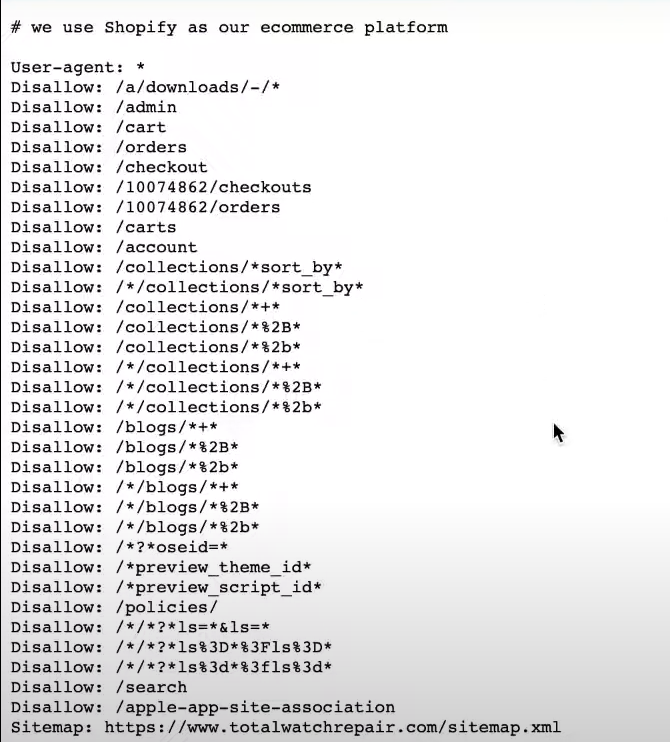 To do this, go to the admin page and choose the "Themes" section of the online store menu containing your live menu.

Click "Actions", "Edit Code" and "Templates" to edit robots.txt.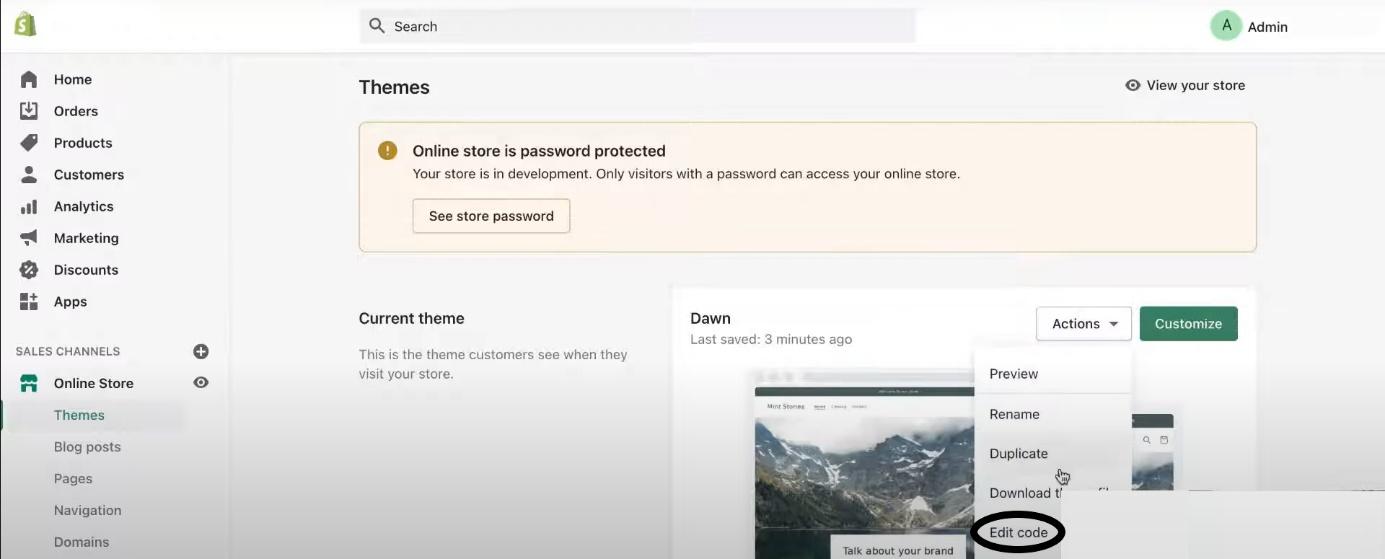 Add a new template and choose the robots.txt from existing templates. Then click "Create Template" and Shopify will direct you to a page on which you can find editable default codes Shopify generates.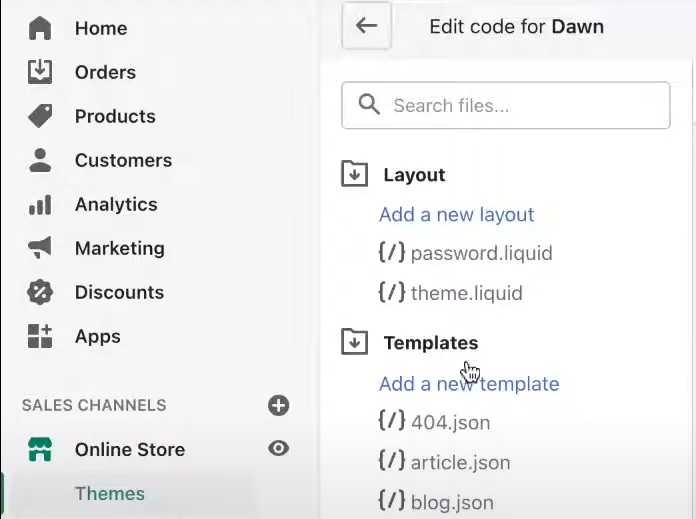 There are some tips and tricks to consider while setting up robots.txt and sitemap.xml. If you have already created a sitemap, your URL probably will be located at http://www.example.com/sitemap.xml. However, you need to ensure that it is in the right place. To accomplish that, you can type that URL into a browser and ensure there is no 404 error.
Check whether you have a default robots.txt file by typing http://www.example.com/robots.txt and ensure it serves your main goal. Then, add your sitemap location to your robots.txt file to help the search engine algorithm comprehend your site layout properly.
Duplicate Content: Similar Variant Products May Harm Your SEO!
Duplicate content is one of the most common issues that SEO analysts face because Google isn't sure which page is the original one and should be listed higher in the search results. As a result, it can decrease your website's traffic and visibility. Sometimes Google refuses to index some pages. To solve this issue, you should ensure that your pages do not exceed your crawl budget. The crawl budget is the number of pages Google crawls and indexes on a website. So, if your pages exceed your crawl budget, Google can't find and index some of them, resulting in less website traffic.
There are many SEO tools, free or paid, you can use to detect duplicate content by running thousands of searches on Google. Siteliner, Copyscape, Sitebulb, and Screaming Frog are the most used tools. You can always use Screaming Frog; it is free and helps you solve many SEO problems like finding broken links and generating site maps.
There are two types of duplicate content that you should refrain from: internal and external. Internal duplicate content means having more than one duplicated page that is fully or partially identical to other pages on your site. External duplicate content means having a duplicated page, similar or identical, on your website from other domains that may belong to you or someone else.
To fix this issue, you can consolidate your content by detecting the duplicate content and placing them on a single URL or you can remove the duplicated content and prevent it to decrease your search ranking and traffic.
Pagination means ordering relevant or similar pages on a webpage to help split products, blog posts, and search results across different pages to help users find what they are looking for in a website. A large amount of data cannot be on a single page since too much information may confuse users. Bots choose what content to crawl or index, so you should prioritize the crucial pages on your home page after pagination. For an e-commerce site, your products may have the same structure, or similar content can result in duplicate content. Pagination can differentiate products with similar contents to show the search engine that these represent different products. Product variations can result in duplicate content and the best way to tackle this is to canonicalize all the variations of the main product.
Canonical tags are HTML codes indicating the source of the content; they are crucial for SEO. The canonical tags show search engines the original content source in search results. Using canonical tags is an SEO-friendly option as they can be added to the page without accessing the server configuration and increase your page ranking in search results without much effort.
Canonical tags are important in creating a Shopify store because the Shopify platform allows a single product page located in multiple URLs with identical or similar content. In other words, the Shopify website enables every product to have multiple URLs. For example, the accessories page can be the main page for men's and women's accessories, and canonical tags help prevent confusion in similar contents for different pages. Shopify co-founder and CEO Tobias Lütke developed a liquid template creating and modifying Shopify themes and creating a bridge between an HTML file and a Shopify store by allowing users to access variables. The liquid template allows users to access all the details relating to a product, such as the product name or images.
SEO Friendly URLs: Making URLs Understandable for Both Bots and Human
An SEO-friendly URL accurately describes a website using the right keywords for search engines and users. SEO-friendly URLs improve user experience by explaining what the page is about. URL is one of the SEO ranking elements; Google has optimized URL structure and researchers suggest that shorter URLs rank first in search results.
Use focus keywords in your URL to tell Google what your website is about to be featured in search results. This way, you can narrow your website parameters by giving users spot-on keywords to search. For example, using an URL like https://www.example.com/index.pht?iu_wta*2369 does not give a clue about what the website content is and is not SEO-friendly. Instead of this, using URLs like https://www.shopify.com/tour/website-design is more SEO-friendly as it hints about the content.
Another important thing about using SEO-friendly URLs is that they can positively impact the click-through rate (CTR) and increase website traffic and search visibility. CTR is a digital marketing term referring to the number of users visiting a website from an advertisement or search result.
Shopify helps you edit your URL to become SEO-friendly with its SEO tools for free. To edit your URL on Shopify, follow these steps:
Go to the Shopify admin page

Click the page you want to edit

Click "Edit Website SEO" on the "Search Engine Listing Preview" section

Edit or change the URL from the "URL and Handle" section
After editing your website URL, you should inform the Google engine about this change to be sure that your website is featured in search results. When website content is moved to another direction, deleted, or URL changed, you should use URL redirects to forward users and search engines to the new page. If you don't redirect your URL, users that visit your website will see an error. However, using the wrong redirect type could result in decreasing search engine rankings. There are eight types of redirects, the most used one is HTTP redirect.
Page Speed Optimization: Every Millisecond Counts
Page speed is the time that passes between the browser's request for a website and the website rendered. Your page speed is crucial for user satisfaction because when your website page loads slowly, you will lose many of your users, and as Google uses page speed as a ranking factor, your page speed can negatively affect your search rankings. Speed has been a ranking signal for desktop search since 2010. However, in 2018, Google announced that page speed is a ranking factor in mobile search.
According to an independent search result, 1/4 of users abandon a website that takes more than four seconds to fully load, and more than half of the users prefer different websites, which causes fewer sales rates. Moreover, just one second of delay can result in decreasing conversions by 4.42% per second.
You can use different online tools to measure your page speed. You can test your page speed by using tools like Test My Site and Page Speed Insights. Core Web Vitals are the basic metrics that Google needs to observe how well a web page is in terms of user experience and to monitor the improvements users want to create an SEO-friendly website. And Core Web Vitals is a ranking factor of Google. There are three Core Web Vital metrics that Google wants website owners to monitor and improve to provide a better user experience. These are CLS (Cumulative Layout Shift), LCP (Largest Contentful Paint), and FID (First Input Delay).
LCP is a speed metric that measures the loading time from the moment a page first starts to load until the user sees the page content after 2.5 seconds. FID is the metric that measures the time it takes the system to respond after a user clicks on a website. Google recommends 100 milliseconds as the FID limit, and CLS is the metric that measures the unexpected change or shift in the website layout.
Optimizing Images: The Heaviest Part of the Internet
Images are crucial for maintaining an SEO-friendly website as they make your content more accessible and attractive for the users, give contextual information to the search engines, and optimize the page speed. As Images cover nearly 75% of a webpage, Google made page speed a ranking factor, and image optimization is crucial as it affects page speed. According to research by website builder expert, content with images get 94% more views, and 86% of businesses predict that visuals will be a crucial part of marketing strategy.
Tips for choosing images for your content:
Use brief and explicit image names and use relevant keywords to increase your search rank on search engines.

Optimize your alt attributes, meaning alternative text images, with relevant keywords for web accessibility and add SEO value to your website.

Choose image dimensions correctly to exhibit multiple angles of your product.

Consider your image loading time as 50% of the users won't wait for images to load, which results in losing income.

Choose the correct image format for your website layout, JPEG, GIF, or PNG. JPEG gives the best quality, and GIFs are the best choice for thumbnails.
A content delivery network (CDN) is a server system in many data centres on the internet where downloadable content is offered to users with high performance without interruption. CDN can increase website page load speeds and solve bandwidth issues. Shopify provides its users CDN which makes online stores load quickly.
Shopify gives its users some image optimizer apps to optimize their Shopify store and increase user experience. We compiled the top image optimization apps of Shopify regarding user reviews and ratings.
AVADA SEO Suite

Image Optimizer

Minifier SEO Image Optimizer

Image Optimizer+ Compression

Image Slider, Product Carousel
You can also use online image compression tools manually, like tinyPNG, to reduce the file size of your images to load them faster on your website. Also, you can set lazy load images in HTML, which means to slow the starting or construction of a media until it is needed, by using browser-level lazy loading, cross-section observer, or scroll and resize event processors. Here are the top 3 apps trusted by Shopify to install lazy load:
Using Cloudflare to Optimize Your Images
Cloudflare is an American company that provides services like DNS (Domain Name System), content delivery network (CDN), Load Balancing, Accelerated Mobile Page (AMP), Web Application Firewall (WAF), and other services to make websites faster and more secure. Cloudflare has many image optimization capabilities like Cloudflare Polish which automatically optimizes images on your website and reduces image size through compression to accelerate the page speed. Another significant tool of Cloudflare is Image Resizing. By using this one you can resize, adjust quality, and change image formats to adapt images to the website layout.
Cloudflare's HTTP2 improves page loading time by retrieving multiple sources in a single network request to avoid slow page speed. Besides, Cloudflare provides Brotli compression, compresses faster, and loads website pages faster, resulting in a better user experience in the long term.
Optimizing JS & CSS Assets for Faster Load
Cascading Style Sheets CSS is a basic web technology used with HTML and JavaScript that allows websites to be visually styled. CSS lets website owners control visual materials like the colours, fonts, and other elements of websites. Website developers use a programming language called JavaScript JS alongside CSS. These codes can slow your website and reduce your search result rank. To prevent this situation, you can use code minification, which means deleting characters that don't have any function to increase loading speed.
AMP (Accelerated Mobile Pages) is a project to maintain a faster mobile experience for users. AMP pages are different from standard website pages as they load faster. Integrating AMP in Shopify is crucial as it improves SEO metrics like page load speed which is considered a ranking factor and can increase search rankings and visibility of Shopify stores. You can integrate AMP in Shopify through apps from the Shopify app store like AMP by Shop Sheriff, and AMP by Ampify Me.
With third-party JavaScript and Shopify applications, you can create the functions you want on your website through ready-made templates. Coding these functions into a website from scratch is challenging and requires working with a professional software developer. In cases where you do not have a professional software team, you can easily integrate the functions already coded with third-party software into your website.
Shopify themes have an impact on SEO, website performance, and user experience. Average page speed scores of Shopify sites are listed below:
Avone

Light

Mono

Spring

Debut
There are also Page Speed optimization apps from Shopify App Store for you to improve your user experience:
AVADA SEO Suite

Page Speed Optimizer

Plug in Speed Optimizer

Hyperseed- Advanced Speed

Page Speed Optimizer Pro - SEO
New Technologies: AMP for Shopify Stores
Accelerated Mobile Pages AMP is an open-source project launched by Google to optimize mobile web pages at maximum speed. AMP format ensures higher performance on mobile and desktop and the maximum page loading speed as it restricts JavaScript and HTML/CSS.
Google promotes AMP because to maintain user satisfaction in the modern technological era, an internet provider should offer maximum speed for the search result content. AMP is not a ranking factor, but it implicitly affects the ranking as it increases page speed.
AMP claims to serve 4x speed improvements and significant increases in website traffic. 1.4 million websites adopted AMP technology. Google stopped featuring AMP badges on search results, and a study by Kinsta stated that AMP was reduced by nearly 59%. To enable AMP in Shopify, you should install an app from the Shopify store like AMPP by Shop Sheriff, and AMP by Ampify Me.
New Tech: JAMStack with Nextjs and Headless Mode of Shopify
JAMstack is a way of building websites and apps depending on JavaScript, APIs, and Markup (JAM). The first websites were HTML files requested by a browser. But as the technological developments became obvious, these files were not enough. JAMstack loads webpages faster than standard servers. Jamstack decouples backend and frontend, which makes it more secure than others. And finally, developers can have every flexibility while using Jamstack. All these features make experts think that JAMstack is the future of the web.
Website search/browsing applications have difficulty accessing the text content of such applications, as most of the application contents become available after the browser runs them. Next.js, on the other hand, offers a fast and easy method.
Shopify's Headless E-commerce API is a tool that helps website owners separate back end infrastructure from front end infrastructure to get more control over the website and increase developer and user experience. Shopify stores prefer using headless commerce as it turns every screen into a digital showcase and brings developers freedom by accelerating the Shopify store edit process with on-the-go tools. Editing visual elements not only from ready templates but flexible settings.
With the JAMstack website pre-rendering the markup, and when the user requests a web page, server-side code execution is not necessary. This can be done with static site generator (SSG) tools designed for this purpose. Website owners can build their e-commerce platform with Shopify APIs and generate web pages SEO-friendly. When a user checks a product listing, site owners don't need to make a database query to gather product data because it's already done with JAMstack, and website owners can integrate design into Shopify's CMS.
New Tech: Using Cloudflare Zaraz for Shopify instead of Google Tag Manager
Google Tag Manager helps website owners manage JavaScript and HTML tags without a developer. With Tag Manager, you can place Google Ads and other marketing tags on your website and quickly edit tags.
It may seem easy to use, but it has many disadvantages. For example, if you make a mistake while editing, updates will cease, and you should look at the code for the correct error, which requires HTML and JavaScript knowledge that equalizes its initial aim.
Cloudflare Zaraz is a state-of-the-art tag management service that boosts your website page speed through processing third-party integrations of tags. It may seem like an alternative to Google Tag Manager, but as too many tags need to be installed, software developers searched for alternatives for Google Tag Manager. The Cloudflare Zaraz can boost website speed using on-demand servers worldwide for quickly executing the code to the user. Google Tag Manager requires technical knowledge for this, but Zaraz is a simple tool that everyone can easily use it. By implementing Zaraz, you can increase your speed from 10 to 30. You can visit the Zaraz website to analyze your website speed performance.
Managing Out-Of-Stock Product
Permanently unavailable product pages and temporarily unavailable product pages will adversely affect your search rankings and eventually your sales rate as it decreases customer satisfaction when users can't find the product they are looking for. To fix this, you can limit users' visibility of the out-of-stock pages by listing them down on the page. You can also arrange notifications for customers waiting for temporarily out-of-stock products by e-mail or SMS to inform customers about the current stock information. You can find substitute products and recommend them to your customers with internal links for permanently out-of-stock products. You can also give the pre-order option to your customers to make them trust you and don't prefer other brands.
On-page SEO refers to optimizing website pages to increase organic traffic and improve rankings and user experience. Contrary to off-page SEO, which includes optimizing the outside website elements, on-page SEO includes publishing high-quality content with relevant headlines, meta descriptions, and HTML tags.
There are many on-page-SEO problems that site owners should take into consideration:
Duplicate content

Broken internal and external links

Lack of header and meta tags

Missing image alt attributes
Title & Description: The Real Showcase of Your Site in Google
Meta tags provide the summary of your website data and ensure that search engines understand the website page content and rank accordingly. Search engines use meta tags to index and rank your website in search results by understanding what the website is about and categorizing the relevant results. In short, meta tags are crucial for successful search engine optimization. The basic meta tags are listed below:
Title tags

Header tag

Meta description tag

Image tag

Keywords
A title tag is the HTML element defining the web page. Title tags are crucial for SEO as they help search engines and users to understand the content. To write a title tag, site owners should do keyword research, pay attention to the length, and not use duplicated tags to have an SEO-friendly website.
Keyword meta tags used to be crucial for SEO as they affected the website search result ranking. But over time, website owners abused this by using many irrelevant keywords to rank higher, which ruined the Google algorithm as it can't decide which website should place higher in relevant search results. As a result, Google officially announced that keyword meta tags are no longer influential on search result rankings.
To calculate how well the meta tags work, clickthrough rate (CTR) is used. CTR is the ratio of the clicks to the impressions that your website receives. It gauges how keywords, images, and ads affect your search ranking. High CTR means users find your website relevant and your website ranks high in the search results.
There are many ways to increase CTR. The first method is writing short and simple titles by using descriptive and relevant keywords. The second method is optimizing meta description by informing users about your page content and answering questions on a topic while using relevant keywords. For instance, e-commerce websites with high CTR use important keywords, such as discount, pay by instalments, showing variants, high quality, etc.
Title and description are game-changers for SEO if used correctly. Here is the step-by-step explanation of how to change the Shopify store title and description for better search ranking and traffic:
Go to the "Shopify Admin" section

Click "Online Store" and "Preferences"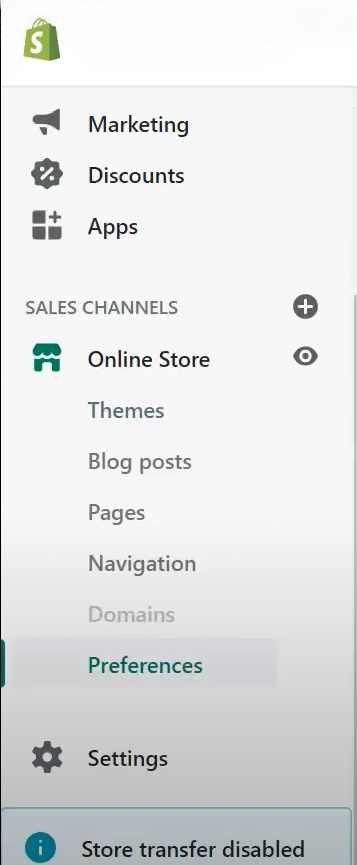 Change your homepage title and homepage meta description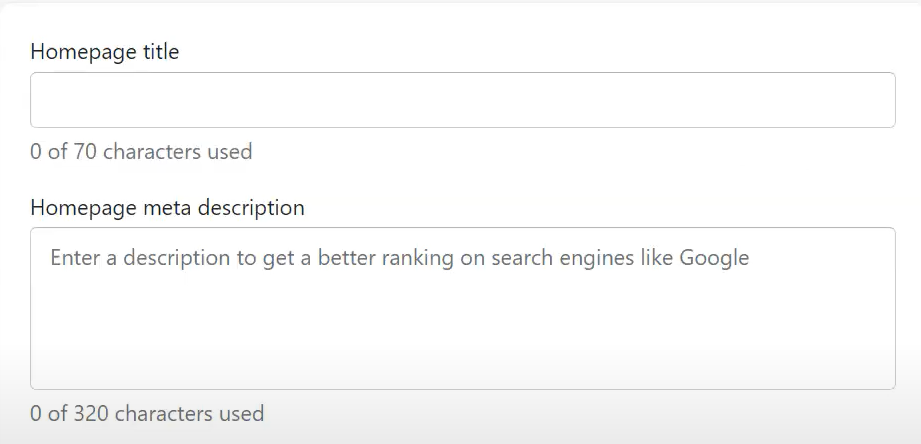 Alt Tags: Making Images Accessible for Bots & Visually Impaired People
Alt (alternative) tags are the description text of a media item and are useful to describe an image when the media is not loaded. Alt-tags are also used for visually impaired users as screen readers. Alt tags can also improve website SEO. Google uses alt tags with computer vision algorithms and the website page content to understand the image subject. You should avoid keyword stuffing as it may cause your website to be seen as spam and result in a negative user experience. You should include useful information and relevant keywords on your alt tag.
Google offers an image search service that allows users to search the web through images. When users click on an image in the Google image search and click on the link that directs to your website, your website traffic will increase. Images are also website content and using them correctly is a crucial part of digital marketing strategies. Considering that %20 of the Google traffic is for images, you can take advantage of Google image traffic by optimizing your images for SEO.
URL Structure: Making Your URLs More Understandable
URL (Uniform Resource Locator) is the address of a website. Google uses URL as a search and sorting parameter, which makes URL optimization crucial for SEO. To ensure your URL is found by more users online, you should plan the main categories of your website and use related keywords on your URL. These keywords should relate to your services and popular search results. SEO-friendly URLs should have target keywords. Here is a good example of an SEO-friendly URL and a bad example respectively:
SEO-friendly URLs are crucial for the clickthrough rate as short URLs with relevant keywords will rank higher in search results and increase CTR. You can change your website page URL in Shopify by:
Go to the "Shopify Admin"

Click the product page you want to edit

Scroll down to the bottom of the page

Click "Edit Website" SEO

Change URL from the URL and handle section

Save the changes
URL needs to be redirected to the new one by 301 redirect, a permanent redirect that takes search engines and users to the new URL of a website. Please check old URLs by httpstatus.io
Rich Snippets: Bringing More Content to SERP Results
Rich snippets are improved search results that provide additional information to users about website page content. Search engines like Google use snippets to feature extra data like ratings, reviews, and images which draw attention and encourage users to click on the website. Rich snippets are not a ranking factor, but research suggests that users are more likely to click on websites using rich snippets as they give more information about website content and give clues about if your website is relevant to users' search.
You can use schema.org to decide how to form your rich snippets for SEO. There are many different types of Rich Snippets. You can decide on a specific type for your website. For example, you can use 5-star rating reviews from customers and product markup including price and product image for your Shopify product page.
Rich Snippets apps from Shopify App Store:
Hello Rich Snippets for SEO

Schema Plus for SEO

JSON

‑

LD for SEO

Schema & Breadcrumbs

SEOKart
User experience is the general experience of a website user regarding user-friendliness, website page speed, and SEO-friendliness. Offering a good user experience can result in more website traffic, a higher conversion rate, and more sales. This article explains the best strategies to deliver a better user experience for your Shopify stores.
Shopify CRO: Increasing Conversion Rate & Experience to Rank Higher
E-commerce user experience is how your customers feel when visiting your website. Providing a good user experience can help you gain loyal customers and increase your website traffic and CTR. According to a study by Forrester, a good user experience rate could profit conversion rates up to 400%.
The conversion rate is the percentage of your website's visitors completing the desired goal. A high conversion rate indicates that users want your services, and your e-marketing strategy is successful. Conversion rates also allow you to measure the success of your marketing campaigns; they can be used to detect the right promoting channels for user experience. To calculate the conversion rate, you should divide the total conversion number by the total visitor number of your website in a given time frame and multiply the result by 100.
(Total conversion number/total visitors) x 100
To optimize your conversion rates, you should find the current conversion rate of a single page and create conversion rate optimisation experiments. To create a CRO experiment, you should set up a destination goal and an event goal. Destination goal is a tool that tracks URLs on your website, and event goal is the tool that tracks users completing a particular action on your website.
To increase your conversion rates, you should consider improving the user experience of your landing page since these pages are designed to motivate users to perform a specific action. For SEO, you need to ensure you optimize your landing page as this page will have the most impact on your customers. You should run A/B tests on your landing page to make your page appealing to the users.
To motivate users to purchase items from your website, you should boost your website conversion rates. The points below are the best e-commerce CRO strategies adopted by successful businesses:
Offer free shipping options for some shopping amounts.

Create coupon or discount codes for a limited time.

Determine a competitive price for your market.

Use chatbots and live customer services to assist your customers 7/24 online.

Design your website layout to help users easily find the products they are looking for.

Include customer reviews about products.

Maintain a good product return policy.

Use high-quality images on your product pages to help users better visualize the product they are going to purchase.
Providing clear images of products increases the conversion rates of an e-commerce website. This is proven by research and the results demonstrated that the image of the product leads people to purchase more easily.
CRO is important for your e-marketing strategy and your website's SEO. Here are the best CRO practices:
To be sure that your visitors see the highlights of your website, you should place the most crucial parts of your website on your landing page or at the top of your main page and use graphics, images, and engaging texts to grab users' attention.

Provide free trial and information without signing up on your website to mitigate users' hesitation to share private information with third parties.

Use SSL certificates to gain your customer's trust showing that their information is safely handled on your website.

Conduct research on your website to identify different visitor types and detect user-experience problems.

Understand what your market dynamics are and develop e-commerce and e-marketing strategies accordingly.
Shopify offers its users the best apps to improve their e-commerce performance. Here are the 3 best apps to boost your Shopify conversion rates
Nudglfy

Candy Rack

Fast Checkout
SEO Friendly Design for Shopify Websites
Having an SEO-friendly web design means making your web pages easily and effectively crawlable to have higher results in SERP. As a result, you can attract users who are probably interested in your products, optimize your CRO, and you can get more positive reviews by earning the visitor's trust with your design.
There are several steps that you can follow to have an SEO-friendly web design:
Ensure that your website is mobile-friendly

Use sitemaps

Have a clear URL structure

Make your content indexable

Do not forget to add alt tags and image names
Content marketing includes creating and spreading relevant and consistent content to find and learn about the target audience and their desires. Different types of content can be used to develop a successful content marketing strategy ranging from blogs, e-mails, e-books, and guides to videos, infographics, and podcasts. Here are four content types which are mostly used on the web:
Creating Keyword Research for E-Commerce Blog
To make a customer purchase your products or services, you need to know how to reach them first. Then you should learn what your target audience's needs are, how they search for that need, and why they prefer a product or a service over others; successful keyword research can provide you with the required information.
Keywords are crucial for SEO; they increase website traffic by informing search engines what your content topic is. Keywords are phrases and words that users search for in the search engines like Google to find a specific result. For finding relevant keywords that will increase your search engine ranking, there are many online tools that you can use.
Google Keyword Tool: It is an online tool that helps users find the most searched keywords on a topic by matching the frequency of the relevant keywords or phrases used to find data or information.

Google Trends: It is an online tool that helps users compare different keywords and the search volume of a keyword on a specific timeline or location.

SEMrush: It is an SEO marketing toolkit that gives information about how many users search for a keyword, the keyword popularity, and similar keywords for you to use.

Long Tail Pro: It is a premium keyword tool that offers detailed data about keywords like what your website ranking is comparing other businesses that use those keywords.
Best Practices from E-Commerce Blogs
E-commerce blogs can significantly increase website traffic and search engine ranking when they are done correctly. You can find the best practices for your e-commerce blog to have more users click on your website below:
Keep your blog up to date. Search engines place new and updated websites higher in the search results.

Use internal links to increase sales by informing the customers about your products and helping them find the relevant products you have.

Show your customers that they can reach you by leaving comments.

Give detailed information about your products or services. Feature your best products or services to help users decide.

Use eye-catching images and design to draw users' attention.

Add a search bar to help users find relevant blog posts.

Offer relevant and detailed information about your services or products to ensure that users visit your website not only for purchase but also to learn.

Show empathy to your customers by sharing your story, your vision, and the reason why they should choose you.

Write SEO-friendly blog content to increase your website ranking.
Using Blog for Increasing the Organic Traffic for Shopify Stores
You can reach new customers and help both your loyal and potential customers find good content when they search for a related topic to your products or services. You should do keyword research to find the most convenient blog post ideas thus you can optimize your blog posts to be shown on the first page of the SERP. Also, the comments section below blog posts can help you learn what questions your target audience may ask and what further information they want to learn about your products or services.
How to Use the Keyword Research to Create Blog Post Ideas
You can find the keywords you should use to attract your target audience and execute a good keyword strategy for having an SEO-friendly blog. Think about the crucial topics relevant to your business and find what the potential customers want to know. Then write down these topics on the keyword research tools and find the most used keywords while searching about that topic. Avoid using too many keywords and decide which ones are most relevant to your context.
How to Use Competitor Analysis in Your Industry to Create Post Ideas
Observing competitors' activities is a crucial part of SEO as it helps you find information about keywords and avoid duplicate content. Audit your competitors' websites to shape your content marketing strategy and see the differences and similarities you and they have. You can also use competitor analysis to see what users look for on a certain topic and improve your website content accordingly. You can use the data from competitor analysis to create blog posts on the topics that you lack.
Just like in many fields, creativity is a key component for success while building a Shopify store. To help you better understand why it is important to have link building, why it should be done creatively, and so on, we created this explanatory content.
What Is Link Building and Why Is It That Important for Shopify Websites?
Link building is an SEO technique including building backlinks, meaning links to your website from other websites. Link building is crucial for increasing your search engine ranking as links are the primary sources for search engines to decide the relevance and value of a webpage and determine its ranking. Here are the three types of backlinks:
Editorial/Natural Backlinks: Other website owners use a link to your website because they think your website is relevant to their context.
Outreach/Manual Backlinks: A website owner reaches out to another to ask them to add their website link to their website page for marketing and reaching out to a larger crowd.
Non-editorial/Self-created Backlinks: A website owner asks another to write content for their website and use a link to their website.
Having a solid link building strategy is crucial for Shopify websites because of the reasons listed below:
Search engine algorithms are to discover new web pages through their link, so having more than one backlink for your page will result in Google indexing your website faster and higher search results.

Search engines consider the number, relevance, and quality of a website's backlinks to determine whether a website can rank on the search engine result pages and how high it should be featured. So having backlinks from the relevant and accountable website will increase your website traffic and search results ranking.

Link building strategies help businesses find relevant partners in the same market and increase brand visibility and credibility.
Finding the Competitors' Backlinks and Earning Similar Ones
To step forth in e-commerce marketing, you should adopt different strategies from your competitors. Website owners generally focus on SEO to increase their website traffic and rank higher in search results. Backlinking is a crucial element for SEO too, but many websites don't use them.
You can ace your competitors by using a competitor backlinking strategy, which means analysing the backlinks of relevant websites to comprehend the criteria of the number, types, and quality of backlinks you should use. To do that, you should determine your target keywords that affect your website's search engine rank and use these keywords to differ from your competitors and use them at your backlinks.
To find your main competitor, you should do a related search on Google by typing related: [URL of your website] and see your competitors. After that, you can use online backlink checker tools, like SEMrush, to see which of your competitors are at the top of the list and analyse their backlinks to adopt yours.
Which SEO Tools Can Be Used for Creating a Link Building Strategy?
You can manually execute link building for your web pages, or you can use user-friendly link building tools to create a link building strategy that will help you have an SEO-friendly website. Here are the most popular tools to use for link building:
Ahrefs

Linkody

GroupHigh

BuzzStream

JustReachOut

Moz Link Explorer

NinjaOutreach

Link Prospector

BuzzSumo

cognitiveSEO
Content Marketing Strategies for Shopify Websites
Content marketing helps you create SEO-friendly websites by creating relevant and influential content to rank higher in search results. So, developing a content marketing strategy for your Shopify store is crucial for visibility. To execute a successful content marketing strategy, you should choose channels that you will use to reach your customers and help them find your store. You can use online store pages, social media accounts, blog posts, or email campaigns. After deciding where to post your content, you should determine the content types that will offer the best user experience. You can create written content or videos and images to reach your potential customers.
And finally, you should set your business goals and create content accordingly. You can create contents to increase brand awareness, sales volume, product demand, or customer loyalty. After that, you should create relevant content for your goal.
You should also have variant content on your website to reach more people online and rank higher in search results, as Google regards having updated content for search result rankings. You can plan your content with a calendar, publish regularly, and offer your customers something new.
SEO is the backbone of Shopify so without a good SEO, Shopify stores might not be as successful as expected. There are many ways to achieve a good SEO and one of them is using the hreflang attribute. In this content, we will explain how to use hreflang properly so that you can have a good SEO which in turn will help you get more success on Shopify stores.
How to Create International Strategies for Multi-Country Shopify Stores
Shopify is an e-commerce platform for retailers from different countries to sell their products in various countries online. Online retailers from nearly 175 countries worldwide use Shopify to expand their market. As Shopify merchants have customers from various countries, having content in multiple languages is crucial to increase sales in different regions. To execute a successful e-commerce platform in various countries, you should create international strategies for multi-country Shopify stores.
Firstly, you should determine where your products are purchased mostly to understand which countries are good choices for expanding your business. To keep your multiple Shopify stores, you can get various domains for various countries like .com.tr for Turkey, and .ca for Canada. Secondly, you should duplicate your Shopify store manually or by using online tools like Rewind Copy to feature all your products on your various websites. You should localize your product prices to allow selling in multiple countries and currencies. You can also use IP to redirect your users to their local website. For instance, if your main website is based in the USA, but your customer is from Turkey, you can redirect your customers to your Turkey shop website where they can see prices in their currency and appropriate shipping options. And finally, you should choose the countries you want to sell products in by updating Google Search Console to ensure that Google will feature your website on multiple language rankings.
International SEO Definition
International SEO is the optimization process of your website for multi-national and multi-language businesses to rank in multiple countries or languages, and it needs special implementation. In international SEO, you optimize your website not only to attract users from your country but also from multiple languages and countries. To do that, you should use user-friendly URL structures for the countries you want to target. Create content in the languages of your target countries to offer proper content to your multinational users. If possible, work with a translator and enable a good user experience for your multi-national customers.
What Is Hreflang? Why Do We Need to Use It?
Hreflang is an HTML attribute for websites using multiple languages' content and a crucial element of SEO optimization. Hreflang is an attribute used for determining the geographical targeting and language of a website page that includes multiple language content. Hreflang is used to inform Google about your website variants in different languages and ensure that all your websites ranked in search results.
X-default tags are attributions specifying the default page of your website recommended by Google to your users when other language variants of your website are inappropriate. Google features the best version of your website that matches the elements like user's location, language and search keywords. In other words, Google looks for language codes, and if your website doesn't have multiple language variants, it will fall back to the x-default version of your website. Hreflang tags are crucial for SEO as Google will feature your multiple language websites on SERP, which will result in increasing website traffic.
International Store Settings in Shopify
The most crucial part of creating international strategies for your multi-country Shopify stores is configuring the appropriate international store settings on Shopify. To be successful in international e-commerce in Shopify, you need to optimize your website for the international market. To do that, you should establish unique URLs for different countries. Establishing international domains means having unique website addresses and offering a localized user experience.
If you want to use only your primary domain for all of your international shops, here are the steps you should follow:
Go to your Shopify admin page and select "Settings/Markets"

Go to the "Other Markets" section and find the market you want to establish, then select "Manage".

Go to the "Domains and Languages" section, then select "Manage".

Go to the "Market Domains and Subfolders" section and select "Primary Domain Only".
Here are the steps to establish domains or subdomains for your Shopify store:
Go to your Shopify admin page and select "Settings/Market".

Go to the "Other Markets" section, find the market you want to establish, and select "Manage".

Select domain or subdomain from the "Market Domains and Subfolders" section.
After establishing international domains, you should set international pricing and shipping. Here are the steps:
Go to your Shopify admin page and select "Settings/Payments".

Select "Manage" on the "Payments" section.

Click "Edit" next to the country you want to edit in the "Countries/Regions" section.

Click "+" to increase and "-" to decrease price adjustment on the "Price Adjustment" section.
You can establish your international shipping methods, go to the "Shipping" settings on your admin page and check your shipping prices and international shipping options to reach more customers from different countries.
How to Add Hreflang into Shopify in Template Editor
You should add the hreflang attribute to your multi-language Shopify store to inform Google that you serve in multiple countries and languages. You can add the hreflang tag to your Shopify store by using Shopify's templating language. For two store web pages with the same URLs and different domains, you can add the hreflang tag. To do that, you should change the "mystore.com" section of your liquid code with your primary domain name for the country.
How to Check Your Hreflang Implementation Is Correct or Not
To create international SEO-friendly websites, you should ensure that your hreflang tags are appropriate. You can check whether your hreflang implementation is correct or not by using online tools like Sitebulb and Screaming Frog. Using a third-party tool for hreflang validation, you can check all hreflang variations from multiple domains, whether hreflang links are redirected or broken, and is the syntax correct.
If you currently have an e-commerce website on a different e-commerce platform, you should transfer your product information and content into Shopify without losing data or SEO traffic. Migrating to Shopify not only requires you to migrate your website data like images and product content but also your customers, orders, and website ranking. You can manually migrate your website to Shopify, or you can use a third-party store migration app offered by Shopify. If you import your data manually, you should use CSV files, in which information is separated by commas, and transfer data between programs.
Migration of Your Old Website to Shopify Store
When you migrate your website to Shopify, you migrate content like products, blog pages, data, and customer trades from the old platform. You should have a plan to do that. Firstly, evaluate your current data and decide which ones to migrate to Shopify. After you have chosen that, you should decide how to migrate this data and in what order. Firstly, you should install URL redirects for your current customers to minimize the risk of losing customers. To do that:
Log in to the website platform you are migrating from.

Go to "URL Redirects" in account settings.

Enter your current URL in the form and the new Shopify URL there.

Do this for all the URLs you want to migrate.

Go to the Shopify admin page and click the "Settings-Apps" and "Sales Channels".

Select "Navigation- URL Redirects".

Select "Create URL Redirect" and enter the old URL you want to redirect customers from.
Adopting an SEO Migration strategy is crucial while moving your website to Shopify and securing your current SEO traffic. While migrating your e-commerce websites, you should ensure that all URLs redirect correctly to the new website page. Moving everything that Google has indexed is crucial to detain your URL to a broken 404 page which can affect your SEO and search result rankings badly.
Not having a well-established, qualified data migration plan can result in a budget deficit and malfunctioning data operations. Unsuccessful data migration can result in inaccurate data and false data increase without a solid system.
A strategic data migration plan includes these steps:
Getting detailed information on data through an audit to overcome all possible issues that can interfere with the migration process.

Solve the issue identified from the audit with third-party applications and software.

Back up the data before migration to ensure that your data won't get lost if something wrong occurs throughout the process.

Run tests and track data quality to ensure you get all the necessary data to the new domain and offer the same user experience, which will help you maintain your position in search rankings.

Create a 301 redirect, a permanent redirect that informs users and search engines about the new URL. If you don't create a 301 redirect, Google will feature your old website on search rankings which will result in losing customers. There is no single way for 301 redirects as it depends on your server and content management system. You can use third-party applications like Easy Redirects 301 & 404 SEO and Repairer: 404/301 SEO Redirect from the Shopify App Store.
Shopify is an e-commerce platform that allows merchants from different countries to build and run a company in various domains, like web pages and online marketplaces. Merchants from 175 countries prefer Shopify to reach larger groups and expand their sales rates. Online shop owners should follow some rules for running a successful business. A crucial rule to follow is undoubtedly creating an SEO-friendly website. But, having an SEO-friendly website is not as easy as it sounds because there are many technical rules to follow, and only a specialist can conduct most of them. But don't worry Shopify offers its users numerous apps to help them boost their Shopify SEO.
Most Performing SEO Extensions from Shopify App Store
Having good products and relevant content on the Shopify page is not enough to increase your website traffic. To do that, you should adopt an efficient strategy for increasing organic traffic to your online store on Shopify. Google algorithm ranks web pages in search engine results page according to their relevance to a specific search topic. As a shop owner, you should ensure that all your data like texts, images, videos, and meta tags should be relevant and SEO compliant. Shopify offers its users apps to help them build and track a good SEO strategy. Here are the most popular apps from the Shopify marketplace:
AVADA SEO Suite:

This app helps users to optimize images and alt tags compatible with the Google search algorithm.

SEO Booster:

SEO Booster has many features like SEO keyword suggestions, alt text updates, and automatic reports about your SEO strategy.

Nada:

This app helps you reserve out-of-stock products and keep your products active without having 404 errors, which decreases organic traffic in the long term.

SEO Manager:

This app offers different features like real-time feedback on broken links, search analytics, and tools to control how your website looks on search engines.

SEO Image Optimizer:

Images are a game-changer for website traffic, but not every website owner gets an advantage of them. SEO Image Optimizer steps in here by automatically optimizing the images and alt tags on your website to increase organic traffic to your Shopify store.

Plug in SEO Optimizer:

This app runs regular tests on your website to ensure that elements like titles, blog posts, headings, and meta descriptions that affect SEO are functioning accurately. It informs you about SEO issues in your Shopify store regularly.

AMP by Amplify Me:

AMP by Amplify Me allows you to convert your Shopify store into an Accelerated Mobile Page.

Image SEO

: This app allows you to customize your images and alt texts and helps Google to understand your website content.

JSON-LD for SEO:

You can attract more users by using snippets. Snippets are files containing reusable code chunks that give detailed information about your content and help users decide on visiting your Shopify store. You should provide Google large amount of data to ensure your snippets appear in search results. This app generates snippet codes to prevent possible errors.

Smart SEO:

This app offers several features to automatically run key SEO processes like generating meta tags and alt tags, fixing broken links, and editing sitemaps.
In conclusion, SEO is an essential process for improving the quality and quantity of organic traffic to a particular website, and Shopify is a great choice for e-commerce businesses looking to optimize their online stores for search engines such as Google and Bing.
Shopify is an all-inclusive e-commerce platform that allows merchants to build, grow, and run their companies, with 1.75 million businesses using it around the world. Additionally, the Shopify app store has over 3200 applications that help shop owners personalize their stores and improve their website traffic. With 44% of users starting online shopping through a search engine and 37.5% of all website traffic to e-commerce websites coming from search engines, optimizing your online store for search engines is crucial for increasing visibility, turning users into customers, and promoting brand awareness.