Digitalzone'18 Conference Recap
---
As Zeo Agency team, this year we have hosted important names from digital giants like Google, Facebook along with prominent agencies, and tools of digital marketing sector within the sixth Digitalzone conference held between 18-19 October 2018 at Istanbul Radisson Blu Hotel – Sisli. The event program, which was prepared with a different concept this year compared to previous years, had focused on content marketing during the first day, and performance marketing along with technical topics in the second day. At the end of each day, well known names of the market of Turkey answered the questions of attendees. We would like to thank to about 700 attendees and speakers who have shown interest to the conference for two days and share all the details along with the speaker presentations in this article with you. Pleasant readings!
Rıza, from the Facebook Messenger team, inaugurated the Digitalzone with his presentation handling the main components lying behind successful product development. You can access the notes we have summarized in detail from Rıza's unique Facebook culture approach to the processes below: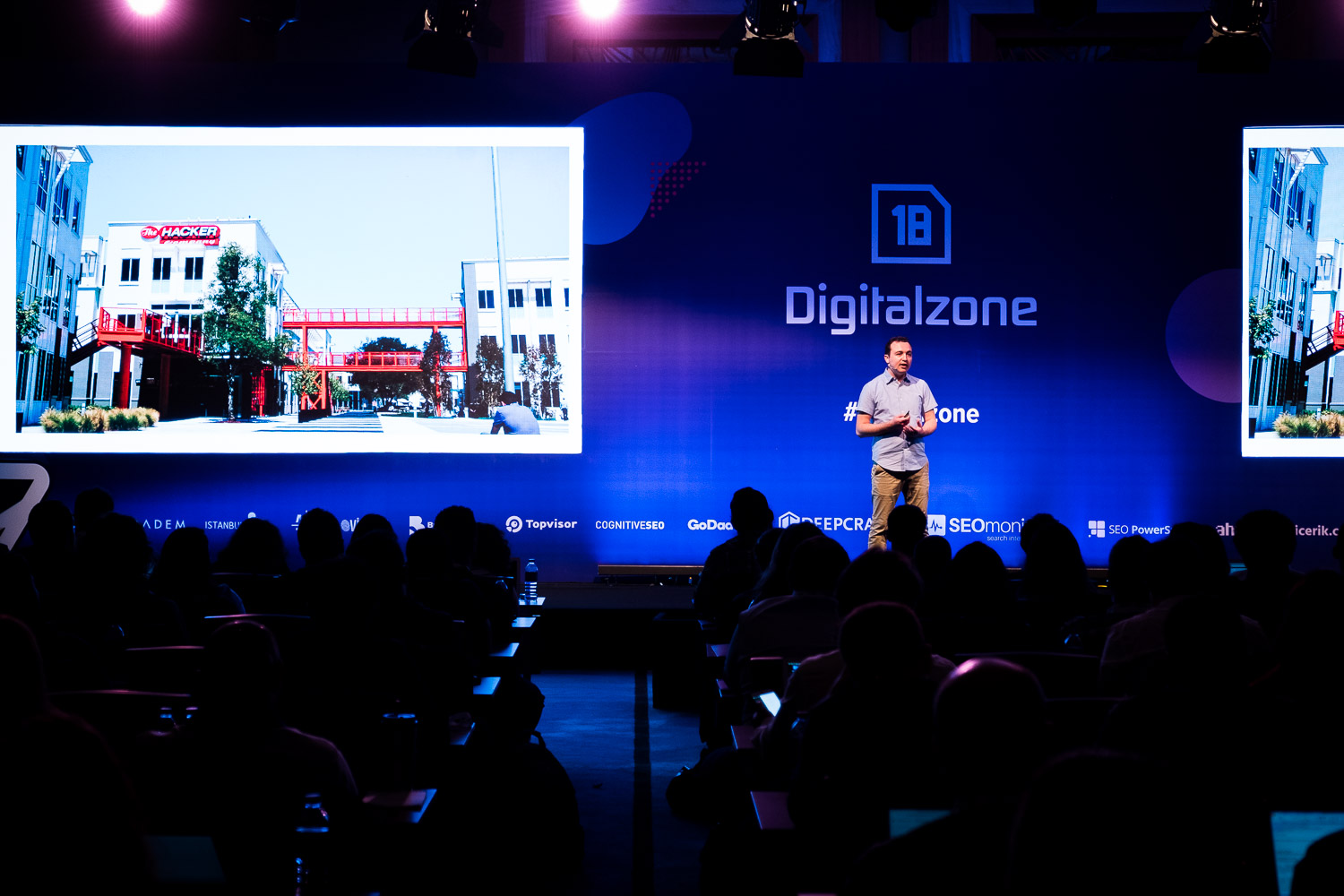 Company culture is the most important thing that connects you together and allows a company be successful
Mottos written on the posters hanged at Facebook offices have a great influence on company culture
One of the core reasons Facebook chose Hacker Company culture fur itself is because the meaning of the word Hacker brings them to look at complex problems from perspectives others do not and provide alternate solutions.
Facebook has also adopted Empathy culture and approaches this from connection speed angle. To comprehend the experience of people with slow internet speed around the world, internet speed within the company is limited to 2G on Tuesdays.
Messenger Lite app originates from the empathy point of view mentioned above and is a product that can work stable at slow connection speeds around the world.
Three basic elements exist in a successful product management: Understand, Identify, Execute
Understanding the purpose and the objectives is more important than metrics because metrics are not our objectives, they are dynamics that allow us to measure them. Because of this reason, we must always focus on why.
Determining the teams objective and primary purpose is also determining its mission While determining the objective, it is important for us to measure this designated objective after asking every member one by one and determine the purpose alltogether.
Identifying the problems is also as important. We must analyze previous projects and see what works and what does not work.
Identifying problems which previously occurred or may occur in the future, from humans point of view is very important.
After all these, all that remains is the teams coming together, appreciating the determined objectives and endeavoring to actualize them. Which is why we must create trust by communicating both with the team and with the people using our app. The trust generated by this good communication will allow us to create a good product at the end of the process.
Silverthorn Agency's founder Laura Crimmons, who has experience in different sectors, gave us beneficial information with her presentation of The Successful Content Marketing Campaign Blueprint. Laura stated that it is not possible to speak of any guarantees in PR and Content Marketing, and emphasized there are too many variables in the matter. Here are some short notes from Laura's presentation of guidelines for creating a successful campaign, in which she recounted these variables: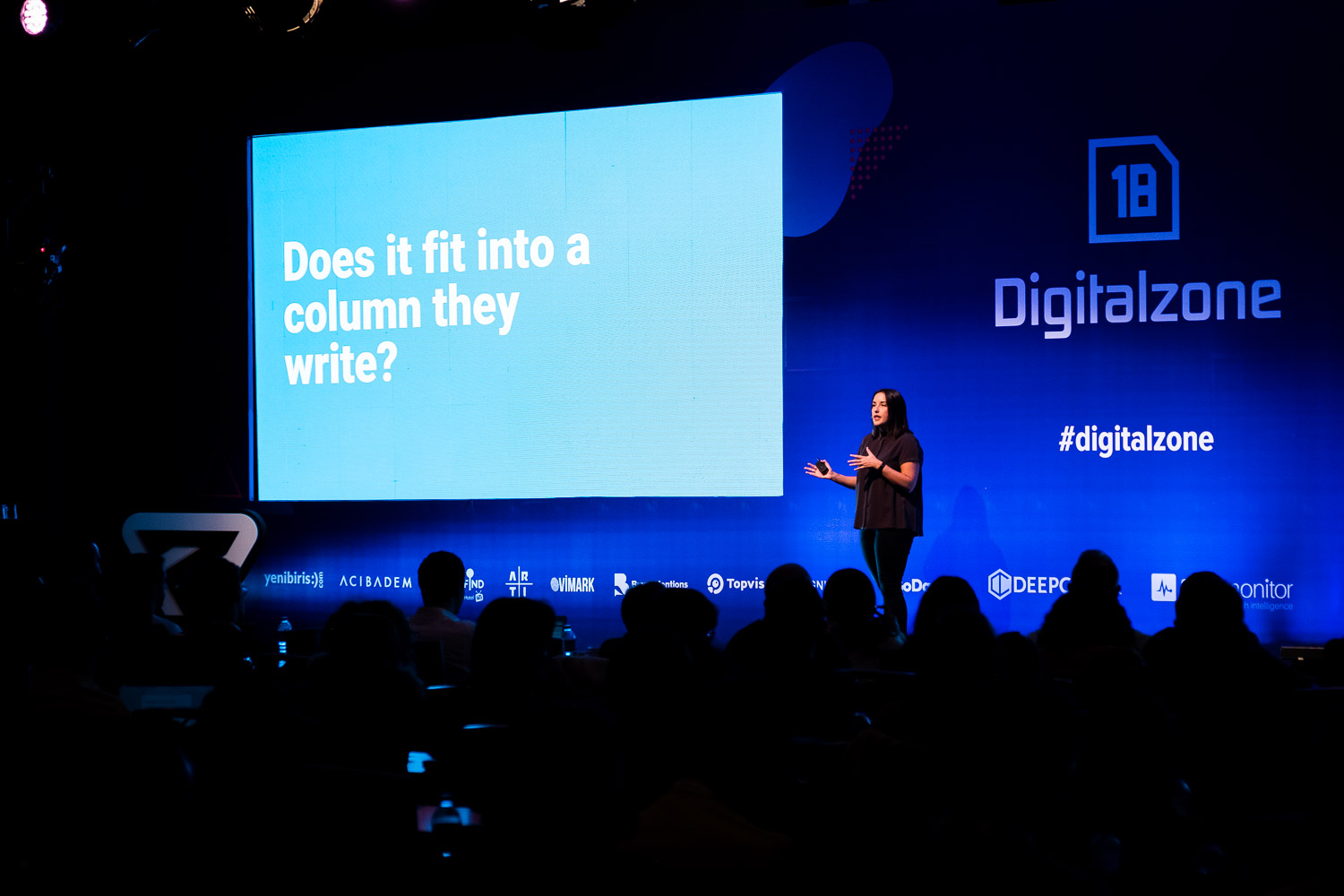 Timing – On which days should I write?
Special and trending days that journalists and media pay attention to must be taken into account (religious days, holidays, cultural events, etc.)
Credibility - What makes a brand credible
Privacy and confidentiality of workspace and meetings (GDPR)
Reflection of expert views to the website or service
Interest – Why should I be interested in this campaign
It should be checked if the subject has already been written about
It should be checked if it is within the area of interest of the person
Determine your target audience correctly, e.g. It should be checked if s/he has tweeted or written an article about this subject?
Limits of the subject must be defined
Emotional Reaction – What does this story make me feel?
What you make others feel will allow you to achieve results persisting for their whole life, e.g. Content about wars are always on the first page because if it hurts, it is important.
You must plan the answers to the questions of: Should I stimulate an emotion? Should these emotions be positive or negative?
Play with emotions that trigger people, activate them.
Influencing Humans – How can I influence?
Do case studies where you can measure human influence, e.g. You can do a study about hardships at work enviroment
Shareability – How can we get a better interaction?
Always take the human factor into account
Use the popularity of the written story or content to create interest in the next story in a way that you can utilize
Check if it can be shared on social media
Another important aspect is, try to tell your story with 280 letters in the Twitter.
Images – Which images should I use?
All stories need images
take care on how images are shared because you may not always be able to use a high definition image in every platform at the same quality
always add descriptions to the images
do not only use still images, use videos
In short, Laura told us what we should do one by one and gave us useful tips
Show that you did research
If you are communicating to a specific person, use their name
Do not be too friendly, or too cold, when communicating find a middle path
Do NOT send press releases as PDF. This will limit the journalists use capabilities
Support your content or news with healthy data, data sharing is important
Provide contact information clearly (e-mail, liaison name and number, address etc)
Proofread everything (do a final reading)
DeepCrawl SEO & Content Manager Sam Marsden, who made a presentation about automation in SEO reporting, spoke about the requirements of automation in an increasingly competitive environment and how we can do automation in detail. Here are the notes from the speech: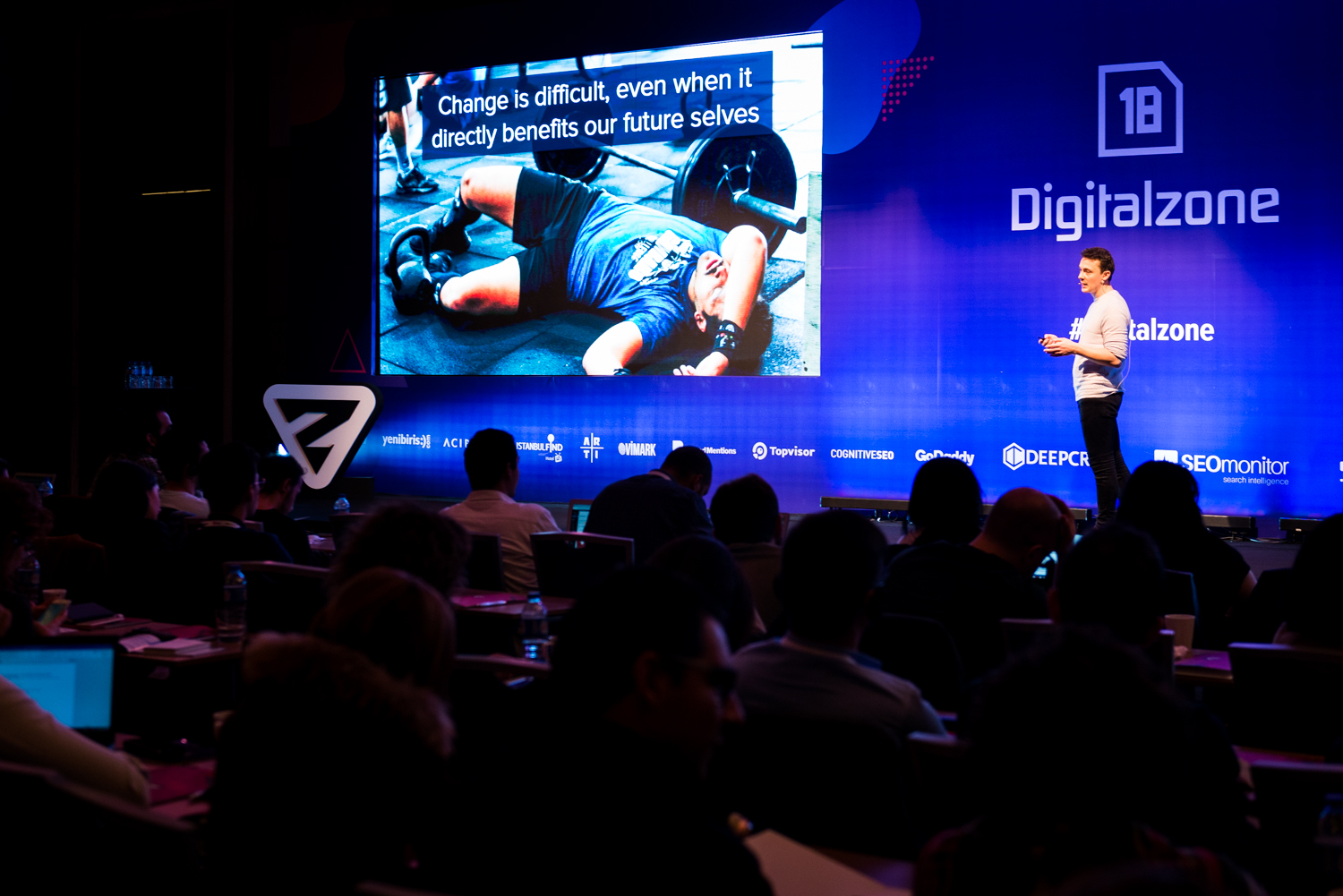 Automation is necessary to make the daily routine work faster, easier and to acquire more consistent insights.
He mentioned how DeepCrawl team automates reports using Google Data Studio and Zapier.
Google Data Studio was announced in 2016. Its connection to more than 100 connectors allows you to transfer a wide range of data for your reports.
Google Data Studio has become a rapidly spreading tool since its release.
It stands out with its ease to use and with its surplus connectors in report automation.
With Google Data Studio, you can import your Analytics account and create a dashboard with the data you want. This part will be constantly updated and you won't have to go back to pull data.
This becomes much more easier if you want to use the paid tool, Supermetrics, and it becomes easier to import third-party resources into Google Data Studio.
Once you've completed your automation with Google Data Studio, you must use Zapier to automate your work with auto-notifications such as alerts and mail.
To transfer DeepCrawl data to Data Studio, you must use Zapier. You get data to Google Sheets from DeepCrawl with Zapier. Then you transfer data to Data Studio via Google Sheets.
In this section, if you transfer data from Seach Console account along with DeepCrawl to Google Data Studio, you can show data such as XML sitemap problems, scan errors, indexed pages, alongside DeepCrawl scan results.
Finally, you can use an auto-alarm via Google Calendar to set a crawling schedule on DeepCrawl.
Lexi Mills, co-founder of Shift6, was with us with her presentation on Turning PR SEO and Content Marketing Stunts Into Successes in this year's Digitalzone conference. The highlights of the presentation are as follows: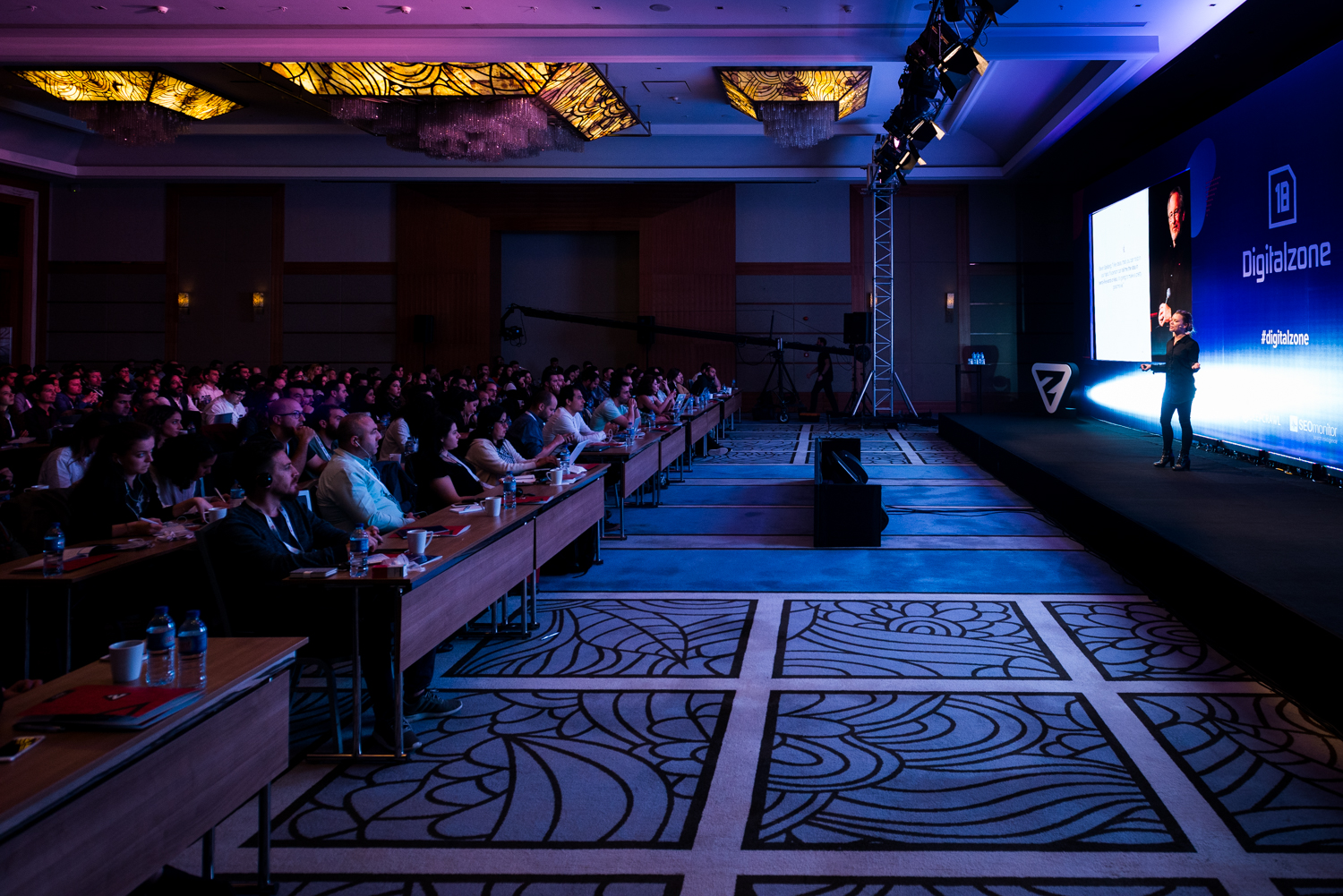 Lexi Mills, who started with an introduction that stated PR, meaning Public Relations, have a bad reputation, stated that she held the opinion that true PR is the creation of truth as far from fraud as possible.
Lexi emphasized that we must present big ideas in an acceptable way, and we think we should focus on things that will draw or even arouse the interest of the community by working with the experts of the subject.
We have to make the story we create credible, and we can list the things we need to pay attention to while doing this:
Be fast
Planning according to your budget
Pay attention to image choices
Separate your projects into multiple launch fields
Make sure that the backlinks are coming directly to your own site, as if a different site is acting as a bridge, it will create an unnecessary crowd.
Acquire information about artificial intelligence
Browse the keywords, identify which words trend (You can simply use Google Trends for this.)
Lexi first emphasized that there is a strong link between investment, search and trends, then argued that we must focus on consistent facts for a successful PR study, that we must strengthen publishers to create PR works, and we must get very effective ideas through quick and simple methods.
Matthew, who specializes in SEO, PPC and content-oriented digital PR campaigns, is the Operations Director of Aira, an UK-based digital marketing agency. Our notes on the presentation are as follows: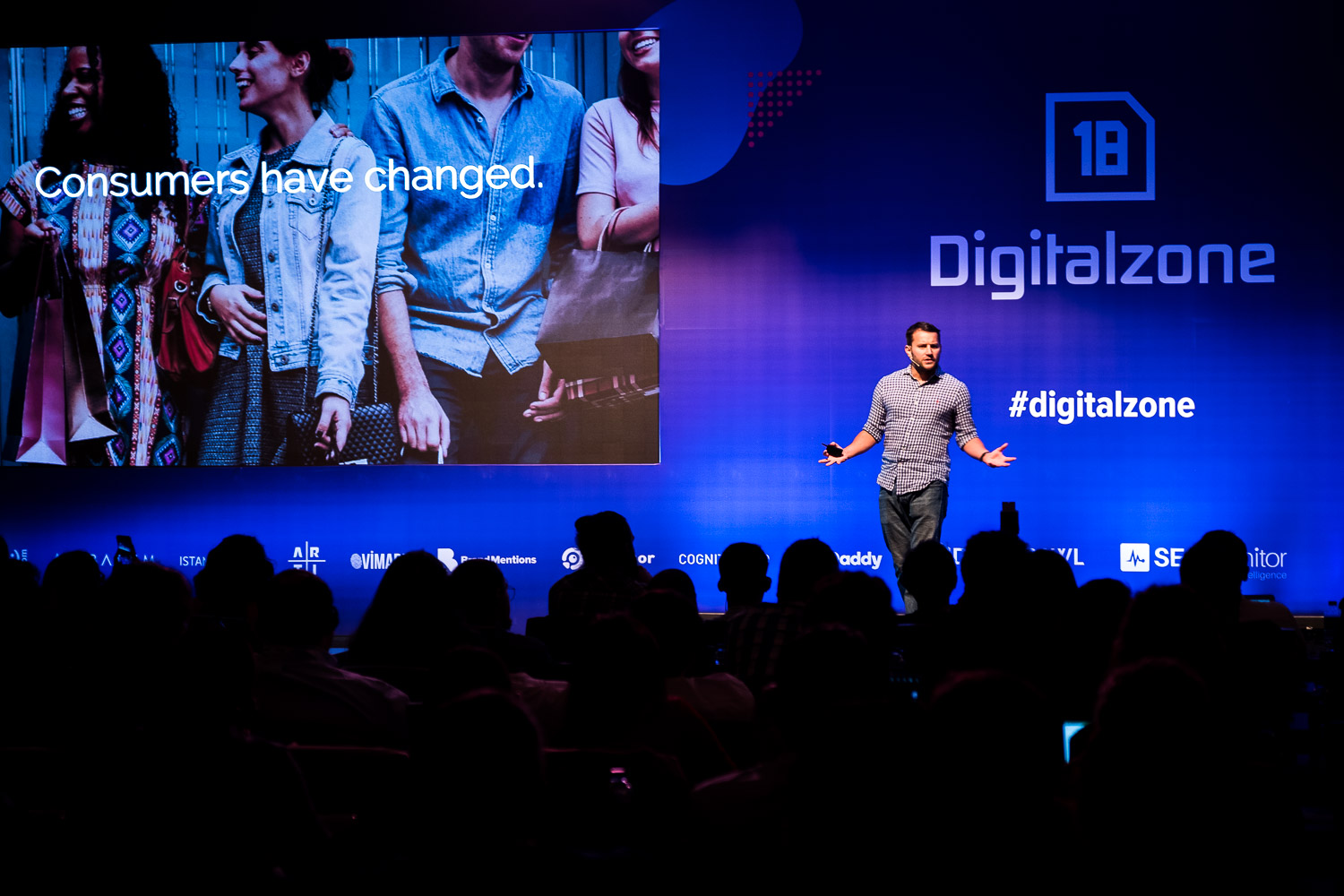 The consumer audience is improving day by day. Especially with the growth of the online facet, modern consumer behavior has started to change.
In the process of getting to know the customers, three important elements stand out; Awareness, Evaluation and Decision Making.
As an example of consumer behavior; first we think that our website doesn't get too much traffic, then we consider if we should use social media management software to increase this traffic, and afterwards we research which one we should choose thus we become aware.
Afterwards we begin to evaluate the advantages and disadvantages of such types of tools.
In the end, we make a decision about what to do and which concrete steps to take, but here the subject we need to pay attention to is the importance of the research and evaluation stages in the decision-making process.
If, during the course of our strategy, our resources and time are limited, it may make sense to focus on directly on decision-making, because the decision-making phase is more focused towards the buying phase which is the on the Conversion phase
In our content strategy, targeting has also great importance. After determining our primary keywords, we must also determine our secondary keywords related to the primary keywords/topics. For example, if our primary keyword is "The White House", "President of USA" should be one of our secondary keywords.
We can derive many secondary keywords and long-tail keywords from the seed / primary keywords we have in hand thanks to the various SEO tools. Then we have to divide this large pool of keywords into cluster structures according to their subjects.
After determining these cluster structures, in order to avoid the pitfall of keyword cannibalization, we must keep the words with similar meaning or same context in the same content according to the subject defined.
Once all of our cluster structures have been determined, we must re-categorize these structures according to the intentions of our visitors or customers for the keywords they search. Of course it isn't 100% possible to know the exact intentions of the users at all times. Therefore, we can use search results pages (SERP) to understand the purpose of the users.
It is also important that we include Google Ads data in all the processes we have mentioned first.
It is also possible for the same search queries on SERP to produce different results. This is completely dependent on the results of for what reason the user was doing the search.
Thanks to the Gap analysis, we can catch and be aware of our non-clustered words.
We must win back our visitors who came to our site through our content with remarketing afterwards.
In summary; We should be aware of the holes and opportunities by making gap analysis during the first stage of our content creation. Then we need to create a flowchart and prioritize our keywords by mapping them. We should be able to do clustering by categorizing our content with other, alternate content. Finally, we may have visitors to our content who only comes to get information, and leave. That's why our ultimate goal should be sending them to awareness, evaluation and decision-making stages.
SEOMonitor Marketing Manager Alen Todorov started his presentation with the theory of jobs to be done 2 years ago. Here are the details from the presentation: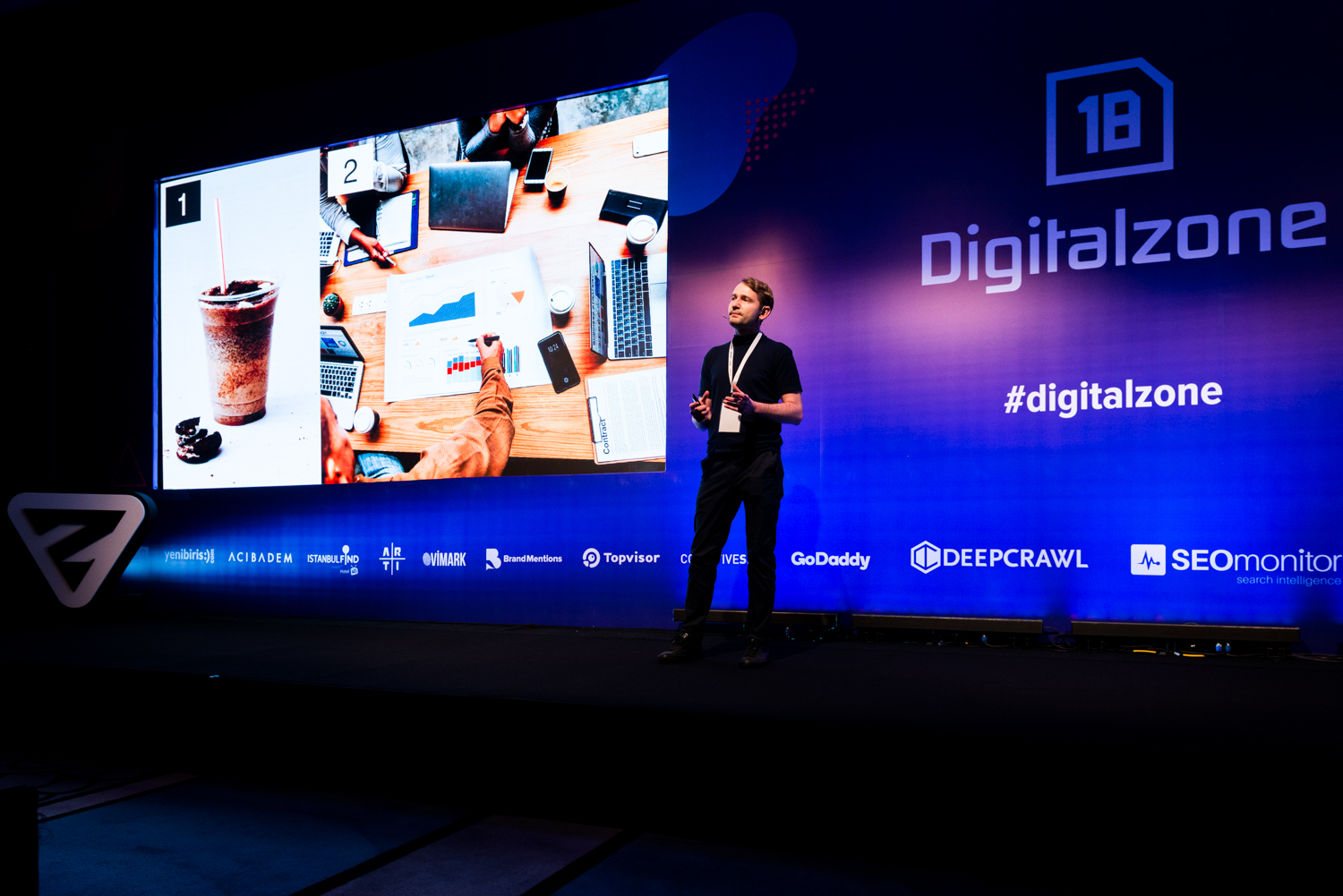 Alen began to explain the motto 'jobs-to-be-done' with a milkshake case study . A fast food franchise that sells hamburgers also wants to boost their milkshake sales by following a marketing strategy. For this, they examine everyone who buys milkshakes one by one. "Arrived early in the morning" "Came alone" "Ordered that with milkshake" etc. After they analyze the data, they realize that their target audience is actually staying in the traffic, and they're getting a milkshake to keep themselves occupied or "to do something". So Alen mentioned that in this case the customers didn't buy the product, instead the customers bought the service that product was providing.
He also mentioned how they implemented the example above within SEOmonitor, in particular. With SEOmonitor, they provide graphs, data, but these can be difficult or can be time consuming to be understood or to get insight from. So by thinking "How can we make this process more user-oriented?" and "What our user would like to 'buy here', he narrated the release of SEOMonitor's new tool, Signal.
Signals offer instant predictions of visibility, the difference from competitors in a given keyword group, and smart predictive insights that can compare to the previous week or month.
In the Signals section, the data will be continuously updated as a feed, so you can instantly share the data you select with the people you want.
Also, we must mention that this feature can be easily used on mobile platforms.
We share with you the following remarkable notes from Phil, who started his presentation by stating video is not a strategy anymore, but that video is everywhere.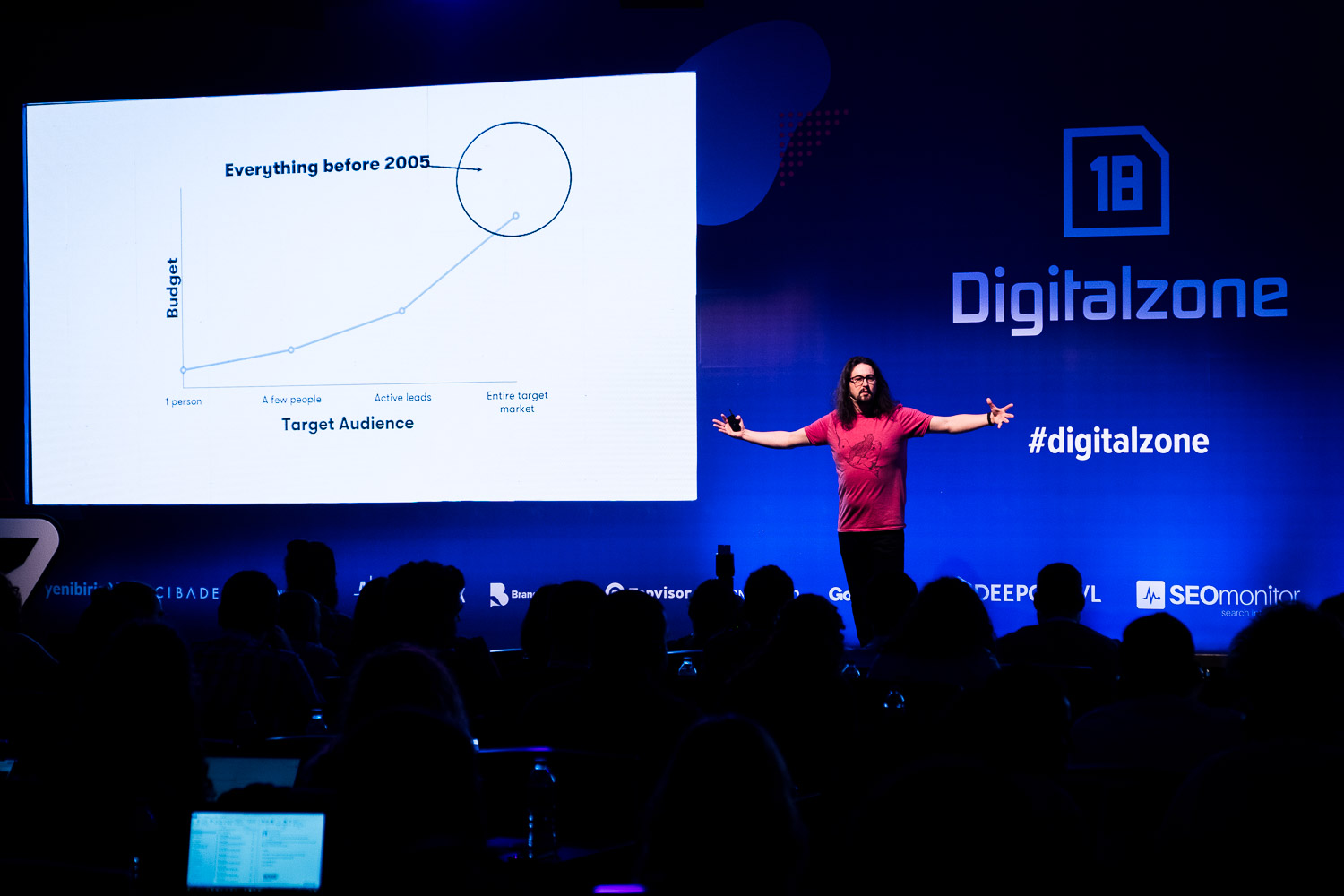 Facebook, Youtube, Vimeo, Instagram, Pinterest, Snapchat, Linkedin... They all turned into a video platform.
If you can't produce a video, Phil says 'you're missing the ship!
Now you can think of videos on the Internet as the new TV for users.
You must create more videos that are shorter and with better content.
When conceiving video content, we should consider three main parameters; acquisition, conversion and retention.
The approach to the platform is important. You must know who and what you can target on which platform. For example, if you are targeting a 65-year-old with a video content, Instagram will not be a very useful platform for you. There are two questions you can ask for this: "Does your target audience use that platform?" and "Will your target audience interact with your content on that platform?"
About the subject of videos and SEO optimization, you can measure the traffic to your videos via Search Console.
If you create a separate page for each of your videos, you can get correct measurements.
If you have a gallery, you should create a page for it by paying extra attention.
Video searches are usually more common than information searches.
If we consider video production, we can divide it into two as creating the demand and meeting the demand. When you create content according to the wishes and intentions of the searchers, you satisfy a request. To create your own demand, you can shoot videos directed towards PR, influencer marketing and ads.
When it comes to video, a content that has both visual and audio elements comes to the mind. However, on some platforms, even this can be different, weighring towards one side depending on the purpose of use. For example, the most popular content in Youtube is music, so its auditory use is more common. For Facebook, we can say that visuality is more important as it is a platform that allows video viewing in mute mode.
If you are developing a strategy on Youtube, it will be much easier for you to get an opportunity on Youtube with search results that provide low quality videos with high search volume and out of date videos
Does your Youtube channel create value? Do your videos really mean anything to your audience? These two are the most important questions in a successful video content strategy.
You should consider the main thumbnail images of your video like movie posters. It must urge the user to click.
It doesn't matter to be viral. The number of people watching the video is not really equal to the number of people who interact with that video. The same principle applies to the number of likes.
Mails with video in its content create 3 times more conversions.
Video is a source which can be measured best.
Yigit, founder of the event's organizator, Zeo Agency, was a jury member of the Search Awards in Europe and the USA. Our notes of Yigit's presentation on the Machine Learning Approach in SEO and Content Strategy about the sensitivity towards creation of technology in the SEO world is as follows: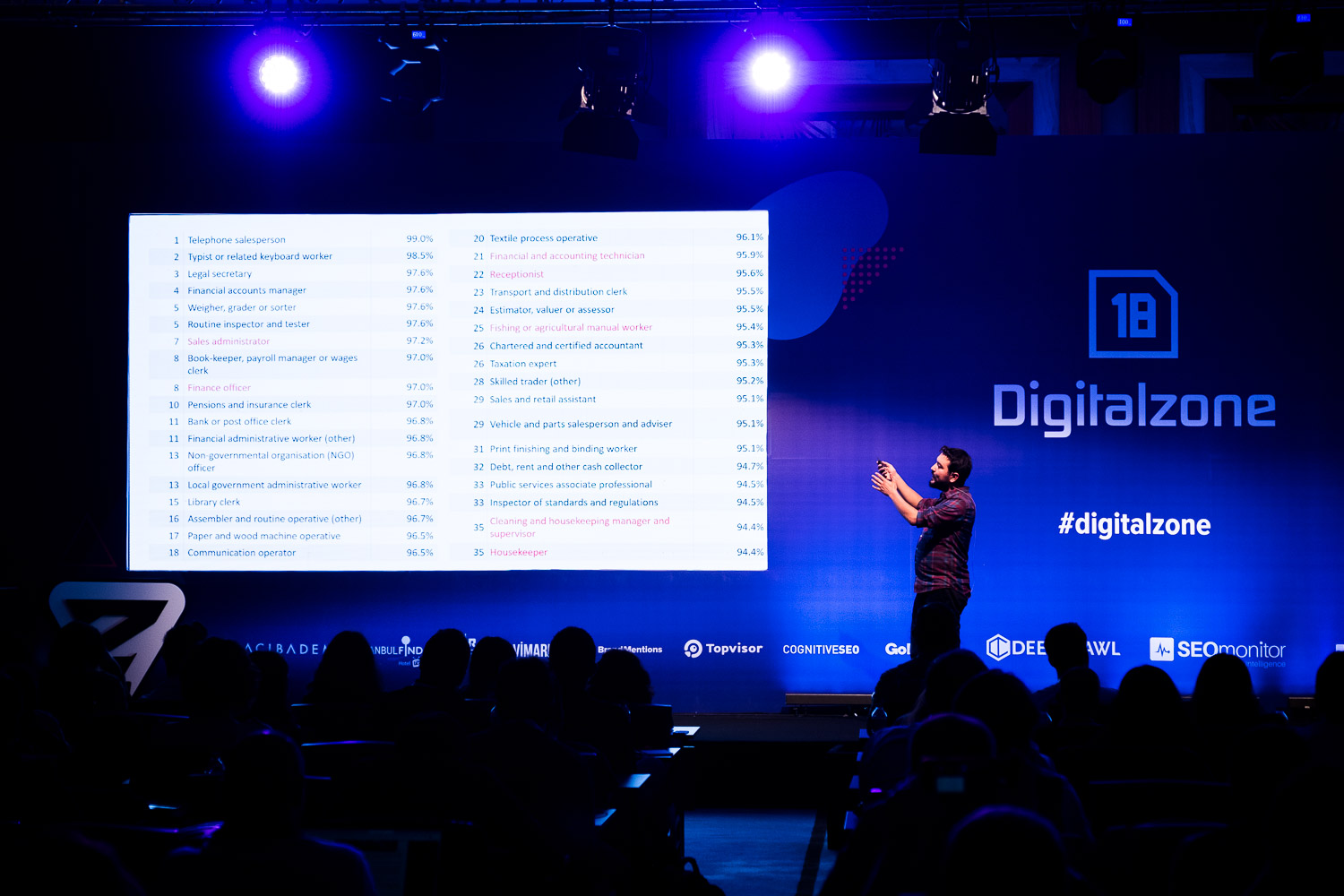 Machine Learning (ML) is available in and depends on many aspects of our lives, including Google Maps, the frequency with which we receive email in Gmail, or the Netflix we're watching.
Yiğit, who talked about how ML affects the world of SEO, or how SEO consultants will be affected by the future of ML, also stated that 33% of the employees in the marketing sector will suffer problems related to their jobs in the future because they will remain behind ML technology.
Machine Learning will affect many professions in the near future and may leave them unemployed. If it doesn't require creativity or superior communication skills in it, we can say that your profession group is in danger.
In fact, Progress happens on three basic principles. These are; Extraction, Classification and Prediction, meaning Extraction/Detection, Grouping, and Inference/Predicting. First, we understand a topic and then divide it into groups and make predictions.
Although ML and Artificial Intelligence, are two different subjects, they must work in parallel.
Google has been introducing Machine Learning in different ways for a long time.
The first time the world of SEO was introduced to AI was the Hummingbird update which came to our lives in 2013.
For example; while doing a search of "digital marketing conference", Google is now capable of identifying that "online marketing conference" is also searched for and provide results for it.
The Rank Brain algorithm, which entered our lives in 2015, uses a special sorting signal on Google for every search query which is actually applied by using only the principles of classification and prediction.
For this reason, each sector can have its own unique sorting signal.
Aiming with the Rank Brain is actually creating an auto-working and constantly learning brain inside. Therefore, even Google may not fully understand Rank Brain.
Thanks to the API support of Google Cloud NLP (Natural Language Processing), it is quite possible to bring meaning of SEO content.
Likewise, with TextRazor Natural Language Processing API, it is possible to extract meaning from our texts.
Thanks to the technologies we have mentioned above, it will be worthwhile to understand and summarize what an article is about, and to be able to get a specific ads aimed towards the interested target audience after that.
To summarize, as ML and AI are integrating into the SEO worlds, the skills an SEO consultant must be capable of to continue his/her job are; database management, statistics comprehension, doing excellent data analysis.
GoDaddy Turkey Marketing Manager Selina Bieber, gave us a presentation titled Rise of Online Security in the Digitalzone event we upheld this year, and shared tips about how can we be protected from security vulnerabilities on our websites.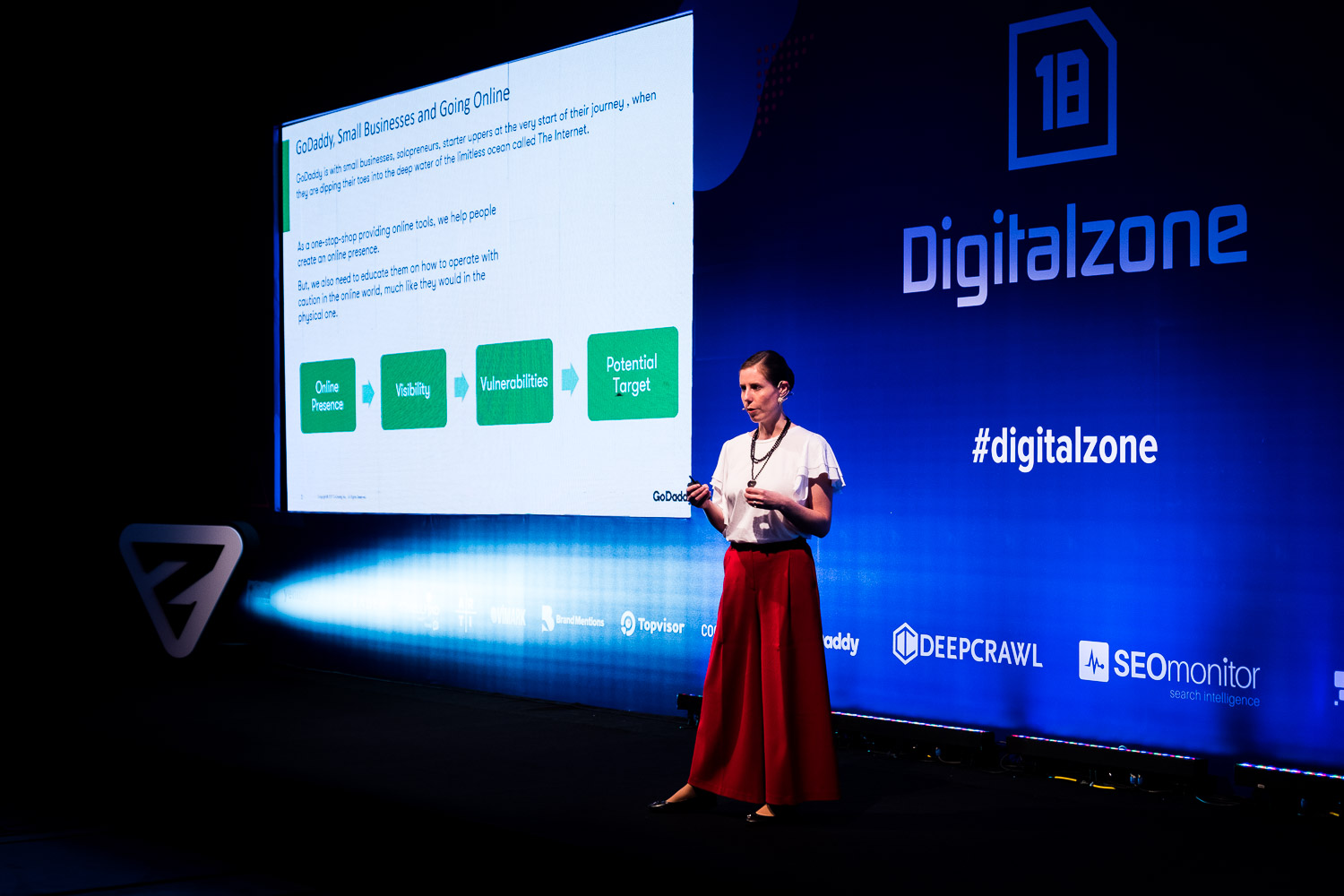 Selina Biebes, who said that IoT (Internet of Things) is a communication network which should encourage us to evaluate our approach to security assessment, also specified that 25 billion devices are connected to the internet and stressed that by 2025 this figure will reach 75 billion around the year 2025 according to statisticians
Selina mentioned regulatory systems for detecting data breaches, accounts with compromised privacy, like GDPR (General Data Protection Regulation) and IPL (Information Protection Law) and stated that security is the most crucial issue of our day.
Turning to the facts, she said that Wikipedia identifies this threat as any threat which includes malign missuse of a world wide web, such as http or https protocols to faciliate a cyber crime by providing data acquired from e-mails or IM connections
Selina emphasized that small businesses usually run over a single network and the smallest error put these establishments into a situation that can't be handled easily, thus websites of small businesses can be easily targetted.
Using outdated Platform: Wordpress & Content Management System (CMS)
Selina pointed out that last year more than 65,000 sites used software like WordPress and and content management systems which are out of date, then said that as GoDaddy they were requested cleaning for WordPress which constituted 52.9% of those.
How much information do we have about what hackers are getting?
Bank Information and Financial Information
Consumer or Customer information
Health Care Information
Business information
Other
The most common malware and threats are:
Banking Trojans: (Malware focused on stealing bank account access information)
Backdoor Trojans: Trojans with unauthorized access to the system (Cyber hackers on the computer or network are given access as an admin)
Spyware - Key Loggers: (steals any data entered via keyboard or touch screen)
Ransomware: (Encrypting files and then releasing them)
Exploit Kits: Malicious Exploiters (provides options to cybercriminal software installations using vulnerabilities on the victim's platform as you navigate the Web)
Bots: (from spamming to DDoS attacks, secretly installs software to steal the control of infected computers to assist other attacks)
Advanced Persistent Threats: (Generally, it is a kind of attack with malware, with the purpose of monitoring network movement and stealing sensitive, classified data)
Malware can affect search engine results, so Google, Bing, and others often blacklist small business websites for this reason, and these removed websites can't be viewed by the Search Engine.
So what should we learn from this? Be Aware, Check Your Tools and Minimize The Risks
Browse for yourself and your customers' practices
Identify the risks
Focus on metrics like Encryption / Password generation
Create a list of the top 10 security rules for your team and customers
Control who gives you access to your website
Choose your web provider carefully
Regularly review your safety
Serbay Arda Ayzit, Managing Director at Opdtcom, has been with us at the content panel on the first day of Digitalzone with a presentation about "Ways of Understanding the Target Audience for the Right Insights":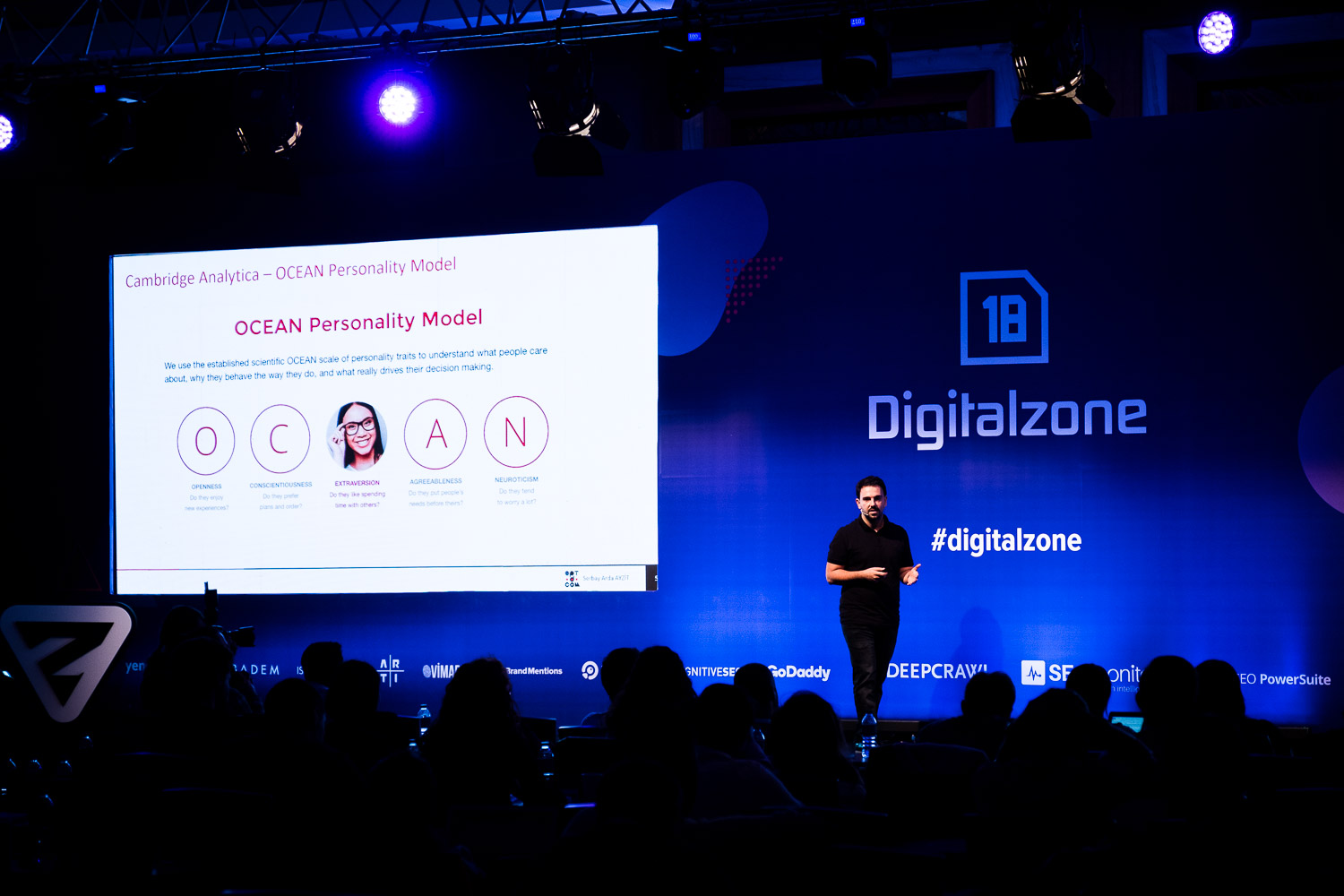 Consumer behavior and consumer expectations are changing today. Serbay said that consumers now expect personalized experiences. He mentioned the importance of changing consumer behaviors by stating that according to Salesforce research, "84% of consumers think that personalized ads are more effective"
So, why do consumers think so?
Many brands try to reach consumers with a standardized message, thus content marketing may not be useful.
Based on this, the "Cambridge Analytica OCEAN Personality Model" With this model, the individual profiles are divided into sub-groups, then personal advertising and personal mailing is done. Thanks to this model, differences such as the profession, age, gender and so on are easily parsed. Although the acquistion of data in this model is not ethical, in the future all the logic of the systems seems lean towards working in this way.
If such a detailed study is not available, with which tools can you know your target audience better?
In the Google Analytics tool, you can reach consumer demographics information from the "Demographic" section and consumers' interests under the "Affinity Category" section. Thus, you can get to know your audience better and give ads directly aimed for your target audience. With the "In-Market Segment" field, you can enrich your mass analysis. Since the category fields in Analytics are the same as Google Ads, you can also use these categories when creating ads for Google Ads.
With Facebook Audience Insight you can see the demographic features of your target audience such as gender, education, marital status. You can learn more about your target audience by seeing other pages that they like. If you don't have a page yet, you can see which other pages the target audience you want like.
With Linkedin Website Demographics, you can look at the job distribution of consumers who visit your site.
With the. "Audience Interests" section on SimilarWeb you can see other areas of interest to consumers who visit your site. In addition, if your site has an application, you can review what other applications your application users are using.
How can you turn these insights into efficient actions?
The needs of each area of interest are different, so you should compare them on a channel basis and optimize them according to your interests.
You should examine your interests deeper and find differences according to age ranges. Advertising strategy may vary depending on age differences, so these different subgroups are is important to influence consumers.
The more you multiply the filters, the better you will understand consumer behavior.
İlyas Teker is a Advisor Board Member at DeepCrawl. In the content panel that took place on the first day of Digitalzone, he was with us with the presentation titled: "How Do You Increase Your SEO Traffic by Analyzing Your Content Regularly?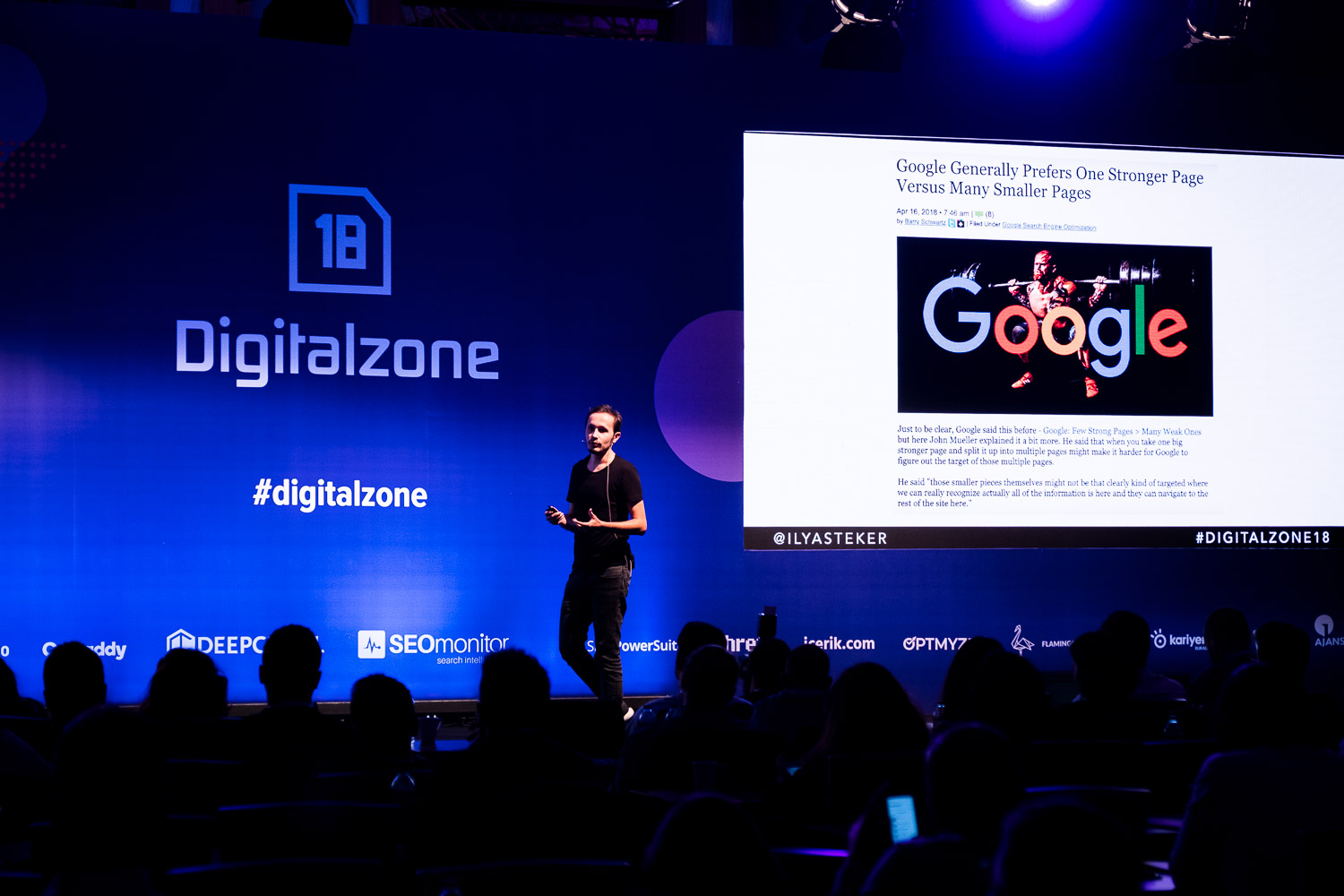 There are 7 million articles written in a day and 4800 blog posts published per minute.
Different types of content are being produced.
We have to analyze the contents regularly. The old topic should be updated and the same topic should not be written.
John Muller: "Not more pages, but fewer, better optimized pages are more valuable for Google."
Over time, the topics become so similiar that, more than one content can be generated on the same subjects.
If the contents are not analyzed, your crawl budget will be wasted.
You can improve performance by clearing unnecessary content.
What will you get if you do content analysis regularly? - You will have a better position on Google. - You will provide more traffic. - You will use your crawl budget more efficiently. - You will get more income. - You will increase brand awareness.
So how do we do these things? - First, we need to understand the technical issues of our website. So we'll start a crawl. - We crawl our site with Deepcrawl, we get data. In general, we check for their mistakes. - Then, we're looking at the performance metrics of pages with Google Analytics. - We get the data from the search performance page on the Search Console tool. - With the SEO Monitor tool, we get keyword - We're getting traffic data with Semrush. - Finally, we receive traffic data with Ahrefs.
What do we do with all the data we receive, what is the information given to us? - We will examine metrics such as page type, title, necessary actions, total traffic, organic traffic, bounce rate, revenue, conversion rate, number of words on the page, social sharing.
- According to the results extracted here, we can update, forward, merge, or close the article to Google.
You must merge all the data that you have received and create a file that will include them all together that you can check with vlookup.
2019 will be an even more competitive P.S. İlyas Teker created a template for all of her stories. From here: bit.ly/icerik-analiz-ilyas - In addition, if you want to examine the problems on your website, you can register to Deepcrawl for free at bit.ly/digitalzone-deepcrawl.
Ugur Eskici, founder of the Kriko agency, received applause with his presentation of Content Marketing in Turkey during the content panel. We would like to thank Uğur Eskici who came running to the Digitalzone stage with the mud still fresh from his mandatory military service and share the details of his presentation with you below: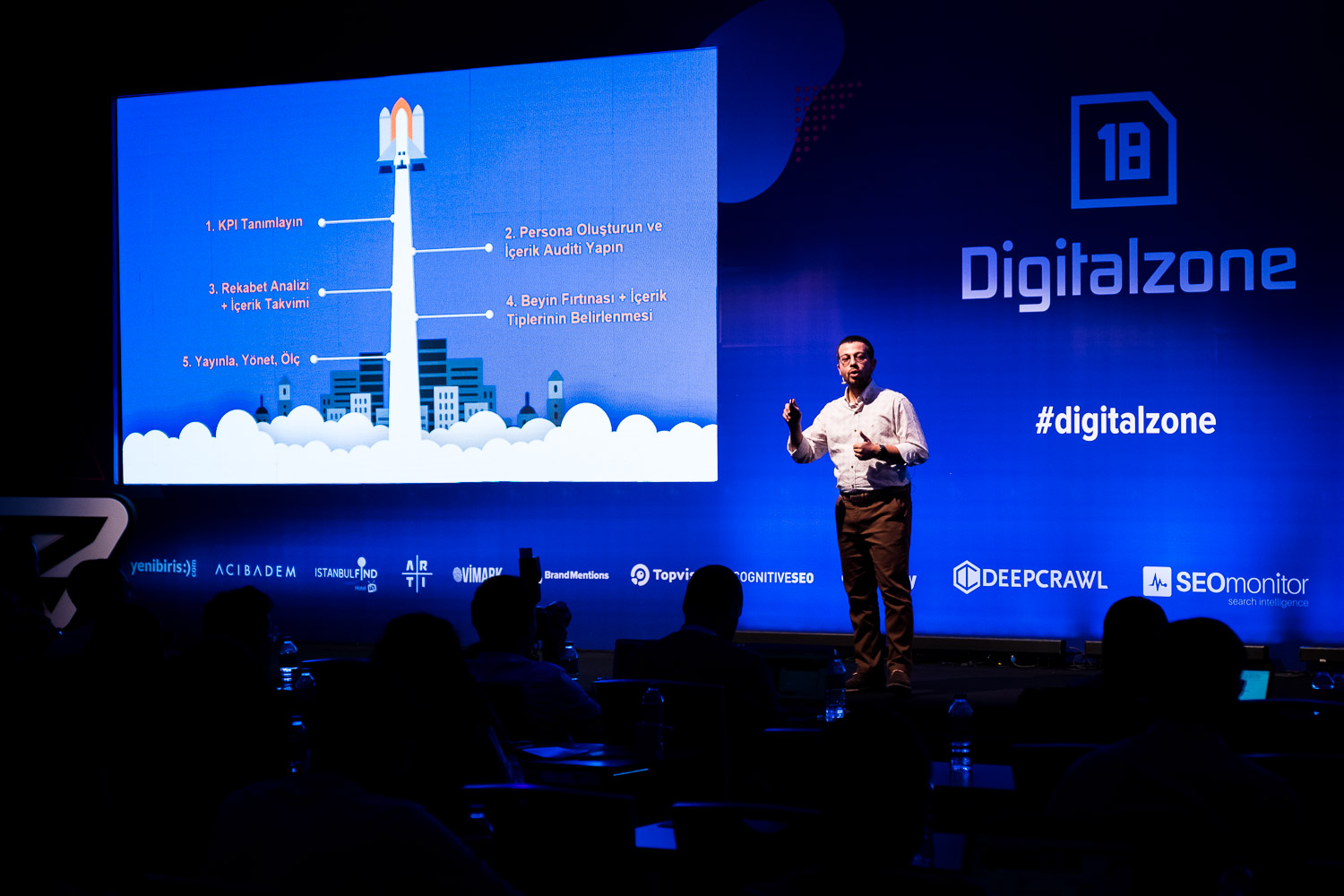 We all forget that the most important factor in the content is the soul. Didactic, keyword-oriented writing does not have any meaning for the reader. Indeed, your mastery of and interest into the subject seeps into your article and this way you can push the reader to interact with your content.
Copied content percentages of content on websites worldwide on a yearly basis were; 25% in 2013, 29% in 2015 and now it reached to %49 in 2018. Naturally it is highly likely that the article you wrote was already written. But that doesn't mean that you shouldn't write it. Within the context of the topic you chose, on the part of what should I write, there are some questions you should ask to yourself. How do I write this content better? How do I differentiate this content from others? When you move forward on these questions, it will not be very difficult to achieve success with your content.
The average time period for % 55 of blog readers is 15 seconds. So think about what you can give the readers during this time to keep them in your article.
The way Google handle copied content is this: it groups all of them together and lists the best among them among results. So produce content to be the best.
For technical reasons, copies of your content may occur; such as http / https versions of your site or not using the canonical tags correctly. Therefore, to make your content unique and special, you must also correct the errors in the technical side.
The content you create should create a value. So make it into a story! Inspire the reader with a well-constructed, unbroken and flowing content. It gets harder to sell a product, if you do not provide inspiration about it and about how the buyer can use it.
Define your KPIs correctly. One of the first things you must do when you start is the KPI definition. Then, by measuring them, observe what you are doing, how well you are doing, and which parts you are missing.
Make content controls, create personas for yourself.
Let your customers interact with those content, they should be able to comment.
Do a competition analysis, you should have a specific content calendar.
On the second day of the event, Larry Kim, the founder of MobileMonkey, shared the details of Unicorn - Donkey concept digital marketing method which he delevoped on the Digitalzone stage to the audience. Important bullet points in the presentation which included impressive images are as follows: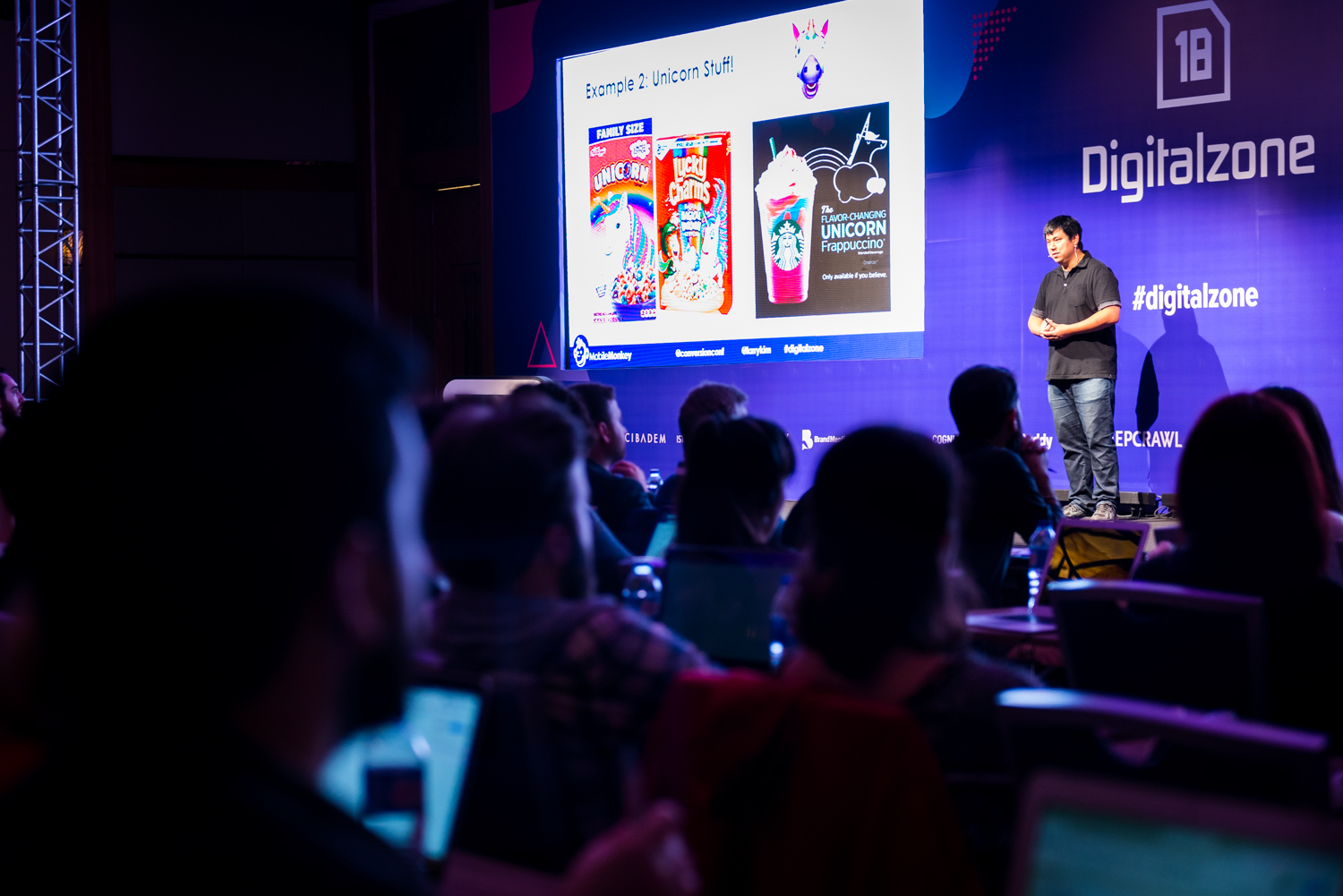 In recent years, remarketing started to trend and marketers have shifted their focus to this field. In 2019 and the coming years the important thing is to find the new major marketing channel. The next trend according to Larry Kim: Facebook Messenger and chat marketing.
97 percent of online marketing work is wasted because in recent years, Facebook and Google have made major changes by including machine learning into their algorithms. Digital marketers need to identify and transform marketing content with low conversion rates and invest in content that brings more conversion rates. Larry Kim, has created his own concept by idetifiying benefitting good quality content as Unicorn, and low quality content with no return as Donkey.
One of the most important signals for finding Unicorn content is CTR (clickthrough rate). The higher the CTR, the lower the cost becomes and since you can find the users who are really interested in your content, the higher the CR (conversion rate) may become.
Also, according to Larry Kim's personal research, clickthrough rate can be a ranking factor.
You can create a large number of different types of campaigns, identify Donkey content (low CTR content) among them, and keep alive the Unicorn content, and resume your next campaign strategy according to this.
If you have Unicorn content, you can use social media ads, which is a cheap method convert them to infographics or video graphics, and write new, more detailed content about the same subject.
One of the best ways to increase CTR is to create content by analyzing the user's demographics.
Chat marketing, which is the most important marketing channel for the next 5 years according to Larry Kim, click-through rates are considerably higher, and the rate of message opening and replying is much better than other traditional channels such as e-mail because it is a more personalized method of communication.
For example, if e-mail has an opening rate of 20 percent, the chat can have a 50 percent reading rate and 20 percent CTR. According to Larry, this marketing method is not spam, because ultimately he thinks that the user is interested and checks on his own will.
In traditional marketing methods, the landing pages were invested on, but this method is no longer working. Instead, you should focus on getting people to send messages to you. In this way, with less effort due to help from chatbots and artificial intelligence algorithms, you can easily present the user the information he wants.
The comparasively much more cheaper Facebook Messenger Ads can be a preferred method in today's world of marketing, where Facebook ads are 100 times more expensive than in the past. You can focus on adding users into your Messenger list.
In short, it will be important to allocate more budget to the content that performs well in digital marketing and to use messaging marketing more effectively in the coming years.
Bartosz is co-founder of Elephate, the winner of the "Best SEO Agency in Europe" award at the 2018 European Search Awards. Technical SEO is not only Bartosz's business, but also one of his greatest passions, and therefore he likes to travel the world to share his enthusiasm with SEO-related people. Below is a summary of his presentation in Istanbul, which is one of his latest stops in the world: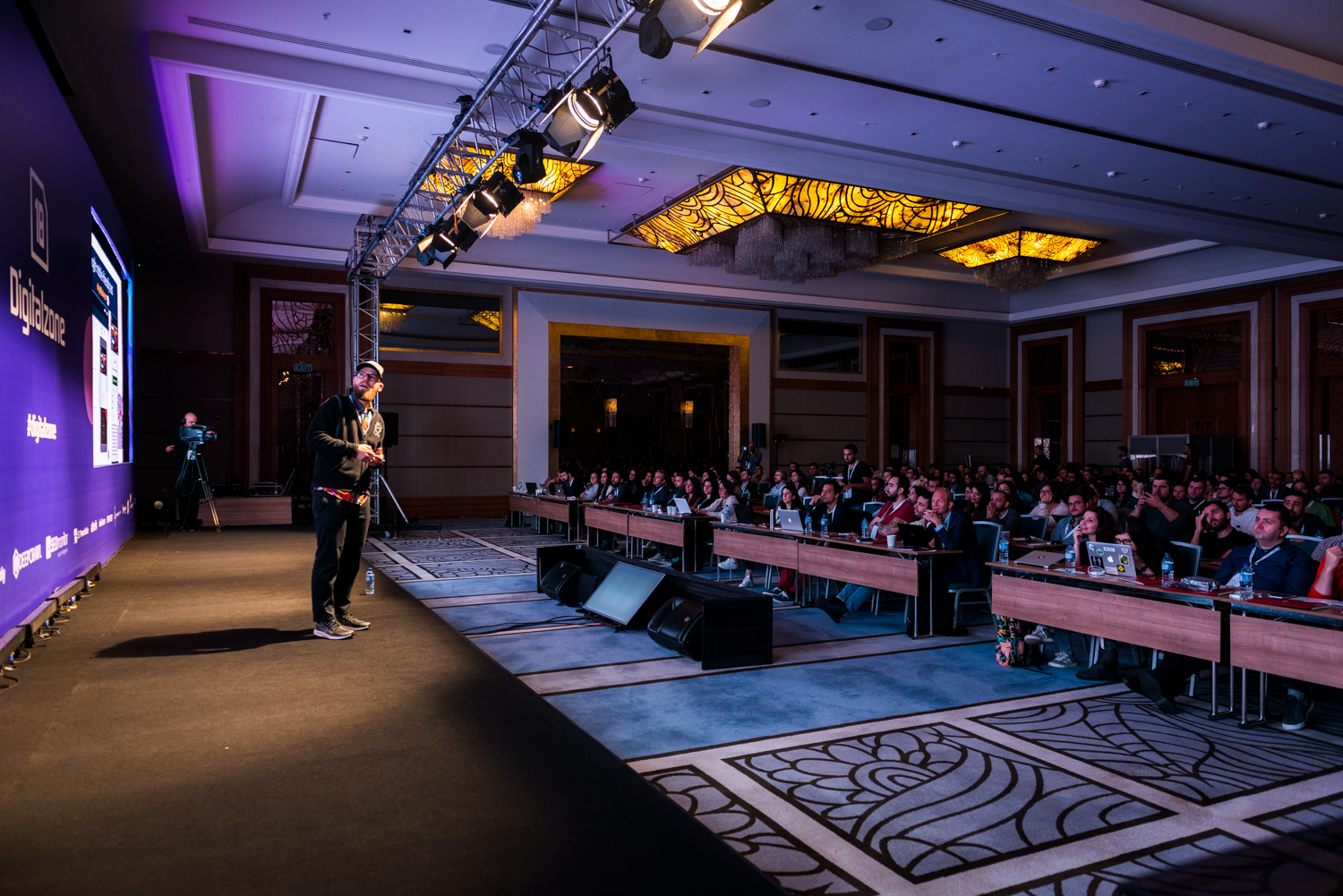 It is quite important to be equipped with technical competencies as an SEO consultant.
Technical SEO problems are quite common nowadays.
With 2018, technical SEO became more complex.
There are three major SEO trends on the agenda right now. These are; Mobile First Indexing, Javascript Indexing and Site Performance.
With the use of Javascript on sites, various risks began to emerge. Googlebot is having a hard time with this.
In the process of indexing a normal HTML site, Googlebot came to our site, crawled, and went on after indexing. While in a JS site, Googlebot comes to our site, is forced to render it for crawling and it needs to visit the site a second time may be to index it. This makes JS rendering and indexing an extended process.
The reason why Googlebot can't do this on a single run is that JS indexing is much more expensive than regular HTML indexing. Processing a Javascript page requires a lot more CPU usage.
For example, Netflix announced that it switched from the React.js framework that it used with client-side rendering to the plainJS structure, (and presented it from the server,) resulting in a 50% performance increase. JS is also linked to most of the problems that occur in mobile priority indexing.
While Google AMP offers accelerated pages, it's not the only solution to all performance issues.
Tests with GTmetrix cannot clearly tell page speed on mobile. It makes more sense to use Google Chrome's real-world data (CRUX) via the PageSpeed Insights tool.
Metrics such as FCP, DCL, CDN speed, CPU performance are the main metrics we need to look at.
Kevin Richard, founder of SEObserver, discussed what we should consider with his presentation of "Google Ranking Factors: Machine Learning Based Analysis" in this year's Digitalzone event.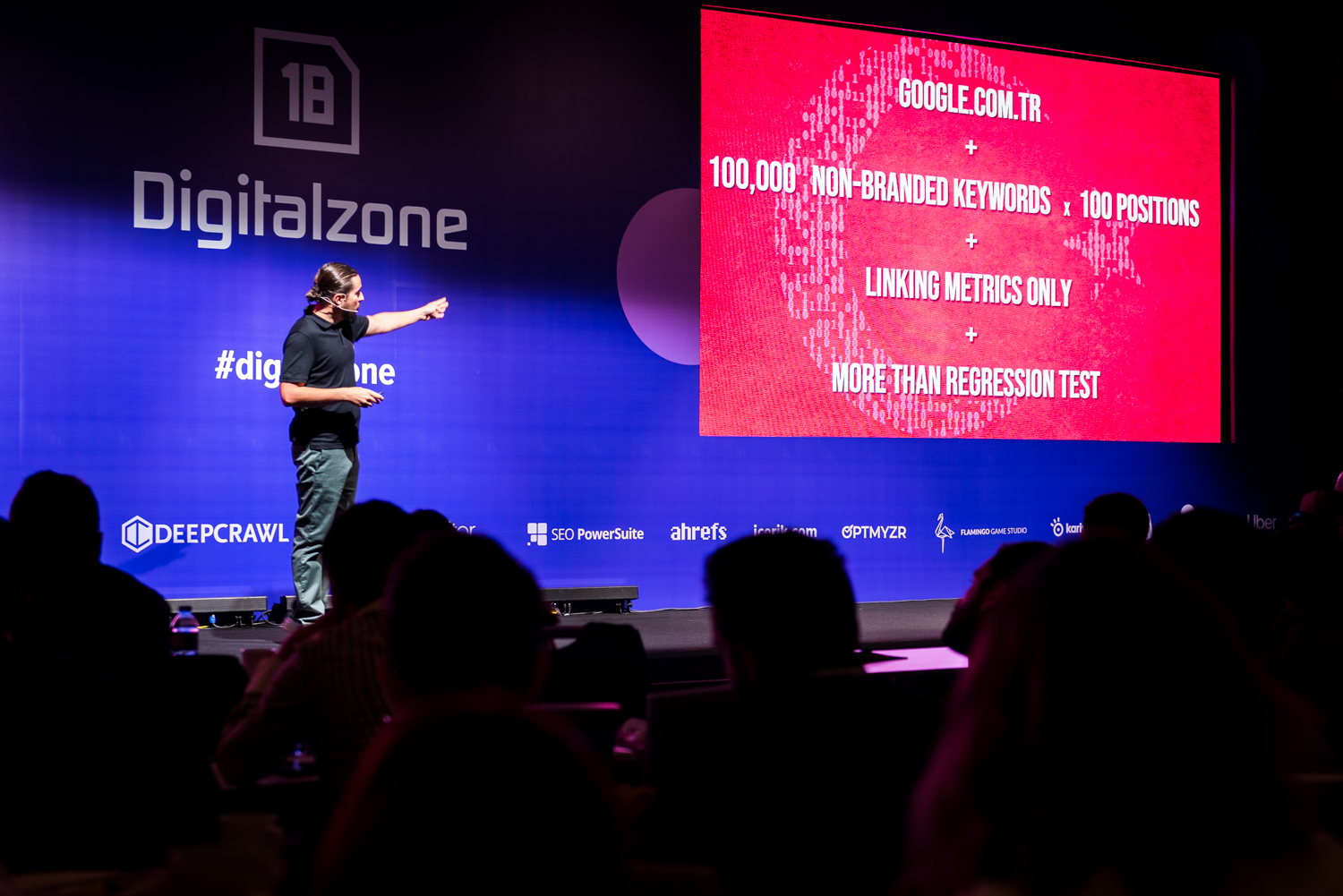 Describing the ranking factors with data acquired from the tool Majestic, Kevin underlined the metrics for backlink acquisition. Kevin also underlined that the backlinks are an important criterion for Google because it shows how many different domains the backlinks originate from in total and the number of websites that decide to reference your website.
Trust Flow: - Google's ranking factor that measures how reliable the links to your site are
Citation Flow: - A metric that shows how many different sites backlink to the domain
Kevin explained that they had done a study on the methodology and that they analyzed 100,000 keywords, that they recorded the metrics separately for each position, and that there was no difference between fighting an inflatable doll and and fighting a real human. Kevin emphasizes that they do not want the algorithms to specialize in fighting the inflatable dolls and that they primarily aim to teach the algorithms this, and which he proceeded to name "cross validation"
Kevin, who described the meaning of the algorithm in a humorous way; For the algorithm: It's a word that computer programmers use when they don't want to explain what they do!" and caused a gale of laughter in the hall.
As a result, from the information he provided us, he listed the ones we should keep in mind as follows: - It is very important that you overtake your opponents in the ranking and watch your environment
- Backlinks should be taken directly to your URLs - You can benefit your site with internal linking - Publish your content on large scale sites (high Trust Flow)
Barry Adams, an award-winning SEO consultant specializing in technical SEO, shared critical information about Google News optimization for marketers and site administrators working in the online journalism industry: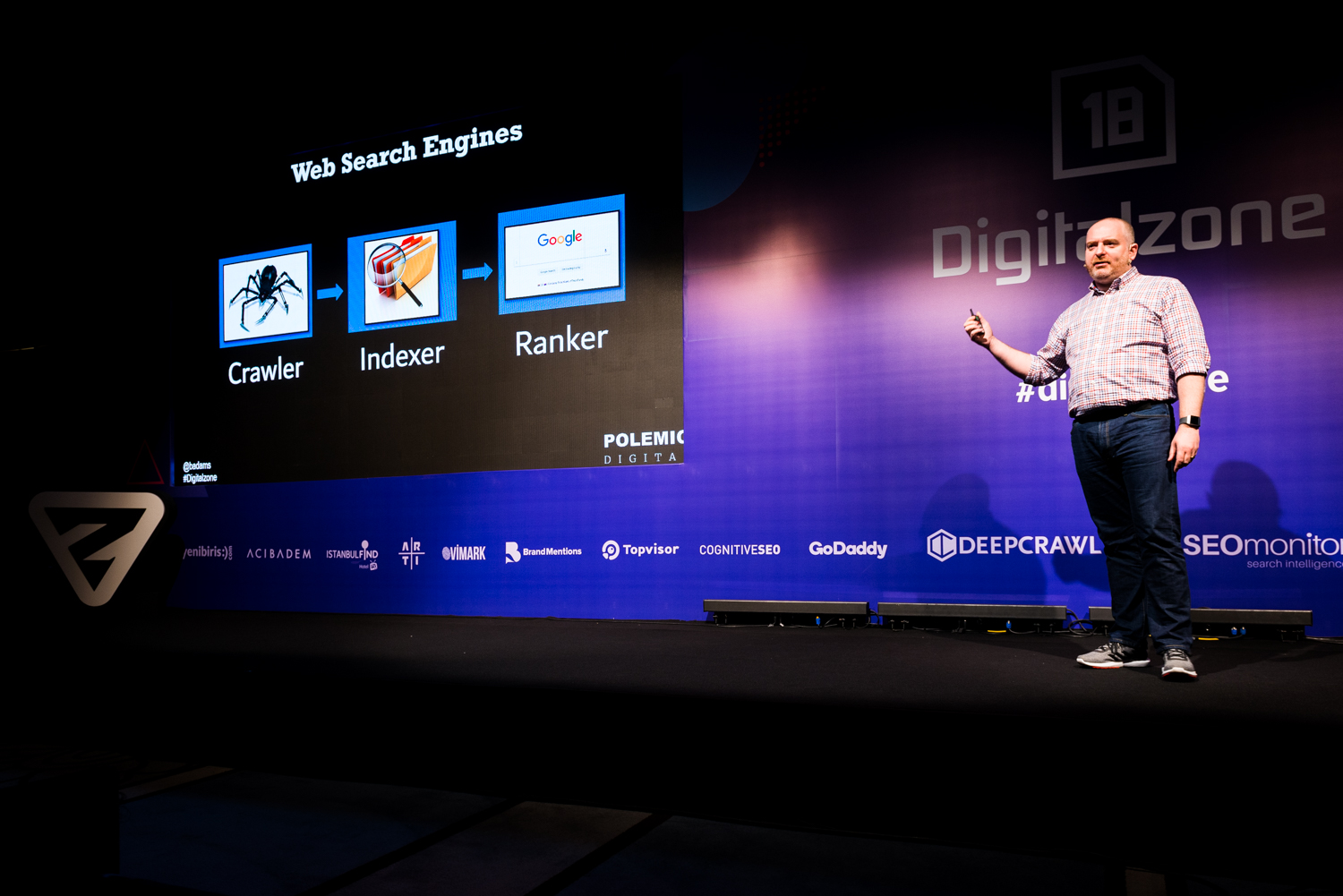 For Barry Adams SEO is a process formed by technicality, relevance and authority. In the technical part the crawler, in the relevance part the indexer and in the authority part the search engine enters the stage.
For Google News, there are important and different factors in the SEO process. These factors include machine learning and AMP technology taken into account for relevance.
Today, 11 percent of all search results include Top News box. The traffic from the Google News platform is quite small, most traffic originates from organic searches.
In the US, sites with best performance are located on the mobile carousel and have AMP pages available. If you are not using AMP, you may miss most of the traffic.
Before you apply to Google News manually, things you should consider: - Contents must be original. - Must publish a few new items every day. - The number of authors should be high. - If you have a niche site, you may be more likely to be accepted. - You should have a custom sitemap for Google News - Must be the site that meets the publication rules. - If it is an e-commerce site (that does not have a news area) your application may be denied.
How to optimize Google News - Being a specific site is among the ranking factors. - The keyword searched should be in the news title, and at the beginning of the title is effective
- Title must not exceed 110 characters. - Writing the latest (fresh) news is important. The date of updating is important, along with the release date. Current events require fresh information, articles can be renewed and re-broadcasted but no manipulation should be attempted with uunnecessary information. - Structured data should be used, H1 tag should be around 200 at most, the article should be longer than 80 words. - Errors should be checked through Search Console. - The title tag should not contain special characters. - If you're experiencing an Article Fragment error, you'll need to remove the unrelated sections (like other news) that are placed in the middle of the content. - HTML codes should be checked, content should be long and clean, there should not be any over-linking
In Google News performance, it is necessary to open a separate parenthesis for the importance of internal linking. When the visibility is examined, it is seen that The Sun, which uses fewer internal links, is ahead of Dailymail.
According to Barry, many sites that have lost visibility due to the update of Newspocalypse and Fred are overfilled with internal linking. In this case, the internal link profile should really need to connect to related pages.
So what are we waiting for in the future? - Since the use of voice search will increase, the importance of markups such as speakable will also increase. - The Newsarticle markup will expand further and markups on subcategories or news content will be possible - With the expansion of the fact check mechanism, publishers with reliable and accurate news may attract more traffic in the future. It may be possible for them to be marked with green approved icons in search results. - Thanks to the work of Google's News Initiative, online journalism can become more reliable in accordance with certain principles.
Fatih is an analyst at Google's "Search Quality" team. He works against spam and abuse, in order to improve the search results and provide the healthiest services to the users. Below are our notes on some basic information as well as the latest developments from the eyes of Google.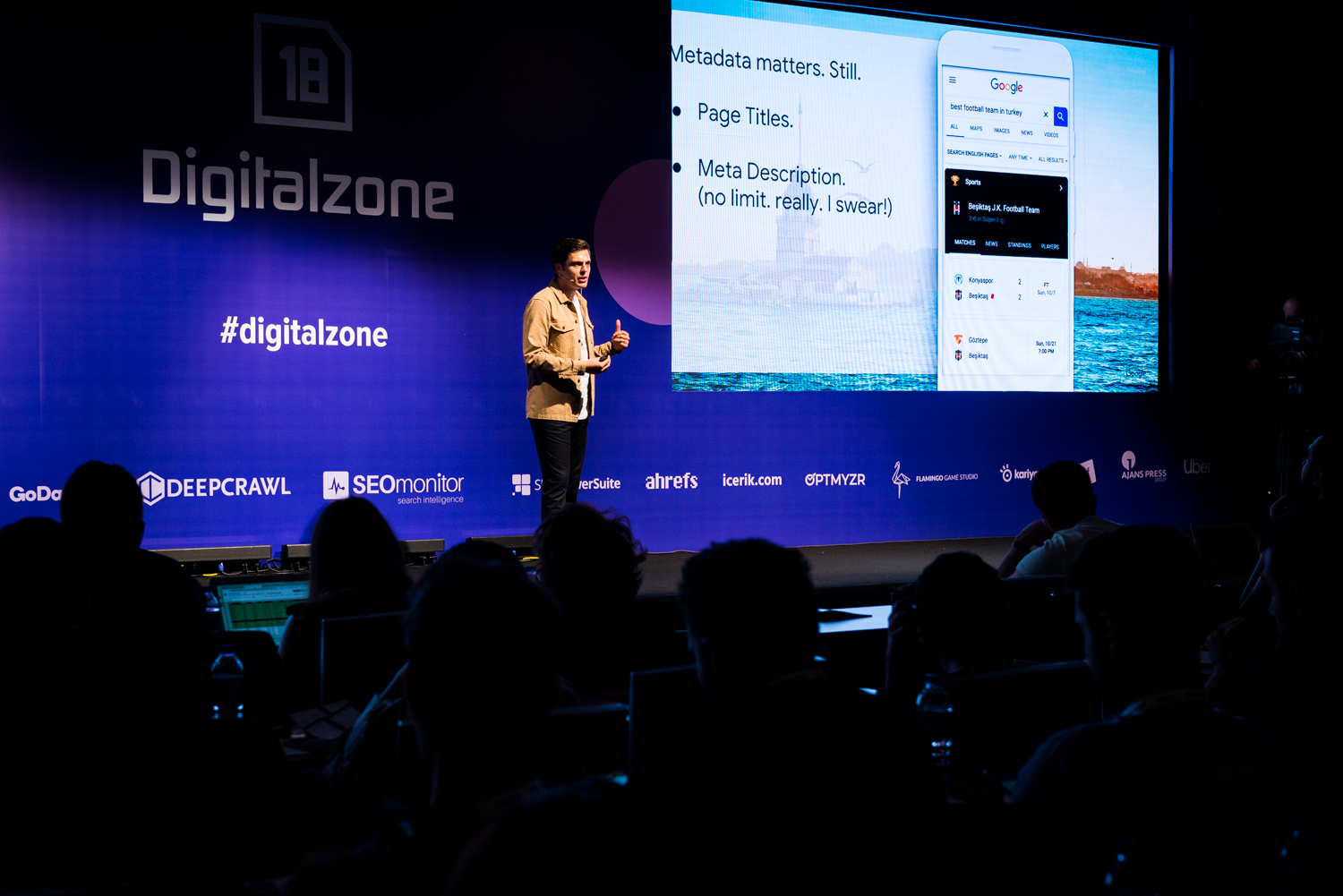 Google has three main visions. These are Journey, Discover and Visual.
In the Journey step, Google focuses on users' search processes. For example; they do not only aim to show airplane ticket results to someone doing an "airplane ticket" search, they aim to provide all the information she may need to plan her voyage she is searching the tickets for, and every related information she may need during the process. In short, it aims to create an experience.
We developed the product called Google Feed within the logic of Discover. The basic goal in the Discover step is to show the user the content she exactly needs and will add value to her.
In the Visual step, the aim is to present all the rich media elements, such as targeted videos and visuals, to the user correctly.
The first interaction for the search engines is the URLs. That's why we have to differentiate between the concepts of unique content and unique URL.
There can be multiple content occurrences within a specific URL. If you want to show a different content, you must show it with a different URL.
Parallel with what is stated above, the hash (#) character should not be used. Otherwise there may be a situation of inability to scan.
Likewise, unique content should not be offered at the same time at all of the same versions of URL: www, non-www, http, and https. This causes a duplicate content problem, which means that you are serving unique content from different URLs in the same way.
Double content issues can be solved with canonical tags in general.
Google uses site maps to discover new content or URLs that are added to our site a lot. Therefore, we need to keep our site map up-to-date and dynamic if we want a new content to be added to indexes quickly.
Due to the logic of Leaf URL, our site's interal linking should be designed in such a way that Google can crawl. The links within the site should be hosted in a traditional format, with the <a href> HTML tag so, that the bots can easily see these links. Javascript buttons or links may not be crawled or may be noticed late by search engine spiders most of the time.
The meta tags in our site's source code are also important. To receive high yield from CTR, so you need to be able to set the <title> tag well.
There is really no character limit for the meta description Depending on the intent of the user in the search query, in some cases, we can call the most relevant part of your page as a description or use the labels that you specify. The character limit can also change in the same way depending on exactly what the user wants to find in the search query.
The images on SERP have become very important for us and we are starting to put them forward with rich snippets.
We can assign meaning to images using artificial intelligence (AI), still it is important that your image names and your "alt" HTML tags within the image are illustrative.
Another important ranking signal for the images is that you should give the most important image for you on the page as "above-the-fold"
When using lazy-loading to increase page speed and using the <noscript> tag together causes no problems for search engine bots. Thanks to <noscript>, when you transfer the images to us, we can catch them even if you don't upload them on that page at that time.
The content topic should always adopt the principle of quality content as always. Producing reliable content is now directly one of the high quality content types. It is very important for the person who produces the content to be competent in the subject and show it in her content.
The use of advertising on the page should be smart, we should avoid interstitial ads as an advertising model as they take up the entire content. Instead of interstitial advertising, we need to focus on what we can use as an alternative.
In terms of site speed, it is important that our site provides an effective performance for different internet speeds and different user types. For this reason, it is healthy to make our tests at different speed and device levels.
The optimization score in the renewed PageSpeed Insights tool is not our speed score. The score there is a theoretical figure. For this reason, the PageSpeed Insights tool now uses the Chrome User Experience Report to show the speed scores of the related page about real world data.
Again, we can do speed tests on our pages using Google's Lighthouse and API service
Structural data mark ups are also as important to Google. 'Speakable' structural data markings aimed for voice search is also one of the topics on the agenda. It is necessary to use correct structural data mark ups on the correct pages.
There are three main pillars of the Google search world. These are Crawling, Indexing and Ranking / Serving. The primary common goal of these three basic pillars is to bring the most relevant results to the user with her search query.
The infrastructure version Googlebot uses for crawling is the Chrome 41 & ES6 version in 2015. This is why it doesn't support the Javascript crawling effectively and it takes a lot of time to render JS pages, and naturally to crawl and index.
The faster your page is, the faster it is rendered, but the more intense the page is in terms of JS, the more time Googlebot takes to render. This can take sometimes days, sometimes take weeks.
We need to present Dynamic Rendered HTML created by Dynamic Rendering to Googlebot on the server side, but sites that don't use Javascript (JS) do not need to do so. If you are a site that produces thousands of URLs per day, etc, Dynamic Rendering can be preferable to avoid the delay on the rendering part. The latest Google I/O conference can be reviewed about this subject.
According to the current data, %60 of Google search traffic originates from mobile. As per part of the Mobile First Indexing process, we are starting to carry the sites that are not ready for it, which is important.
Our mobile site must be responsive, the capacity of the mobile server and the capacity of the desktop server must be the same for the purpose of crawling capacity.
In the future we will begin to not use the desktop versions of the sites in the search results, but if there is no mobile version, we will look at the desktop first.
Gary Illyes's presentation, the Google engineer whom we had hosted in the past years on the Digitalzone stage, focused on the optimization of the visuals. We can summarize the bulletin points in the presentation as follows: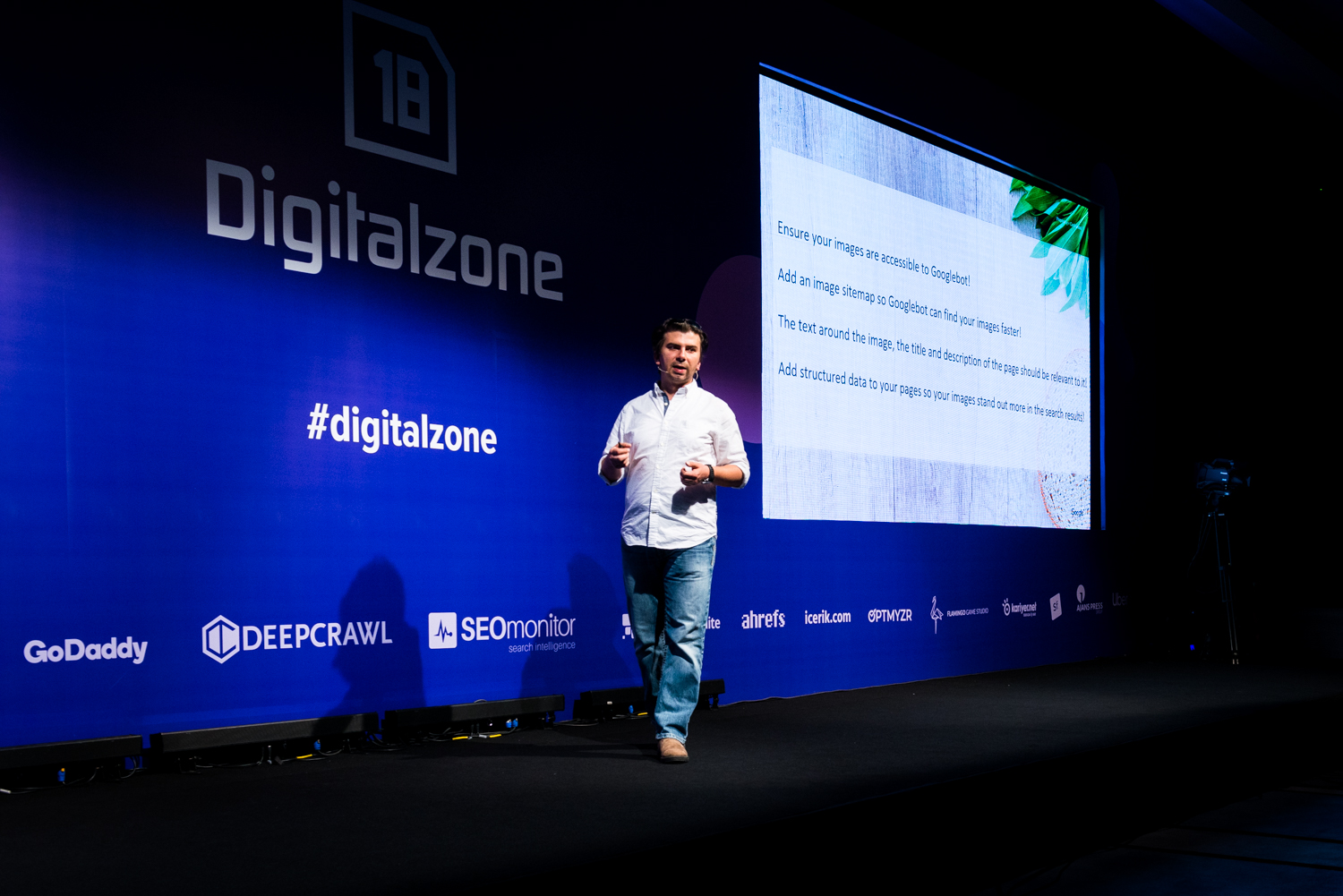 When a user makes a visual search, he / she sees the images in the search results with both title and description tags and can apply filters like color and word. The performance of these search results can be improved with the correct image optimization.
The listing of search results consists of three main processes: crawling, indexing, and ranking. In order to achieve better performance in these steps, bots must be able to access content, content appropriate to the intent of the user must be generated, and the metadata must be optimized. We have to pay attention to these same factors for image optimization.
In the image indexing process, internal links enable images to be ranked after they are made relevant to related words. Images can be included in rich search results via schema markups.
What should be considered during image optimization? - The most important thing in taking part in image results is to make sure that images are crawlable by Google Bot. Robots.txt should be checked and made sure that the bots can see the files with the Fetch As Google feature. - The second most important point is that a separate site map is created for image files. - Images should be displayed in a compatible manner with mobile devices, and ready for mobile priority indexing. - Having more than one related image on the same page can provide better performance than a single image content. However, this number should not be excessive. - Optimization studies should be focused on the desired image to be included in the image results. - If Lazy Load is performed, not showing visual tags during the initial loading may lead to poor performance. - The keyword should be hosted in the URL of the image. - The use of the alt tag is critical for the bots to make sense of the image. The alt tag should define the image specifically, should not be ranking focused and more long-tailed definitions should be made. - To increase CTR in search results, title and description tags should be optimized. - The use of the Caption tag can also assist in achieving a better performance.
You can review your visual use in accordance with the latest Google's Image Publishing Guidelines.
Mobile marketing consultant Cindy Krum, MobileMoxie's founder, addressed one of the more popular topics of the event, mobile priority indexing and Google's artificial intelligence-based changes. Interesting highlights in her presentation are as follows: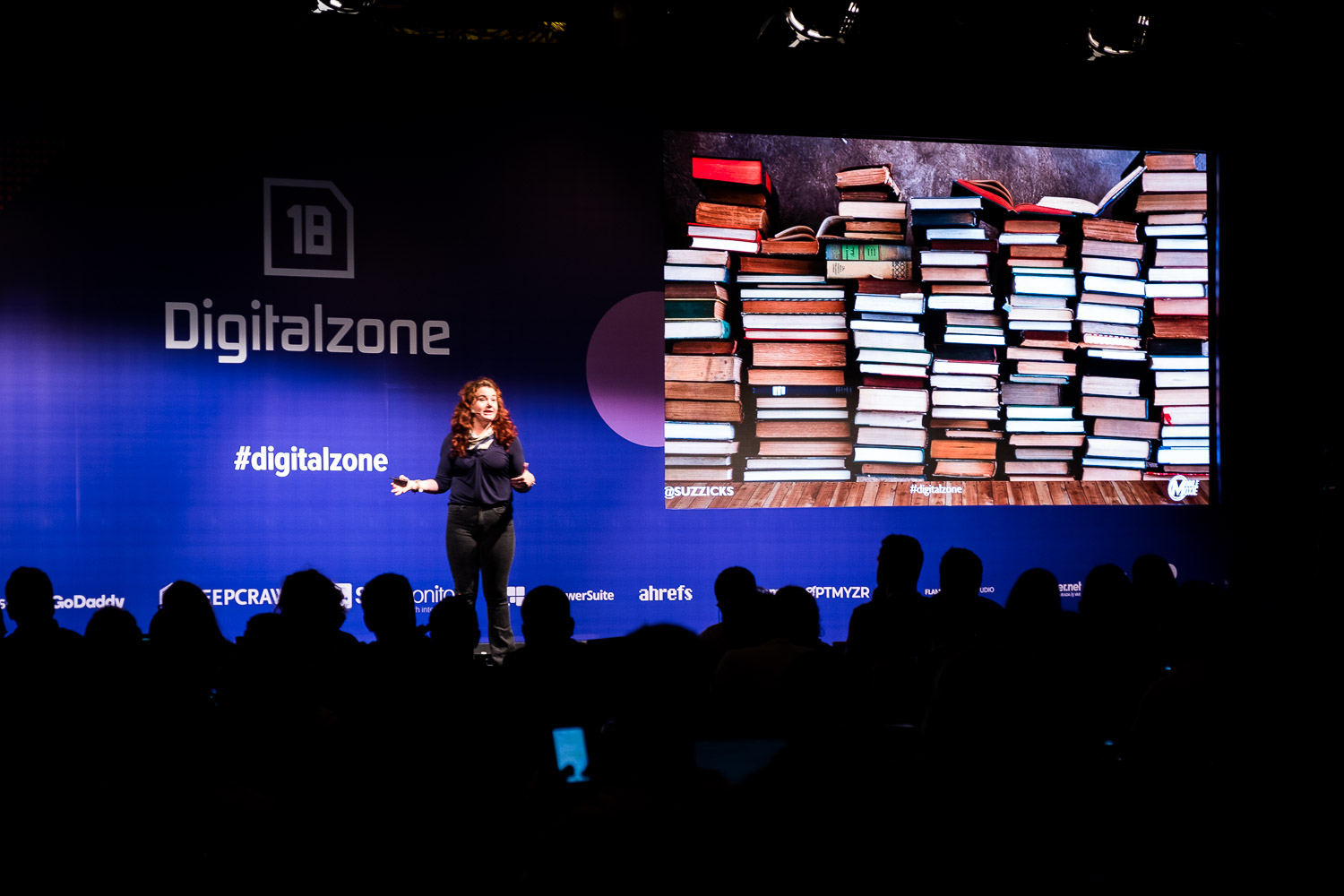 Most of the searches are now made from mobile devices, and not being ready for mobile priority indexing means ignoring more than half of the traffic.
In the future, however, not only the mobile priority structure, but also artificial intelligence and voice search is also waiting for us. The process will go even further as soon as Google understands what we write to our website better and correctly identifies it. Google's ultimate goal is to organize all the information in the world.
Google continues to see keywords as the primary source to extract the information architecture.
It wants to focus on answering more questions in mobile and voice searches. Therefore, in order to achieve better performance in these searches, QA content should be produced.
Google no longer makes sense of the content in the language it is written in. With Google Translate and Natural Language API it can analyze content in different language contexts.
The data interpretation methods listed above are used effectively in the visual search results. Images are classified thanks to Language Agnostic. Therefore, when you search for a poster of a movie, you may encounter posters in different languages.
With this data sorting, you can find a grocery store in Google Maps over the Google when you go to somewhere you do not know via location type icons displayed in your own language. So you can make searches without needing translation.
This data sorting also help to determine the results of "Did you mean this?"
You can better analyze your data with the Google Cloud Natural Language tool, which will soon be expanded to include 32 languages, up from 10 languages.
Anders Hjorth, a digital marketing professional with extensive experience in SEO, Paid Search, Social Media, Content Marketing, and Programatics, shared with the audience what should be considered about in PPC (Paid Search) optimization: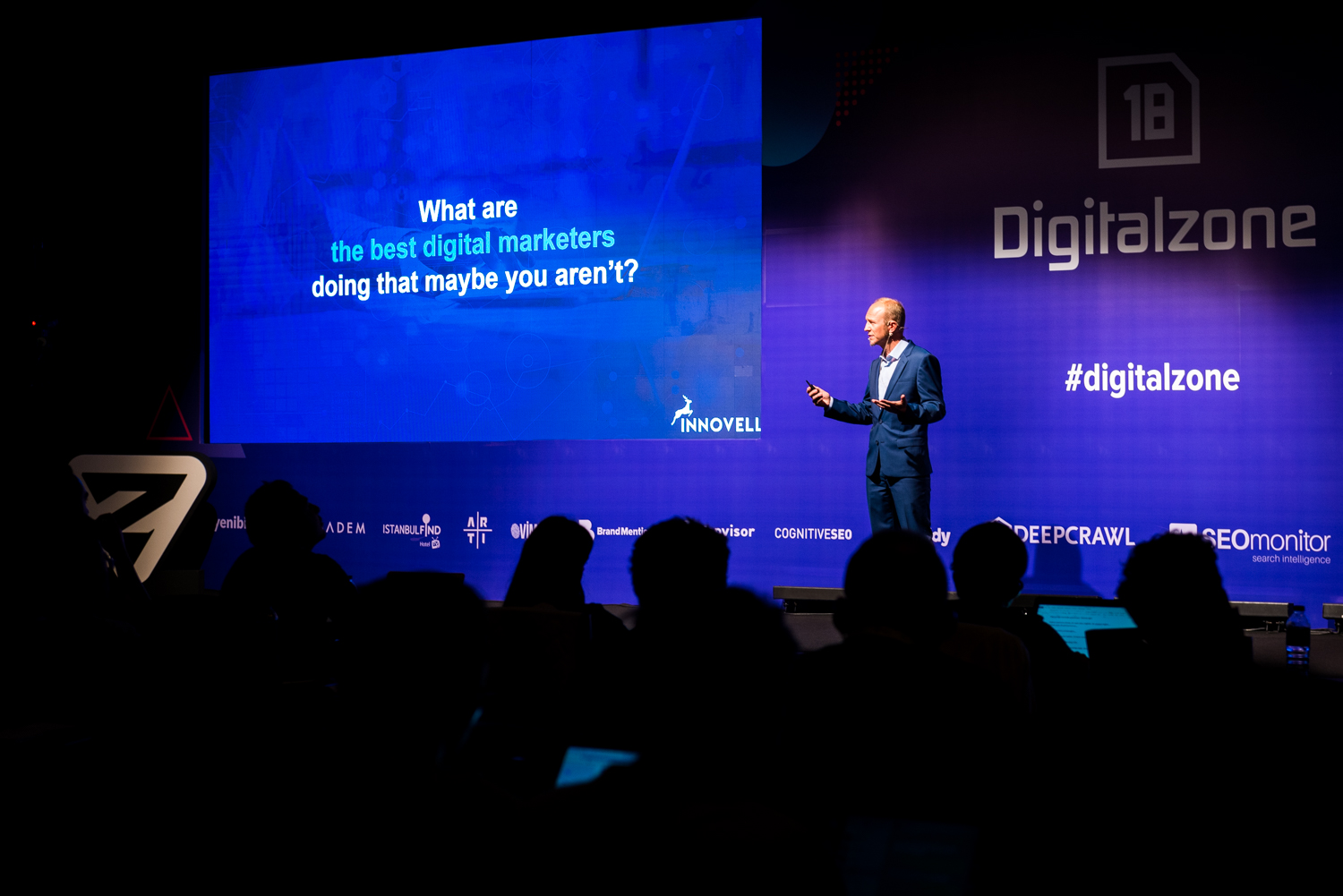 Talking about the complexity and vastness of Paid Search across his presentation, Anders stressed that it is difficult to form a strategy due to the combination of many landing pages and too many keywords.
Which is now becoming more complex as factors such as devices and target audiences are diversified.
The challenges in the industry are: media owners (Google, Facebook, etc.), technology providers, advertisers, in-team issues, and freelancers that directly affect the market.
The most influential developments so affecting Paid works far; Facebook's arrival, algorithms, AI and Machine Learning to be included and the arrival of Amazon.
What to look for in PPC (Pay-Per-Click)? - First of all, legal regulations about data access should be observed. - Quality score, smart bidding, in-market target audience and external machine learning tools are other important issues to focus on. - While more keywords, account structure, brand, generic and product searches were important in 2008, nowadays, it is necessary to think about the journey of the users leading to purchase in detail. - In PPC studies, it is necessary to carry out studies focused on data and target audience. First party data and third party data should be integrated and applied to the target audience. Personas should be created and campaigns should be created according to them. - Users should also be dragged from the online environment to the offline platform. - All reports need to be automated. If you are doing manual PPC reporting, half of your time will be wasted by preparing them.
Berk Kuşaksız is the founder of Digital Advice Lab. In the PPC panel that took place on the second day of Digitalzone, he was with us for his presentation titled "Our New Term Strategy for Digital Media".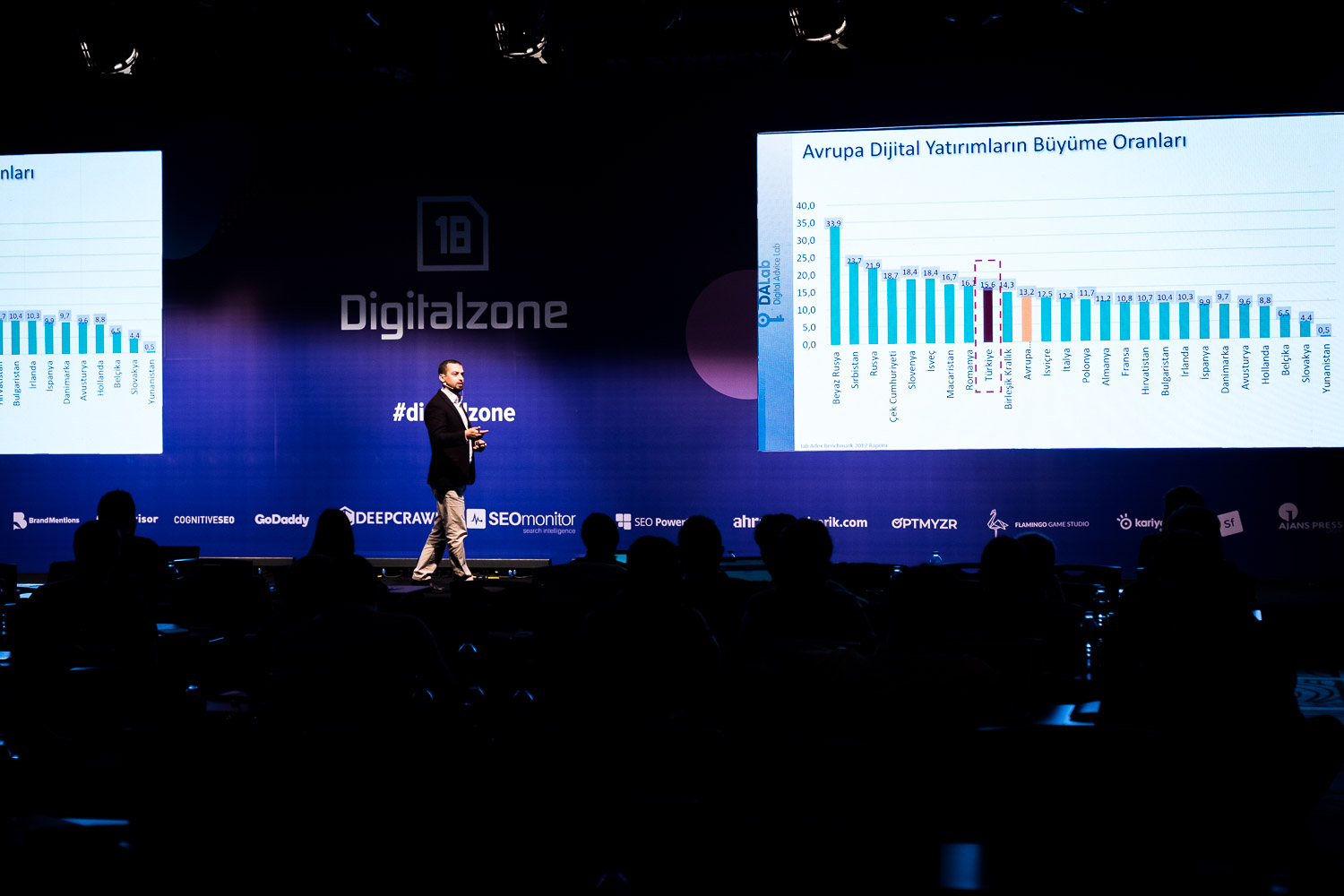 Turkey's digital investment growth rate is above the average European growth.
In Europe, 46% of the total budget is allocated to search engines as advertising budget.
According to the Association of Advertising Agencies, television still ranks first and digital ranks second.
If the advertising market is still growing, this is due to digital advertising.
Turkey has 56 million users at above the age of 12.
Of these 29 million are men, 27 million are women. The 18-44 age range constitutes 60% of the users.
You can perform native, display, search engine, social media, video and mobile advertising purchases via programmatic.
In this case, companies will employ Google Specialists, Social Media Specialists and Programmatic Specialists in the future.
How will the future of PPC be? - Automation and audience targeting are important points.
Automation tools should be used: - Ads can be optimized with tools using Machine Learning, but it is very important to learn correctly. Therefore, there is still a need for manpower and control. - You can use Machine Learning together with Smart Bidding to set goals. - With Smart Display, you can give texts, descriptions and images to Google however you want. Machine Learning can learn wrong, so you can show ads in the way you don't want to.
Audience Targeting: - With RLSA (Remarketing Lists for Search Ads), you can show ads specific to consumers who visit your website. - Similar Audience allows you to reach similar audiences with your target audience. It is used to reach a similar audience when your target audience disappears. - With Demographic (Age, Gender, etc.) data, you can better recognize your audience. - You can do audience targeting by studying Life Events.
In mobile speed should be paid attention to
We need to adapt to PN & E-mail Marketing and Voice Search. Even though Voice Search is not used much in Turkey yet, we will use it in the future.
Google brings "Pay Per Conversion". Payment will be made per conversion
Personalization and DMP (Data Management Platform) should be given priority, CPC ads should not be made to everyone.
Finally: don't forget to measure!
Utku Demirhan, from our team, works as a Data Analyst at ZEO Agency. he was with us for his presentation on "Measurement of Success in Performance Marketing" during the PPC Panel: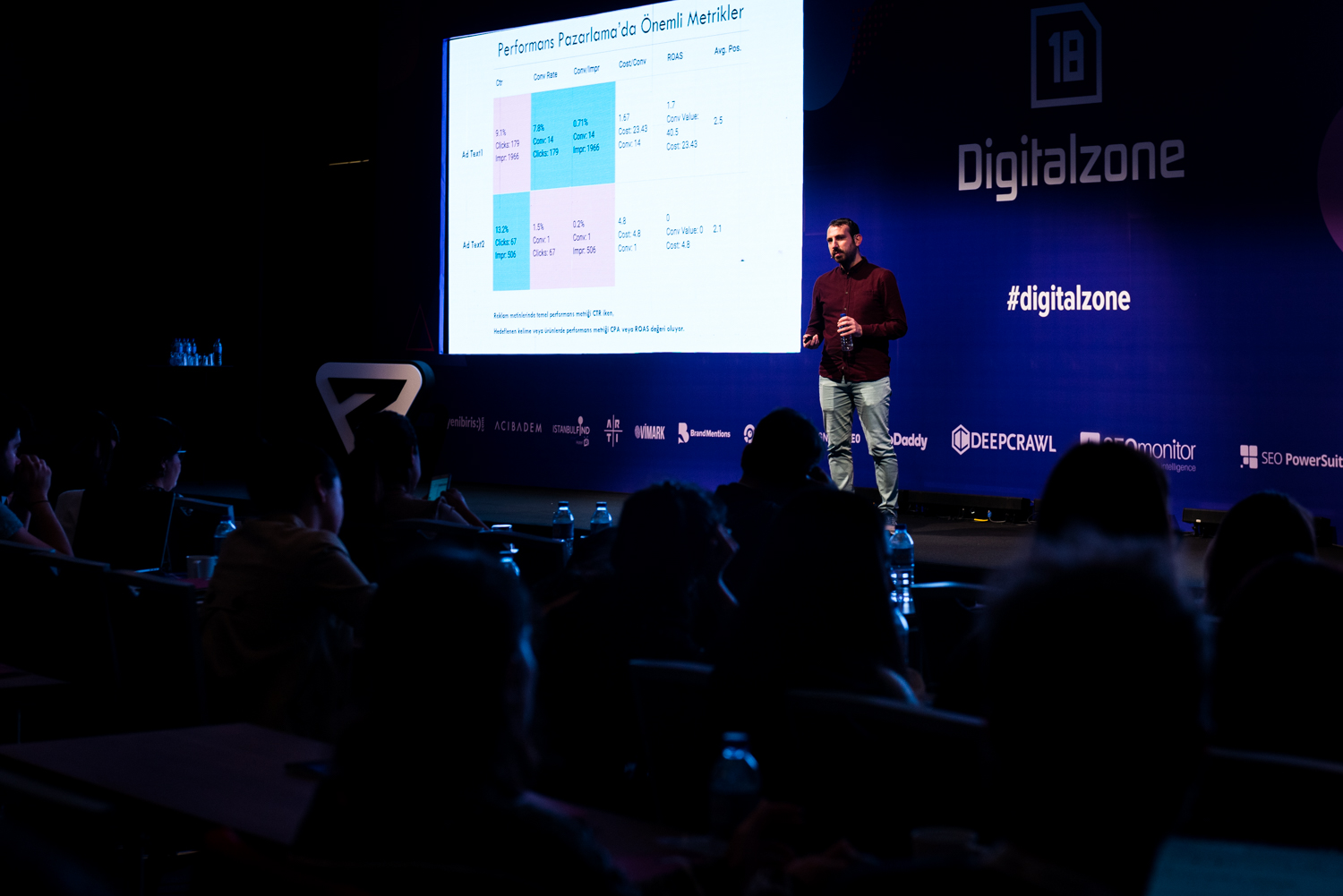 Utku Demirhan started his presentation by stating: "In Performance Marketing, we decide on the performance by the clicks we receive from a word, a product, an ad image, or an ad text.
In this decision-making process, for example, getting 100 clicks for a 1% conversion rate can be insufficient. In such a case, increasing the number of our samples yields much better results in terms of the consistency of our results.
If we go through the example; having at least 300 clicks instead of 100 clicks at 1% conversion rate reduces the probability of not seeing the conversion rate below 5%. As the number of samples increases, our chances of getting a distribution around the actual conversion rate are increasing.
Association modelling is one of the other important topics in the measurement of Performance Marketing . The association models tell us which campaigns and which rules a specific conversion can be attributed to.
Let's go through the example; Let's assume in 3 different search campaigns, we have received clicks from the same user at different times. The conversion definition based on the last click takes over the entire conversion in such cases, ignoring the contribution of other steps in the conversion.
In more advanced attribution models such as data-driven, position based or time decay models, the conversion is shared across different channels. Such models enable us to achieve more logical results to evaluate the performance of campaigns based on user behavior.
Another issue in the measurement is that our position varies significantly from our competitors according to our offers.
In order to better understand the change of the conversions acquired and costs-per-conversion according to time, Google Ads' Auction Insights data can be used, and this data can be analyzed with machine learning models to model the cost-per-click or position changes.
Information on the changes obtained as a result of this model can be used to decide in which state, at what time, in which position, it may happen, and it may be possible to be aware of opportunities and situations that may have negative consequences before they happen.
Şahin Seçil, co-founder of BoostRoas, took place as one of our PPC panelists on Digitalzone stage this year. He shared detailed information with us during the panel session with his presentation titled "Think Simple and Deep"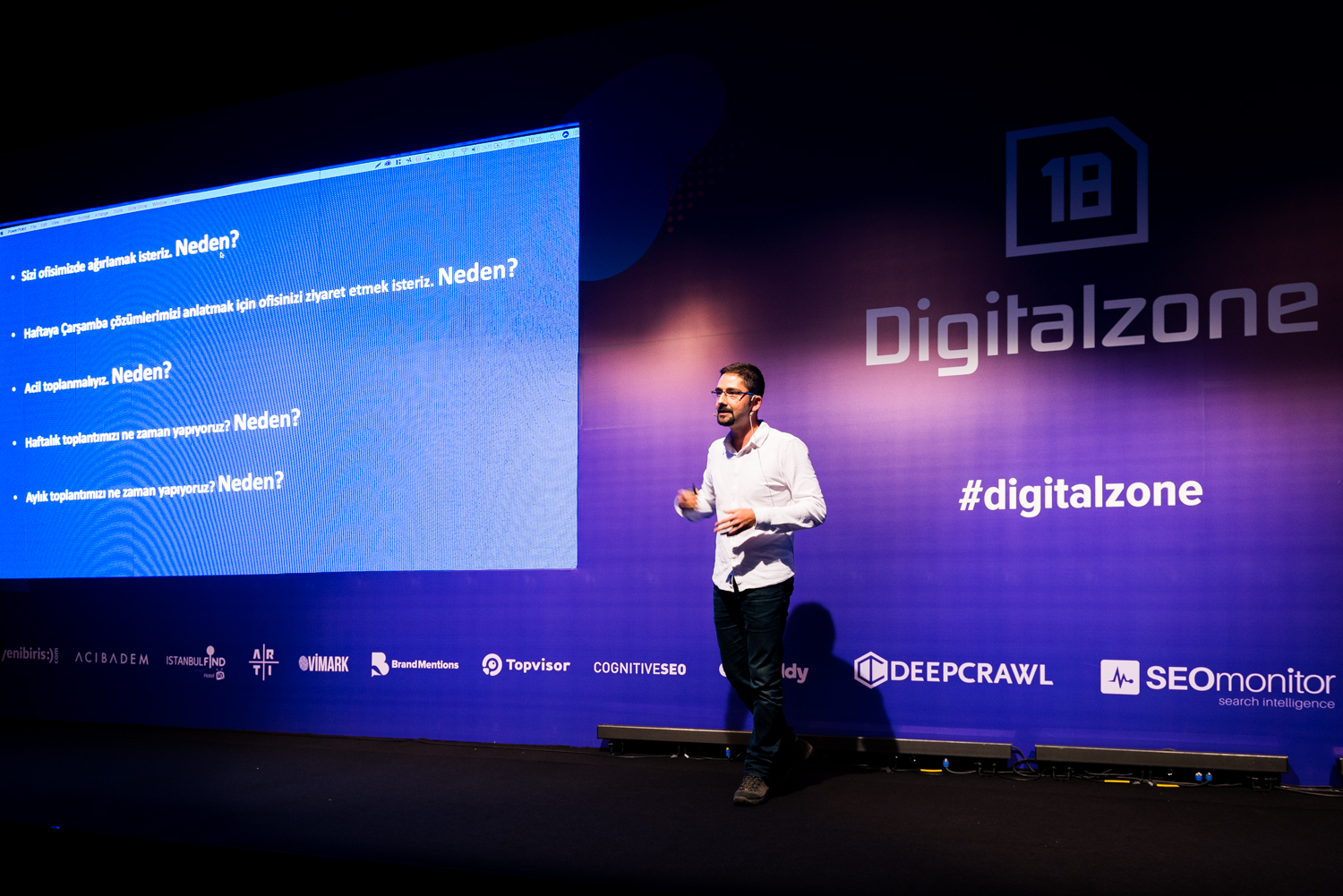 Şahin emphasized the importance of teamwork to get good efficiency at all times, and said that sharing of ideas would enable us to take faster action and to take a deep breath and analyze the source of the problem before applying to avoid dealing with the same problems again and again.
Şahin argued that we do not need to spend 45 hours per week in the office to work more efficiently, instead we should break down our taboos and think about different methods
"You must differentiate as much as you can and then identify the causes of your own problems."
As he also stated at the beginning of the presentation; he stressed again that we should look at all kinds of problems from different angles by saying that one should think simple and take big actions.
The search results should be checked separately, for example, the desktop, mobile and tablet searches should be checked one one by one and then a detailed analysis must be created.
You can get accurate results by determining how the users respond.
Seçil, as the last hero of the Digitalzone adventure, drew attention to the fact that there are many practices in our lives, but not all of them may fit into our personality or program, thus shared his unique hints about how we should create our own field.
As all of the presentations were completed at the Digitalzone 18, we ended two very productive days. It's now time for the Zeo team to celebrate. We would like to thank you all for the time you have taken to this extensive and long content as the Zeo family. We hope it has been a productive article for all of you.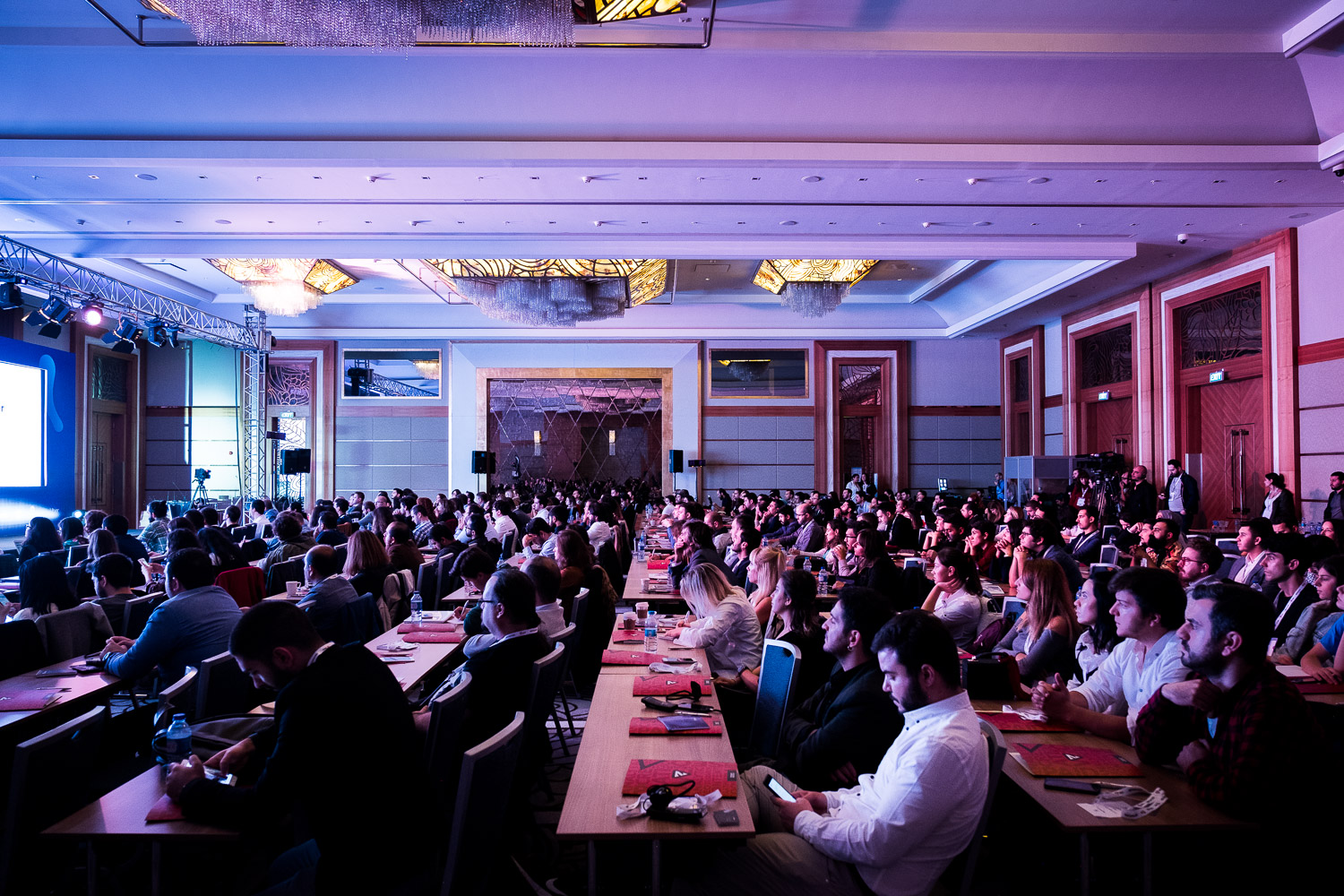 You can help this information t0 reach more people by sharing our article with the your people who are interested in the digital marketing field. You can reach the opinions about the conference through the #digitalzone hashtag and you can also give us your comments about the article in the comments section.
We are already looking forward to the next Digitalzone next year.
Our endless gratitude to everyone who was part of the event!