Mozcon 2017 - Takeaways & Highlights
---
Yeay! It is #MozCon time of the year and Zeo shares all the highlights with you! MozCon started on July 17 with Rand's opening speech as usual. Also you can watch this speech from our Twitter account:
Ve #mozcon başlıyor! Tüm gelişmeleri @zeoagency üzerinden aktaracağız. https://t.co/CzvmRDPJa4

— Zeo (@zeoagency) July 17, 2017
Rand looks great in his awesome shirt, doesn't he?!
Best conference attire for an opening keynote ever #Mozcon @randfish pic.twitter.com/JBCLsjnBA2

— Krista Seiden (@kristaseiden) July 17, 2017
After Rand's opening speech, Lisa Myers was on the stage with her "How To Get Big Links" presentation. At this long blog post you will find all the highlights of each presentation was made at MozCon! Hope you enjoy!
Ps: Since the notes are taken simultaneously there can be some grammer problems at the Xmind notes.
How To Get Big Links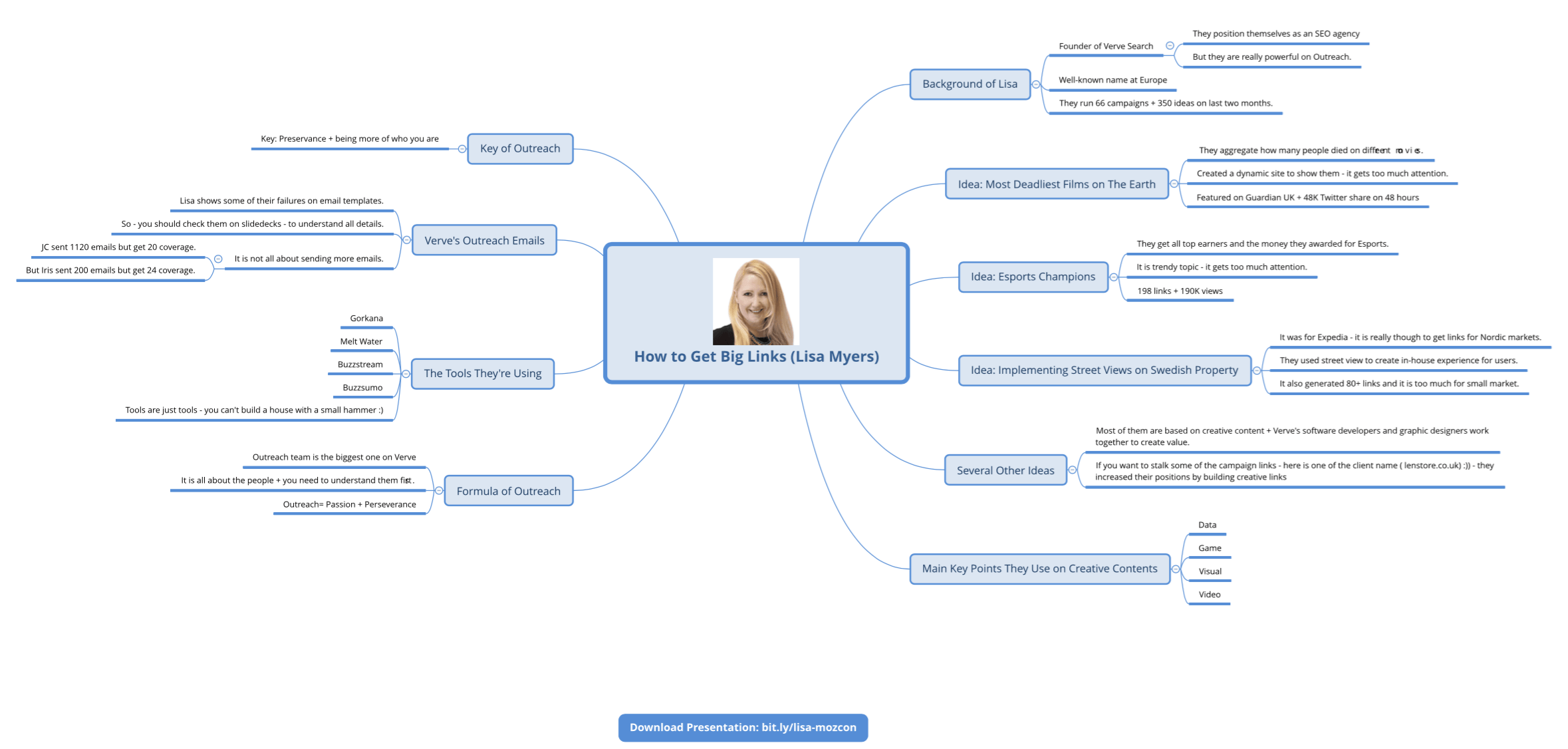 Lisa Myers founder of Verve Search is a well-known name in Europe. Verve Search position itself as an SEO agency but they are mainly really powerful at Outreach. Just in 2 months they ran 66 campaigns + 350 ideas. "Perseverance + being more of who you are is the key of outreach" says Lisa. At her presentation she showed Verve's Outreach Emails which are the failed one and creative ideas. She also mentioned the tools they are using at Verve Search, which are:
Gorkana
Melt Water
Buzzstream
Buzzsumo
And here comes the great quote here: "Tools are just tools - you can't build a house with a small hammer!" Last key point of her presentation was formula of outreach: It is all about the people and you need to understand them first. Outreach = Passion + Perseverance
https://www.slideshare.net/lisadmyers/mozcon-2017-how-to-get-big-links
MozCon 2017 - How to Get Big Links from Lisa Myers
Size Doesn't Matter: Great Content by Teams of One


Ian is the founder of very reputable search oriented marketing agency "Portent". The takeaways from his presentation:
Misconception of Creating Content: Everybody wants to create unicorns. But no need to create unicorns for most of the times, badgers are ok :)
Key message: Don't set your expectations so high.
Content calendars: Actually, structure is more important than planning. At "Portent" they diversify their content creation pace based on content types which are:
1.Based on branding level (low-med-high) - how to cook carrots - how to cook carrots by using our product - why you should buy our products to cook carrots. 2. Content creation pace is important for planning.
Brainstorming and creating a new idea: Brainstorming is really important but over brainstorming is not a great thing. You can get support from Answer the Public. If you have any "discourse" or "moodle" like system for your community take a look to requests. If you have slidedecks, find slidedecks that dipped - they get attention! Take chuncks from white papers to create blog posts. Pull your popular tweets and create blog posts.
Use your resoruces wisely (Use what you have) No need to have a content studio, just write on Markdowns. Cause text editors never crashes. You can even edit your writings by phone when you use markdown. It is possible to generate full HTML by using markdown. Tool recommendations: marked 2 & pandoc & sublime text. For more details you can visit: http://portent.co/mkdown-syntax
Using correct stock photos: Some stocks are really generic pictures and you can see them anywhere. Use analogy or be weird to get attention. Sometimes crop the images and correct the colors. Canva's new tools help you extract color palates from images.
Focus on your content: Hemingwayapp: You can't delete what you write - create first then review later like Hemingway did. Grammarly: Be sure about creating content with correct grammar. Don't forget to review content. Suggestion: take a lunch and re-read it!
Review Process: Legal Review: They might destroy it. Branding Review: They might mess it. Make it easier go piggy back!
Lean Content Project by Portent: They get 350 leads by sharing knowledge by traditional inbound approach. Content creation might be really powerful way to get some leads.
Bonus: Tool tip > Soapbox (Wistia's new product)
https://www.slideshare.net/wrttnwrd/badgerstyle-content-mozcon-2017
Badger-Style Content - Mozcon 2017 from Ian Lurie
The Tie That Binds: Why Email is Key to Maximizing Marketing ROI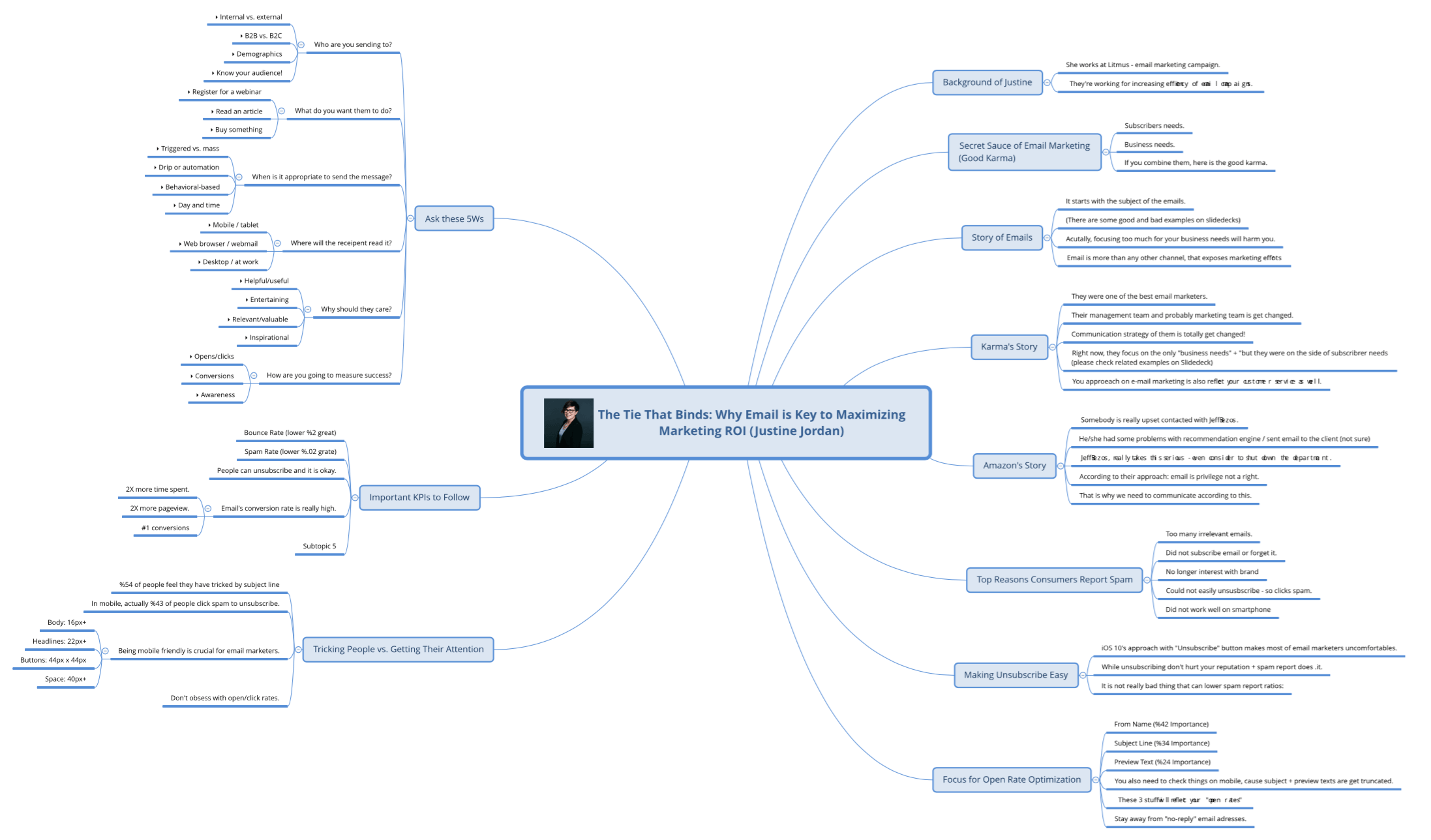 Justine is VP Marketing of Marketing at Litmus. They are working for increasing efficieny Background of Justine: She works at Litmus - email marketing campaign. They are working for increasing efficiency of email campaigns.
Secret Sauce of Email marketing (good karma): If you combine subscribers needs and business needs; here is the good karma.
Story of emails: It stars with the subject of the emails. There are some good and bad examples on slidedecks. Actually, focusing too much for your business needs will harm you. Email is more than any other channel, that exposes your marketing efforts.
Karma's story: They were one of the best email marketers. Their management team and probaby marketing team is changed. Communication strategy of them also totally changed! Right now, they focus on only "business needs" + "but they were on the side of subscriber needs." (Please check related examples from slidedeck.) Your approach on e-mail marketing is also reflect your customer service as well.
Amazon's story: Somebody was really upset and contacted with Jeff Bezos. He/she had some problems with recommendation engine. Jeff Bezos really takes this serious and even consider to shut down the department. According to their approach: email is privilege not a right. That is why we need to communicate according to this approach.
Top reasons consumers report spam: Too many irrelevant emails. Did not subscribe email or forget it. No longer interest with brand. Could not easily unsubscribe - so clicks spam. Did not work well on smartphone.
Making unsubscribe easy: IOS 10's approach with "unsubscribe" button makes most of email marketers uncomfortable. While unsubscribing don't hurt your reputation, spam report does. Making unsubscribe easy is not a really bad thing cause it can lower spam report ratios.
Focus open rate optimization: From name (%42 importance) Subject line (%34 importance) Preview test (%24 importance) You also need to check things on mobile, cause subject + preview text are get truncated. These 3 stuff will reflect your open rates. Also stay away from "no-reply" email addresses.
Tricking people VS getting their attention %54 of people feel they have tricked by subject line. On mobile, actually %43 of people click spam to unsubscribe. Being mobile friendly is crucial for email marketers and here are the ideal sizes for mobile: Body: 16px+ headlines: 22px+ Buttons: 44px x 44px space: 40px+ Don't obsess with open/click rates.
Important KPIs to follow Bounce rate (lower %2 great) Spam rate (lower %.02 great) People can unsubscribe and it is okay. Email's conversion rate is really high: 2xmore time spents, 2x more pageview, #1 conversions.
Ask these 5Ws Who are you sending to?: Internal vs external? B2B vs B2C? Demographics? You should know your audience. What do you want them to do?: Register for a webinar? Read an article? Buy something? When is it appropriate to send the message?: Triggered vs mass? Drip or automation? Behavioral-based? Day and time? From where will the recipient read it?: Mobile/tablet? Web browser/webmail? Desktop/at work? Why should they care?: Helpful/useful? Entertaining? Relevant/valuable? Inspirational? How are you going to measure success?: Opens/clicks? Conversions? Awareness? You can access Justine's slides from here: https://litmus.com/lp/mozcon
Marketing in a Conversational World: How to Get Discovered, Delight Your Customers and Earn the Conversion

Purna is Senior Training Manager at Microsoft.
Worlds getting so changed: We're replacing screens to voice. (ordering pizza from Alexa) By 2019, %20 of companies will abandon the mobile apps. Lot's of companies show interest around the "bot industry" > Slack, Twilio, Messenger etc. Cortana and other intelligent assistans are getting into our life faster than ever! %80 of businesses want chatbots by 2020.
How will SEO change? Marketing is not like: one to many, it because one to one. Bots are actually important for small businesses. Directly communicating into client by their interest is the best way to go for SMBs as well.
Evolution of marketing messages: It is not "Buy now!" moments anymore. "What do you need right now?" is the way of modern e-commerce.
Interaction with SERPs: Bing is created new bots for restaurants. You can ask "payment methods" by talking with bots, you can build your own bot by "Bing business bot." Making entire SERP conversational!?
Communicating with bots by one centralized bot "Like cortana" My question was asking cheap flight tickets and i got results from Skyscanner. People will spend time to find lots of their needs.
Online ads- Fintech - E-mail Bots: In display ads - for instance fashion - you can chat with a stylist bot to find best one for you. At an email, it is possible to offer discount to encourage to interact with bots. Actually, you can even ask your current balance to some of bots of banks as well.
Make your own bot?!: Identify your goals: Talk to customer service, find the problem, identify platforms. Brainstorm without limits: If anything was possible, what would i do?, what would our customers love? Back to reality: What is the simplest way to start, is it a bot a skill or both?, what are my KPIs? Bring it to life: Choose platform, create structure, launch and monitor. some resources: For some resources you can visit Microsoft's Bot Framework page.
You can download Purna's presentation from here.
Thinking Smaller: Optimizing for the New Wave of Social Video Platforms

Phil is Director of Product Marketing at Wistia and he previously worked at Distilled. At his presentation he said that Youtube, Facebook, Instagram, Snapchat actually all social media platforms are video platforms. He mentioned that Youtube is not silent and that comes from it's nature, it is not silent. While Youtube is like more television, Facebook is a bit weird. Entertaining videos powered by all aspects of sound. Average view for Youtube is like 30 seconds.
Facebook: We are mobile! We are bored! We are muted! We have limited time!
Facebook is Charlie Chaplin he said and then he showed an amazing example: Wistia for Chrome Ads. Average view for Facebook is like 3 seconds.
Promoted video distribution (Facebook custom audiences): Watched +%75 of videos, lookalike of your likes, existing clients w/pixel, focus on engagement + page likes.
SEO for Facebook videos: "Buy links!" he said :) They spent 75 dolar per content and earned 3 link - extract target audience from Buzzstream - then created custom audience.
Creating video is not that much hard: Soapbox: wistia's new product. Easy to use - live demo was amazing. You can find details on Phil's twitter.
PS: Linkedin has native video support now.
I'd Rather Be Thanked Than Ranked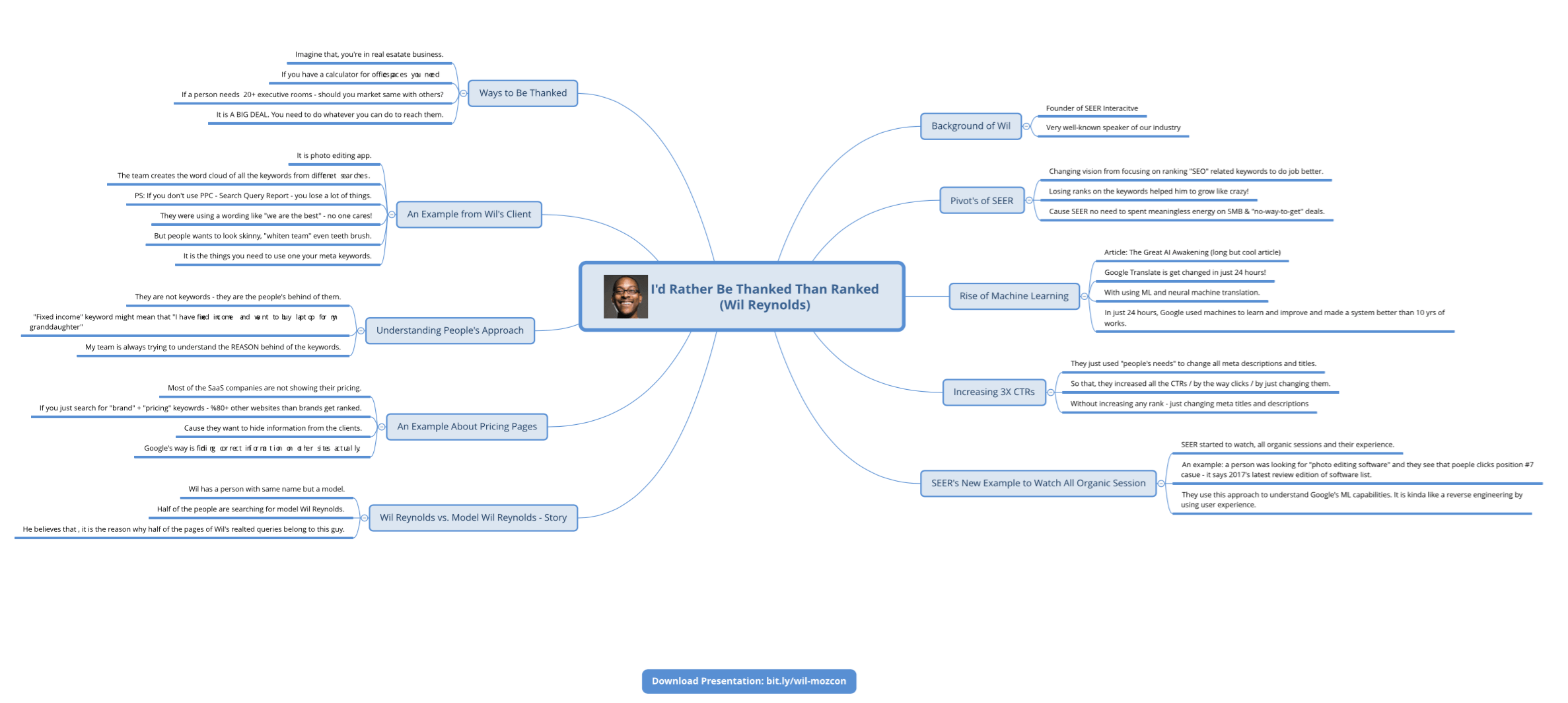 Wil Reynolds is founder of SEER Interactive and very well-known speaker of SEO industry.
Pivot's of SEER: Changing vision from focusing on ranking "SEO" related keywords to do better job. Losing ranks on the keywords helped him to grow like crazy! Cause SEER no need to spent meaningless energy on SMB & "no-way-to-get" deals.
Rise of Machine Learning: Article: The Great AI Awakening (long but really cool article) Google Translate is get changed in just 24 hours! With using ML and neural machine translation. In just 24 hours, Google used machines to learn and improve and made a system better than 10 years of work.
Increasing 3X CTRs: They just used "people's needs" to change all meta descriptions and titles. So that, they increased all the CTRs (by the way clicks) by just changing them.
SEER's New Example to Watch All Organic Session: Seer started to watch, all organic sessions and their experience. An example; a person was looking for "photo editing software" and they see that people clicks position #7. Cause it says 2017's latest review edition of software list. They use this approach to understand Google's ML capabilities. It is like reverse engineering by using user experience.
Ways to be thanked: Imagine that, you're in real estate business. If you have a calculator for office spaces you need. If a person needs 20+ executive rooms- should you market same with others? It is a BIG DEAL. You need to do whatever you can do to reach them.
An Example from Wil's Client: It is photo editing app. The team creates the word cloud of all the keywords from different searches. PS: IF you don't use PCC - Search Query Report - you lose a lot of things. They were using a wording like "we are the best" - no one cares! But people wants to look skinny, "whiten team" even teeth brush. It is the things you need to use as one of your main keywords.
Understanding People's Approach They are not keywords - they are people behind them. "Fixed income" keyword might mean that "I have fixed income and want to buy laptop for my granddaughter." SEER team is always trying to understand the REASON behind of these keywords.
An Example About Pricing Pages Most of the SaaS companies are not showing their pricing. If you just search for "brand" + "pricing" keywords - %80+ other websites than brands get ranked. Cause they want to hide information from the clients. Google's way is finding correct information on other sites actually.
Wil Reynolds vs. Model Wil Reynolds - Story Wil has a person with same name but a model. Half of the people are searching for model Wil Reynolds. He believes that, it is the reason why half of the pages of Wil's related queries belong to this guy.
https://www.slideshare.net/wilreynolds/mozcon-2017-id-rather-be-ranked-then-ranked
Mozcon 2017 - I'd rather be Ranked, Then Ranked from Wil Reynolds
Reverse-Engineer Google's Research to Serve Up the Best, Most Relevant Content for Your Audience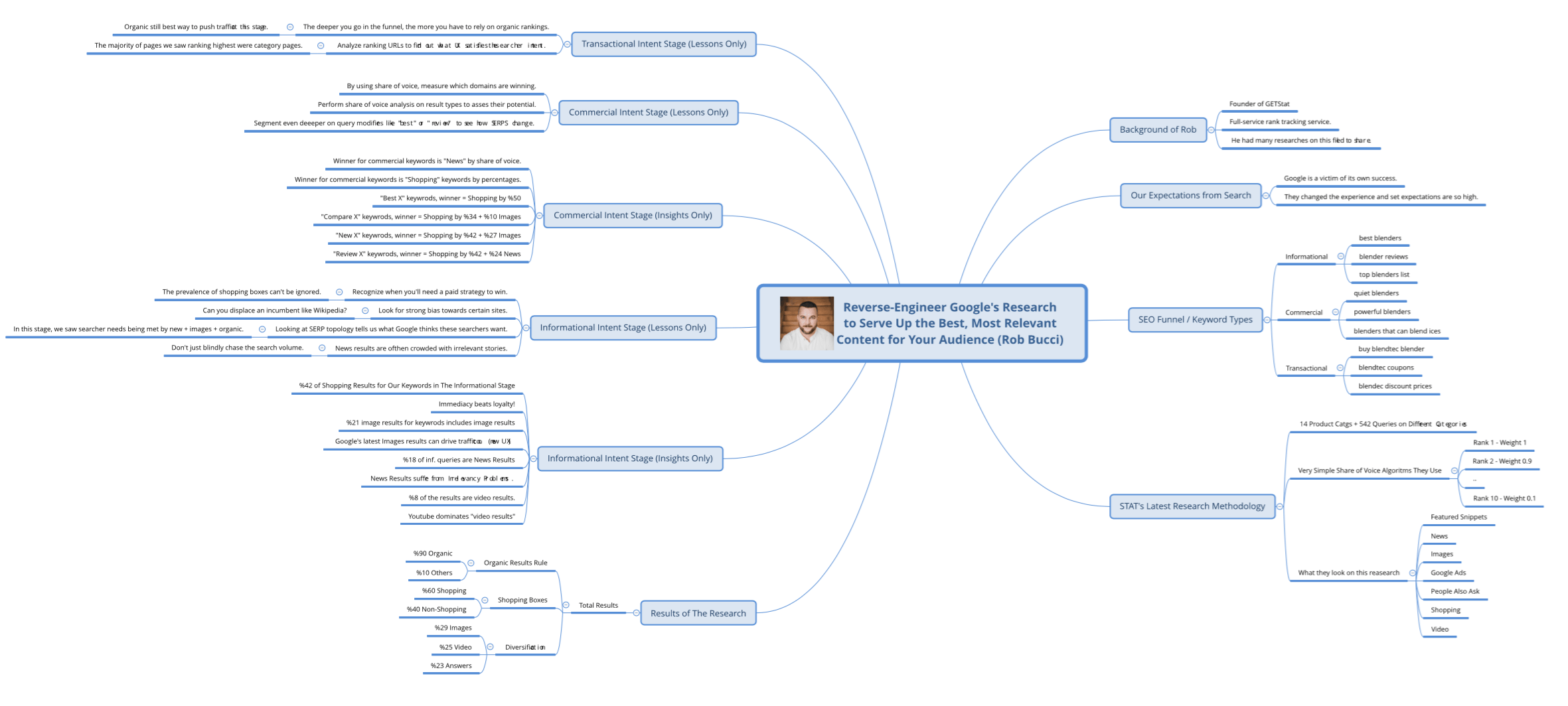 Rob is founder of GETStat which gives full rank tracking service. Rob has many researches at this field to share.
Our Expectations from Search Google is a victim of its own succes. They changed the experience and set expectations are so high.
SEO Funnel - Keyword Types - Informational: best blenders, blender reviews, top blenders list - Commercial: quiet blenders, powerful blenders, blenders that can blend ice - Transactional: buy blendtec blender, blendtec coupons, blendec discount prices
STAT's Latest Research Methodology - 14 Product Categories + 542 Queries on Different Categories - Very Simple Share of Voice Algorithms They Use Rank 1 - Weight 1 Rank 2 - Weight 0.9 .. Rank 10 - Weight 0.1 - What they consider on this research Featured snippets, news, images, Google Ads, people also ask, shopping, video
Results of the Research Total Results devided to 3: - Organic Results Rule %90 Organic %10 Others - Shopping Boxes %60 Shopping %40 Non-shopping - Diversification %29 Images %25 Videos %23 Answers **Informational Intent Stage (Insights Only) %42 of shopping results for our keywords in the informational stage Immediacy beats loyalty! %21 image results for keywords includes image results. Google's latest images results can drive traffic too. (New UX) %18 of inf. wueries are News results and News results suffer from irrelevancy problems. %8 of the results are video results and youtube dominates "video results."
Informational Intent Stafe (lessons only) The prevalence of shopping boxes can't be ignored. - Recognize when you'll need a paid strategy to win. Can you displace an incumbent like Wikipedia? - Look for strong bias towards certain sites. At this stage, we saw searcher needs to met by new images + organic. - Looking at SERP topology tells us what Google thinks these searchers want. Don't just blindly chase the search volume. - News results are often crowded with irrelevant stories.
Commercial Intent Stage (Insights Only) Winner for commercial keyword is "News" by share of voice. Winner for commercial keyword is "Shopping" by percentages. "Best X" keyword winner= Shopping by %50 "Compare X" keyword winner = Shopping by %34 + %10 images "News X" keyword winner = Shopping by %42 + %27 Images "Review X" keyword winner = Shopping by %42 + %24 News
Commercial Intent Stage (Lessons Only) By using share of voice, you ca measure which domains are winning. Perform share of voice analysis on result types to asset their potential. Segment even deeper on query modifies like "best" or "review" to see how SERPS change.
Transactional Intent Stage (Lessons Only) Organic still best way to push traffic at this stage. - The deeper you go in the funnel, the more you have to rely on organic rankings. The majority of pages we saw ranking highest were category pages. - Analyze ranking URLs to find out ehat UX satisfies the searcher intent.
You can download Rob's presentation from here.
More Than SEO: 3 Ways To Prove UX Matters Too

Matthew is co-founder of Elementive. Their motto is "UX matters for a great deal for SEO and good UX starts with making your website easy to find."
Excuses for interest on UX: I don't need Ux, I just need rankings or traffic. Another consultant is responsibe for UX. Hands off - your job stops at the SERP. Most of us, use great tools but don't know what is behind of them. Analytics still great tool and Matthew shared 3 examples about it.
1.How People Browse (Way to Measure) - Script: http://jsfiddle.net/aschottmuller/38kqp83b/ - It automatically tracks all the clicks on Analytics. Like "labeled links" - Downloads Internal Links External Links You can see all the clicks in Analytics! -How long before people click a link? Post click homepages You can evaluate that "is it too much or little" the right amount of time?
2.The Value of a Blog Post or Content Script: http://scrolldepth.parsnip.io You can track scroll to understand how far down they scroll - so we can understand their interest. Adding additional elements and understanding the seconds between times is really important to understand the details. You can even measure the clicks between these scrolls. What about scroll differences according to browser sizes. (!) Scroll % at exit - it is really important + its differences.
3.Identify Errors Just use GTM to fire all these events. You can push all the contact form problems from Google Analytics. Push all error details (maybe phone number errors) - so that we can be sure about the approach of people. Create a relevancy between Error ID + Freq + Form Completion
You can download Matthew's presentation from here.
A Site Migration: Redirects, Resources & Reflection

Jayna is SEO Manager of Dick's Sporting Goods. She mentioned the lessons they learned: SEO's Work Comes Last. Be Patient. Long-Tail Pages Can Save or Sabotage Traffic Redirects Work, but Redirect Tools Have Limits It Will Take 3 Months for Ranks to Stabilize Get Specific, Deep & Detailed with Reporting
1.Chaos In The Creation Things change so fast at IT field - SEOs need to adapt. You probably have really short amount of time to setup things.
2. Preserve Top Pages + Don't Neglect Long-Tails Don't underestimate long-tail pages. In this case, they have 50K less than 10 traffic. It is probably hard to redirect all of them - but you have to because total traffic is really high.
3. 1-to-1 Redirects are Crucial Sometimes tool limits create problems on testing that much URLs. Don't assume anything - test everything possible. Dead pages / 404 Pages / Parameters - test all of them.
4. Ranks Will Fluctuate It is totally normal to see some fluctuations. It will get back to be normal in 3 months as usual. (shown on presentation with a case) Google kept old pages indexed for 100 days. Don't forget to include all the veteran pages.
5. Analyze High-Level Reporting, But Get Specific to Find Problems Don't just focus on the big picture. To identify all these problems, sometimes you need to focus on small portions. Page/category level audits will help you more.
You can download Jayna's presentation from here.
The 8 Paid Promotion Tactics That Will Get You To Quit Organic Traffic

Kane is Founder of Content Harmony. Summarize of his presentation at Mozcon is below:
1. Think audience acquisition Dont underestimate the potential of Social Ads. It also has a different ? on conversion funnel. 20K visits + 0,5 CPC + % 0,5 Conversion= 1K Search Visit with 10$ CPC
2. Split Test to Find Winners Segment carefully and narrow as much as you can. Dont forget to change your creative according to ypur audiences. 3 Headline * 3 Pictures = 9 Variations to Test You find the winners! Promote the best ones!
3. Convert Winners into Organic Posts If something really works in Ads, why not organic posts. You might consider to promote to your fans - It'll lower your costs. CPC will turn down, seriously.
4. Targeting Influncers & Journalists 66K People in US journalists Why not to focus on them? Target them with Ads first. Then outreach them manually. What if they know you, before you reaching them? (great idea! You can use Twitter Ads as well Use followerwonk to find some audiences and export them You can target people by their Twitter Usernames with twitter ads.
5. Getting B2B Costs Down Linkedin is really expensive?!? If you ctach someone from Linkedin - get them with some UTM codes and retarget them with more budget.
6. Integrating Your Email List Don't forget to create custom audiences on FB So that you can reach them by your contents by Facebook People hate to see ads on emailboxes, but you can show your value proposition on Facebook Ads
7. Video is Super - Cheap Engagement +%43 ROI on initial lead gen +%300 ROI on Life-time-value Tools to Use: Soapbox, Wistia, Bigbu, Promo, Shakr, Native Facebook, Native Facebook
8. Retarget for the Conversion Retarget people who shows interest to your content but does not opt-in + you can offer them again on Facebook.
Bonus URL: https://www.contentharmony.com/resources/content-promotion/
https://www.slideshare.net/kanejamison/8-paid-promotion-tactics-that-will-get-you-to-quit-organic-traffic
8 Paid Promotion Tactics That Will Get You To Quit Organic Traffic from Kane Jamison
How to Be a Happy Marketer: Survive the Content Crisis and Drive Results by Mastering Your Customer's Transformational Journey

Tara is Former VP of Marketing at MyFitnessPal. She is author of "The Transformational Consumer."
Fears of us & marketers/human - Two most important fears of people Fear of falling Fear of loud voices - The fears of marketer-type human: No one click/watch/read/buy Meaningless metrics Monday morning QB Moving target strategy All the world is a marketer Having to market nonsense Lack of influence - %60 of the people avoid ads within their heads - %60 of apps downloaded are used for less than 10 times
In C-speak, engagement Returning visits and time In-store Repeat purchases Word of Mouth and Net Promoter Score Ratings and reviews Likes, views, votes, shares Sales revenue Customer Lifetime Value
Engage humans' hearts - Best way is using their aspirations They want to be healthier. They want to be wealthier. They want to be wiser. - Core motivation of purchasing is *TRANSFORMATION*
Rethink your sell You are not selling a product - just selling transformation. Just focus on the problem you have to solve - not the product.
Rethink your customer Define problem from human perspective. Become the expert on your journey.
Rethink your marketing Engagement matters a lot. Marketing is not something that you can take one-shot. It is kind of a journey between you and your clients. Don't forget to use customer journey insights for marketing.
Steps to follow for turning insight into influence 1. Use story to make the business case for the resources you need 2. Reposition content as rapid prototyping 3. Reposition marketing as retention 4. Enlist a team of change- agents: many functions, many levels, one journey
You can download Tara's presentation from here.
Up and to the Right: Growing Traffic, Conversions & Revenue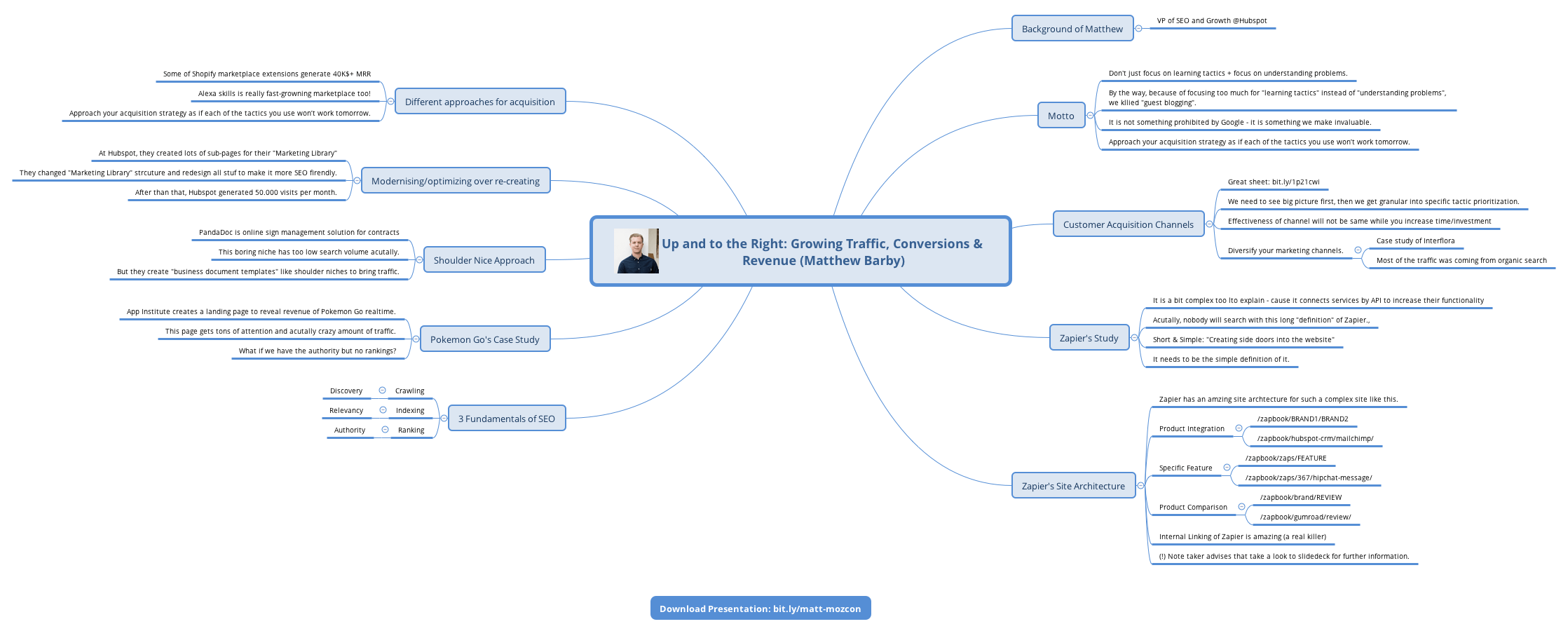 Matthew is VP of SEO and Growth at Hubspot. Their motto is: Don't just focus on learning tactics + focus on understanding problems. By the way, because of focusing too much for "learning tactics" instead of "understanding problems", we killed "guest blogging". It is not something prohibited by Google - it is something we make invaluable. Approach your acquisition strategy as if each of the tactics you use won't work tomorrow.
Customer Acquisition Channels - Great sheet: bit.ly/1p21cwi - We need to see big picture first, then we get granular into specific tactic prioritization. - Effectiveness of channel will not be same while you increase time/investment. - Diversify your marketing channels. Case study of Interflora Most of the traffic was coming from organic search.
Zapier's Study It is a bit complex to explain - cause it connects services by API to increase their functionality. Actually, nobody will search with this long "definition" of Zapier. Short & Simple: "Creating side doors into the website" It needs to be the simple definition of it.
Zapier's Site Architecture - Zapier has an amzing site architecture for such a complex site like this. - Product Integration /zapbook/BRAND1/BRAND2 /zapbook/hubspot-crm/mailchimp/ - Specific Feature /zapbook/zaps/FEATURE /zapbook/zaps/367/hipchat-message/ - Product Comparison /zapbook/brand/REVIEW /zapbook/gumroad/review/ - Internal Linking of Zapier is amazing (a real killer) - (!) Note taker advises that take a look to slidedeck for further information.
3 Fundamentals of SEO Crawling > Discovery Indexing > Relevancy Ranking > Authority
Pokemon Go's Case Study App Institute creates a landing page to reveal revenue of Pokemon Go realtime. This page gets tons of attention and actually crazy amount of traffic. What if we have the authority but no rankings?
Shoulder Nice Approach PandaDoc is online sign management solution for contracts. This boring niche has too low search volume actually. But they create "business document templates" like shoulder niches to bring traffic.
Modernising/optimizing over re-creating At Hubspot, they created lots of sub-pages for their "Marketing Library" They changed "Marketing Library" strcuture and redesign all stuf to make it more SEO firendly. After that, Hubspot generated 50.000 visits per month.
Different approaches for acquisition Some of Shopify marketplace extensions generate 40K$+ MRR Alexa skills is really fast-growning marketplace too! Approach your acquisition strategy as if each of the tactics you use won't work tomorrow.
https://www.slideshare.net/MatthewBarby/up-and-to-the-right-growing-traffic-conversions-revenue
Up and to the Right: Growing Traffic, Conversions, & Revenue from Matthew Barby
How to Operationalize Growth for Maximum Revenue

Joanna is CMO at Classpass. The key details of her presentation at MozCon are below:
Only 3 Ways to Grow Acquisition Retention Monetization
Things to Grow - Departments to Collaborate Marketing Product & Marketing Product & Marketing & Engineering & Data
Skills to Grow Creative Analytical Technical Intuition
An Example from LinkedIn Growth Team - SEO SEO Conversion optimization Public profile - Network & Growth PMYK Virality Connections - Onboarding Onborading Activation Intent discovery - Comms Engagement through email/push Resurrection
Organize for Growth - Invest in the views that matter. We spent too much time on creating/looking into reports. Don't spent half a day a week for reporting because it equals to a month. - Growth as a decentralized responsibility Traditional Departments: Marketing, Partners, Product, Engineering, Pricing, CX, Finance, Legal The way it should be done: CAC, CHURN, BURN, "Your real concerns & metrics are the focus" - Realize nothing is precious. Classpass announced unprofitable product - so they need to change this. It gets really serious amount of reaction from current clients. - Play to your advantages obsessively Prioritize for the things which brings advantages to you mostly. Joanna decide to miss lots of new growth opportunities because others get more attention and revenue-maker for her company. - Evergreen testing to make your case. Organize thesis based brainstorms. Allocate 20% of centralized resources to testing. Build pre-prioritization roadmaps. Scope product asks prior to the ask.
You can download Joanna's presentation here.
Analytics to Drive Optimization & Personalization

5 Tips for Using Google Analytics to Drive CRO "You can't do SEO without CRO" - Rand Fishkin.
Reasons of Low Conversion Rates 1. User Experience 2. Site Content & Personalization 3. Actionable Web Analytics 4. Development Resources
Use Data Layers by GTM Normally, you can only measure by URL-based structure. Thanks to "data layer" with GTM you can push as many data you want into Analytics
Use Campaign Tagging to Distinguish Variations / UTMs E-mail Testing > Tag CTA buttons by UTM Source You can make A/B tests as well. Ad Testing > Use UTM_Content to denote ad variations Social Media > Track different campaigns with parameters
Analytics Goals to Track Success - Setup Analytics Goals to Track Conversion Funnels - It helps you to understand where users leave from your site and where you should optimize first. - Set Micro Conversions Every flow of the form Each steps, different conversions - Set Macro Conversions Completing Form Ordering Something - At Google Optimize, you can set primary and secondary goals.
Using Site Search to Get More Data It shows intention of your visitors. Use this data for your SEO purposes.
Heatmaps are Great to Understand Behaviour Google has "In-site Analytics" feature on Analytics "Crazyegg" is another alternative for heatmaps. Focus on the things they click, pay attention to the things are clickable.
Key Analytics Reports to Pay Attention - Devices Report vs. Conversion Goals It might show some compability problems you have but not aware about them. Also, browser reports help you to identify cross-browsing problems. - Site Search Conversion Rates You can see, which search terms bring more conversions. - Search Console Integration You can get more queries in here. Most precise SEO data is shown on there.
Drive Conversion with Personalization - Deliver engaging experiences to win the game. - Ways to Personalize Things 1. Personalization at Mass Scale In Google Apps, they use "discover a better way of working" message. Engineers say that "why not to change more Gmail oriented messages" - cause %90+ use only Gmail. %20 of increase on conversions "Get email for your domain" message. 2. Personalization at Local Level In Japannase market, they find "US version-translated" extremely simple. Cause they get used to see more widgets & complex designs actually. They applied, completely different approach to visualize next 30 days of trial. %693 increase in clicks + %8 increase on trials. 3.Personalization at Realtime Closed Funnel Analysis (beta) feature help you to remarket people that leave with a product in a cart
5 Things to Start Doing Today Implement to track relevant data. Explore your analytics data for optimization opportunity. Identify key metris & secondary objectives. Build personalized experiences. Measure & Analyze & Repeat
Facing the Future: 5 Simple Tactics for 5 Scary Changes

Dr. Pete Myers is Marketing Scientist at Moz. He talked about potential threats for search industry.
HTTPS According to MozCast data %55 of web is all HTTPS (June 2017) It was %30 last year - Google Chrome incentivized webmasters to go full HTTPS Until the end of year, we'll see like %65 - projected growth Google (actually Gary) said that they don't plan to boost algorithmic reward for secure sites.
SERP Features We have more competitors than our competitors - they're fixed SERP features. They steal from our CTRs - that is why we need to concern about them. %87 of SERPs have "rich features" (SERP Features, excl. ads/shopping) PPC + Shopping come together and kills organic listing (eg: "samsung tv") %15 of queries has answer boxes - it really takes hard to get this position
Rank Brain - It is the 3rd most important signal. (Content + Links come first) - It is not a query based engine anymore, more intelligent than ever. - So, the keywords are not only connected with others by having prefix or suffixes - similarity is really important. - Moz's new keyword research tool use "lexical similarity" to group keywords actually. - You can still pick keyword to write article, but: You should write for "keyword group". Pick one group and write NATURALLY. - Even such keywords like "credit score" (CPCs like 10-20$+) can have position zeros. - Position Zero also dominates mobile phone's above the fold. - Last 2 years, featured snippet comes from %5 to %15. - More statistics: https://getstat.com/blog/featured-snippets/
Voice Search - Google Home is totally built on the featured snippet results. - Target text featured snippets - cause voice search will really get high exposure.
5 Advices for 5 Changes HTTPS is coming, just do it! Features will evolve. Pick 1-2 & get going. Don't fixate on RB. Write for humans. People ask questions. Answer them wisely. Voice search is here. Use what you know!
You can download Dr. Pete Myers's presentation here.
The Truth About Mobile-First Indexing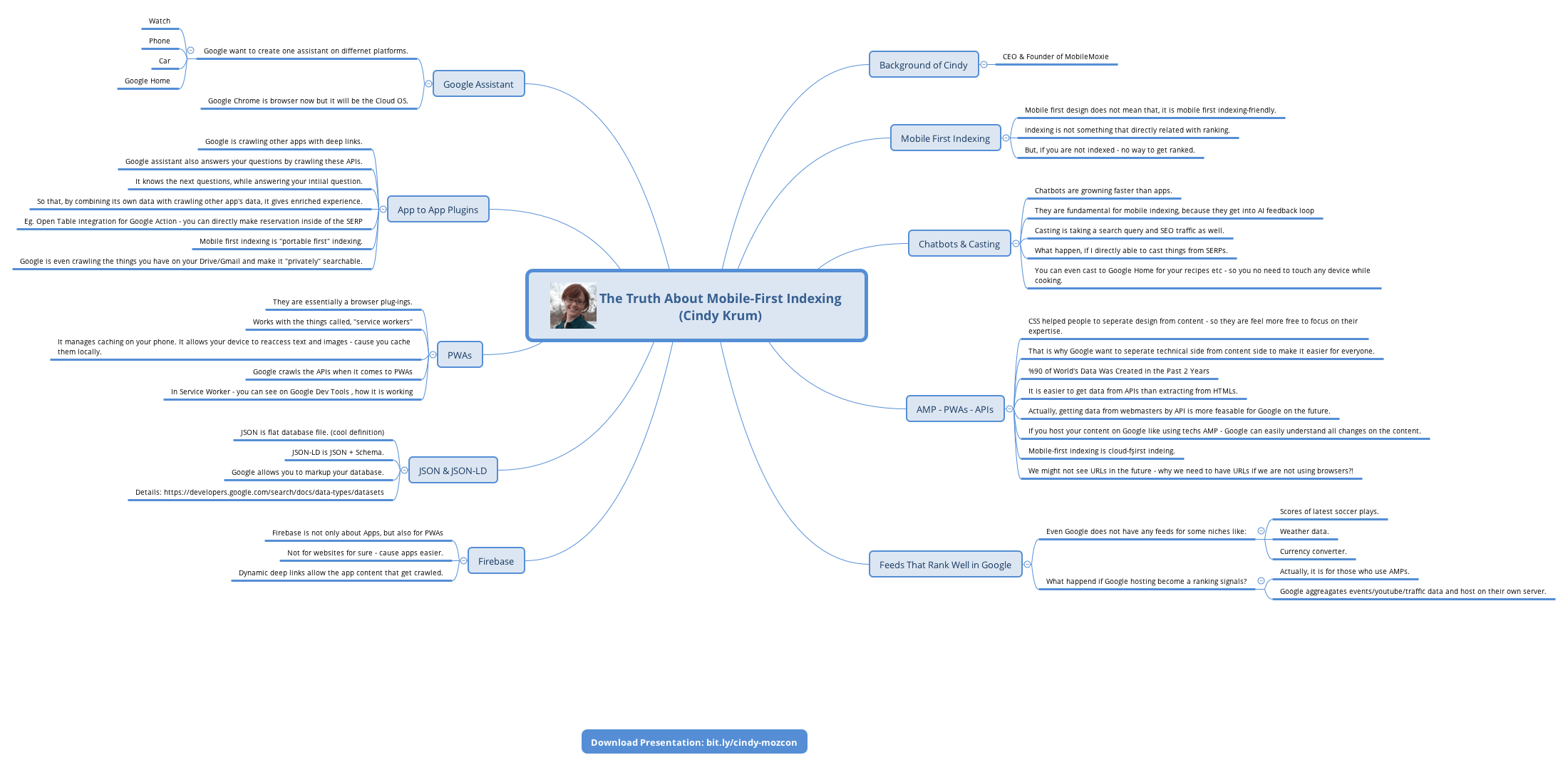 Cindy is CEO and Founder of MobileMoxie and she shared details of mobile first indexing at MozCon stage.
Mobile first design does not mean that, it is mobile first indexing-friendly. Indexing is not something that directly related to ranking.
But if you are not indexed - no way to get ranked.
Chatbots are growing faster than apps. They are fundamental for mobile indexing, because they get into AI feedback loop.
Casting is taking a search query and SEO traffic as well. What happens, if I directly able to cast things from SERPs. You can even cast to Google Home for your recipes etc - so you no need to touch any device while cooking.
CSS helped people to seperate design from content - so they feel more free to focus on their expertise. That is why Google want to seperate technical side from content side to make it easier for everyone.
%90 of World's Data was Created in the past 2 years. It is easier to get data from APIs than extracting from HTMLs. Actually, getting data from webmasters by API is more feasable for Google in the future.
If you host your content at Google using techs like AMP - Google can easily understand all changes in the content.
Mobile-first indexing is cloud-first indexing. We might not see URLs in the future - why we need to have URLs if we will not be using browsers?!
Feeds That Rank Well in Google
- Even Google does not have any feeds for some niches like:
Scores of latest soccer plays.
Weather data.
Currency converter.
- What happens if Google hosting become a ranking signals?
Actually, it is for those who use AMPs.
Google aggreagates events/youtube/traffic data and host on their own server.
Firebase is not only about Apps, but also for PWAs. Not for websites for sure - cause apps easier.
Dynamic deep links allow the app content that get crawled.
JSON is flat database file. (cool definition)
JSON-LD is JSON + Schema.
Google allows you to markup your database.
Details: https://developers.google.com/search/docs/data-types/datasets
They are essentially a browser plug-ings.
Works with the things called, "service workers"
It manages caching on your phone. It allows your device to reaccess text and images - cause you cache them locally.
Google crawls the APIs when it comes to PWAs.
In Service Worker - you can see at Google Dev Tools how it works.
Google is crawling other apps with deep links.
Google assistant also answers your questions by crawling these APIs.
It knows the following questions, while answering your initial question. So that, by combining its own data with crawling other app's data, it gives enriched experience.
Eg. Open Table integration for Google Action - you can directly make reservation inside of the SERP
Mobile first indexing is "portable first" indexing.
Google is even crawling the things you have on your Drive/Gmail and make it "privately" searchable.
- Google want to create one assistant in differnet platforms.
Watch
Phone
Car
Google Home
-Google Chrome is browser now but it will be the Cloud OS.
https://www.slideshare.net/MobileMoxie/the-truth-about-mobilefirst-indexing-mozcon-2017
The Truth About Mobile-First Indexing #MozCon 2017 from MobileMoxie
Powerful Brands Have Communities

Tara is CEO at Apps Without Code and she made a presentation about communities.
Communities on Fashion Industry Sephore created online community to answer questions and keep people together Sephora has over 400 engagement metrics for community They acquired 2.5 times longer time on community than e-commerce.
Questions to Ask Yourself - Should our community will be public or private? Public: Sephora is nice example of creatin public community. Private: 500 startups' - they use discourse and offer some Perks to the people. 8000 peer help session generated, 10K plus interaction on Discourse system. - Can our community be low-tech? Udemy is created on their community on Facebook > 47K members. These teachers are more successful than other instructors. 367M$ revenue generated on these instructors on the community. The Club: Made by Bubble App. You can do your own in 5 days. Coachella's Community: It is old-school, MyBB like Bulletin forum. It is experience-first community. Moz's Community: It is content first community. All the interactions are around contents. Shopify's E-commerce University: It is also built on top of content.
Tools to Use for Community - Memberful WP: Easy to Use / Wordpress - Memberspace: More Independent Zendesk Community: More Social Might Networks: More funny
Gamification for Communities TheClub's Community: People love to be in gamification systems. In case of "TheClub" it increased engagement by 3.2X FitBit's Community: They have some kind of badges. They encourage you to invite your friends. They see that %84 of users more active with friends. Even Moz does "MozPoints"
You can download Tara's presentation from here.
5 Secrets: How to Execute Lean SEO to Increase Qualified Leads

Britney is Head of SEO & Content at Moz. Rand personally recruited and hired her. Her story of joining Moz is really interesting. She had founded a digital marketing agency and after she got offer from Rand from Twitter and she applied. After dozens of interview she joined to Moz! Let's see the key points of her presentation:
Conversion KPIs - Macro Conversion Selling Moz Subscription Selling Moz Local Subscription - Micro Conversion Trial Requests Subtopic 2
Elimination of Wastes Moz had 70K pages of "indexed crap" They eliminated all the "crap profile pages" out and increased %8 of traffic. Eliminating waste of parameter URLs by Search Console also helped a lot. URL Parameters increase +%13 traffic for Moz.
Updating Moz's CMS They migrated "Learn Center" intro CraftCMS Self-referencing rel canoncail tag helped them. JSON-LD schema mark-up Better crawlability %203 increase on organic pageview
Changing "Relevant" Post Structure They had 3 different category structure. She aligned recommended article system by main category According to her thesis, it'll increase pageview/session which will bring great value for SEO. It increased their organic traffic by %5 percentages.
Moz SEO Masterclass (In-house Education) She created a WP site to make some class inside of Moz. She made 30+ people admin on this website. They created pages and learned SEO inside of it.
Test: Typo on Meta Description Fixing typos on meta description helped a lot on featured snippets. She changed the meta descriptions to manipulate content of Position Zero
You can download Britney's presentation from here.
SEO Experimentation for Big-Time Results

Stephanie is Director of Performance Marketing at Etsy. Formerly she was working at Distilled as a Consultant. Keypoints of her presentation are below:
Metrics to Consider: Confident, Specific, Cost, Measurable
Identify Opportunities:
Start with old school SEO audit and get help from some crawlers.
Title tags were low effort - high confidence opportunity.
Low hang fruits are always important.
- A/B testing is not equal reflection for most of the SEO cases.
- How they are doing A/B test for SEO on Etsy
Control
Variant 1
Variant 2
- They randomly pick URLs and distribute to 3 buckets.
- At Etsy case, each bucket gets 10Ks of visits - so they have made different changes at these buckets.
Results are really volatile cause of the nature of SEO.
Pay attention to understand there is no seasonality behind of
Get historical visits and pay attention to see buckets are on the same lines at the chart.
You Should Use: Google Causal Impact Package
- 301 Redirects + Canonical tests are resulted very similar.
- AMP Tests
Non-AMP (1.94s)
Etsy AMP (0.53s)
Google AMP (0.31s)
- H1s Impact
Just change small wording at a title and it helped them to increase on results.
- Meta Description
Before: Standart metas from content
After: They re-wrote these meta tags.
And it helped them to increase on results.
Why Etsy build this framework?
To understand impact of the all steps
Winning Value Propositions for Crawlers and Consumers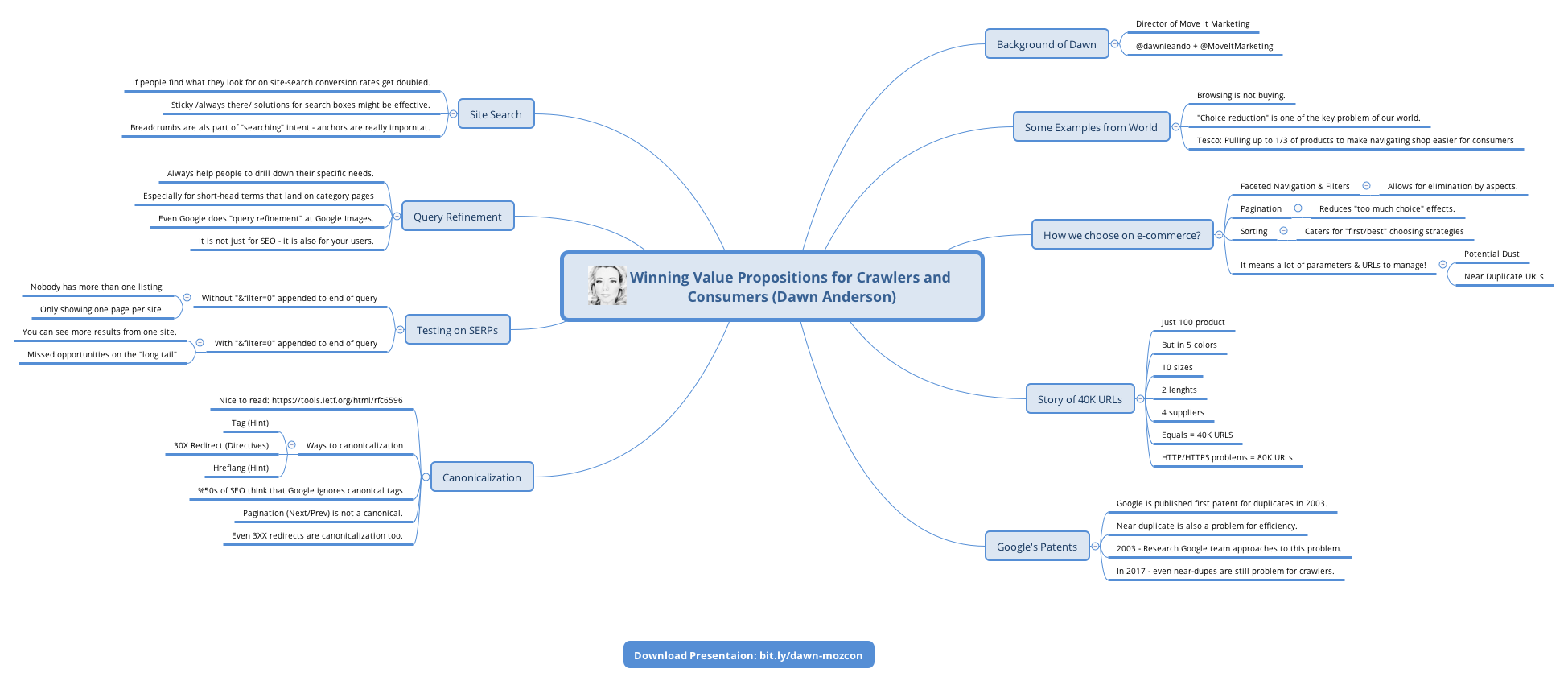 Dawn is Director Move It Marketing. The keypoints of her presentation are below:
Some Examples from World Browsing is not buying. "Choice reduction" is one of the key problems of our world. Tesco: Pulling up to 1/3 of products to make navigating shop easier for consumers.
How we choose on e-commerce? Faceted Navigation & Filters: Allows for elimination by aspects. Pagination: Reduces "too much choice" effects. Sorting: Caters for "first/best" choosing strategies It means a lot of parameters & URLs to manage!: Potential Dust, Near Duplicate URLs
Story of 40K URLs Just 100 products but in 5 colors, 10 sizes, 2 lenghts, 4 suppliers Equals = 40K URLS HTTP/HTTPS problems = 80K URLs
Google's Patents Google has published first patent for duplicates in 2003. Near duplicate is also a problem for efficiency. 2003 - Research Google team approaches to this problem. In 2017 - even near-duplicates are still problem for crawlers.
Canonicalization Nice to read: https://tools.ietf.org/html/rfc6596 - Ways to canonicalization Tag (Hint) 30X Redirect (Directives) Hreflang (Hint) - %50s of SEO think that Google ignores canonical tags - Pagination (Next/Prev) is not a canonical. - Even 3XX redirects are canonicalization too.
Testing on SERPs - Without "&filter=0" appended to end of query Nobody has more than one listing. Only showing one page per site. - With "&filter=0" appended to end of query You can see more results from one site. Missed opportunities on the "long tail"
Query Refinement Always help people to drill down their specific needs. Especially for short-head terms that land on category pages. Even Google does "query refinement" at Google Images. It is not just for SEO - it is also for your users.
Site Search If people find what they are looking for on site-search conversion rates get doubled. Sticky /always there/ solutions for search boxes might be effective. Breadcrumbs are all part of "searching" intent - anchors are really important.
https://www.slideshare.net/DawnFitton/mozcon-2017-winning-with-choice-information-systems-for-both-crawlers-consumers
MOZCON 2017 WINNING WITH CHOICE & INFORMATION SYSTEMS FOR BOTH CRAWLERS & CONSUMERS from Dawn Anderson MSc DigM
The State of SEO & How to Survive Google's Trojan Horsing of the Web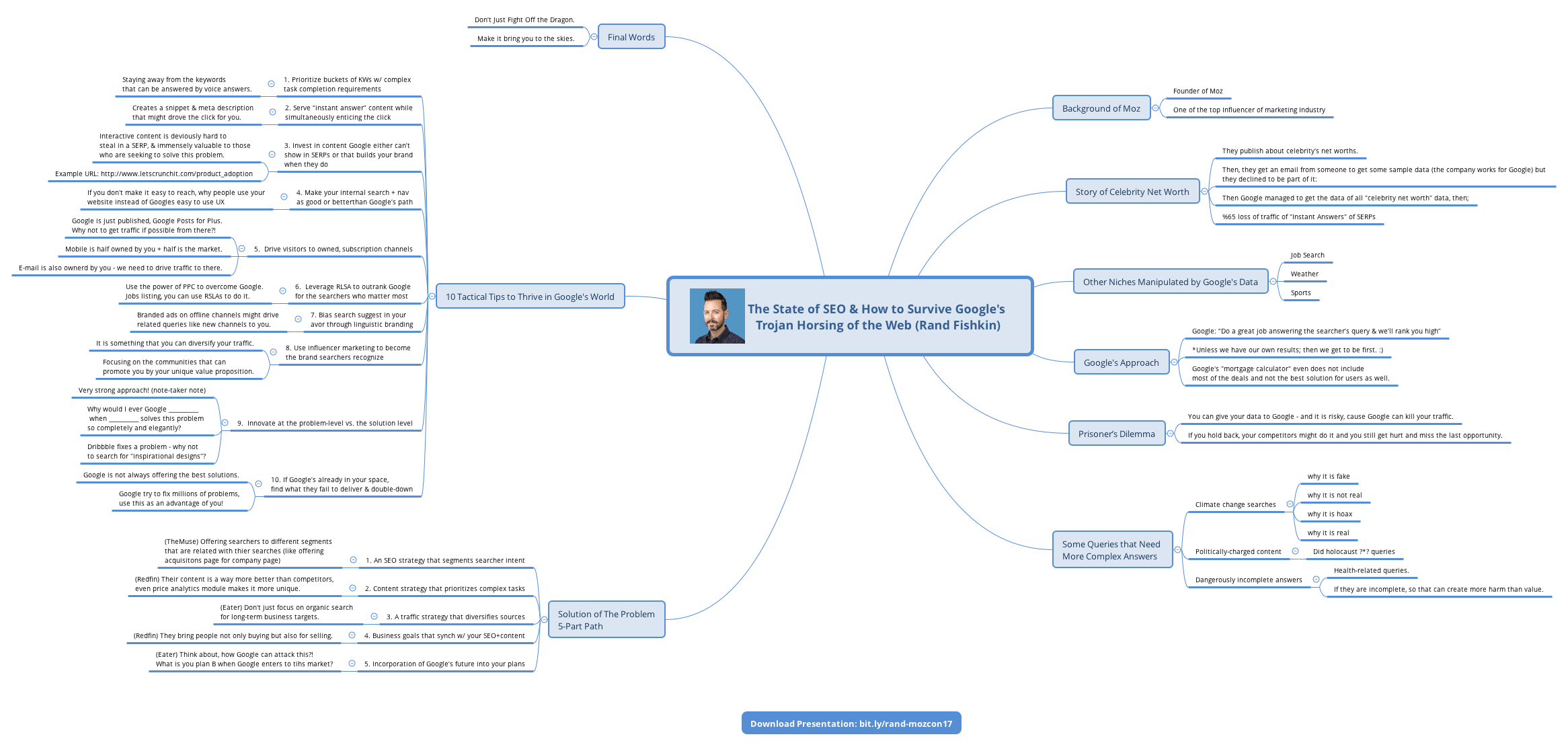 Rand is Founder of Moz and he is one of the top influencers of marketing industry.
Story of Celebrity Net Worth They publish about celebrity's net worths. Then, they get an email from someone to get some sample data (the company works for Google) but they declined to be part of it: Then Google managed to get the data of all "celebrity net worth" data, then; %65 loss of traffic of "Instant Answers" of SERPs
Other Niches Manipulated by Google's Data Job Search Weather Sports
Google's Approach Google: "Do a great job answering the searcher's query & we'll rank you high" *Unless we have our own results; then we got to be first. :) Google's "mortgage calculator" even doesn't include most of the deals and not the best solution for users as well.
Prisoner's Dilemma You can give your data to Google - and it is risky, cause Google can kill your traffic. If you hold back, your competitors might do it and you still get hurt and miss the last opportunity.
Some Queries that Need More Complex Answers - Climate change searches why it is fake why it is not real why it is hoax why it is real - Politically-charged content Did holocaust ?*? queries - Dangerously incomplete answers Health-related queries. If they are incomplete, so that can create more harm than value.
Solution of The Problem (5-Part Path) 1. An SEO strategy that segments searcher intent: (TheMuse) Offering searchers to different segments that are related with their searches (like offering acquisitions page for company page) 2. Content strategy that prioritizes complex tasks: (Redfin) Their content is a way more better than competitors, even price analytics module makes it more unique. 3. A traffic strategy that diversifies sources: (Eater) Don't just focus on organic search for long-term business targets. 4. Business goals that synch w/ your SEO+content: (Redfin) They bring people for not only buying but also for selling. 5. Incorporation of Google's future into your plans: (Eater) Think about, how Google can attack this?! What is your plan B when Google enters to this market?
10 Tactical Tips to Thrive in Google's World 1. Prioritize buckets of KWs w/ complex task completion requirements: Staying away from the keywords that can be answered by voice answers. 2. Serve "instant answer" content while simultaneously enticing the click: Creates a snippet & meta description that might drove the click for you. 3. Invest in content Google either can't show in SERPs or that builds your brand when they do: Interactive content is deviously hard to steal in a SERP, & immensely valuable to those who are seeking to solve this problem. Example URL: http://www.letscrunchit.com/product_adoption 4. Make your internal search + nav as good as or better than Google's path: If you don't make it easy to reach, why people use your website instead of Google's easy to use UX 5. Drive visitors to owned, subscription channels: Google is just published, Google Posts for Plus. Why not to get traffic if it is possible from there?! Mobile is half owned by you + half is the market. E-mail is also owned by you - we need to drive traffic to there. 6. Leverage RLSA to outrank Google for the searchers who matter most. Use the power of PPC to overcome Google. Jobs listing, you can use RSLAs to do it. 7. Bias search suggest through linguistic branding: Branded ads on offline channels might drive related queries like new channels to you. 8. Use influencer marketing to become the brand searchers recognizable: It is something that you can diversify your traffic. Focusing on the communities that can promote you by your unique value proposition. 9. Innovate at the problem-level vs. the solution level: Very strong approach! (note-taker note) Why would I ever Google ____ when ____ solves this problem so completely and elegantly? Dribbble fixes a problem - why not to search for "inspirational designs"? 10. If Google's already in your space, find what they fail to deliver & double-down: Google is not always offering the best solutions. Google tries to fix millions of problems, use this as an advantage for you!
Final Words: Don't Just Fight Off the Dragon. Make it bring you to the skies.
You can download Rand's presentation from here.