---
Managing our SEO Projects
Notes from the Digitalzone 2017 Conference concerning the Digital Marketing World
---
Our writers Okan Çakır and Tevfik Mert Azizoğlu, work at Zeo Agency as SEO Analysts. Digitalzone, the biggest digital marketing conference in Eastern Europe hosted the sectors most prominent figures on October 20th-21st at the Hilton Istanbul Bomonti Hotel. Since the launch of the annual conference, this was its fifth time occurring and in addition became the most participated event of them all.
For the first day the speakers continued to shed light on the general aspects of the sector and were accompanied by simultaneous and ongoing translation, whilst the speakers of the second day shared their experiences on further technical fields with us. Two of the expert speakers in the mobile area were not able to attend the event due to the current diplomatic issues between Turkey and the USA. The attendants for the first day and their speech topics are as follows:
Digitalzone'17 started off with a light show, which appropriately aligned with the digital marketing world. Yigit Konur hosted and held the event, as he is also the founder of Zeo Agency, along with Judith Lewis whom we know from attending last year. For those who were not able to participate and also for the people who would like to keep up to date with past information, we summarised what was spoken and what we observed at the event.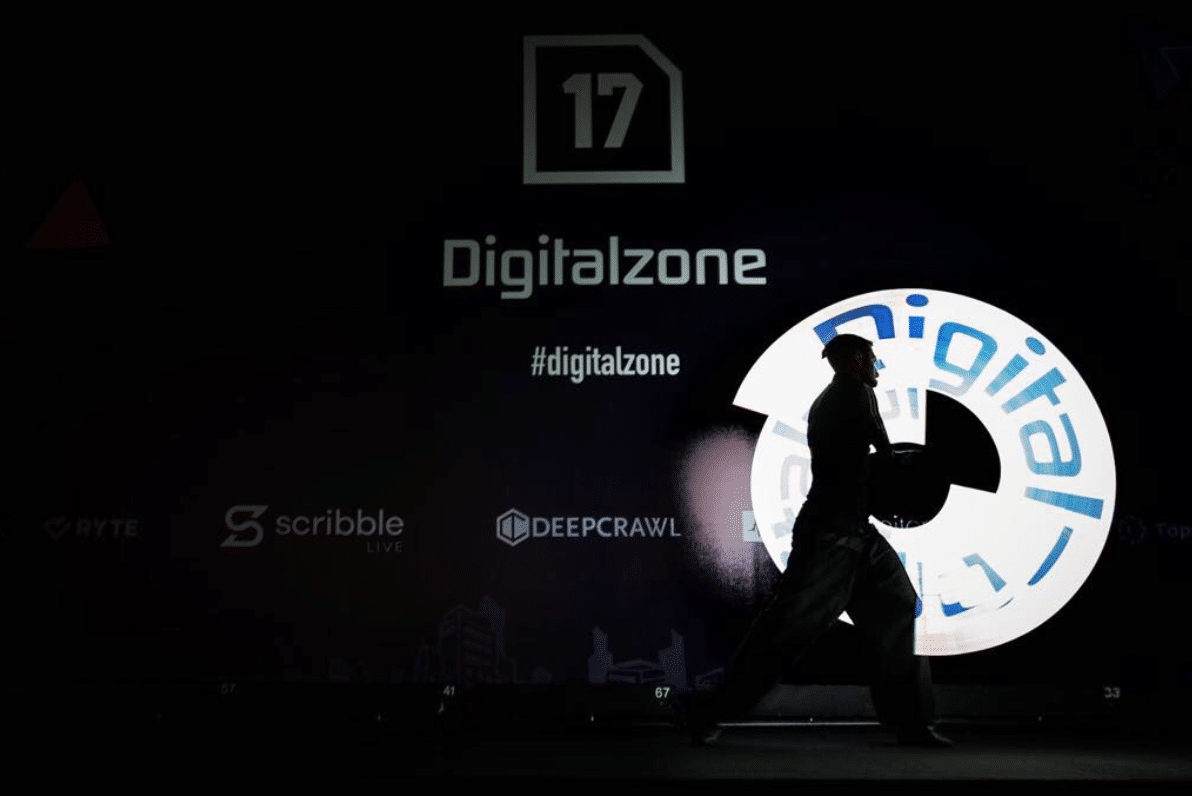 The opening speech was from Judith Lewis, who is one of the judges of the Europe and USA search awards and the founder of deCabbit Consultancy. During her speech, Judith explained how to engage users with interesting content. With her energetic and loveable attitude she managed to revive many participants in the first session and just like last year, she did not forget to offer chocolate to those asking questions. According to Judith, you should take note of the points below in order to increase your visitor count: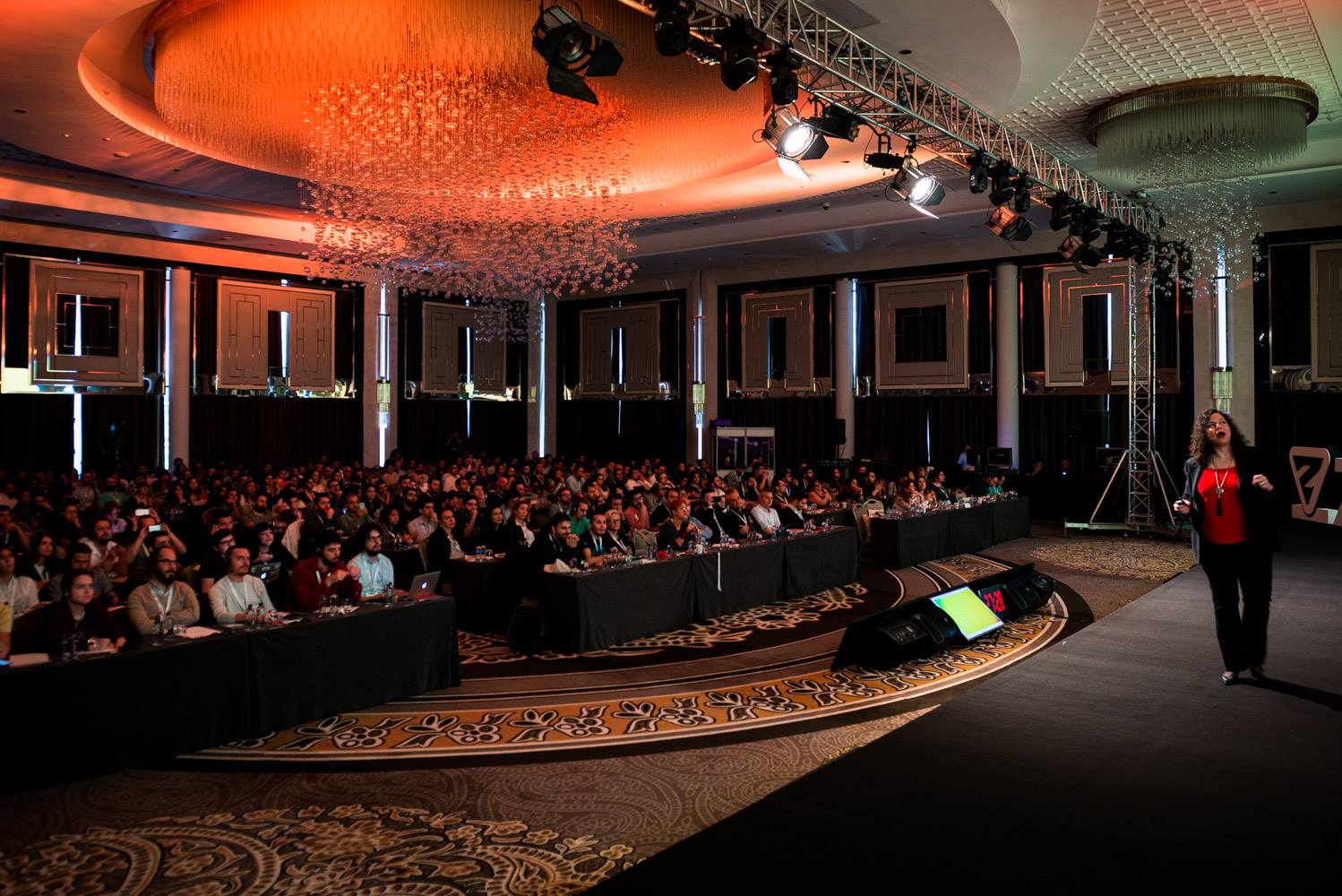 -The content should always be accessible and understandable in order to be easy to consume. Since users have a limited time constrain and prefer to consume content quickly, we should break the content into smaller and more comprehendible parts
We should determine our target audience wisely and answer their needs directly.

-We should take note of question patterns when we are doing keyword analysis. Especially after the semantic improvements made to Google algorithm and the birth of the position 0, we must include question patterns in our content to be able to show up in answer boxes seen in search results. This may also help you achieve better results with voice search, which has recently become a rising trend. By listing the question patterns at the top of the page we are able to make jump links which allow the user to reach the content they are looking for more quickly and easily.
-Being able to answer the user's questions may help you to establish an emotional bond with them and therefore they might visit your site again. When choosing keywords, we should try to choose keywords which will engage each user to the site. In short, our content must be the remedy for their matters.
-We must plan our content creation. We should research search trends and create an annual content calendar. We must publish the right content during the right time of the year.
-Judith also stated that we shouldn't become overly attached to the Keyword Planner when making trend research. Instead of this, we must take additional notes of marketing signals in the sector.
-We must create unique content and avoid re-creating existing content with different words.
-Google can now understand language. For that reason, instead of focusing on one keyword, we should create semantic content which includes words relating to each other. In short, we must convey the same subject to the user with different terms.
-If the user doesn't know our brand, then there is not much purpose to our main page. Since users mostly come to our site from search results, all pages could be considered as main pages. From this point, Judith compared the internet search results to dating sites she saw when she first began using the internet. Content you like goes to the right side, whilst the ones you don't like go to the left!
Presentation:
The speech by Fatih Ozkosemen was one of the most intriguing speeches of the event. He is part of Google's Search Quality team and the head of Google Turkish Webmaster Blog which has only published in the last few months. We tried to summarise Fatih's speech as a 'Googler' by approaching the search ecosystem from three sides, without eliminating any details. So please sit back and get ready to read the longest section of our article!
User:
There are around 100 billion searches every month on Google and 15% of these searches are completely new search queries which have never been searched before.
The number of users are expected to reach 5 billion by 2020.
If so, how does Google show the right results to this many users? Fatih mentioned two touchstones regarding historical development for this query. The first one is that Google now recognizes words with the same meaning, for example, it is able to recognize that the CS abbreviation means Counter Strike or Computer Science. The second point is that it can now create knowledge graphs to group information in a meaningful way. Thanks to these graphics, it now understands that Moscow and Ankara are related in the context that they are both capital cities. By grouping information this way, it enables user case analysis and provides more accurate results.
Another important note is that Google has started to differentiate seeking and search. Google is not only looking at the web searches of the users, it is also trying to answer their searches in the physical world. In the future Google will further integrate with other apps and be visible in our lives in order to recognize other objects and things (like songs).
Google is headed in the direction of becoming a personal assistant within artificial intelligence. Machine learning will no doubt make an algorithm learn things faster.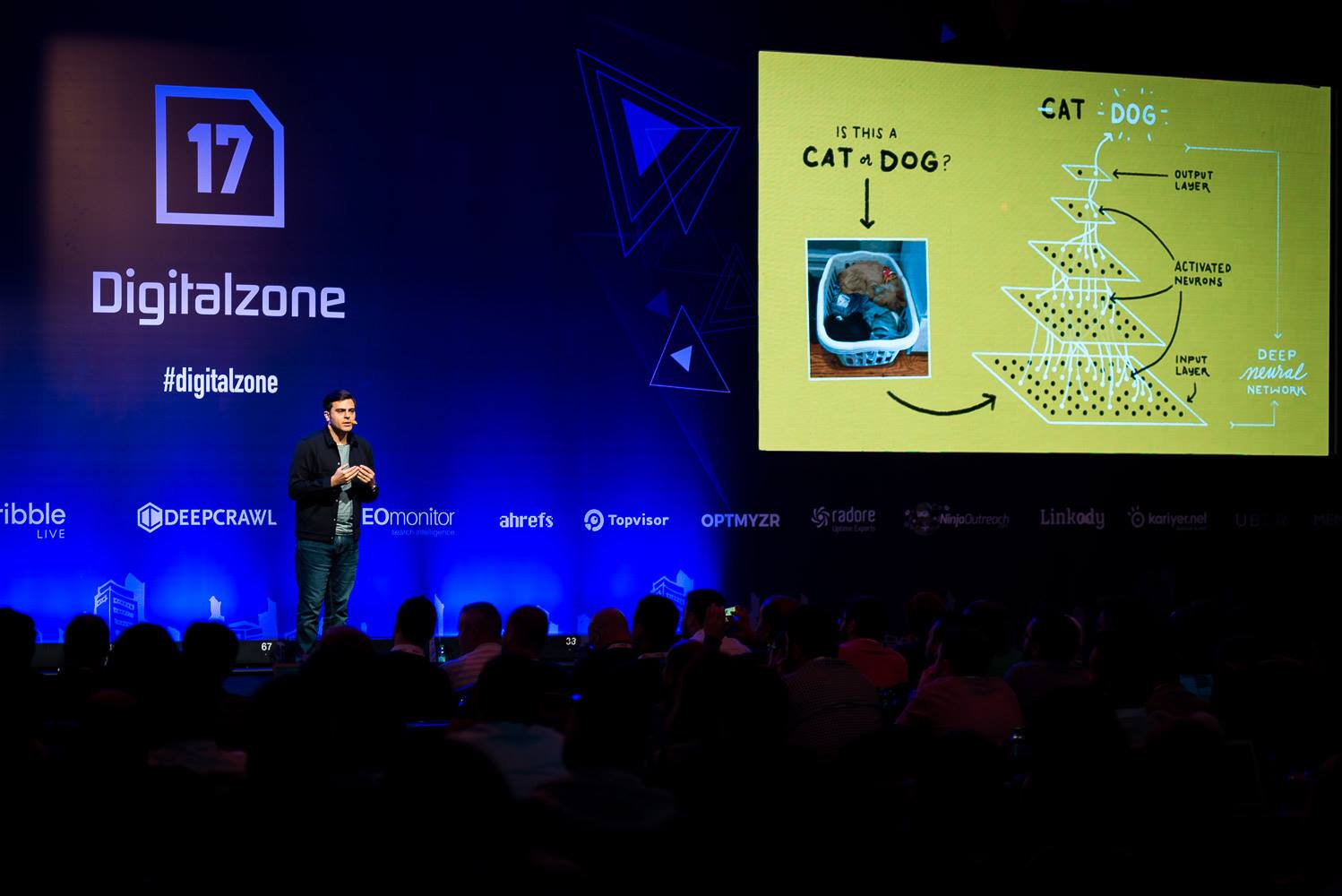 Google:
For the user side of things, the process has been mentioned above, but what kind of innovations are made on Google's side? Fatih stated that the improvements are made on what they want to want to excel in; search and ranking.
Fatih explained the search and ranking process in a very simple language, enabling us to understand it better. The process starts with Google bots crawling through trillions of web pages, meaning they teardown web pages and examine their links. In addition, they associate each piece of information with the page and group them together for saving. Afterwards, these pages get ordered and analysed before they are offered to the user. Finally, the approved pages get indexed. Google is not just trying to index the pages, it is also trying to figure out the user intent. For example, in a bank related search during the day, it is a high possibility that the user is looking for an ATM, because the user is most likely outside. So the ATM results rank higher. And when there is a bank search during evening hours, it is thought that the user is probably looking for something related to internet banking, and it ranks the results accordingly. Also, it only brings up a part of the info because there are so many pages. Lastly, it includes a variety of domains in the results to make them more diverse, and re-ranks them by running spam algorithms.
Fatih, who is in the search quality team, enlightened us regarding this matter. When Google is determining the quality of content in search results it first checks the compatibility between the search and the result. It checks the signals, which are newly added every day. The other important factor is metrics, which means determining the relation between the result and the search. When they are about to start an algorithm, the Google team consider what they are trying to improve and what kind of metrics there are going to be. For example, when the Panda algorithm was first released, they made a quality checking metric after low quality content getting into content farms. With these metrics, Google expects the broadcasters to create quality content. For more detailed information regarding this subject, you can check out the post on the Turkish Webmaster Blog here.
When fighting web spam, algorithmic (created with metrics) or manual interventions are made. When there is a manual operation in motion, a message is sent through the Search Console. If you did not receive a message on Search Console after a drop you experienced, it is likely that there was an algorithmic operation and not a manual one.
We received information telling us that the only official communication channel for Google, the Search Console, is going to be renewed soon. It will not only present raw data, but will also have the ability to predict. Another exciting improvement is that the ongoing amount of team work will be reflected on the Search Console. We will be able to forward error messages to related people on our team, based on their type. Additionally, interaction and communication will be on the foreground. It will be easier to notify Google when we get an action regarding a problem.
While we were wondering when the mobile first indexing would arrive, it arrived without many people noticing it. Fatih stated that he didn't think it would attract much attention from the beginning. In earlier times, the crawl budget was 80% for the desktop version and 20% percent for the mobile version, but it seems as mobile searches surpass desktop search, the capacity for mobile version has now been increased. For better visibility, both desktop and mobile versions of our site should be the same. Fatih mentioned three different scenarios when it came to mobile indexing. In the first scenario, we have our desktop and mobile web site and both of them have the same content, which means that we don't end up with a bad effect. In the second scenario, we do not have a mobile version of our site (even though it doesn't make sense in this day and age) and in turn we will not experience a bad effect. In the last scenario, if our mobile version is just a smaller version of the desktop version, we are probably going to have a problem. But this should not be taken as Google trying to make web site admins' jobs harder. The goal is to increase mobile experience across all web sites. Elements such as meta tags and structural data tags should not only be in the desktop version, but should be included in the mobile version too. As the process continues, Google will be visiting the mobile version more often, which means that we should be focusing on host planning from this angle as well. Web sites will be classified with algorithms which can detect if a site is mobile ready or not. However, there is no set date and the result will not be suddenly updated, the existing web sites will slowly but surely go among the mobile first indexed web sites.
Creator:
The last circle in the ecosystem is the web site owners, who hold an increasing amount of importance. Google is trying to make content creators stronger and encourages the creation of new tools and tech like SEO sheets. For example, it is said that the "first click free" policy will be in effect regarding creators receiving income. Instead of presenting the content in a protected way before a payment is made, the aim is to present the content on the first click, meaning "the first click will be free". It is said that in this policy, there will be options such as metering (showing 10 contents for free, for a month to a user), and lead-in (showing a part of the content with preview).
Another subject of the presentation was that The PWA and AMP technologies are developed for creators convenience so that they do not experience financial loss in the mobile first environment. Accelerated mobile pages (AMP) make the content load faster and also make it more accessible, allowing the user to discover our web site more easily. Also, progressive web apps (PWA) allows the web site to be added to the main screen, it can send notifications like a mobile app and will remain visitable when there is no internet. By combining these elements, it increases the chance of users coming back to our web site again.
Aside from these, there are other goals to make smaller businesses more powerful within the developments of 'Google My Business'. Fast web site developing tools and ways for interacting with users more quickly will give smaller businesses more gain and power.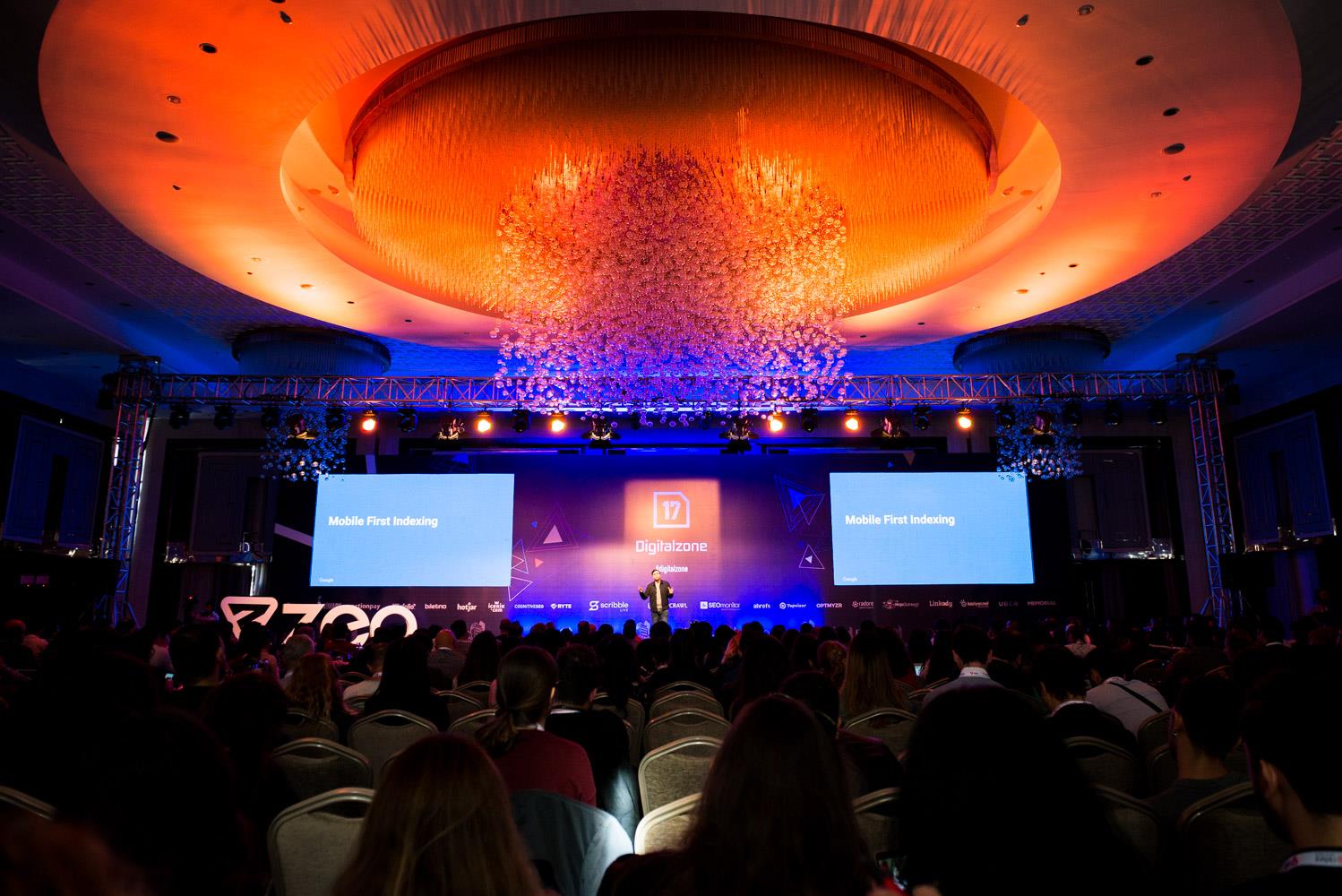 The founder of ZEO Agency, has been chosen as the best SEO agency in the MENA region for 2017, as well as being a jury member at the Search Awards in the USA and Europe, Yiğit Konur, mentioned plenty of useful tips about SEO and PPC relationships during the event. The notes we have taken are as follows: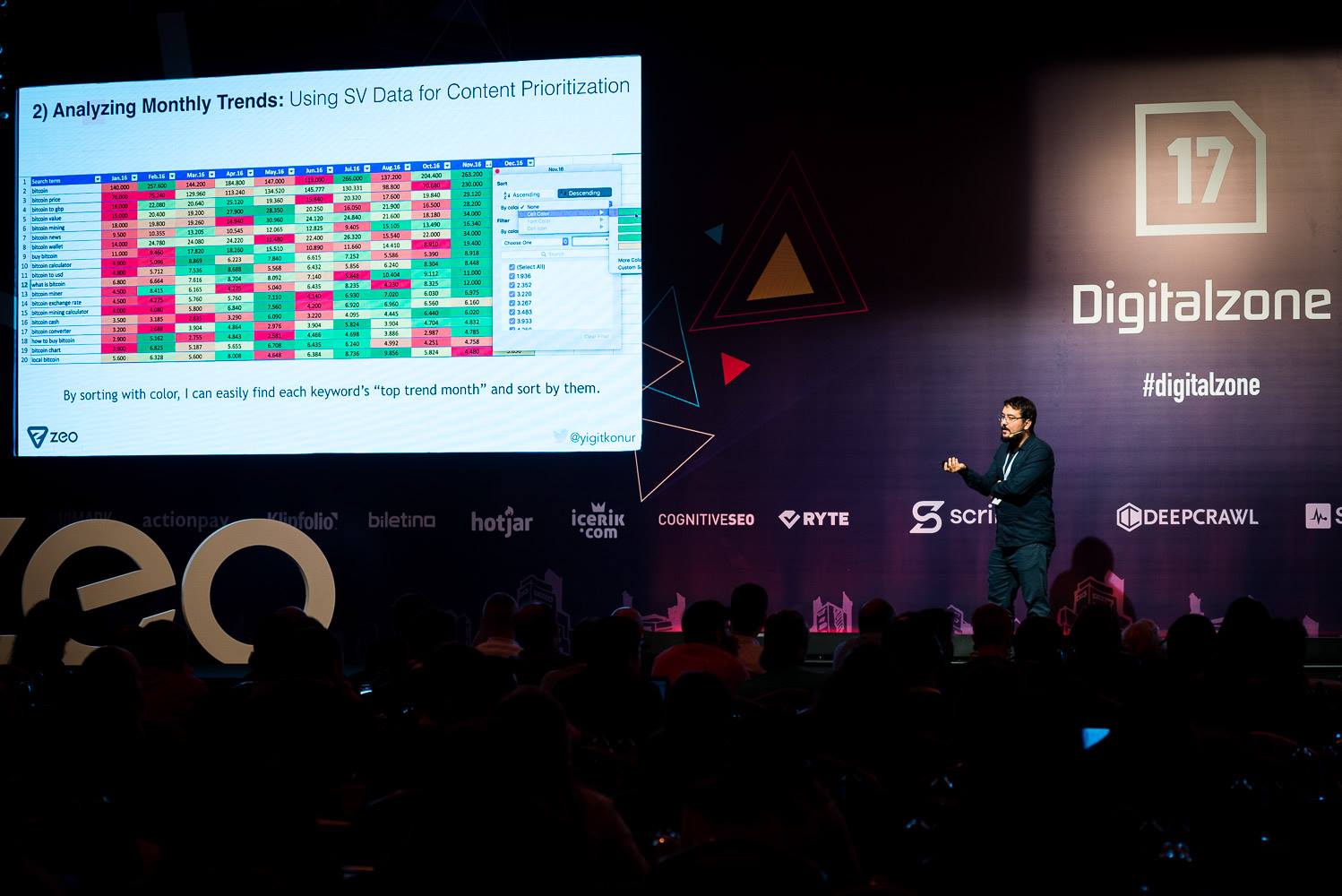 There has always been competition between SEO and PPC. The important factor is to be able to choose the right strategy for the right case. For example, for high cost per click searches such as Bitcoin, SEO might be more profitable. It is much more effective to create content about Bitcoin to attract users to land on our site in the organic way. On the other hand, an example being, when it is Halloween and the SEO team is not ready for it, we may not be able to sell Halloween costumes. In this case, PPC wins.
SEO should be preferred for awareness and brand awareness, we should refer to PPC only when we are dealing with outcome centered businesses.
When analysing, we can download the data extracted by Adwords, open them up in Excel and then we can draw conclusion by using vlookup or SQL join. With the data we get from AdWords, we should see how much investment we must make on SEO, or if we must choose PPC instead.
We can export the keywords from Keyword Planner and SEOmonitor and mark them with conditional formating in Excel, for comparing the data of the current month and the past months.
We can discover new keywords by using PPC data on SEO side.
We can increase our search quality score by improving our content.
We must integrate Search Console with AdWords for better results.
We must gather our strength around the most valuable keywords to dominate search results. For example, when searching for "yemek" ("food" in Turkish), the Turkish online food ordering company Yemeksepeti ("Foodbasket" in Turkish) shows up in results both with its own web site and the web site link to the payment section. Along with its content project Yemek.com to dominate the search results. This is a very good example of a company trying, succeeding and dominating search results.
10x content which was mentioned by an important figure in the sector, Rand Fiskin, seems to be effective in link building. It is necessary to show this type of content to users with right link building.
If we rank second in a search result, we can use PPC to increase CTR.
Last but not least, there is a brand new tool for small businesses' CRT optimisation and SEO visibility: ZeoMind. For a limited time, this tool is free to use without requiring any payment.
Presentation:
One of the oldest members of the Google Search Quality team and one of the best known SEO experts, Kaspar Szymanski, shared his experiences with us. When he was working for Google he was responsible for Turkey's sector. This allowed him to reveal the most common mistakes our web site creators do in Turkey, and ended with him showing us the right way to handle things. What to do and what not to do in order to escape punishment from Google are as follows: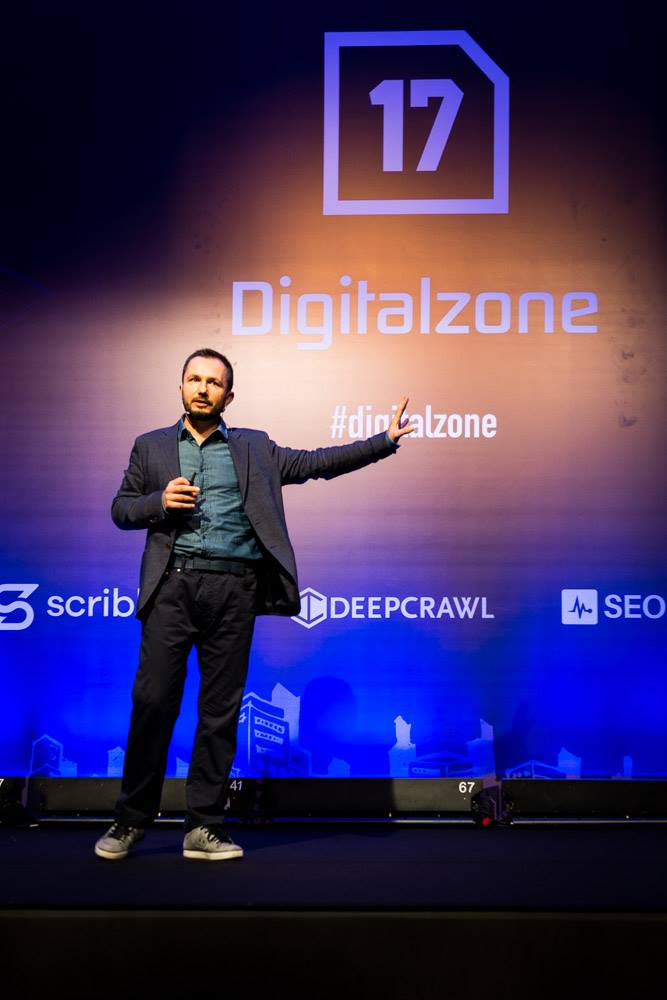 We must always refer to the Google guidelines when altering our web site.
If our web site has received a penalty, we must understand the reason behind it before doing anything. Then we must proceed to take the right action or actions.
It's possible for our site to get punished completely or just page-wise. When searching for our site like site: example.com and our web site does not show up in the results, it means that our site has received a complete penalty and thus has been removed from the results.
Before giving a penalty, Google sends warning messages to our web site via Search Console. Which means that we need to follow the messages there and act accordingly.
Google penalties can be classified as on-page and off-page. Major spam is the biggest issue with on-page issues. If our web site consists primarily of spam content, it is very possible that Google would remove our web site from search results. We can also receive a penalty if the user created content is primarily spam. In this case, Google could remove our web site from the search results partially, and if the problem goes on, it could result in bigger penalties. If our web site contains spam content because of hacking, there could be a partial penalty and a "this web site might be hacked" warning may appear in the search results. In case of spam mark-ups, there could be unrealistic content in rich snippets and a penalty may arise if the problem continues. Lastly, if the outbound links are unnatural, it could also receive a sort of penalty from Google. Off-page penalty factors consists of link building efforts. The links to our site should not try to manipulate Google.
Nevertheless, we should not see Google as cruel. If we solve the problems on our web site, we can send a reconsideration form and request the penalty to be removed. Before sending the form, we must understand the source of the problem. Also we must have solved it ourselves, by making use of the documents and given guidelines. We should have content problems fixed and show a bad link analysis. Kaspar states that in the years he was responsible for Turkey, the request forms coming from Turkish web site owners were unnecessarily long. Due to this, he warned us saying that we must send shorter and straight to the point forms. He also talked about people who file suits against Google even if they weren't common cases in Turkey, touching on how it did not work for lifting penalties. He reminded us that the penalties are for improving the user experience and it's not wise to emotionally react to them. Kaspar stresses that in the case that the penalty cannot be lifted, even after improvements are made, we must seek expert help.
For more details about the presentation please read Kaspar's detailed article from here.
Global marketing speaker and longtime committed digital marketing writer at The Drum, Samuel Scott, shared important details with us in Digitalzone regarding the future of Ad Blockers- stressing that we should focus less on following, less on direct marketing and more on creative advertising. He also made some predictions regarding the future of digital marketing. Here are some of the points he mentioned: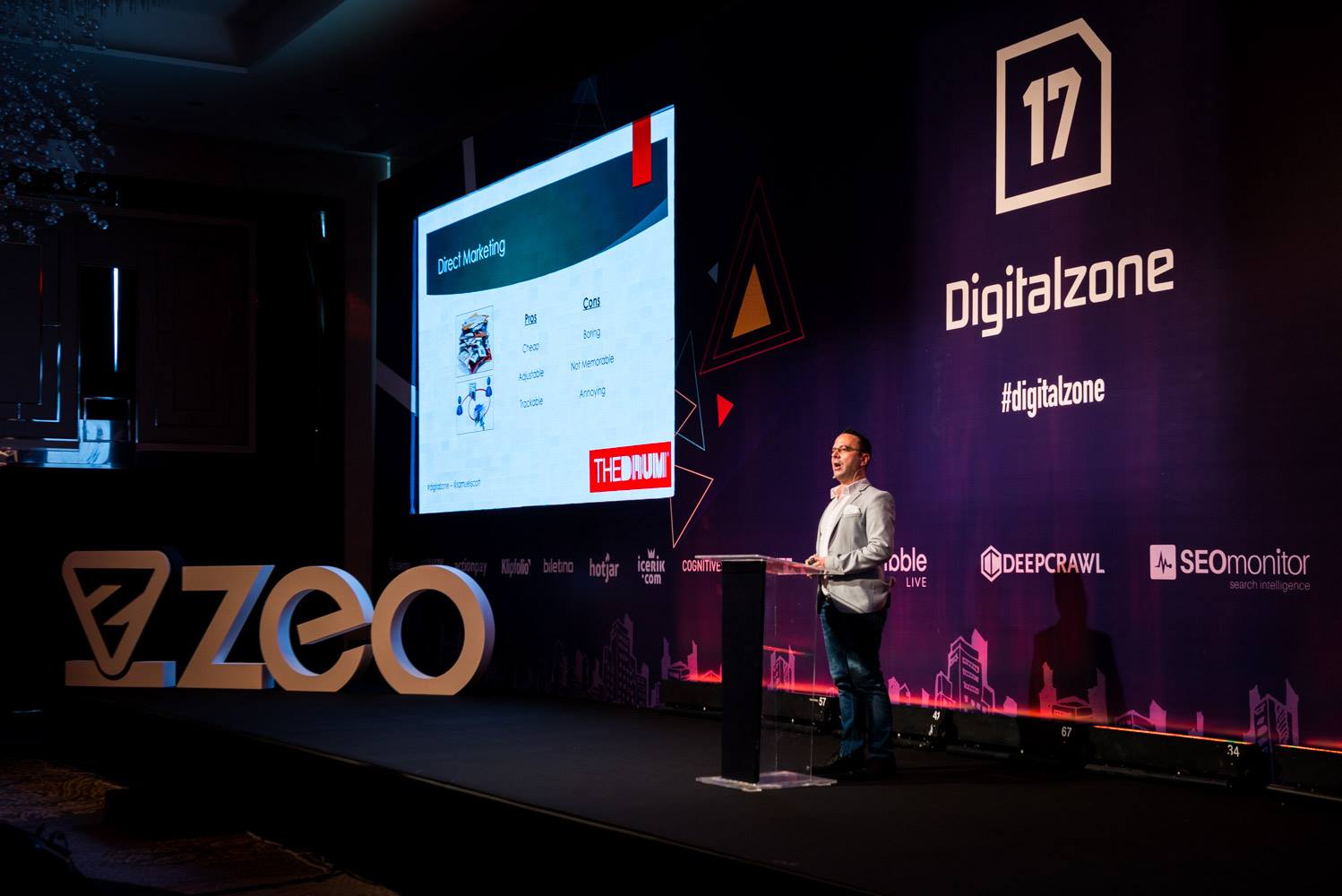 For Samuel, while advertising has benefits such as building a creative, memorable brand, there is also the possibility that it might fail, it might be expensive and it may not be followed. On the other hand, direct marketing has benefits such as being cheap, adjustable and followable. On the negative side it can sometimes be annoying for people leaving them not willing to remember it. For this reason, Samuel predicts that in the future, we will be going back to creative ad times, leaving direct and digital marketing aside. He says this is because people will be sharing much less private information gradually in time.
According to 2016 data, 14% of young people in the USA use Ad Blocker on both their desktop PCs and their mobile devices. In Turkey, this is at 7%. From this, he believes that once people realise how much of their info is being used, they will start to use Ad Blocker more and more.
Samuel states that it is also possible to do marketing without collecting information from people, believing that in the near future it may not be possible to gather people's information without their consent.
It is difficult to measure traffic in world where Ad Blockers can be used to block advertisements. Ad Blocker does not simply block the ads, it sometimes blocks important scripts running on a page as well. Also, the usage of VPN misleads information most of the time. For these reasons, it will be very difficult to make the measurements or the follow we want for SEO or Analytics studies.
EU General Data Protection Regulation - GDPR will come into effect on 25 May, 2018. When this code regarding the protection of personal information comes into effect, we will be looking at web sites from the eyes of marketers on the street, viewing them like a store. In the future, we will not be able to enrich our marketing efforts with numbers. After GDPR, companies will need to have the consent of each and every consumer for collecting their info, individually.
Presentation:
The founder and CEO of SEOmonitor.com, Cosmin Negrescu, schooled us on the finer points in building the right SEO strategy. He explained this strategy term with a war example from ancient Rome, making us see things from a different perspective. He conjured up a great strategy under three main titles; diagnosis, policy, and action. These were the main points in his speech: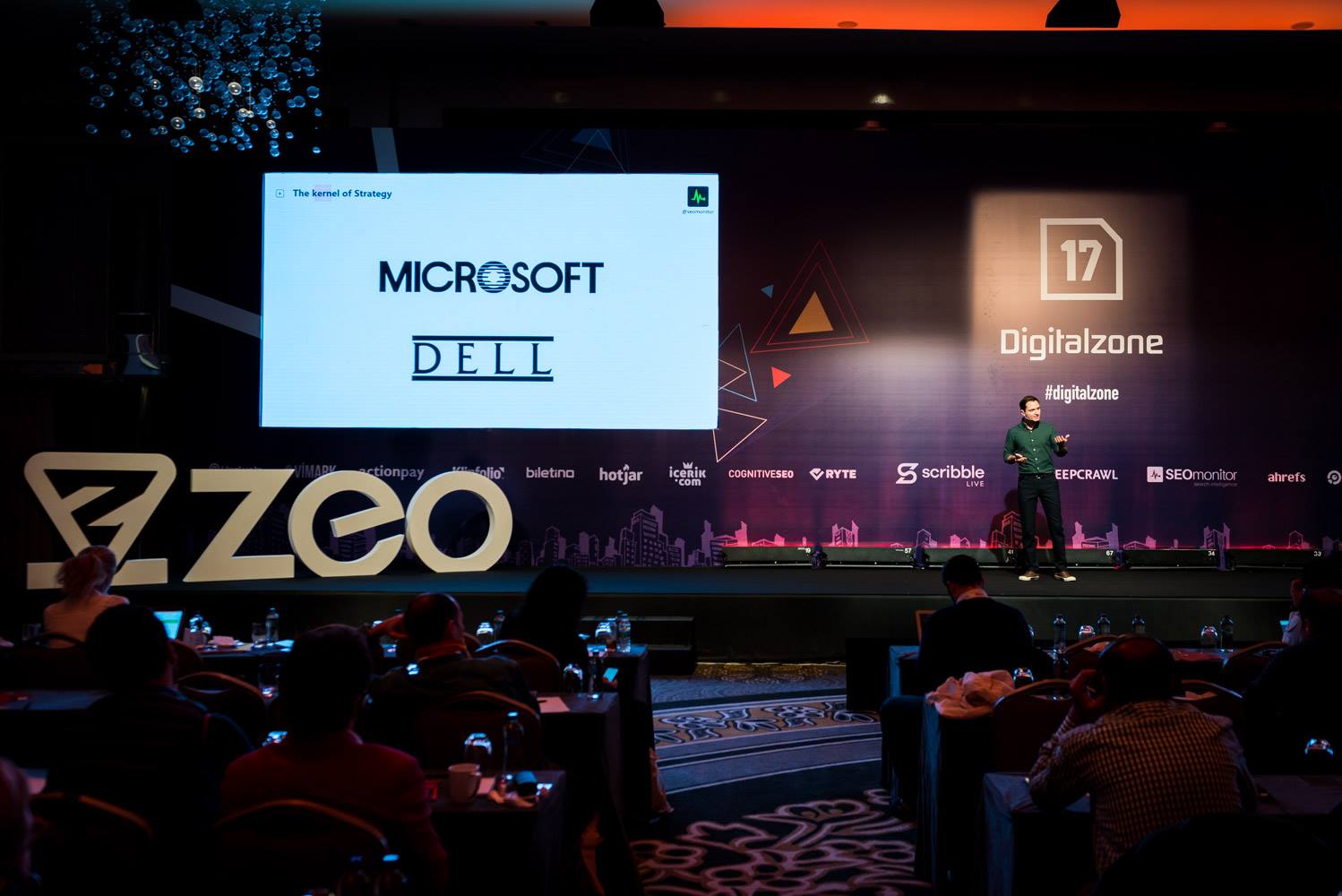 Diagnosis:
We have to understand what we are facing and also what our goals are, by holding a realistic perspective.
We should be discovering our competitors' weak points and our strong points through the analysis we make.
We must determine what the user wants and target the keywords accordingly.
Policy:
Policy here means creating rules for the content creation team, to guide them. From this aspect, the policy to be followed is important for content creation and keyword targeting. It is the status in which the team knows exactly what to do and what not to do.
Action:
We must have a pre-planned action setup, created by using a good strategy.
We need to discover what keywords our competitors rank well in. We must group the keywords we want to target and then examine our competitors. If big web sites rank well in these keywords, even if we rank well, it would be very difficult to attract traffic. It is important to know that when we are targeting strong keyword groups, others are also targeting them.
Instead of going into wars which we cannot win, we should be creating a good strategy and act according to it. For example, we could ask ourselves if we should compete in keywords which are harder to rank at, or if we should check if there are smaller areas more suitable for us to compete. Knowing our sources and our web site performance will show us the way in this regard.
Finally, a good strategy must be shared with the whole in-house team, but must be kept confidential to inside people.
Presentation:
Michal Magdziarz, the founder and CEO of the popular browsing tool 'Deepcrawl', explained how to analyse links and log files with the Search Console. Michal's speech was deeply interesting, as he referenced many Star Wars movies and kept us intrigued. As an expert with more than 12 years of experience in the sector, Michal touched on these topics: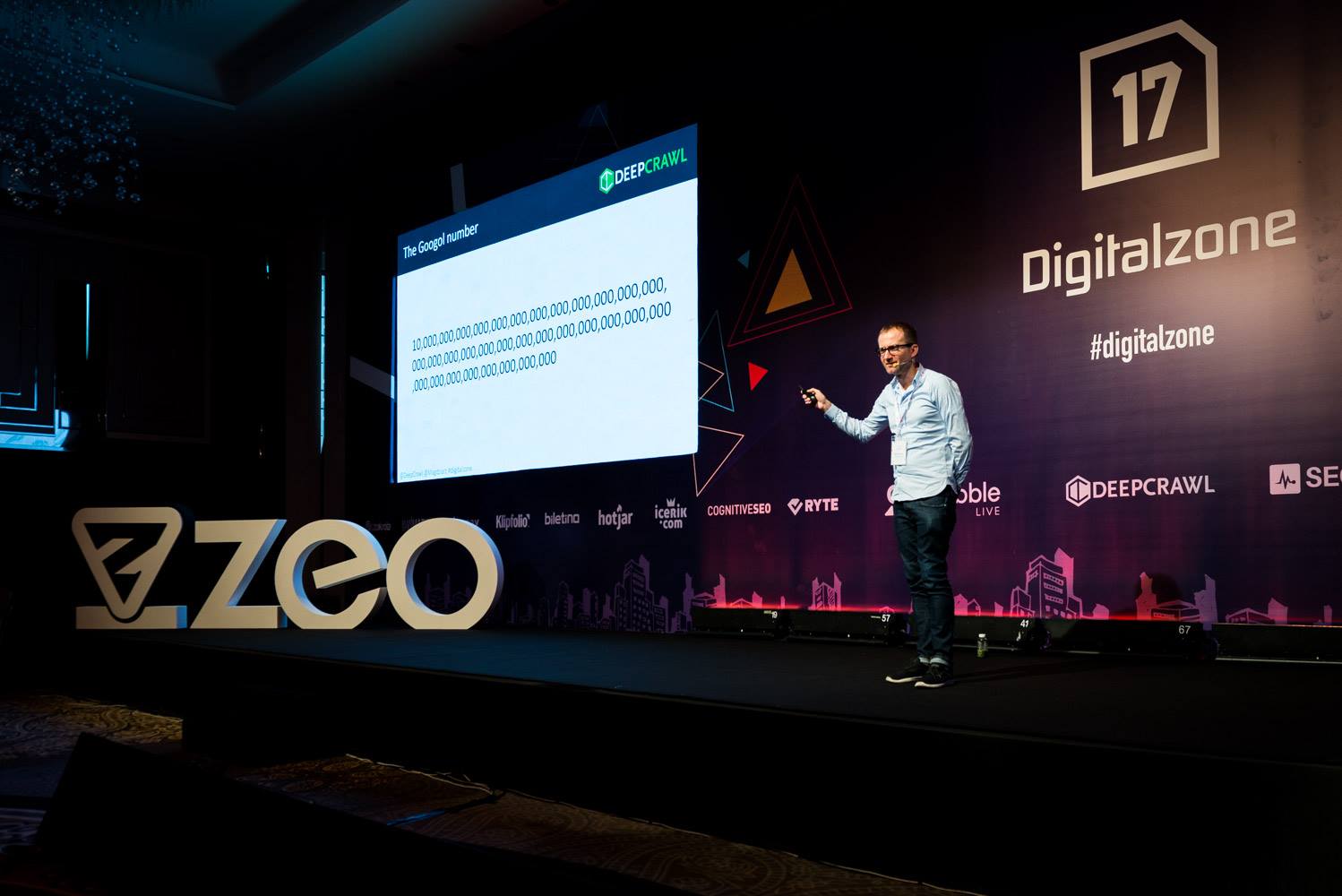 During the optimisation process, the correct handling of backlinks is essential. If backlinks lead to pages which cannot return a favorable case code or non indexable pages such as AMP or duplicate pages, we must use canonical marks and leading in order to transfer the backlink power to the inside of the web site.
We should improve our pages by understanding how bots make scanning with different user agents. We should prioritize mobile first indexing.
We must use the browsing budget productively and re-gain lost traffic. Also improving upon the most browsed pages is a must. The pages which we don't expect organic traffic on, such as filter pages, must suggest category with the canonical tag.
We can't forget the power of the user. Users decide for themselves if they will enter our web site or not, so we must create our pages in line with this reality.
Presentation:
Millie Ismail works at Brainlabs as the Director of Strategy, by improving ad activities of clients within the agency. After the lunch break, Millie made her entertaining speech about "Advanced Bidding: The Future of Adwords is Automated", by stressing the importance of automation in the digital marketing sector. Highlights from Millie's speech can be found below:
She stressed on how automation increases productivity and talked about how 90% of what we do today will be automated within 3 years.
She stated that AdWords campaigns are no longer made manually, thanks to automations such as Search Quality Report (SQR) for AdWords.
She touched on the importance of seasonality and indicated that machines could be able to recognise seasonal results in the near future. She believes that Google's work on "Machine Learning" is similar to a confirmation for it.
She states that, while there are many tools for SEO and PPC, these should be automated. In addition, similar to what we have seen in the near past, technological progress does not equal unemployment, but instead creates new ways of working. She stressed the importance of this misbelief.
One of the speakers of the first day was Maged Mostafa, the President of ScribbleLive EMEA region. He evaluated the process of content creation from a competitor aspect and highlighted how you can make a difference in reference to that. Details from his speech are as follows: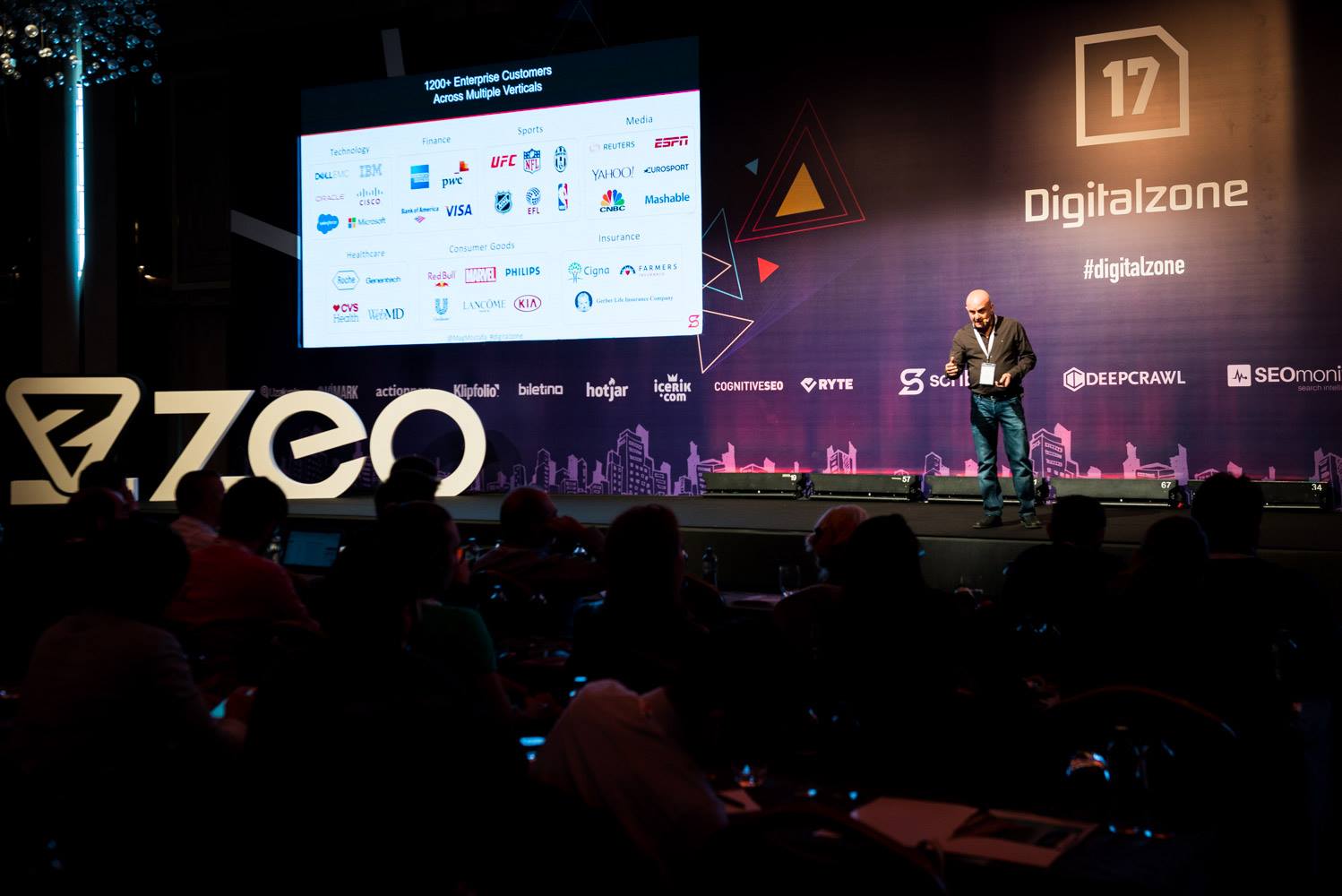 60% of the content we create is never seen by users. So, it is very important that we make our content visible, effective and sharable.
We live in a user based world. User experience previously consisted of trigger element, interaction and result, but now this process is much more complicated. Before, content management was one sided and now it has encompassed both the user and the creator.
We can think of content as the 4th factor, in addition to elements like product, price and service. Therefore, we must take note of our competitors content creation and make our own strategy.
We must be able to predict what content the users search, and create content systematically.
Nowadays, users research the internet before buying a product and make comparison between brands. By creating rich content we can increase user engagement with our brand.
We must figure out what is right and what is wrong by analysing things constantly.
Presentation:
After the intensity of the first day, Arda Mendes, the Digital Marketing Team Director at Demiroren Medya, made an opening speech to kick off the second day. He reflected on his experiences regarding how he carries out SEO practices in the media sector. Since the participants were mainly distant from the media sector, it was a very enlightening speech for the most of the audience. See the notes below on how SEO practices are carried out in the media: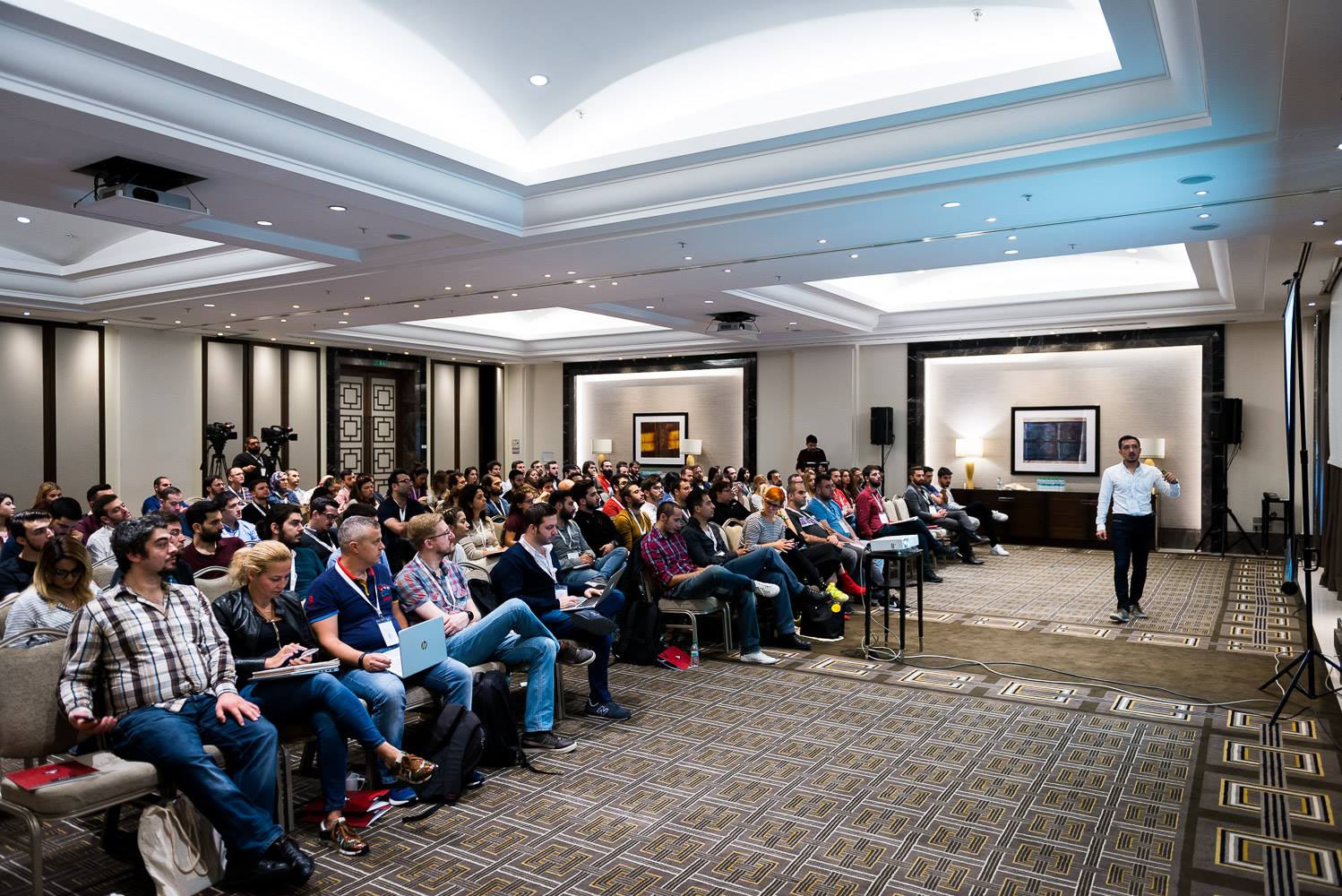 Due to the harsh competition between media competitors, the user experience may sometimes get left behind. In parallel with this competition, some media companies can disappoint users by clickbait tactics.
It also seems as if they give an immense amount of importance to news boxes on top of search results, which are called Google Top Stories. If they don't rank in the first row for chosen keywords during the day, it means that it's hard time for SEO team. Arda also states that another metric is the AMP page positions.
He stressed that if we don't break down traditional understandings like this and fail to make a difference, we will be out of the game.
Within a media web site, the ones who remove categories and content should not be the editors, a team plan must be made to work upon. Also what needs to be done in each category and what content must be removed should be decided beforehand.
He says that one of the most common mistakes in media is that each piece of content has multiple URLs. Wrong in-site links are also a common problem.
If we are working with big web sites who have millions of pages, such as news sites, we can take advantage of tools like Kibana as they visualise data and provide better results.
Presentation:
Sahin Secil's talk about return on ad spend (ROAS) was also amongst one of the most impressive presentations of the day. He is the founder of the digital marketing agency BoostRoast, which makes conversion optimisation for local and global brands. According to the results within the experimental studies they made, we should take note of these points in order to increase conversion rate in e-commerce web sites: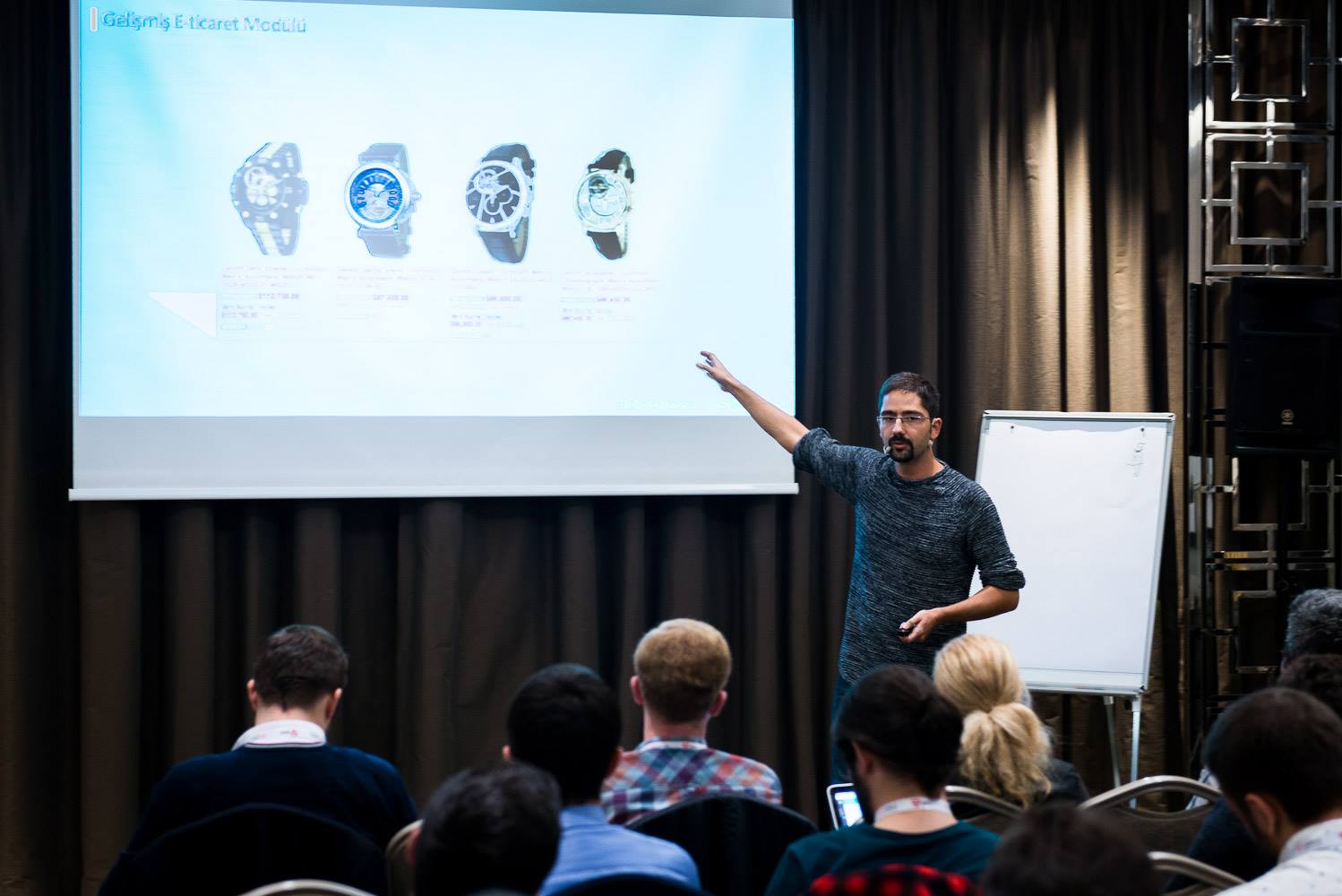 We should learn about metrics like average basket value and target audience by using Google Analytics. It isn't enough to only improve on products to increase conversion. We also have to spot the areas in which we are losing users. Also, we need to place the analytics code at the end of each page.
The data we receive from Analytics is very important because it scales larger data.
We should build separate funnels for mobile and desktop versions.
We should measure which stages users are faced with error pages.
We must analyze the traces users leave on our web site (such as their age and gender) to in turn redirect them again to our web site.
We should focus on few metrics, and also create short reports when reporting to the administrators.
According to researches, a brand's customer lifetime value is much more important now in the eyes of the customer.
We should choose our communication language more wisely in order to interact with the customers better. It seems that if you are constantly showing a product to users it may not produce conversion.
Instead, we can adopt stronger communication methods such as; brand communication for new users, product communication for interactive users and promotions for users who are about to make a purchase. In addition, Sahin mentioned that there was a case where they could increase conversion rates, quality score, average position and lower click costs by only changing content titles.
It appears as though when we are investing in advertisements, it also helps ROAS rates to separate user types to smaller groups and segment them. Allowing us to make separate ad campaigns for each one of them.
Since we cannot choose which one of our products we want to show up in Google Shopping results, we can choose product names as negative words that we don't want to show up products for generic searches- like "mobile phone".
We should make use of tools such as cohort analysis and attribution modeling which present a 7 day data stretch for improving conversion rates.
Presentation:
Mehmet Aktug made a riveting presentation about SEO strategies for start-ups, taking inspiration from ZEO's founding story. He's a SEO director at ZEO agency and is also the winner of the "Young Search Personality" award from the prominent MENA Search Awards. If you're running a new company in its early stages, we suggest you take a look at the suggestions below: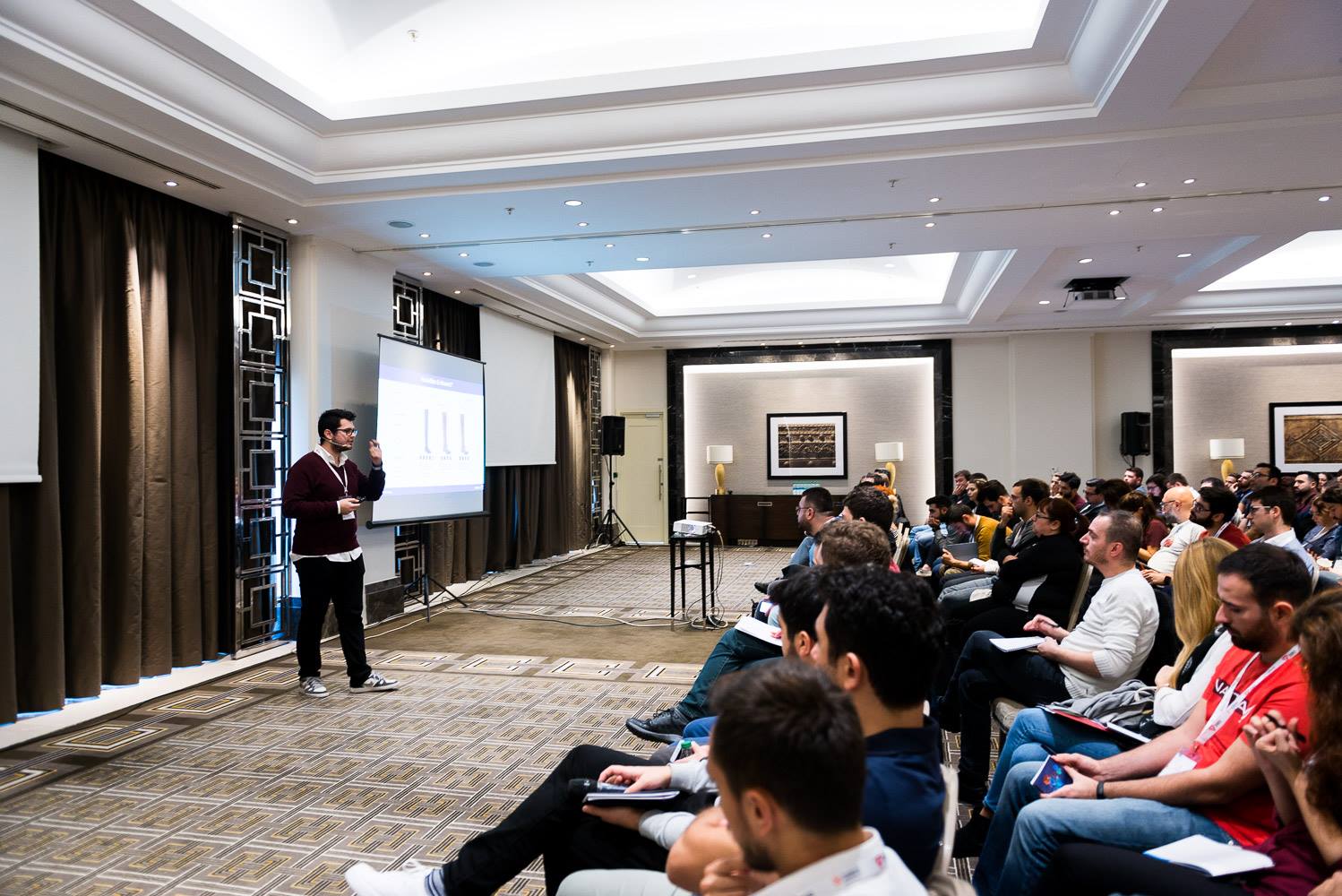 During the creation of a company, we usually have a lot on our minds. But we must focus on prioritizing marketing first and then shift to the product.
We should determine whether SEO or PPC will bring us higher profits and begin making our investments accordingly based on that research.
We should optimise the content we present to the user. Starting a blog, creating keyword analysis, and ensuring that our categories are diverse is a must. Our content must answer all the users questions and should be shareable. Whilst moving towards our target audience, we should ask ourselves these questions: does my content appeal to my target audience? Do my pages answer users' queries?
We should be careful about on-page SEO elements such as title and meta description. We should improve our content technically by using schema marks and structured data.
He states that having a mobile version of the site is highly important and effective. In addition he confirms that in its beginning state, the responsive site structure can be much more productive.
We must make better use of our crawl budget and ensure that our pages are visible to bots.
When creating keyword analysis, we must choose semantic keywords which are related to each other, instead of choosing only one keyword. Also we must include as much data as possible. Tools to ensure this are; Deepcrawl, SEOmonitor and Ahrefs.
Presentation:
Serbay Arda Ayzit, the SEO Director at SEM, made a speech regarding the Holistic Approach in SEO which changed our perspective. He explained the word "competitor" as- "They are web sites or brands which steal from you. This can be web traffic, market share or profit." He shared his experiences from adapting a holistic approach to SEO and making a difference.
The summary is as follows: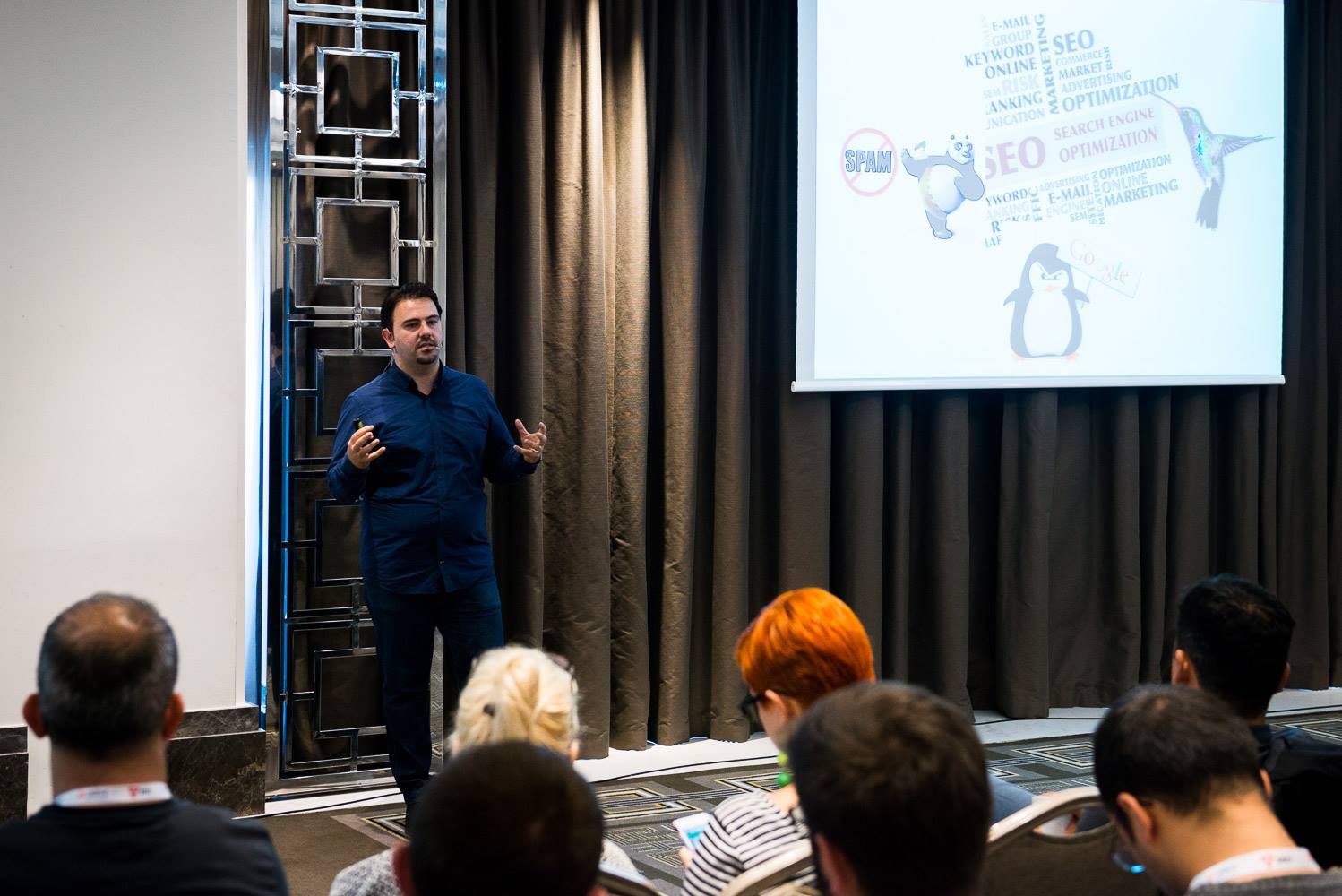 Google forces us to be more creative with its updates.
When we create keywords analysis, we must take note of what keywords our competitors get traffic from and what their strong points are. Using Google Suggestion is a front figure when it comes to word analysis.
When making keyword analysis or tag grouping, it is very important to understand the tendencies and desires of the user.
We must focus on competitors in tag groups and group them in accordance to how we will work on content web sites. In this stage of media planning, URL based ad's can also be presented.
The web sites which show up in brand word, especially the news web sites, can give us an opportunity for PR.
We must be able to make the right deductions from the vast amounts of data we collect.
Getstat is a very nice tool for following our competitors daily keyword use.
Lastly, he gave an example for THY Gotham City page; if the SEO job is done correctly, every advertisement project the brand makes can in turn produce a link opportunity.
Presentation:
Umit Yılmaz, the SEO Director at eBay Turkey, made a very technical and informing speech about "Increasing Web Site Speed" on the second day of Digitalzone 17. He stressed the importance of site speed in e-commerce with these words: "Especially in e-commerce web sites, your site speed can have a big influence on consumer loyalty." Here are some of the highlights from his presentation: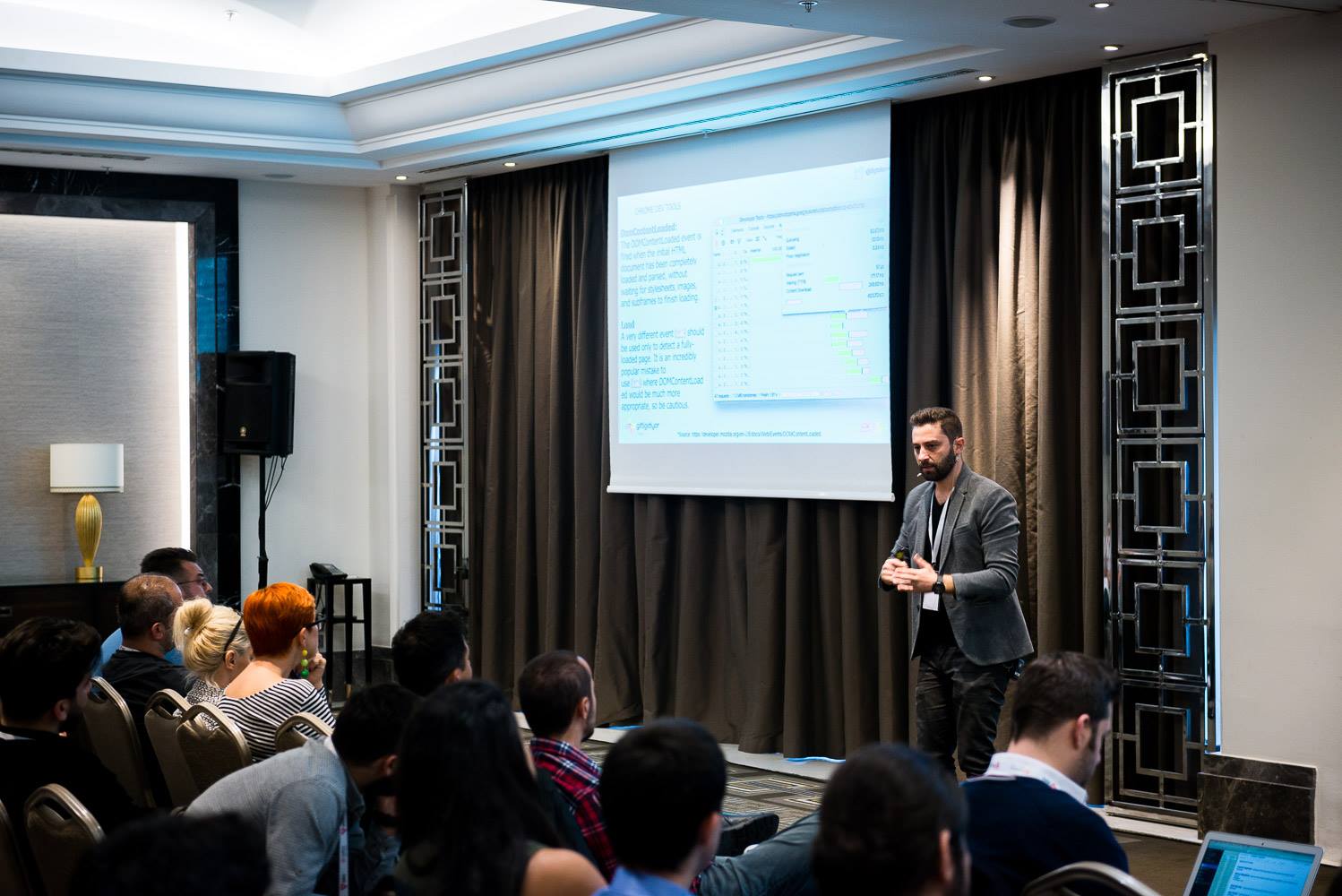 Mobile and desktop web site speed is very important to us. 40% of users leave a page which has loaded for more than 3 seconds. This influences our bounce rate and therefore affects our returning visitor
number indirectly. After all, no one wants to come back to a site where they've had a bad experience.
By using the developer tool from Google Chrome, it's possible to receive an in-depth understanding of the site speed and the starting loading time of a site.
Within the tool, the Dom Content Load metric value is: after a page starts loading, it's the completion value of read time of HTML codes from top to bottom.
Regarding the site's speed, another important factor is the image within the first area when users look on the screen (Above the Fold). This image must definitely be optimized along with other images on the site. To make the beginning loading time faster, it's essential to optimise the image.
He also stressed that there shouldn't be any Lazy Load in areas where the user looks at the screen.
The request number when a bot arrives at a page must be reduced, and page sizes must be made as small as possible. You can follow the request number that bots make from the green graphic on the Google Search Console.
Code writing within a line would reduce the request number, but since it will increase the line number, it might increase the dom content size on the page. Making a decision according to our needs is the best thing to do here.
By using the HSTS security structure, we can present the user with all the traffic which comes to our site through the browser as HTTPs. The 307 method is also a temporary redirecting method and is a Google approved on-site redirecting approach. We are recommended to use it.
Presentation:
Ugur Eskici, the SEO Director at n11.com, gave fantastic suggestions to SEO directors and also to those who aim to be SEO directors. We believe that his ideas can be applied to any project, not just to SEO. Here's what we learned from his speech: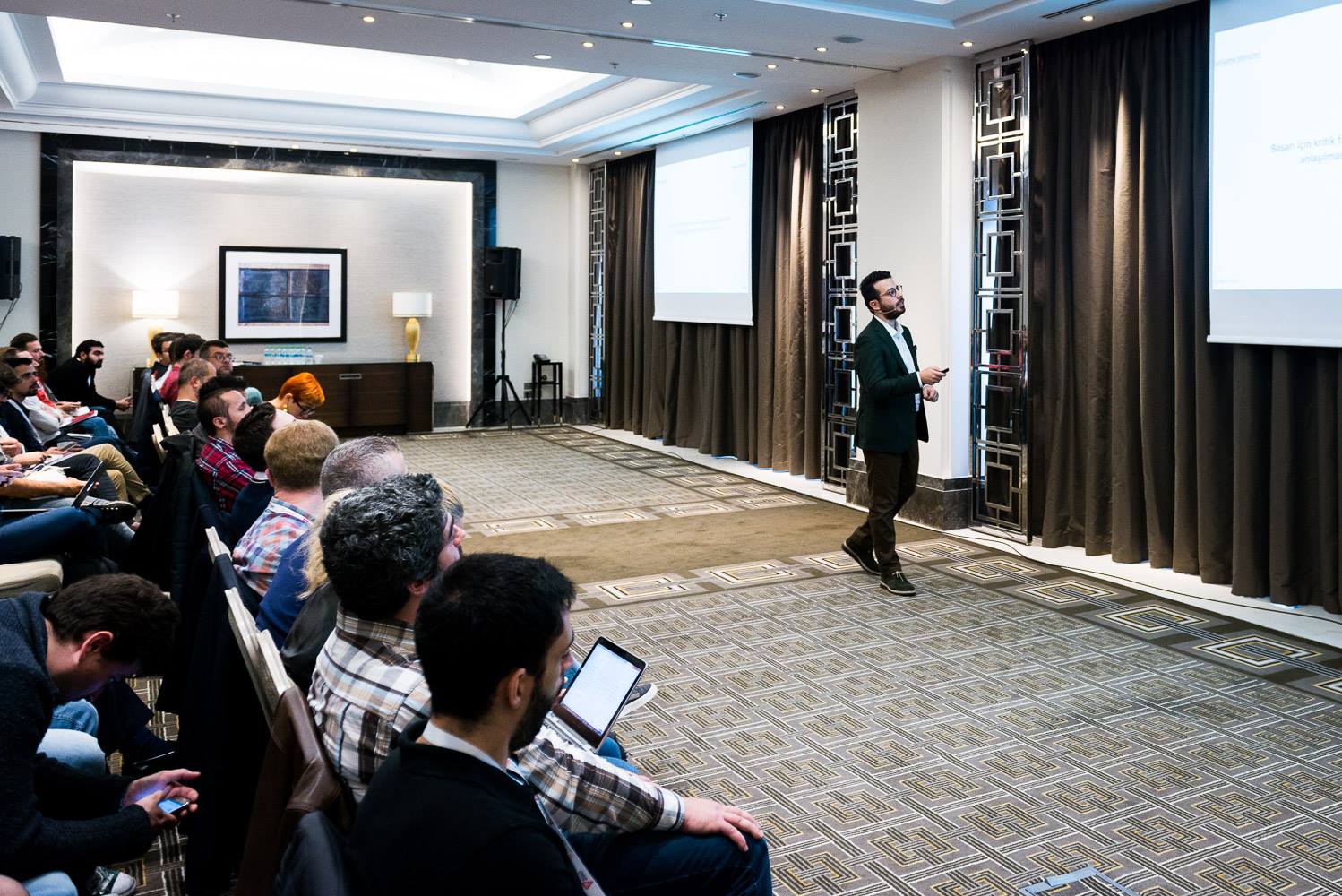 Projects emerge due to a problem and are in turn divided into levels because of risks.
Like in any project, team work is important during the SEO process.
We must perform well in risk management in projects and predict extra costs and problems.
If we manage responsibility distribution and control process well, we can be successful with progressive elaboration. We must create a thought map at the beginning of each project and proceed to decide upon our roadmap with analysis and detailing.
During project stages, we can apply overlapping method for short term while can apply iterative method to eliminate ambiguousness in long term jobs.
We should perform scope management well. If the scope is altered afterwards, the course of the project may change and the cost may increase. For this, we should determine the scope properly at the beginning.
During the execution process, change requests must be used often and we should consult upper management if approval for the change is necessary.
When there are too many jobs to do, we can measure the internal productivity rate to determine which one should be prioritized.
Always watch the course of the project with qualitative and quantitative analysis.
Document our experiences and prevent more problems from happening.
At the end of the project, there should be qualitative and quantitative evaluation and a celebration should be made to motivate team members further.
Presentation:
Ilyas Teker who is an international SEO advisor and takes part in the advisor board of Deepcrawl made an entertaining SEO themed speech on day two. He shared his results with us from his big data analysis on the "Most Linked 1 Million Pages":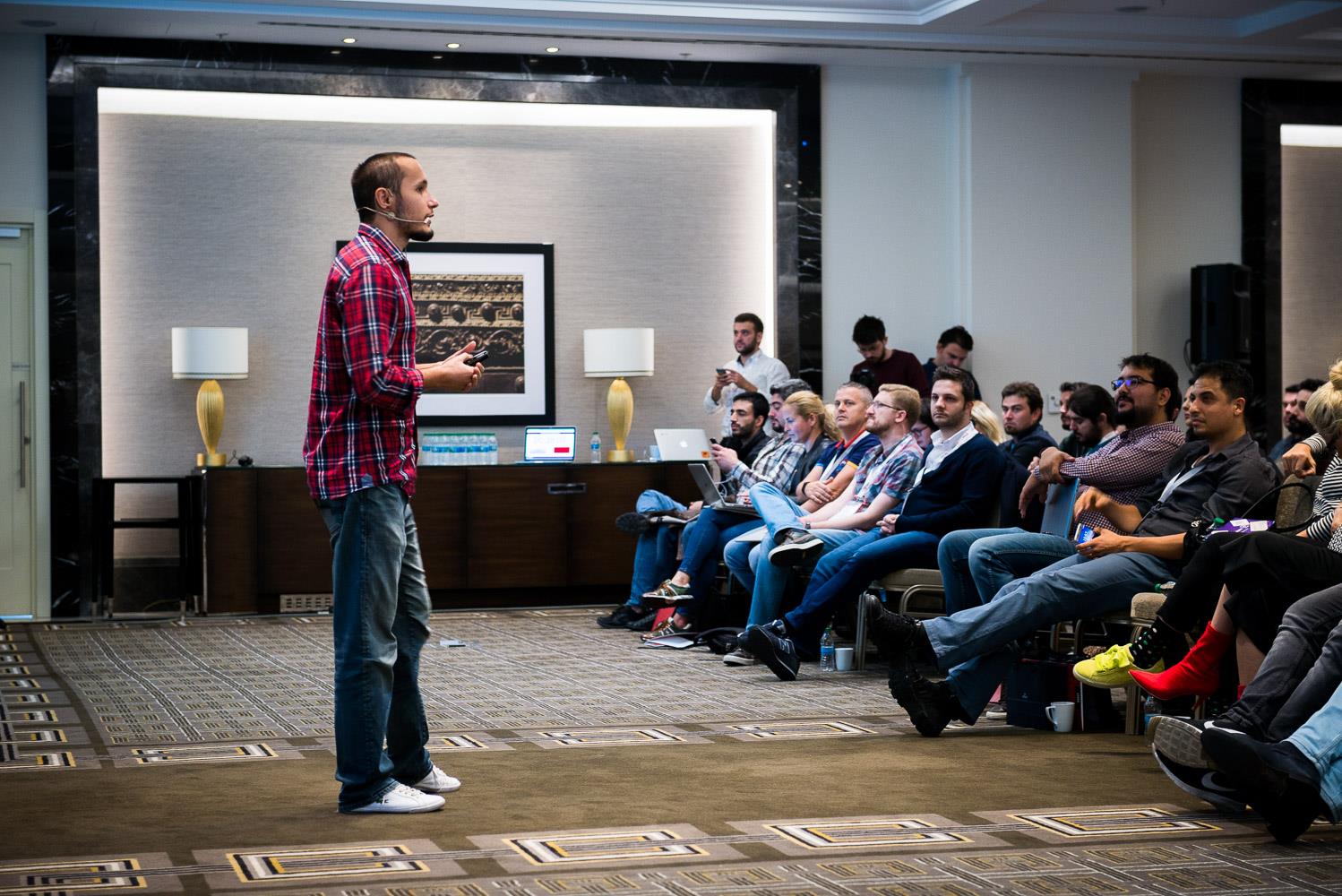 Mobile First Indexing is not coming soon, it is already here. Web sites are affected bit by bit.
Among the mobile web site types are Responsive, Dynamic and separate mobile sites (m.example.com), however the best working model is currently the Responsive one.
There should be a mobile version for all pages. Whatever exists on the desktop version, should exist on the mobile version too.
We can't forget our pages which can be arranged for AMP structure.
We must make sure that the HTTPs transition is made correctly.
Canonical tags should be added to the mobile and desktop version correctly.
Between Mobile and Desktop versions, the title and description compatibility must exactly match.
We should check how often 3xx redirects and 404 errors happen and should minimise them effectively. If we do not take action for 404 pages, it might be too late when their on-site and off-site links reach a certain level.
Mobile site speed is very important, AMP and PWA are topics we must consider. We can decide our first steps easily by using the mobile site speed testing tool.
We must shape content creation on a certain word.
Presentation:
At the end of the last day of Digitalzone when our audience's brains were overflowing with new information, they reached a point of restlessness. But luckily, Gerard Compte, the founder of FindThatLead which has more than 42k users, managed to revive the entire audience with his energy. He raised us one by one and asked us questions, whilst throwing fake money around which he brought to the event. He made one of the most interesting final speeches we have ever seen. In his interactive speech about growth hacking and outbound marketing, he stressed these points: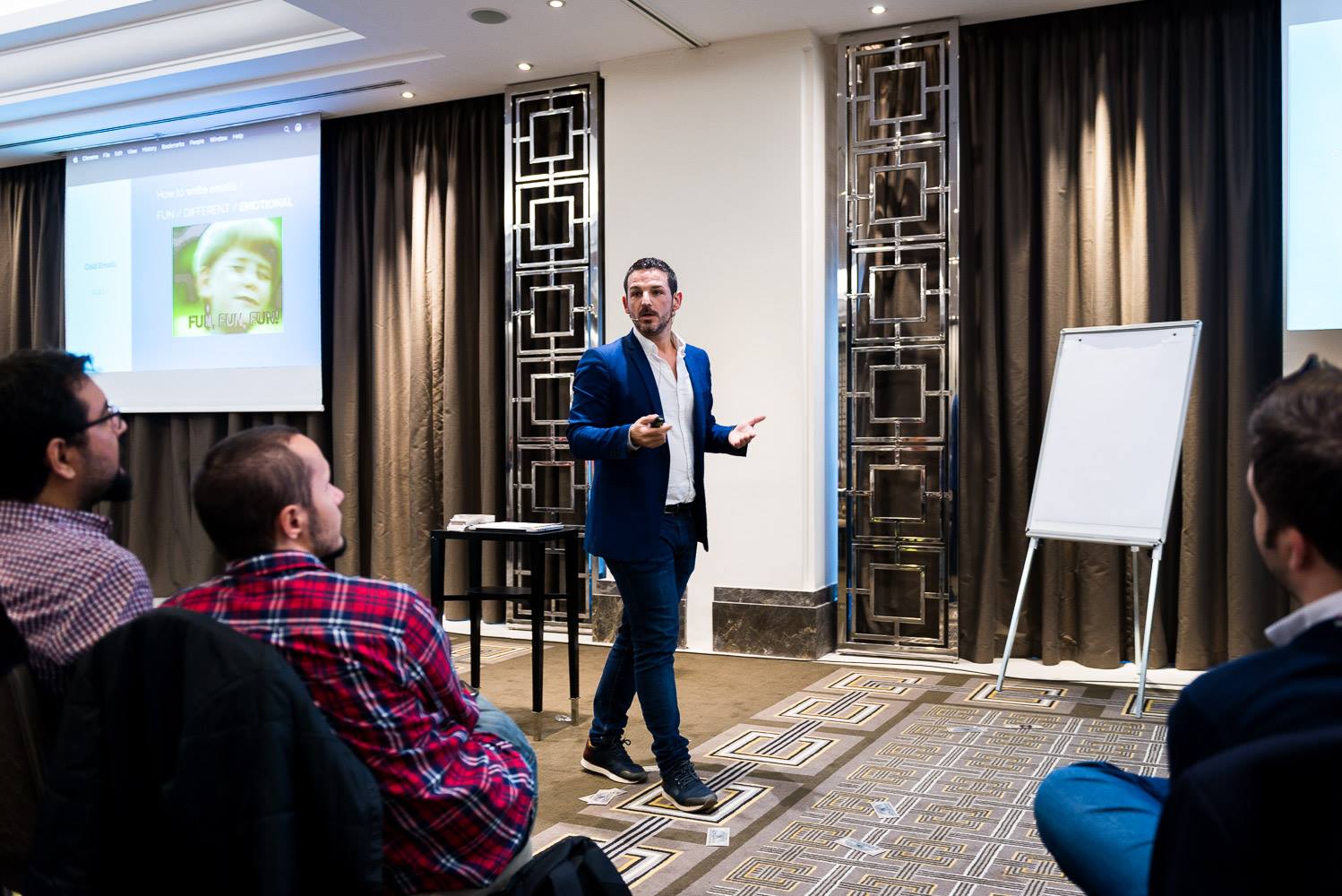 To be successful, we must gain new customers, have a good product and present our product for the good of the society.
For growth hacking and successful outbound marketing, we must focus on B2B sales, narrow down the sales ring and hit our target right in the eye.
When sending ads to people we don't know, this is called cold e-mail, and there are 4 elements we must take note of. First, our message should be entertaining. Second, we should not exhaust the reader with long messages, it needs to be as short and direct as possible. Third, in the advancing section of the message, we should be able to establish an emotional bond with them and enable them to act. Lastly, we should include a link of our content to our signature, in a way which will attract our target audience's attention.
To gain an audience, we must create social media groups for our sector and expertise. In addition, it's better to remain active in other groups. This way, we can introduce ourselves by sending notifications to the users.
Presentation:
We thank you for sparing your valuable time by reading our article. We aimed to share are accounts of what happened at the conference and what we have learned and gained from each speaker. We hope that it was an appealing and informative read. You can spread the word by sharing our article with your friends and colleagues who are interested in digital marketing.
For seeing the opinions about the conference, you can use the #digitalzone hashtag on social media. We are looking forward to the next years Digitalzone event even now.
Infinite thanks to anyone who participated in the event!