What is Pinterest SEO? What Should Be Considered?
---
Pinterest works as a powerful visual-based search engine rather than a social media platform. In addition to discovering new ideas, many Pinterest users also use the platform to support their buying process. By sharing pins, website owners both drive traffic and reach potential customers.
According to a 2022 Hootsuite study, Pinterest is the 14th most used social media application in the world.
In order to stand out in this application, we need to reach a wider audience. Pinterest SEO strategies are important for this. Let's look at what can be done in terms of SEO on this platform, which had 450 million monthly active users in 2023.
Currently, there are 4 key factors in terms of SEO for Pinterest. These are:
Domain Quality: Pinterest ranks your pins based on the quality of your site and the popularity of pins linked to your website.
Pin Quality: A metric that evaluates the quality of your pin based on its popularity and engagement (e.g. comments the pin has received).
Pinner Quality: Metric related to a measure of the overall activity and engagement of your Pinterest account.
Relevance: Metric related to the relevance of the keywords and search intent used in the pin.
Quality scores are very important here. Because; Pinterest uses an algorithm called Smart Feed on its homepage. This algorithm shows users posts that are relevant to them, and the ranking of posts is based on the quality score.
Basically, we can say that SEO metrics on Pinterest largely depend on interactions and shares.
Along with these metrics, there are a few important points that Pinterest pays attention to when prioritizing content. These are
Writing in the biography section of the website and approval of the website
Pinterest prioritizes pins created by the owner of a website. Therefore, having the website approved can help pins rank higher in search results.
Make sure your website is verified on your Pinterest account. An image of a verified Pinterest account is shown below.

Creating a pin
One of the specific things to consider when creating your pins is optimizing the image file name. Similar to optimizing an image for Google search engine, make sure to set the file name as a relevant keyword before uploading your images to Pinterest.
Another very important tool of Pinterest SEO is image descriptions. You should use descriptive and relevant keywords about the image you pin. This way, when a user searches for keyword phrases on Pinterest, your pins are more likely to appear.
You can use hashtags in your pins to get more visibility.
Creating a dashboard
Although up to 100 characters are allowed for dashboard names, after 40 characters, they can usually be deleted depending on the device used. For this reason, it is important that it is simple, understandable and suitable for your content.
The number of characters allowed in the description section for boards is 500. This field is not for users to see and read, but for Pinterest to measure relevance. The description field is important to target the right user by helping Pinterest detect relevance. Take care to create a description that includes long tail keywords that can be targeted in each board.
A relevant and eye-catching cover photo will also be useful for the user to understand what the boards are about. While using cover photos with relevant image selections and the same design language for each board, you can offer a better experience to users by making sure that the title of the board is written in the photo.
Another advantage of creating a dashboard is to offer a more accessible use to your target audience by gathering similar/same types of content together.
You may want to use group boards to get more views. You can collaborate on a group board with an account whose Pinterest follower count you find useful.
Another benefit of interacting with other and similar accounts is that you become a recommended profile for their followers. In this way, you can reach more users.
Fixing pins to the created board
For Pinterest, pins will appear in relation to the board they are pinned to. This is how Pinterest ensures that pins show up in the right searches.
Paying attention to the visual aspect ratio
Shared images should have an aspect ratio of 2:3. Pinterest may remove pins with a larger ratio than this from users' feeds.
For detailed information about Pinterest's recommended dimensions, you can use the link here.
Creation of video content
Video content, which has become popular on many other platforms, is also very important for Pinterest. Video content is prioritized according to Pinterest algorithms.
According to Pinterest's statement made in 2021, Pinterest users watch approximately 1 billion videos every day.
Regular sharing of posts at regular intervals
It is important that the posts are made at regular intervals and that the sharing time is in the prime time range to get more visibility.
Instead of 50 posts at once, it will be better for you to do 10 posts in 5 days regularly. Evening hours and break times are the best times for sharing.
You can take care that the posts are regular and include video posts.
Let's take a look at what we can do to create a Pinterest account after mentioning the points that Pinterest attaches importance to.
Creating a Business Account
If you want to actively use Pinterest to drive more traffic to your website, it is recommended that you create a business account on Pinterest. In this way, you will have the chance to edit the header image of your profile.
With your Pinterest business account, you can access analytical data and learn the amount of views and clicks on your posts with the help of this data. You can also take advantage of the ad publishing features. The generally preferred type of advertisement is the featured pin.
Another important advantage of the business account is the ability to create rich pins. With rich pins, you can automatically synchronize the information on your website with your pins.
Profile Optimization
When you create a profile on Pinterest, you choose two different names: display name and account name. The account name is a standard requirement. But you should optimize the display name in the best way possible.
The bio section is an area that can make your profile stand out. You should include as many relevant keywords and a call to action as possible.
Previously, social media accounts could be linked to your Pinterest account, but the ability to overlay a social media account is no longer active. Instead, if you don't want to build your followers from scratch, you can share what's new on your Pinterest account with your users on social media platforms.
Perhaps the most important item in profile optimization is that your profile should be crawlable. If you want search engines to come to your Pinterest profile, make sure that the Search privacy field in the "Privacy and data" area of your Pinterest profile settings is unchecked.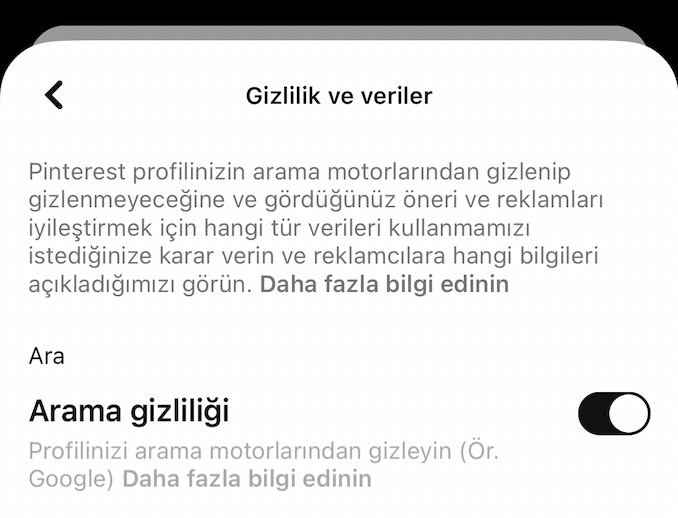 According to the Pinterest SEO metrics mentioned above and the things to consider when sharing on Pinterest, we can examine our competitors' profiles and sort our actions. There are also several methods we can use when examining competitors. These are:
Reviewing the Competitor's Pinterest Profile
You can evaluate the choice of image your competitor uses as their cover photo.
You can also examine how many pins they have shared so far and how many followers they have.
You can examine the styles used in their pins (fonts, effects, etc.) to evaluate what your competitor attaches importance to differently from you.
What the competitor includes in the pin description field in its posts, whether hashtags are used or not, are among the points to be evaluated.
Finally, the frequency of the competitor's sharing and video content sharing can be examined.
Reviews Performed with Ahrefs
You can see how many different domains and how many different backlinks your competitor's Pinterest account currently has through tools such as Ahrefs. You can access the organic words that your competitor's Pinterest page is listed with. You can determine your strategies accordingly.

You can see which dashboards the competitor gets the most traffic from, as well as the titles and search volumes of these dashboards. You can use the outputs you get from here to guide your strategies.
Reviews Performed with Similarweb
You can check the share of Pinterest in the traffic your website and your competitor's website get from social media channels with Similarweb.

You can measure the success of your Pinterest SEO efforts here.
Summary
As a result of the Pinterest SEO suggestions and competitor reviews we have listed above, you can achieve various gains.
For example; with your content listed on Google both with your Pinterest account and as a website, you can be displayed in the SERP with 2 different results in the same search. This allows you to have more space than competitors and has a positive effect on CTR.
In summary; Thanks to Pinterest SEO studies, you can attract organic traffic to your site for free. You can then direct this traffic with calls to action as you wish.
Apart from these, another important point you should know is that 85% of Pinterest users have stated that they use mobile applications. For this reason, do not forget that making your own site mobile-friendly will give you an advantage.
I hope this was a useful compilation for all readers.