---
Why Internal Linking is Important for SEO?
What are the Types of Internal Linking?
Internal Linking Strategy
Internal Linking Strategy and Tips for Your SEO Efforts
---
The main purpose of using internal linking on your website is to help users and search engine spiders easily navigate your site. Through this use, you also emphasize the importance of the pages within the site. A good internal linking strategy can help your site achieve higher rankings. Let's take a look at what we can do for an internal linking strategy.
Search Engines Use Internal Links to Crawl Your Website
The use of internal linking makes it easier for search engines to understand, crawl, and index your website. Through links from one page to another, search engines discover and index new content on your site. By creating a good internal linking strategy, you help search engines understand and crawl your entire site quickly and effectively.
Giving Search Engines Stronger Signals About Content
Internal links also provide search engines with clearer information about the topic of your page. You can provide strong signals about the anchor text and the content of the link. This ensures that search engines understand your content correctly and rank it correctly for relevant search queries.
For example, we see that the anchor text below is aligned/relevant to the page being linked to.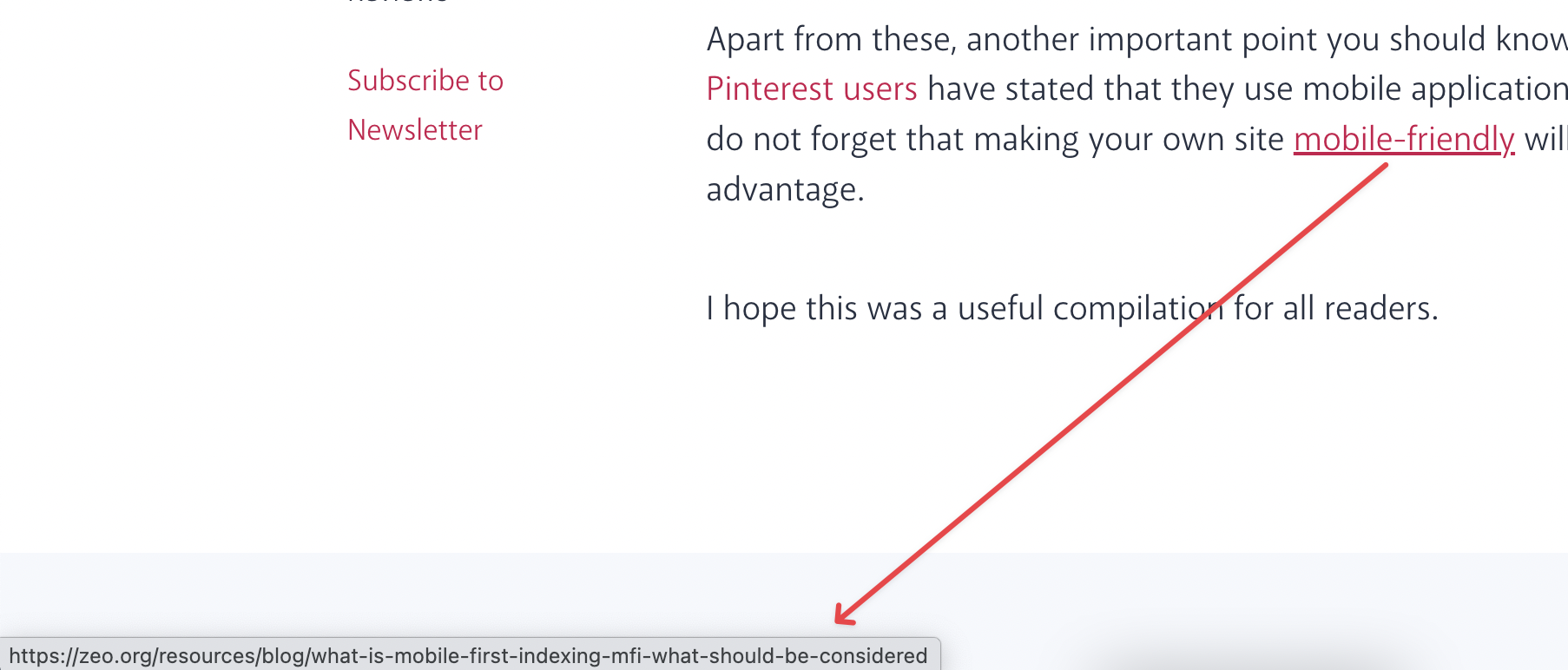 Crawl Depth
Crawl depth refers to how deep a search engine has to go to reach a specific page from a website's homepage. Internal linking affects this depth because it gives search engines ways to crawl your site. Strategically used internal linking allows search engines to crawl more pages of your site and makes it easier to index. Large websites can make it easier for search engines to reach deeper pages through internal links.
Link Juice (Page Rank) Distribution
Internal linking helps distribute "link juice" on a website. An internal link from one page to another transfers some "link juice" to that page. This helps to increase the authority of the target page. It can therefore improve search engine rankings.
Increasing User Time on Site & User Experience
Internal links can also increase the amount of time a user spends on your site (dwell time). Internal links that lead to relevant and valuable content help users spend more time on your site and visit more pages.
For example; if you have a different blog content related to a topic mentioned in a content, linking to that page with the use of relevant anchor text will allow users to visit the relevant page.
A well-thought-out and organized internal linking structure will make it easier for users to explore the content on your site and quickly find relevant information, resulting in improved user experience and satisfaction. This can lead to higher conversion rates.
In its simplest form, we know that by using anchor text in content, we can perform internal linking to other related content. Let's examine other types of internal linking together.
Breadcrumb
The use of breadcrumb shows the navigation path on a website and helps users understand where they are within the site. Such links are usually located at the top of the site and show the user where the page they are on is located within the site hierarchy. Breadcrumb is also a type of internal linking.

Header
Internal linking in the header is usually located at the top of your website and links to the most important pages of your site, usually categories. However, internal linking in the header also provides links to other important pages (Contact, About Us, etc.).

Therefore, internal linking in the header allows users to quickly and easily explore the main categories of a website, as well as showing search engines the main structure and hierarchy of the site.
Sidebar
Internal linking within the sidebar is located on the side panel of a website (usually on the right or left side) and usually provides links to relevant or popular content, specific categories, or items that encourage a specific action (e.g. a newsletter subscription).
Internal links in the sidebar help users navigate your site easily and direct them to related or popular pages. It also gives search engines more information about the various sections of your site and popular pages.
Footer
Internal linking within the footer is located at the bottom of a website, the "footer", and often includes links to the site's contact details, privacy policy, and other similar pages.
In addition, the footer is often used for links that provide quick access to the main sections or most visited pages of your site. Links in the footer section are visible on all pages, which draws more attention to the main part of your site or specific pages.

Internal links in the footer provide both users and search engines with more information about the overall structure of your site.
Bookmark Usage
Bookmark linking structures are links that lead to different sections within the same web page. These types of links are often used on pages with long content to allow the reader to quickly jump to a specific section.
For example, at the beginning of a blog post, there may be a table of contents that leads to different sections of the post. In this case, each heading will have a bookmark link that quickly directs the reader to the relevant section.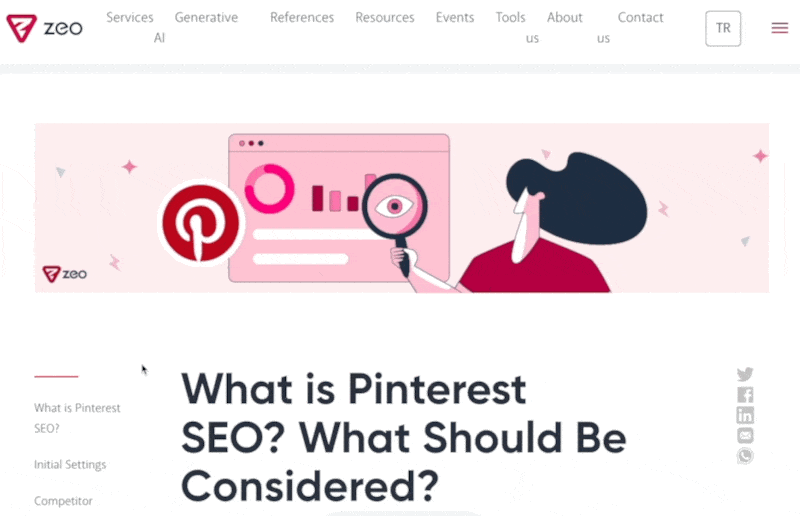 Bookmark links offer users a better navigation experience and allow them to quickly find specific information on long pages.
However, bookmark links do not have a direct impact on your site's overall SEO performance. Because they provide a transition between sections within the same page and there is no distribution of "link juice" through these links. Therefore, bookmark links are more about improving the user experience.
Pagination Usage
Internal linking using pagination is usually found in groups of content listed on multiple pages. Such links make it easier for users and search engines to navigate between pages.

The use of pagination helps search engines crawl all of your site's content because these links provide a transition from one page to another. It is also beneficial for users because it makes it easier for them to find the content they are interested in.
Providing Link Exit for Useful and Relevant Content
When you touch on a topic in your posts or want to cover a broader topic, you can provide internal links to other blog posts that contain more information on that topic. This allows readers to access more valuable information and thus directs them to other pages on your site.
Using Anchor Text
Anchor text, or "link text" in Turkish, is the part of an internal link that is clickable when hovering over it, and usually appears in a different color or underlined. When used correctly, anchor text provides both users and search engines with important information about the target page of the link.
However, it is important to avoid using the same anchor text for multiple pages. Linking to two or more pages with the same word can give search engines false signals about page content, making it difficult for them to recognize page content.
Using a separate/unique and descriptive anchor text for each page tells search engines more clearly what each page is about.
However, when choosing anchor text, it is also important not to overdo it and avoid keyword stuffing.
Include Internal Linking at the Top of the Page
Including internal linking at the top of the page is a highly effective strategy. First, a link at the top immediately attracts attention and increases the likelihood that a user will click on it. This will encourage the user to explore more content on your site.
Do-Follow Usage
Using do-follow on internal links tells search engines that the link should pass 'link juice' to the target page, thus increasing the authority of the target page.
On the other hand, no-follow links are usually used for external links and do not pass 'link juice'. However, adding no-follow links to your content usually doesn't make much sense because it tells search engines that you don't trust your content. Therefore, it is best practice to use do-follow internal links on your website to get a higher SEO value.
Internal Linking from the Home Page & Power Pages
The home page on a website is usually the page of the site with the highest authority. This is usually because the homepage has a large number of inbound external links and receives links from all pages of the website.
Internal links from your homepage to other pages can transfer more authority to those pages. For example, if you have an important service page or a popular blog post, you can add a direct link to these pages from your homepage. This can increase the SEO value of these pages and help them attract more organic traffic.
Also, internal linking from your homepage makes it easier for users to quickly find important content on your site, which can have a positive impact on user experience.
Chances are your site has some very strong pages outside of the homepage. These are usually the pages that get the most backlinks and therefore have the highest authority. These pages are excellent sources for transferring authority/power to other pages of your site, and this is an important part of an internal linking strategy.
To identify your most powerful pages, you can use an SEO tool like Google Analytics or Ahrefs. These tools will help you identify the pages that get the most traffic and the most backlinks.
For example, with Ahrefs' Top Pages report, you can identify the pages that get the most traffic.
You can also use Ahrefs' Best by Links report to identify your strongest pages in terms of backlinks.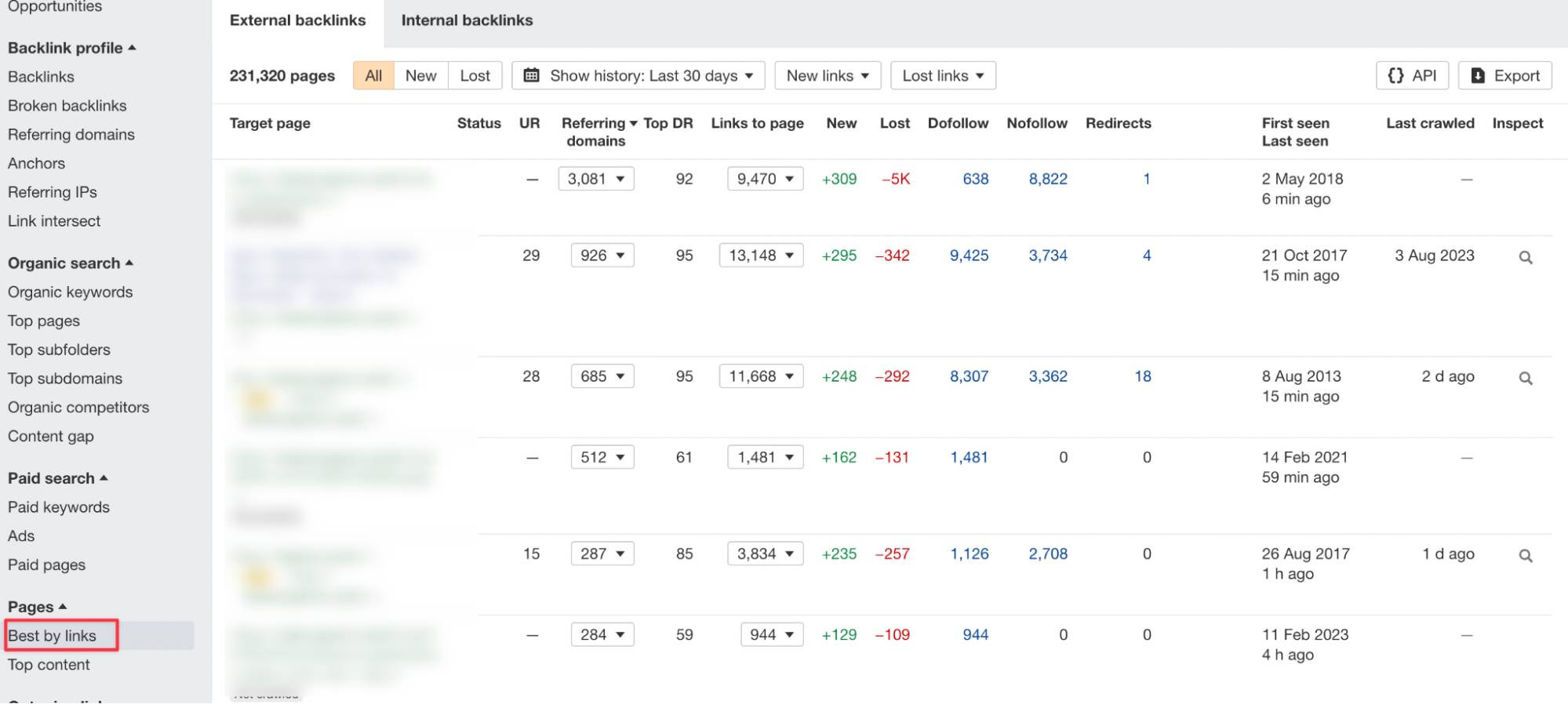 Once you have identified these pages, you can add internal links from these pages to other important pages of your site.
For example, you might consider linking to your product or service pages from a visited blog post. In this way, you can help target pages rank higher in search engines and make it easier for users to reach your relevant products or services.
Internal Linking from the Same Page
Internal linking multiple times on the same page to the same target page does not make a difference in terms of authority. In addition, too many links can negatively affect the user experience and can be perceived as spam.
Content Production
The most effective way to build a large number of internal links on your website is to produce quality and relevant content. When you have rich and varied content, you can create natural and meaningful connections between it and therefore build quality internal links.
Producing content that is relevant to the main focus of your site will also help search engines understand what your site is about and what services or products are available on it.
Site Search Operator
In your SEO efforts, you may need to look for internal linking opportunities for your site. For example; after the production of new content, you may need internal linking to strengthen the authority of the relevant page. At this point, you will need to identify the relevant ones in your already published content.
For this purpose, the "site:" search operator will help you. For example, you are looking for internal linking opportunities to a new blog post. You can do a Google search like this:
"site:yoursitename.com 'keyword related to page'"
This search will find all pages on your site that contain the specified keyword.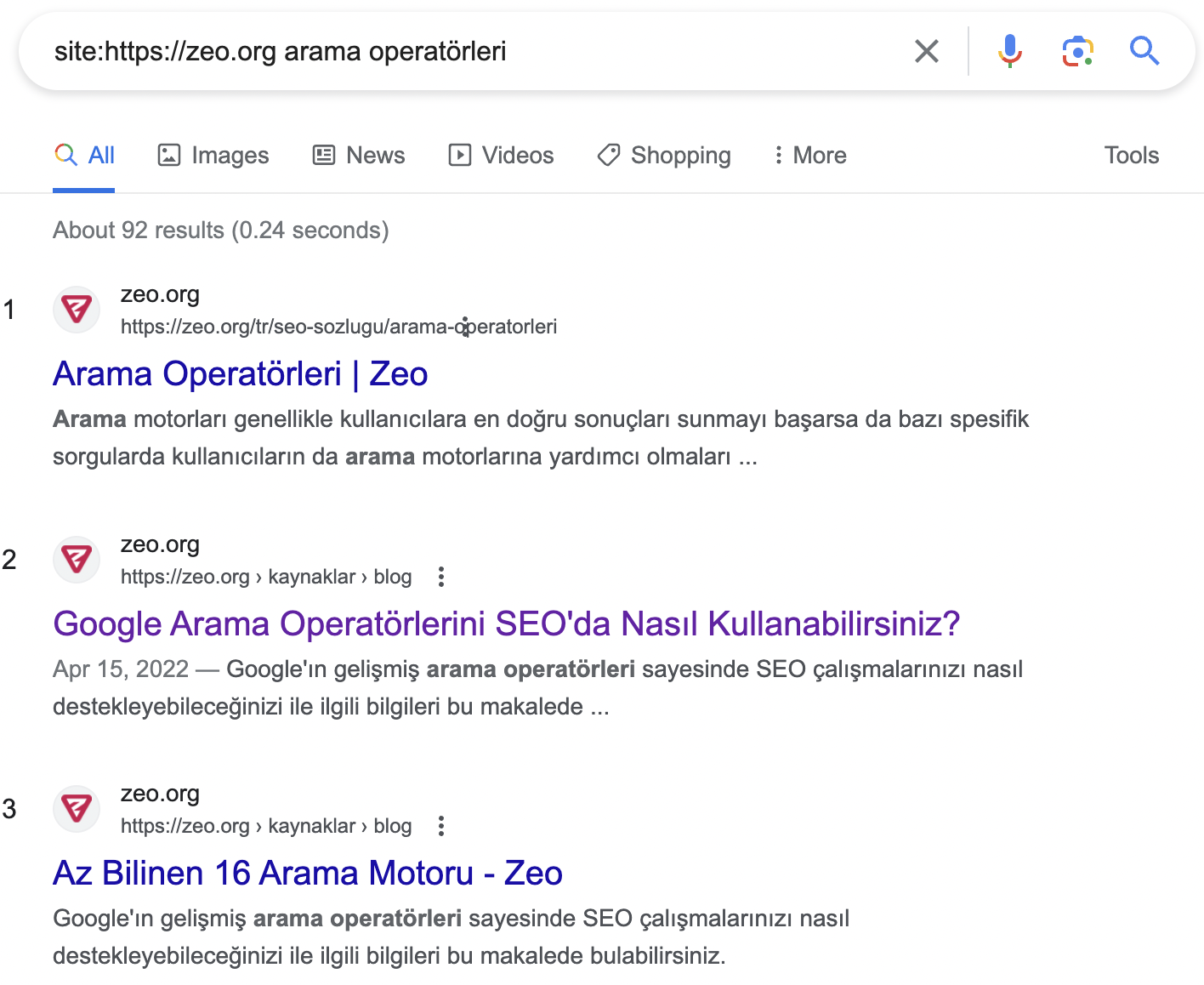 Using High-Traffic Pages for Conversion Pages
Certain pages on your site, usually blog posts or informational pages, attract more traffic, while product pages or sales pages may not have as much traffic. Providing effective internal linking between these two types of pages can significantly improve your site's conversion rates.
Internal linking is an important strategy to improve your site's user experience and boost SEO performance. By implementing this strategy correctly, you can make it easy for users and search engines to navigate your site and contribute to improving your site's search engine rankings.