---
Why SEO Visibility is Important?
How to Increase SEO Visibility?
What is SEO Visibility and How to Increase It?
---
SEO visibility, one of the most popular metrics in the SEO world, is not always easy to understand. In my blog post, I tried to explain the definition and importance of SEO visibility, calculated by different SEO tools by including other criteria, and then what can be done to improve this metric.
The simplest way to define the concept of SEO Visibility, which means SEO visibility is probably as follows:
"SEO visibility is a metric that expresses the percentage of all possible organic clicks on a website for a specific keyword."
So what does this mean?
As you know, websites gain positions on the search engine for the keywords they are related to, and different CTR, i.e. click-through rates, are obtained according to the place they rank for the relevant keywords. SEO visibility is a metric that measures your estimated click-through rate on the keywords you rank for in search engines.
Below are the estimated click-through rate values you get for the positions you rank for, according to Backlinko's research.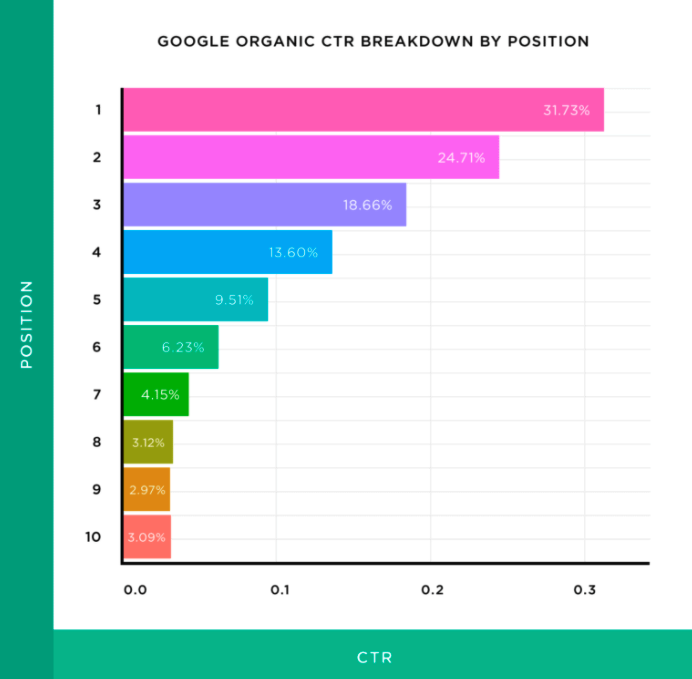 As you can see in the graph above, the click-through rate decreases as the position decreases. While the click-through rate of a website ranked first is 31.73%, the click-through rate of a website ranked second is calculated as 24.71%. The SEO visibility value also decreases as the position decreases, and average SEO visibility values can be obtained page-by-page or site-wide through different tools.
For example, if your website is in the 3rd position for a keyword, your SEO visibility will be 18.66%. In visibility calculations for the site in general, different metrics may come into play depending on your tool. You can quickly determine the SEO visibility score through tools such as Semrush, Seomonitor, and Seo.do, especially Searchmetrics, and perform comparative analysis with your competitors.
Below, SEO visibility graphs are shared through different tools.
Searchmetrics: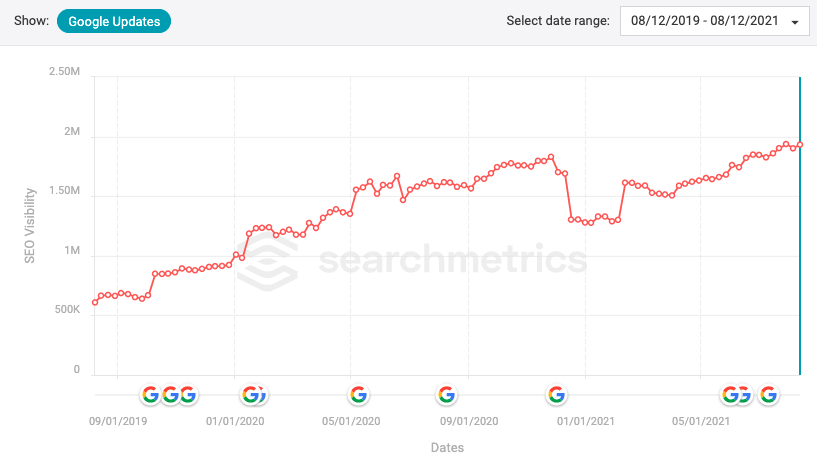 Semrush:

Seomonitor:

Seo.do: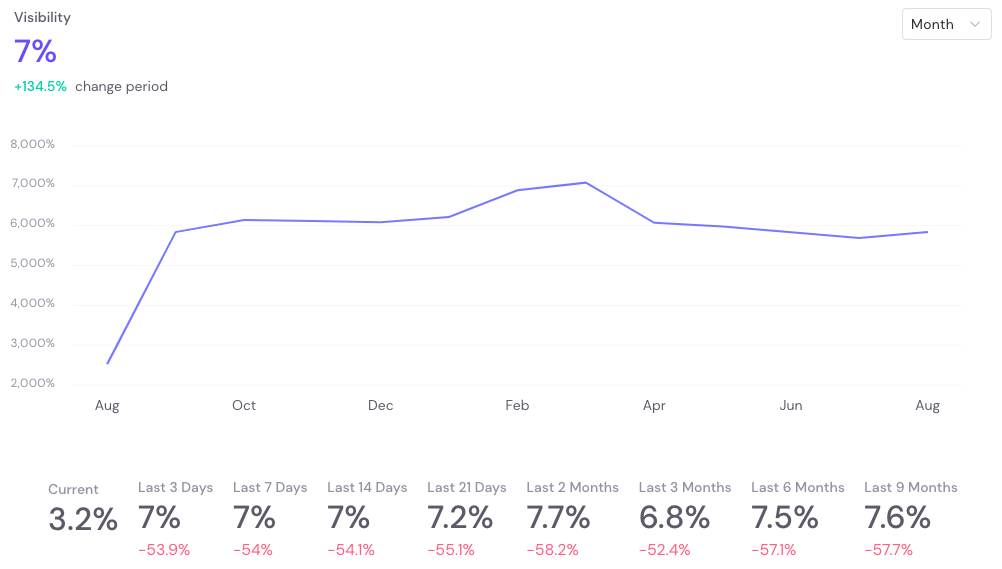 It would be best to remember that having 100% SEO visibility is invalid. 100% SEO visibility means you rank first for all keywords and get all clicks, which is impossible. You must also consider that your SEO visibility will be 0 for keywords you rank on page 2 and below.
It Allows You to Detect SEO Problems.
SEO visibility lets you understand whether everything is going well in search results at first glance. Since severe position losses and Google penalties will affect the visibility graph, you can detect such negative situations in less than 1 minute by following the SEO visibility graph and taking quick action for problems that may arise.
Below is a 2-year SEO visibility chart for an example website via Searchmetrics. As you can see in the graph, SEO visibility has declined since February. When such a situation is encountered, action should be taken quickly, and the decrease in the visibility graph should be investigated.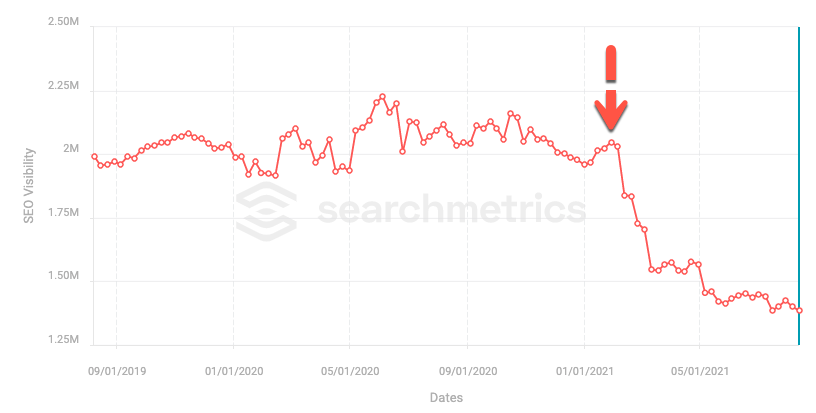 Provides Quick Insight into Your Site's Overall Performance.
At first glance, the SEO visibility metric gives you insight into how your website is doing. You can quickly learn about your performance by tracking visibility weekly, monthly, or yearly. But keep in mind that SEO visibility is not a standalone criterion.
You Can Quickly Provide Controls After Algorithm Updates.
Perhaps one of the most valuable charts Searchmetrics offers is the SEO visibility chart, which includes algorithm updates. With this chart, you can quickly determine whether there has been a significant change in your website's visibility after algorithm updates. With the competitor comparison option, you can also promptly examine whether there has been a decline on an industry basis.
For example, below is a 2-year SEO visibility graph of an example news site. As you can see in the chart, there was a sharp drop in SEO visibility in the first week of June.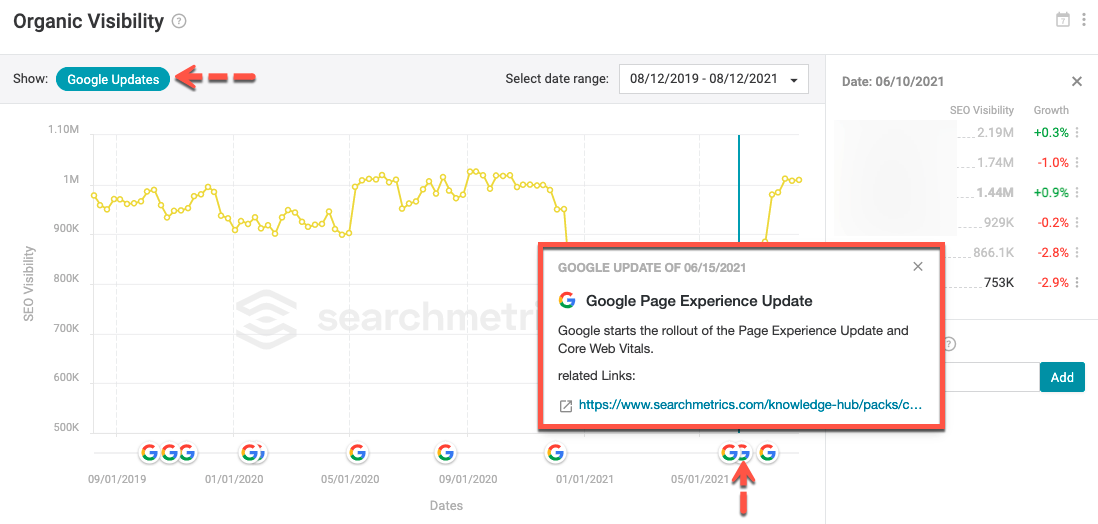 When we examine it, we see that there were 2 different updates, Google June/July 2021 Core Update and Google Page Experience Update, before the period of decline.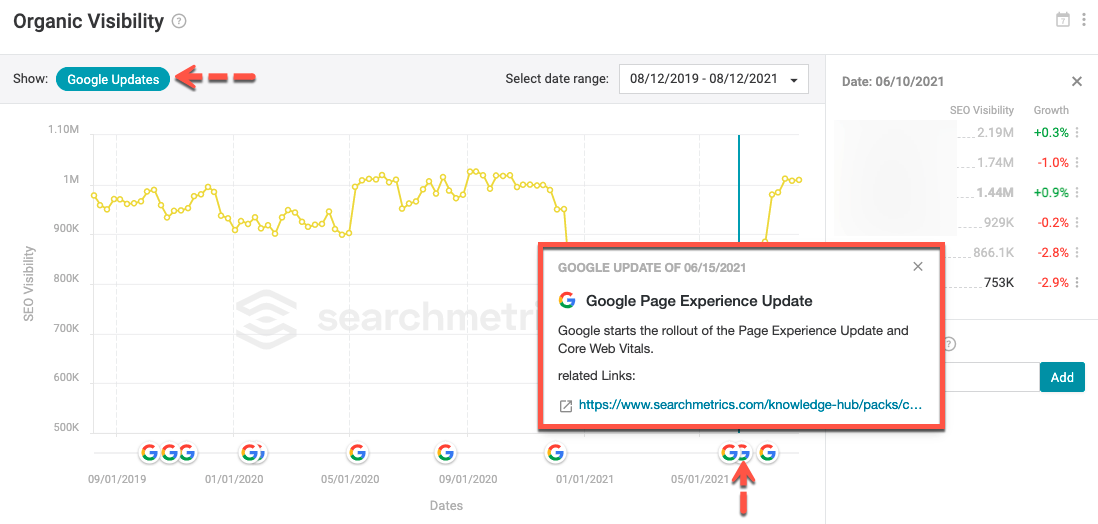 Following the SEO visibility graph after such algorithm, updates lets you quickly examine how your website is affected.
Indispensable for Competitor Analysis.
SEO visibility chart is among the indispensables of competitor analysis. With tools such as Searchmetrics, you can quickly measure the visibility of your competitors outside your project and prepare a comparative competitor analysis. In addition, as we shared in the previous article, you can easily measure whether the decrease in your SEO visibility is experienced on a sectoral basis with this graph.
We talked about the definition and importance of SEO visibility. After all this praise, it would be impossible not to mention how we can increase the visibility score. Here are a few suggestions that will contribute to improving your SEO visibility:
Target Long Tail Keywords.
When doing keyword research for a website, focusing on high-volume short-tail words may not always be the right strategy. In some cases, it may not be possible to rank for queries with high keyword difficulty in the first stage due to technical, content, or backlink insufficiency. In such cases, you should not forget the importance of long-tail keywords with lower search volumes.
Long tail keywords have lower search volumes than short tail keywords, but it will be much easier for you to rank for these keywords where competition is intense.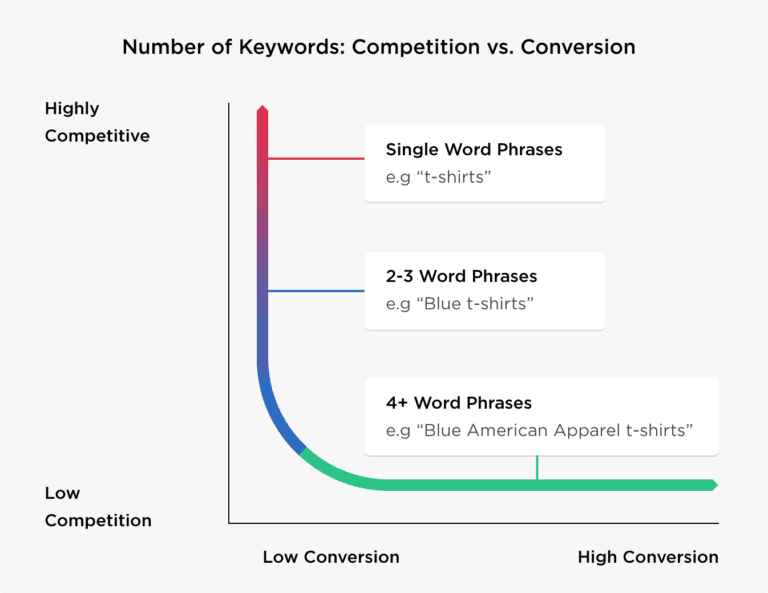 By targeting long-tail keywords with low competition and search volume, you can increase your chances of ranking first and improve your SEO visibility. I also recommend reading 6 Important Reasons to Focus on Long Tail Keywords, written by Metehan Urhan from our team about the importance of long tail keywords.
Create Mobile-Friendly Sites.
"With "Mobile First Indexing", Google stated that it will show websites with mobile-friendly HTML design in a better position in search results, while websites that are not mobile-friendly may lose jobs. This means that non-mobile-friendly websites may experience severe losses in their visibility graphs. If your site is still not mobile-friendly in 2021, I recommend you take action on this first. If your visibility graph is decreasing despite all your efforts, testing your site with a mobile compatibility test is valid. If you wish, you can also perform a detailed examination with the Search Console Mobile Usability report.

Optimize Your Titles and Descriptions.
Higher CTR (click-through rate) brings higher SEO visibility. Therefore, you can optimize your pages' meta titles and descriptions to increase your click-through rate. Creating engaging titles and descriptions can attract more users to your page and increase your SEO visibility.
Utilize SEO Compatible Content.
Compare your content with your competitors to determine whether it is SEO compatible, and if you are missing keywords, try to include these words in your content. This way, you can rank for more keywords and have the opportunity to increase your SEO visibility. You can also benefit from our Guide to Creating Quality and SEO-Compatible Content, a roadmap for creating SEO-compatible content.
In addition, you can quickly check whether your content is SEO compatible with Semrush SEO Writing Assistant and improve your content per the suggestions.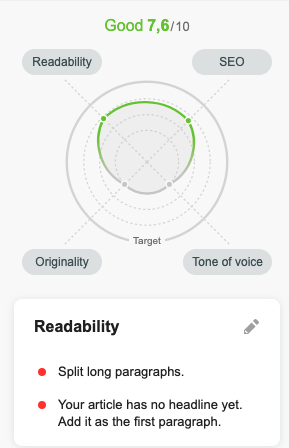 Focus on Keywords You Rank on Page 2.
As I mentioned at the beginning of my blog post, the SEO visibility you get on a keyword you rank on page 2 is calculated as 0. Therefore, to increase your visibility graph, you can work on important keywords that you rank on the second page. At this stage, it may be a healthier strategy to make an effort for a keyword where you rank 11th instead of making an effort for a keyword where you rank 51st. Improving your position may be more challenging, but remember that you are closer to the target. :)
Utilize Structured Data.
Structured data can help you get more space in search engine results. Therefore, by utilizing all kinds of structured data, you can enrich your appearance in Google search engine results and increase your SEO visibility by supporting your CTR (click-through rate) metric.
As you can see in the example below, there is a big difference between one page and the others that utilize structured data. Based on this, we can say that the click-through rates on these two pages will differ, and the page with structured data will have a higher click-through rate.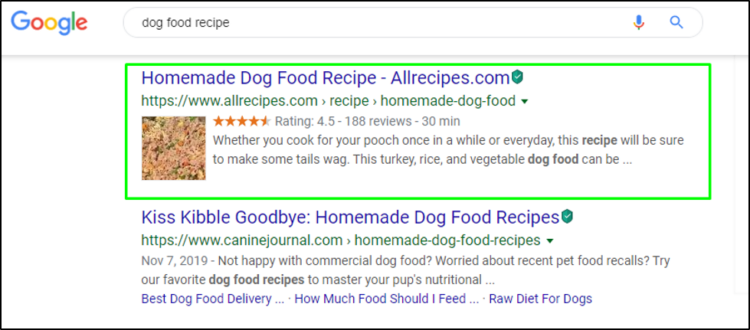 As a result, SEO visibility is one of the most fundamental metrics by which you can evaluate your site's performance in search engine results. Therefore, you should regularly monitor your SEO visibility graph, intervene if you observe a decline, and improve your site to contribute to your SEO visibility. In this way, you can prevent potential problems on your website and quickly perform performance or competitor analysis for your website.
https://ahrefs.com/blog/loss-of-seo-visibility/
https://coschedule.com/blog/seo-visibility
https://backlinko.com/hub/seo/visibility