AI-powered 5 Presentation Tools
---
Artificial intelligence has many features that we can benefit from in our workflows and individual lives. One of these is AI-powered presentation tools. With AI-powered presentation tools, you can facilitate the process of creating your presentations, get topic suggestions, find visuals you can use, and save time.
In this article, I will examine five different AI-powered presentation tools that you can use both in your personal work and in your work responsibilities.

Presentations.ai leverages artificial intelligence to help you create engaging presentations. The tool's AI-powered design engine allows users to create a consistent and visually rich design for their presentations. The tool includes a variety of ready-made templates that you can use according to your needs. It also offers features such as voice-over, automatic presentation creation, presentation analysis, and PDF export.
Use of Presentation.ai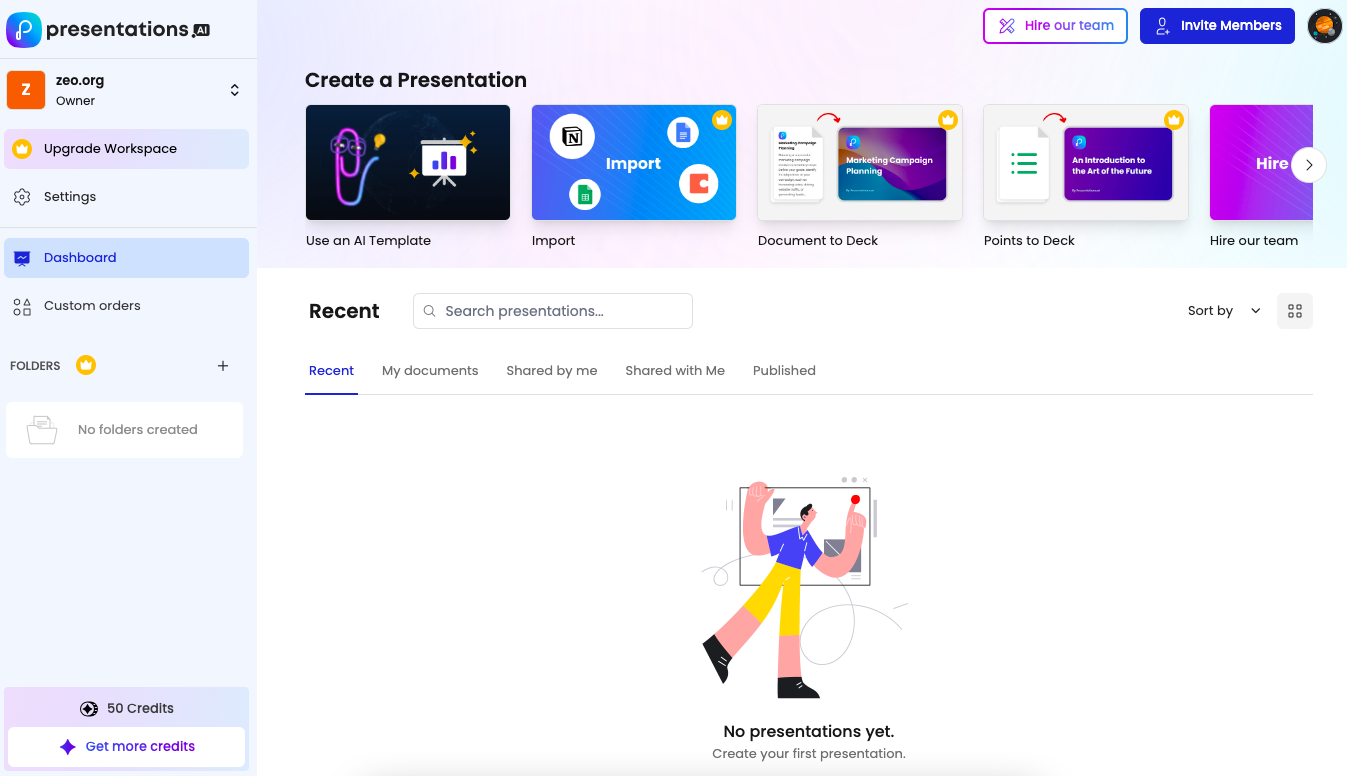 After creating our free account, we will create a presentation with "Use an AI Template".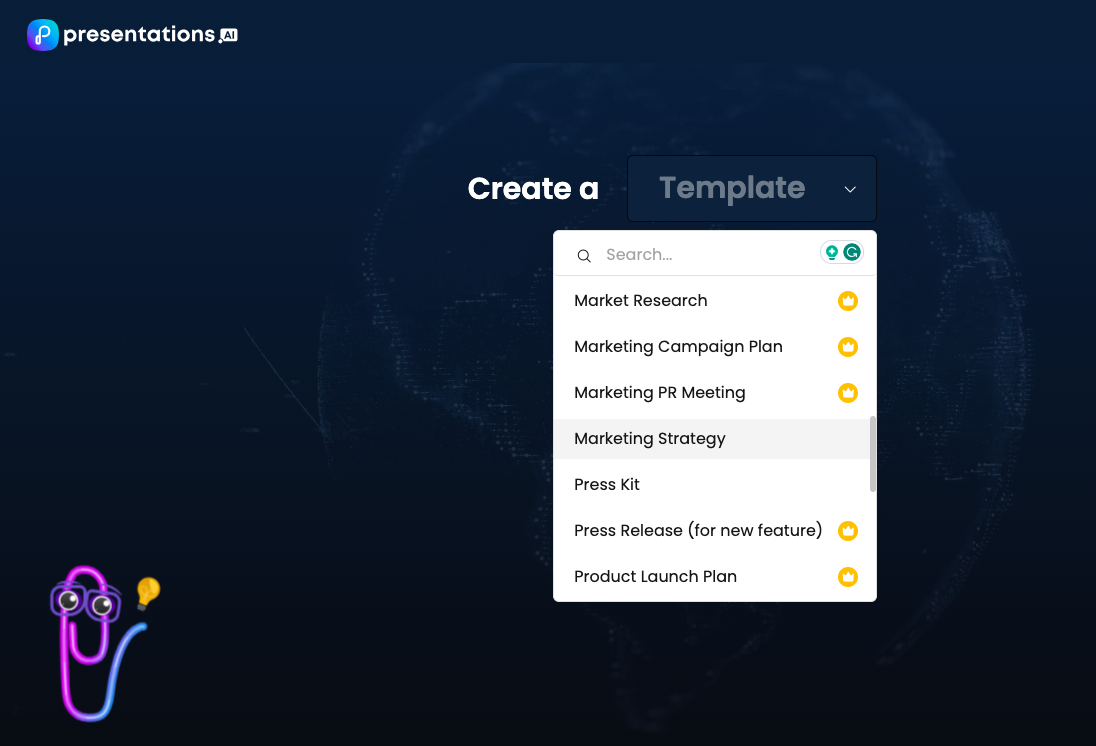 We choose a Template and ask it to create a marketing strategy for a service offered by our company as an example. If you need detailed information and support about artificial intelligence, you can review our AI services here and contact us!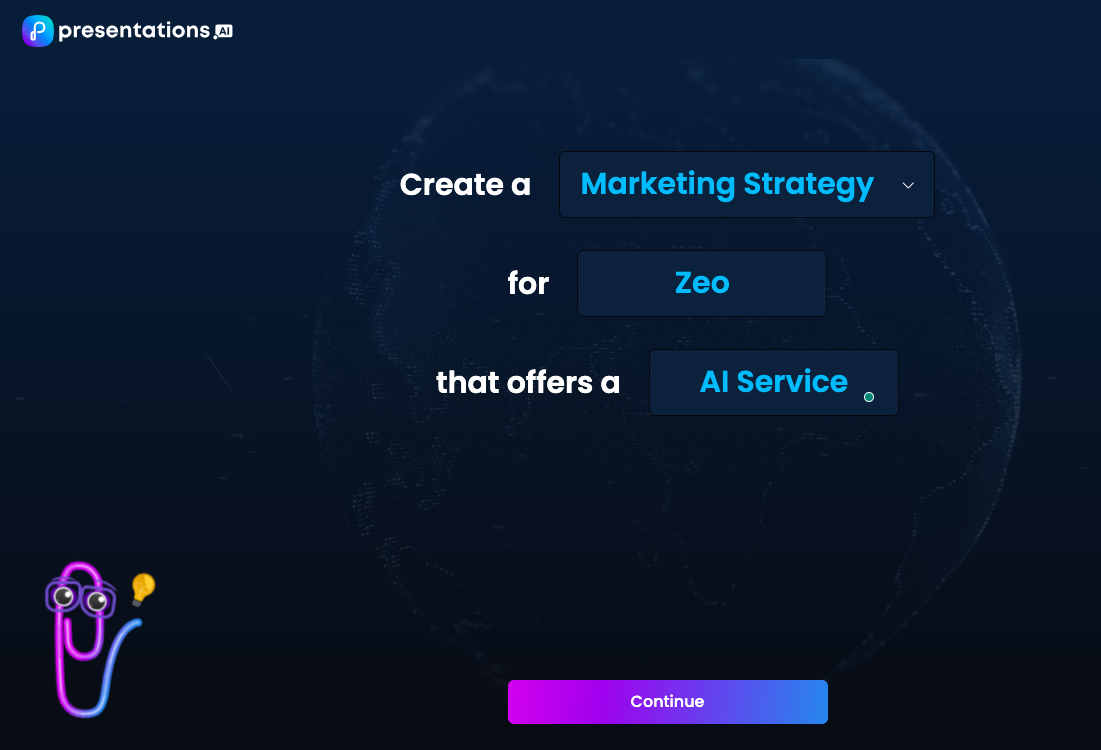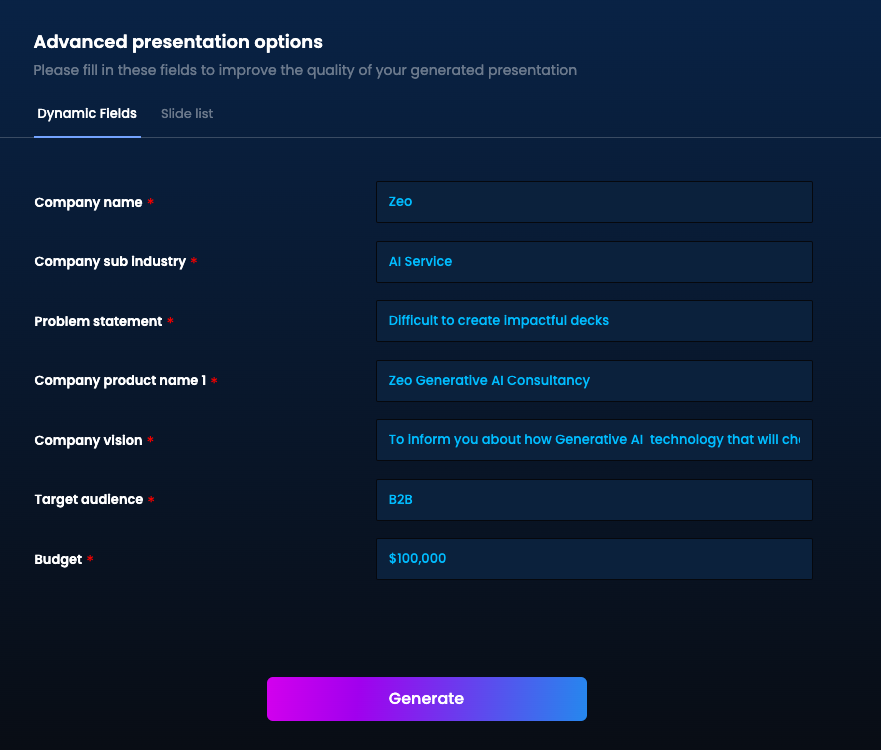 From here, we can proceed to the presentation creation phase by entering detailed information.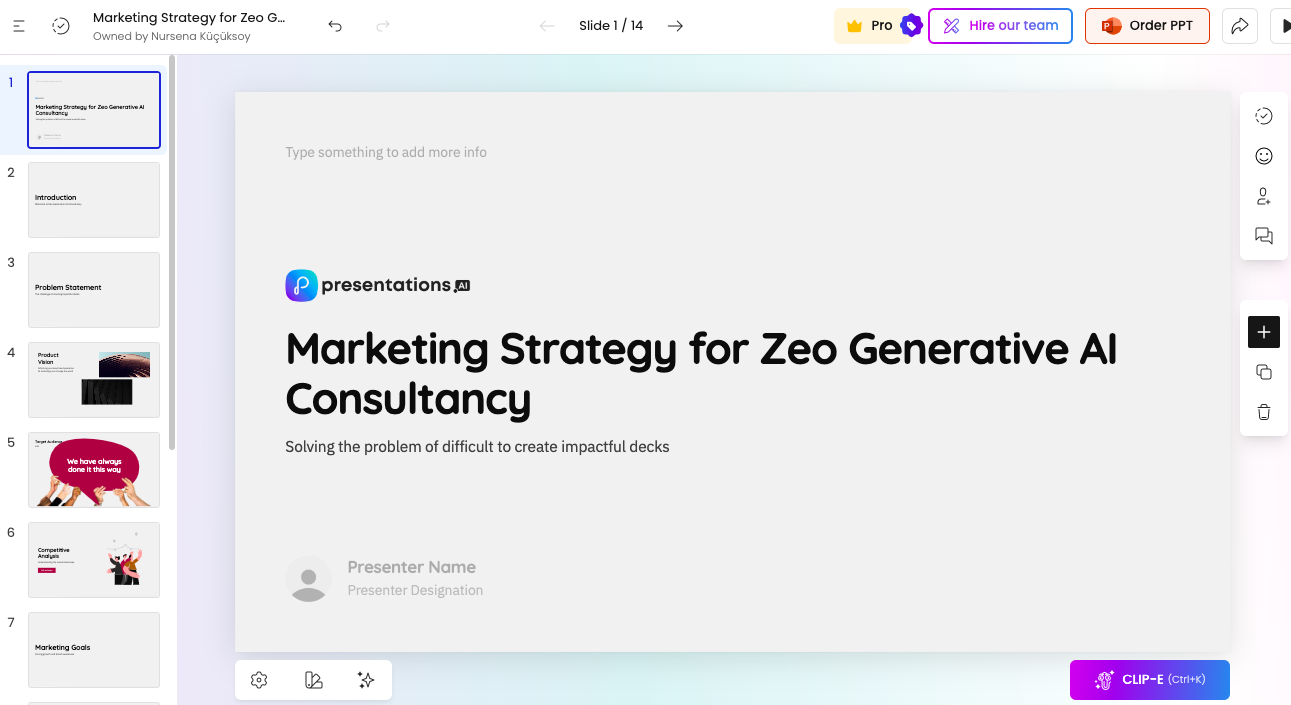 The tool created the presentation in 29 seconds, and you can make any changes you want on the presentation in line with your brand.
Pricing
You can use presentations.ai for free indefinitely, but if you want to upgrade your package, the pricing is as follows: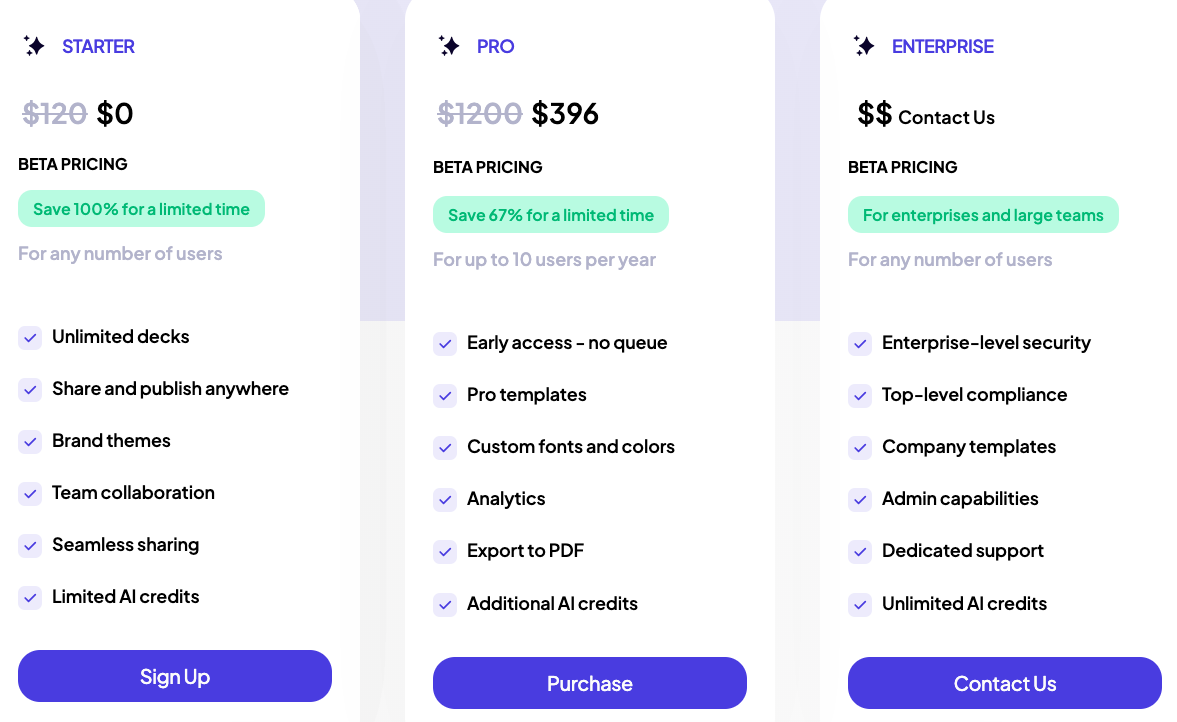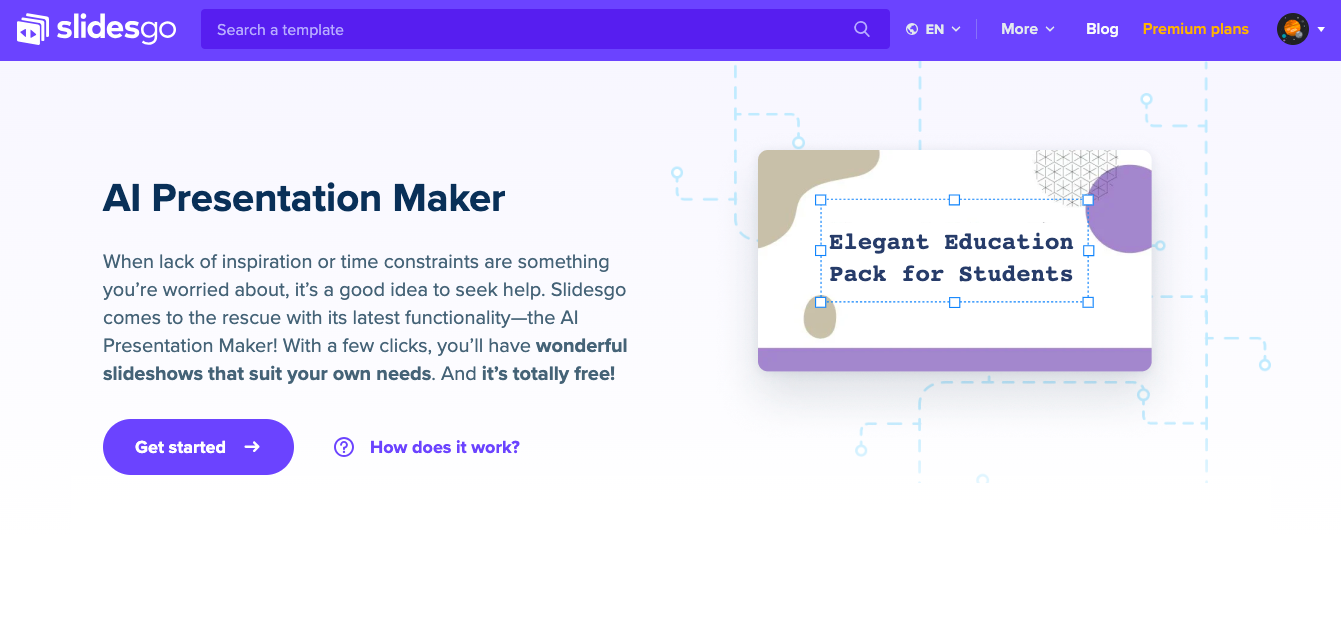 Slidesgo is a tool with free Google Slides and PowerPoint themes. It has customizable templates for employees and students from many industries. It helps you create a professional presentation in a short time with its customizable templates.
Use of Slidesgo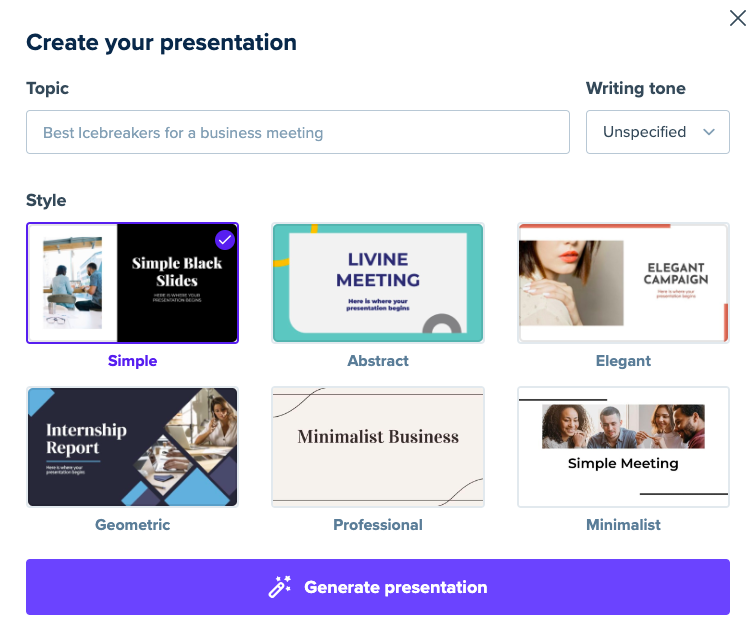 From this section, we can start creating our presentation by choosing the main topic of the presentation, writing tone, and style.
Slidesgo makes use of Wepik to create presentations. The tool creates the presentation in approximately 1 minute. We can customize our presentation by making the changes we want to the created presentation.
Slidesgo provides a large number of visual and design elements and uses Freepik and Flaticon for this. You can also export presentations prepared with Slidesgo in PDF format or share the presentation by creating a shareable link.
Pricing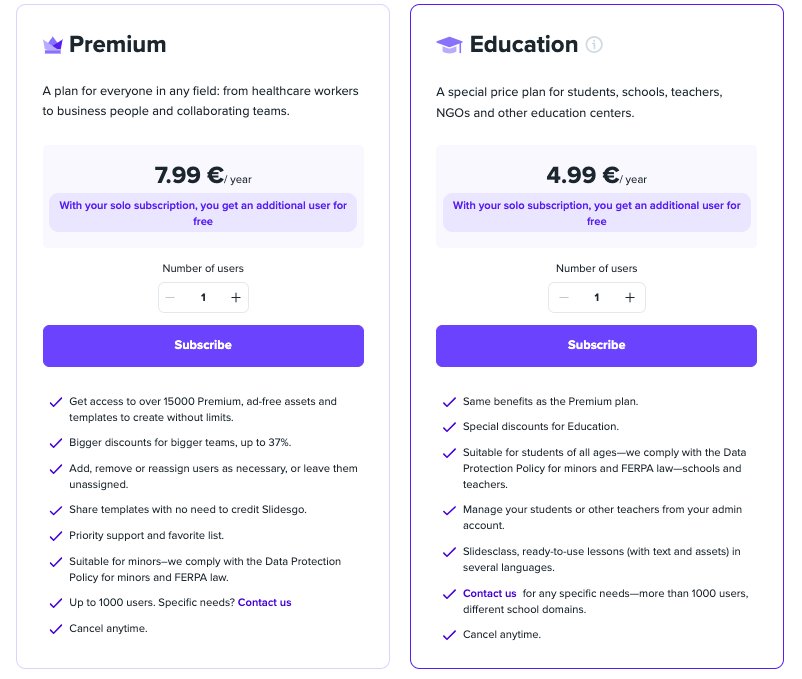 Slidesgo is available for free, but if you want to upgrade, there are two different pricing plans. The free plan allows you to download up to 10 templates, while the Premium and Education plans give you access to premium resources.
Decktopus is a cloud-based tool that helps you create presentations for various purposes in education, business, etc.
Use of Decktopus

We enter our presentation topic and move on to the next steps.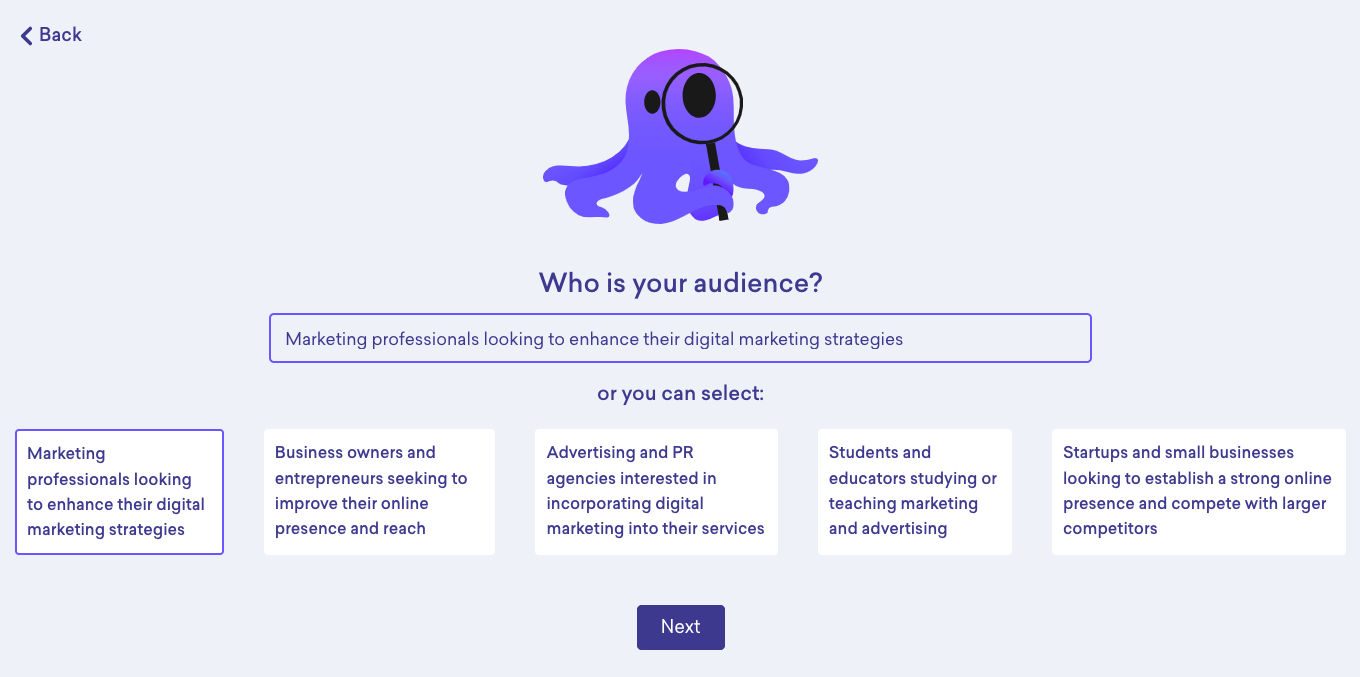 We can choose our target audience based on the examples given or we can enter our own definition. We will continue with the target audience example provided by Decktopus.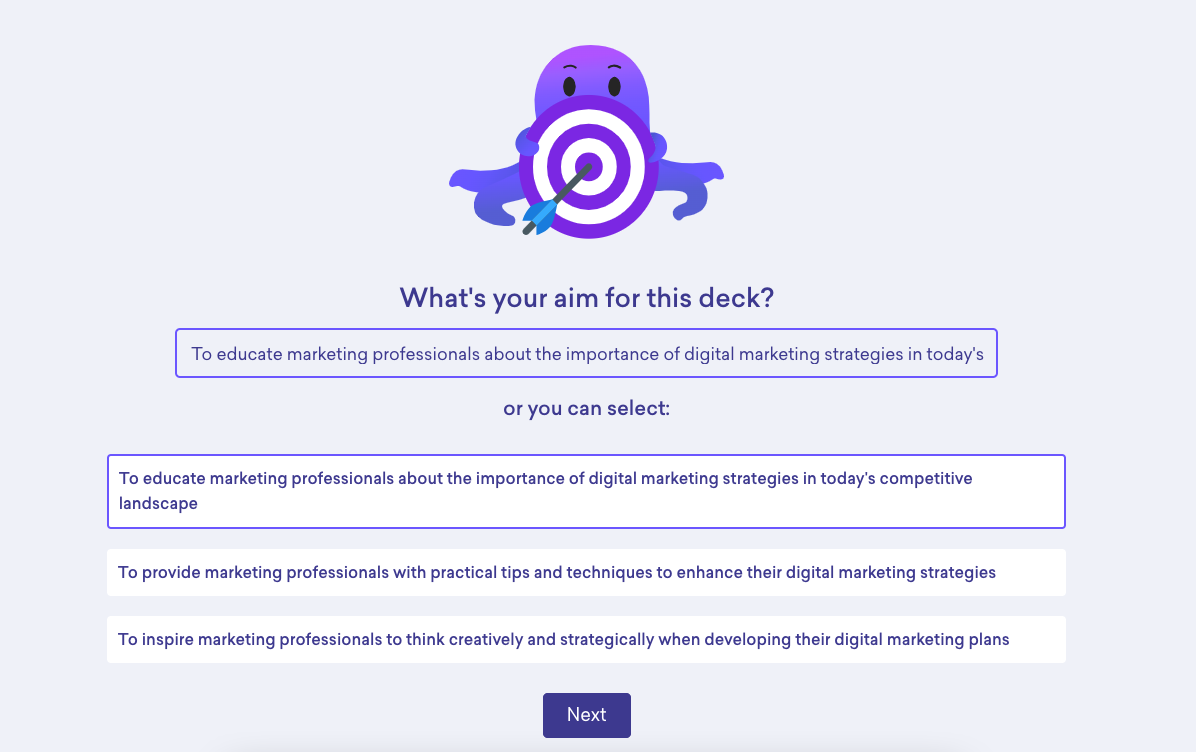 We can define the purpose of our presentation either by writing it ourselves or by choosing one of the options offered by the tool.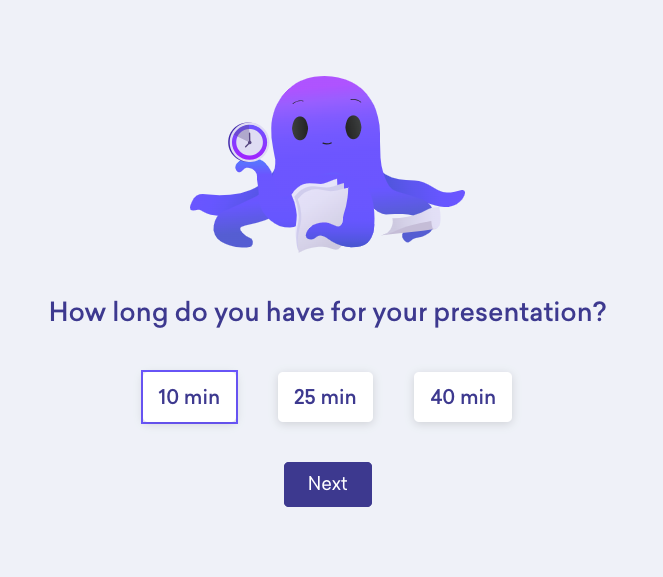 We choose how many minutes the presentation should be. Here we can choose from the time limits offered to us.
In the last step, we choose which template we want to create our presentation with and finalize the presentation that the tool can create: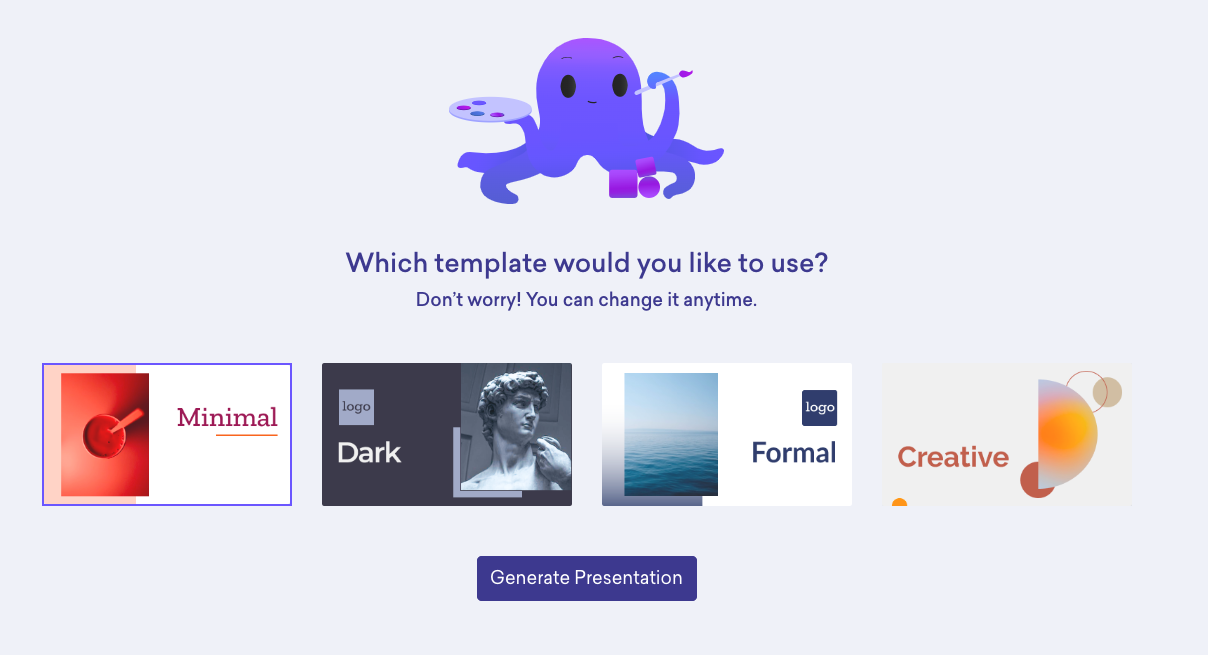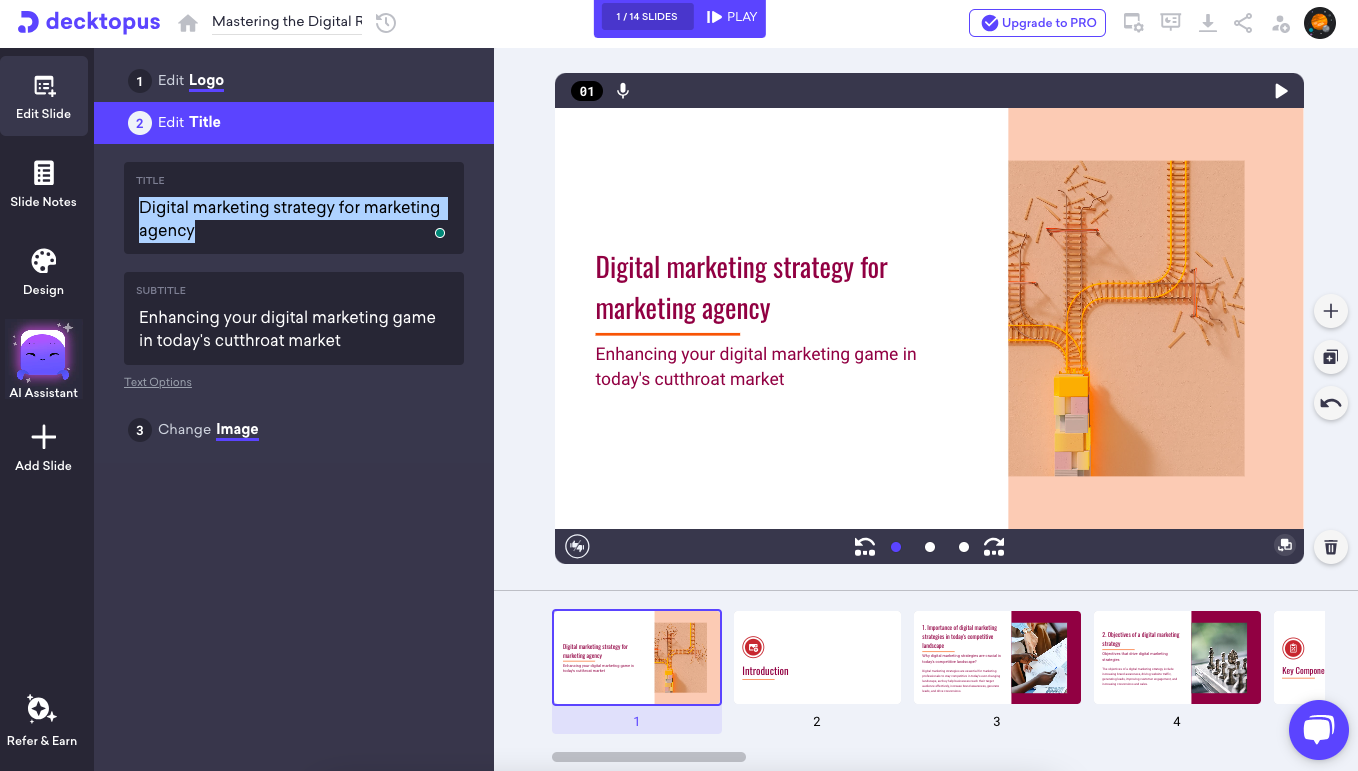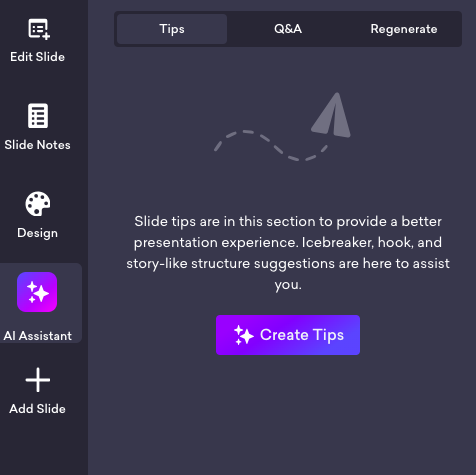 In the "AI Assistant" section, it offers tips for our presentation, creates Q&A, and with the prompt, we will enter with Regenerate, we can change the presentation content and edit our target audience.
Pricing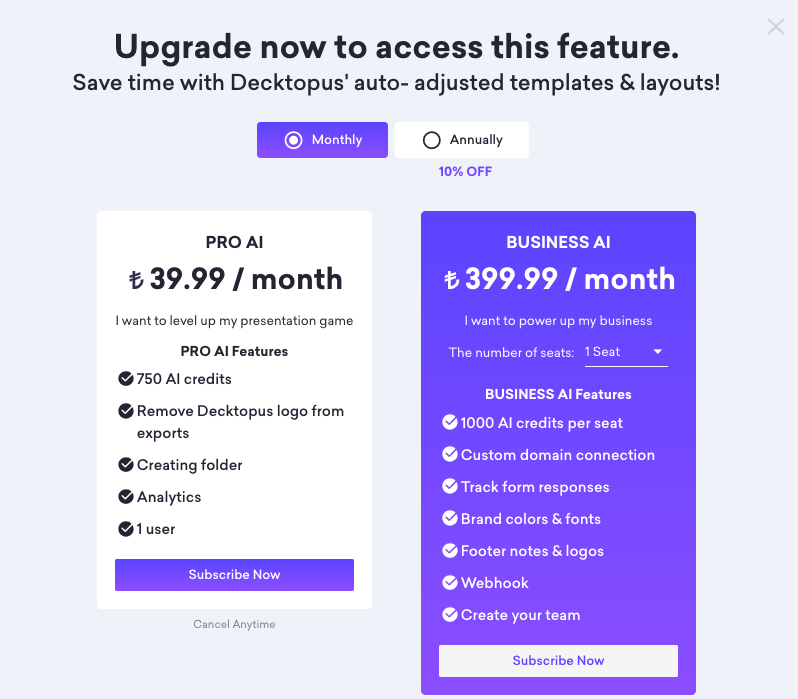 You can use Decktopus for free, but the free plan includes 50 AI credits. If you want to upgrade, the tool offers you two plans. These plans include brand logo removal, AI credits, analytics, and more. With customizable templates, an AI-powered content assistant, and online sharing, Decktopus helps you prepare your presentations in the most efficient way in a short time.

Prezo.ai is a tool that aims to simplify the process of creating effective presentations. It has a library of ready-made templates, graphics, and icons to make presentations visually impressive. You can upload images from your own library or create your own by entering prompts with the AI assistant.
Use of Prezo.ai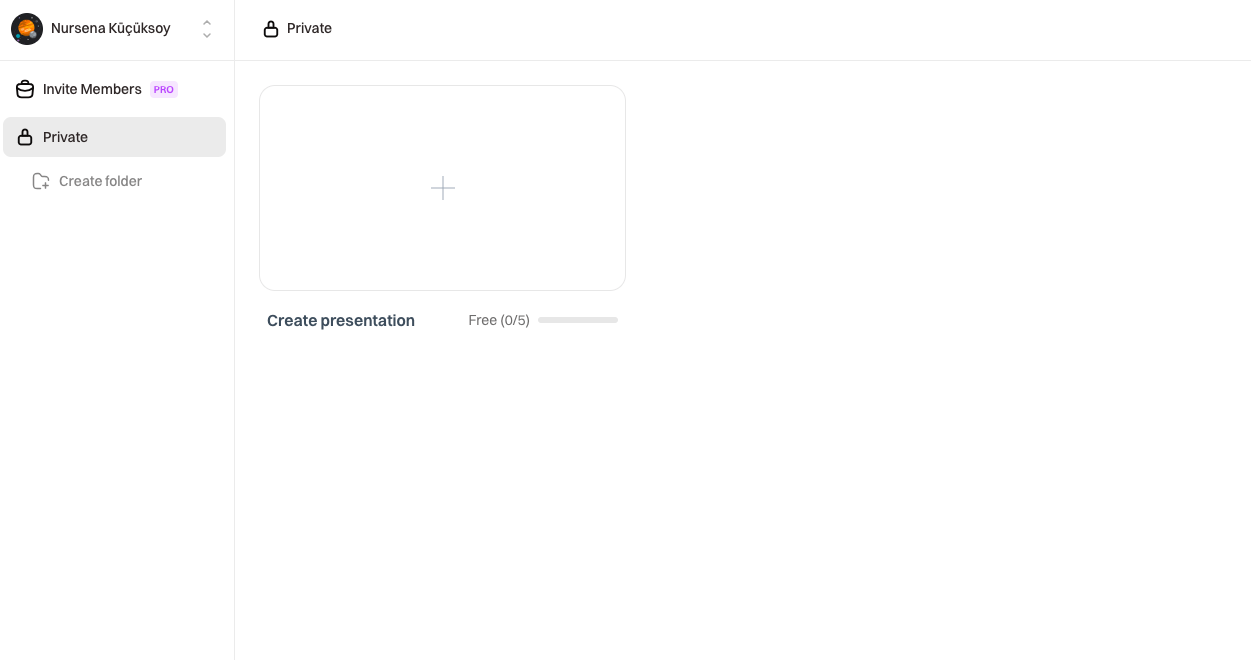 The free use of Prezo.ai entitles you to prepare 5 presentations.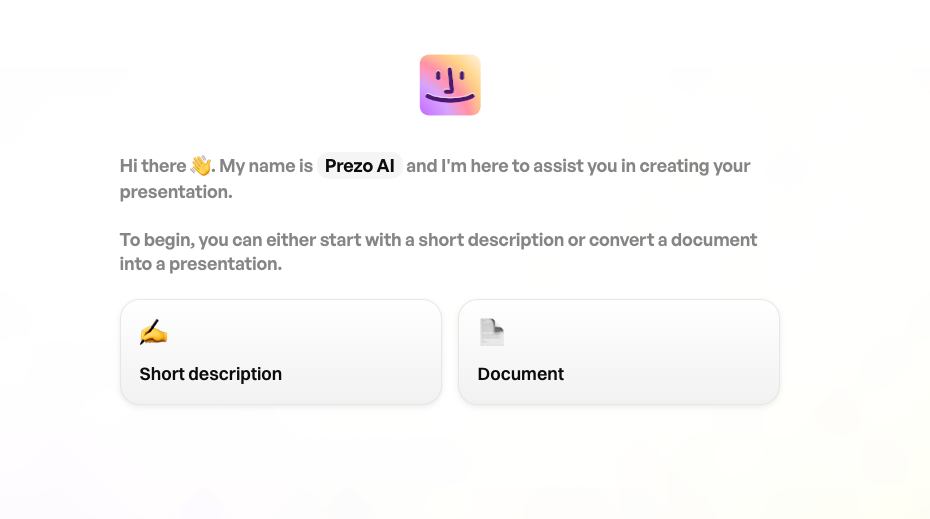 You can start the process by writing a short description of what your presentation will be about or attaching a document about your presentation. We will create the presentation with a short description.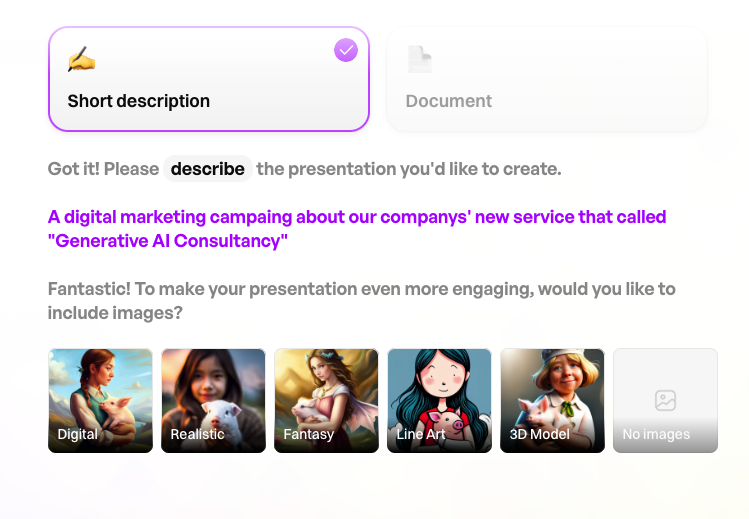 At this point, we choose whether to add an image or not. Then our presentation is created in about 1 minute.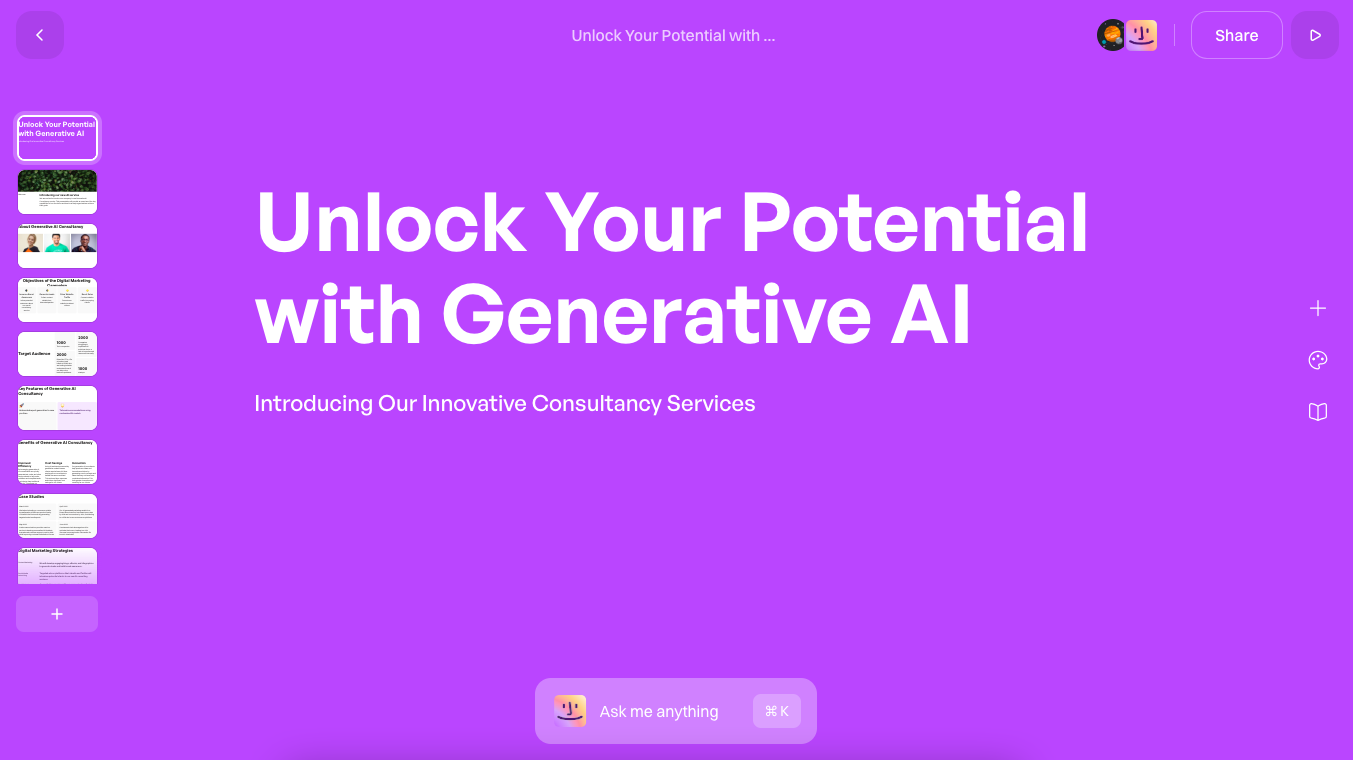 You can have the Prezo AI assistant make the changes you want to the presentation or customize it yourself.
Pricing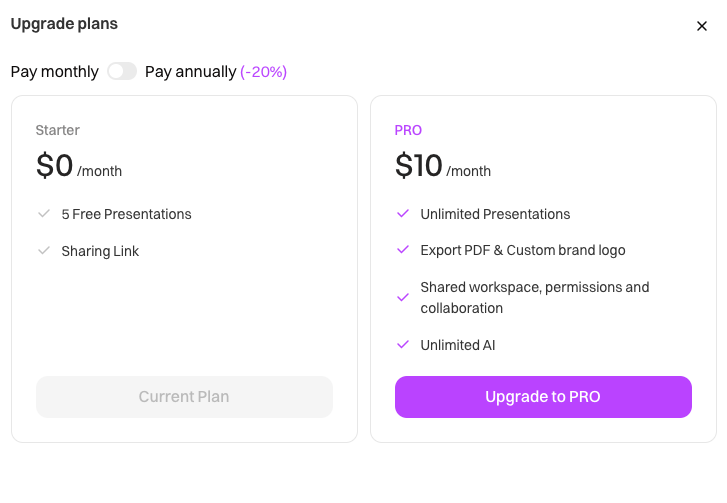 Prezo.ai has a Pro plan, which is free to use. With this plan, you can create unlimited presentations, export PDFs, and use AI in unlimited ways.
In Prezo.ai, AI algorithms analyze the content and suggest appropriate slide designs, colors, and fonts. The platform also has Google Slides and PowerPoint integration. With its easy-to-use and clean interface, you can create the presentation you want in seconds.
Gamma is a platform that prepares artificial intelligence-oriented presentations. With its Natural Language Processing (NLP) features, it allows to create and share presentations that act intuitively and accordingly.
Use of Gamma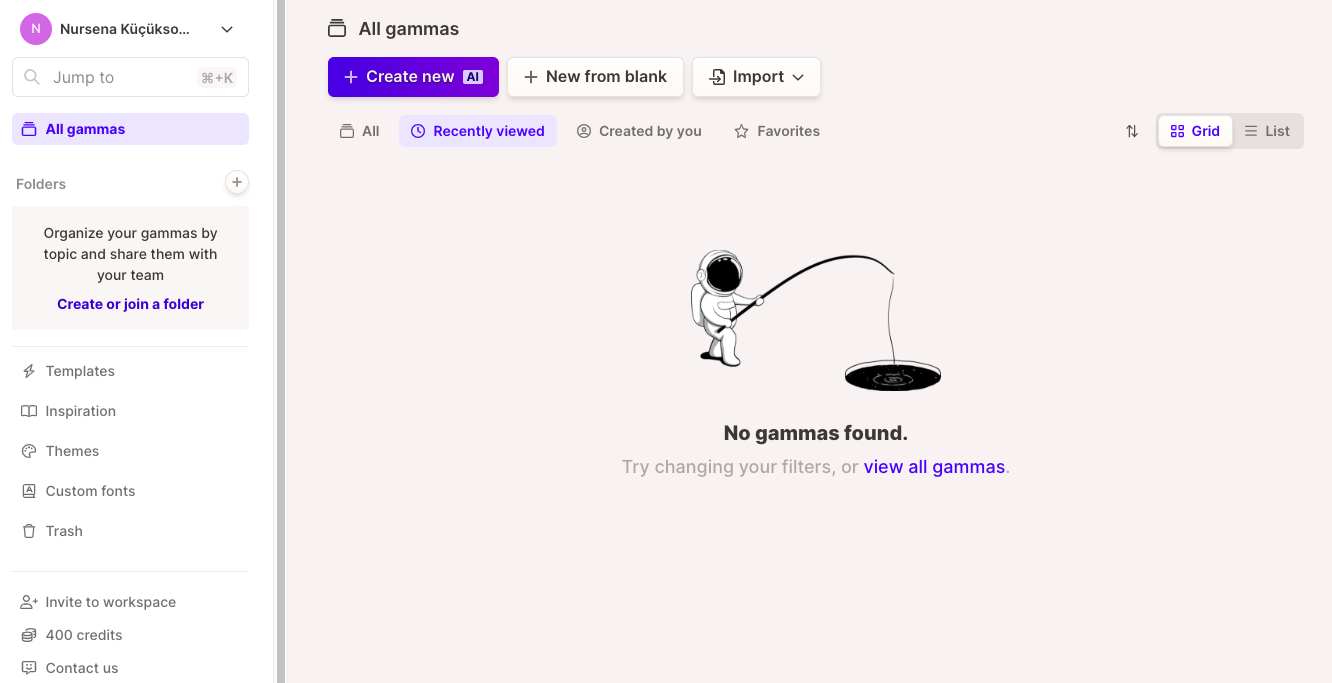 You can create an account for free and start preparing presentations.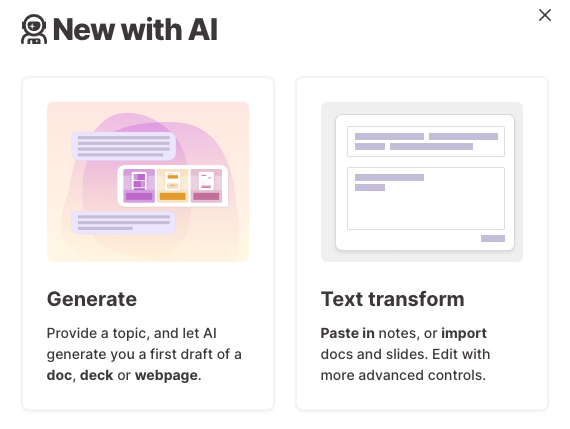 We have 400 credits in our free account to use AI features in Gamma. We start creating the presentation from the "Generate" section.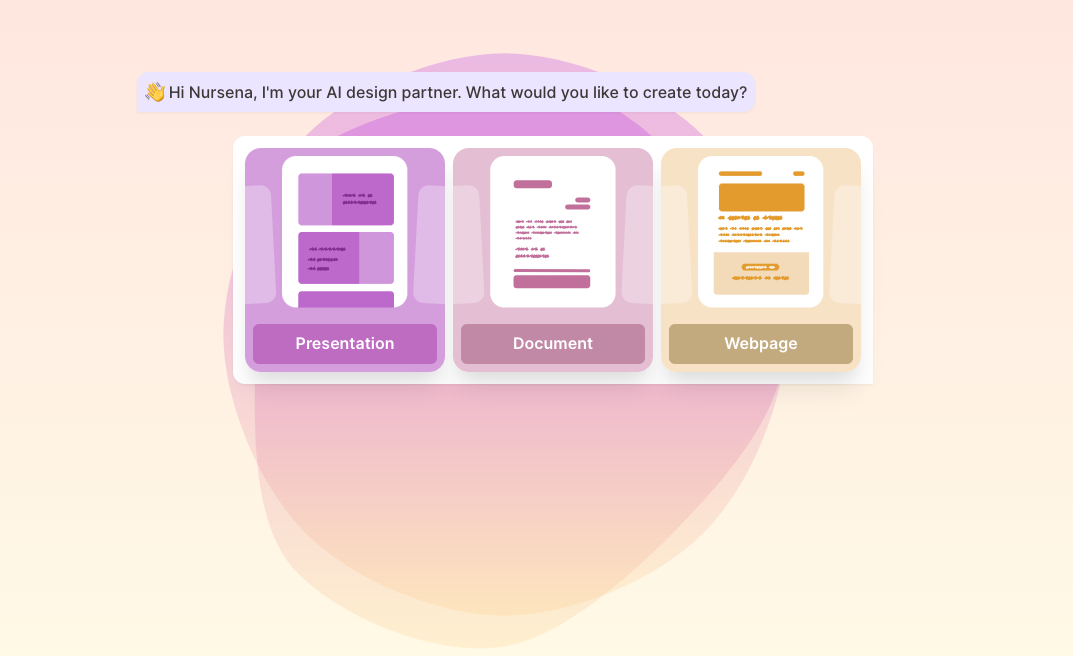 We will take advantage of Gamma's presentation preparation feature, which allows us to prepare presentations, documents, and web pages.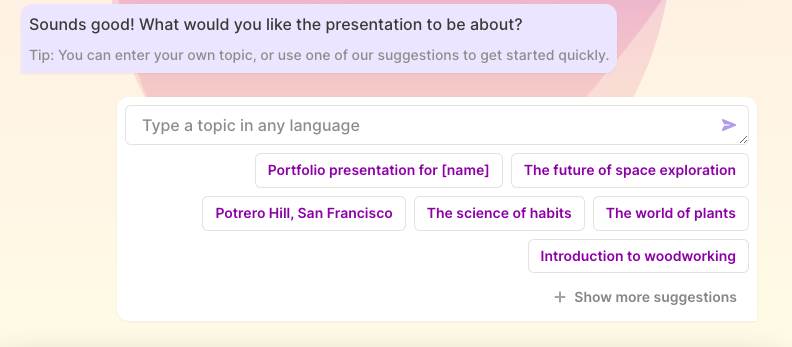 After selecting "Prensentation", we choose our topic from the suggestions or by entering a topic ourselves.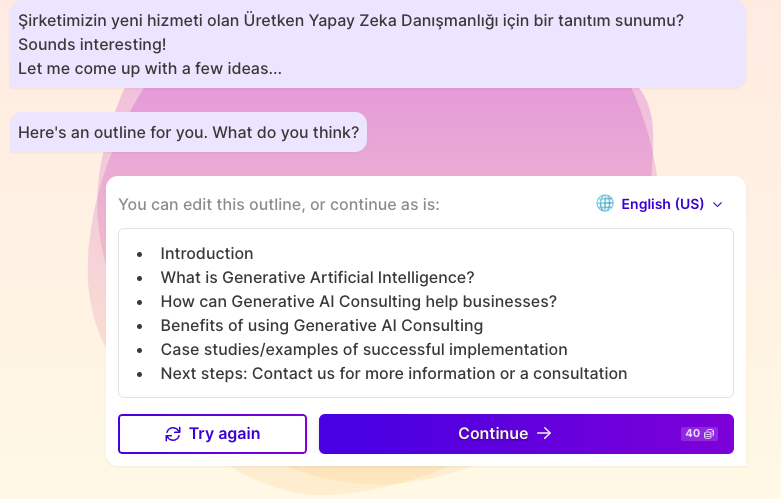 After the topic selection, it gives us an outline. You can make any edits you want on this outline.
From here, we proceed by choosing a theme suitable for our presentation.
AI prepares our presentation in about 1 minute on the selected theme. As with other platforms, you can customize the presentation as you wish.
With the AI assistant, we can edit the parts of the presentation we want to change.
Pricing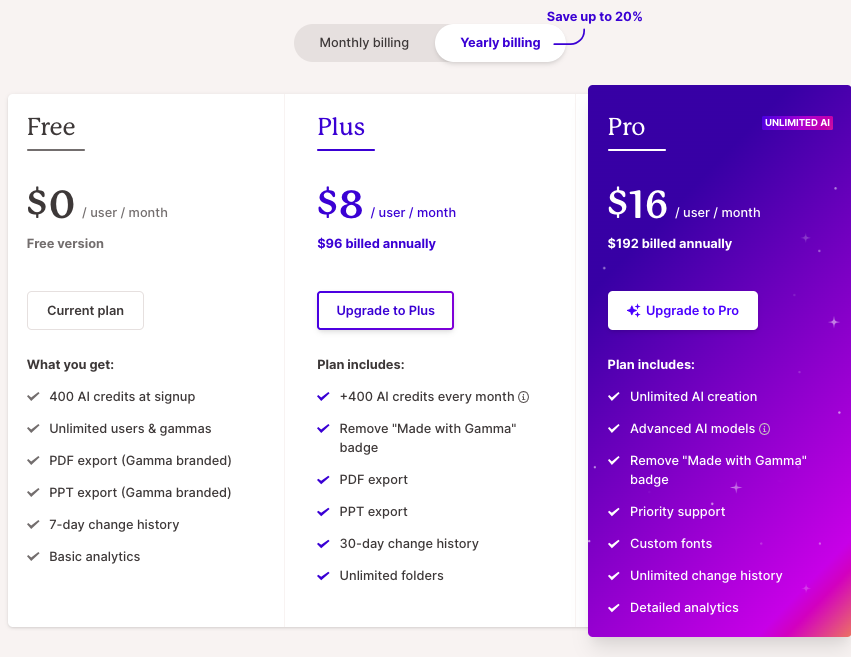 Gamma is available for free. However, there are limitations to free use, so you can upgrade your plan to experience other features.
Gamma has a variety of presentation templates for many industries and people and uses GIFs, videos, graphics, website links, and images to make your presentation more engaging. You can also analyze how your presentations interact with readers and create impressive presentations with its simple and easy-to-use interface.
Artificial intelligence is actively involved in many areas that we can use in our workflows. In my article, I included 5 of the AI-powered presentation creation tools with their usage, features, and pricing. Prezo.ai and Gamma were the platforms I found the most efficient in terms of interface, ease of use, and design. With AI-powered presentation tools, you can both prepare effective presentations and minimize your manual work by saving time. Don't forget to follow our blog for detailed information on how developing artificial intelligence technologies are used!