Google's December 2020 Core Update
---
If an increase or decrease has been experienced in the organic traffic and/or positions of your website as of the beginning of December, this is most likely because of Google's 4th core algorithm update (broad core update), which was just around the corner for a while.
The thing is, Google usually does at least 4 large-scale algorithm updates of this nature each year, and sometimes it isn't even newsworthy in the SEO community, especially if any updates do not directly affect websites belonging to a particular category (e.g., health sites).
However, since Google has not released any algorithm updates for almost 7 months since May 2020, it was expected with a dash of curiosity and a pinch of dismay. We might even say that it was not expected at all. Almost everyone in the SEO community seemed confident that Google would put off the update to 2021 for this time. This year was a problematic year for Google as very serious indexing problems were experienced (indexing glitch), especially on the mobile side, which is why it was thought that 2020's 4th core algorithm update was suspended.
The update was actually revealed exactly with the announcement made by Google's search unit on Twitter on December 3, 2020. From the first day of December, position fluctuations were observed on Google search results pages (SERPs), but they were not serious enough to require an update.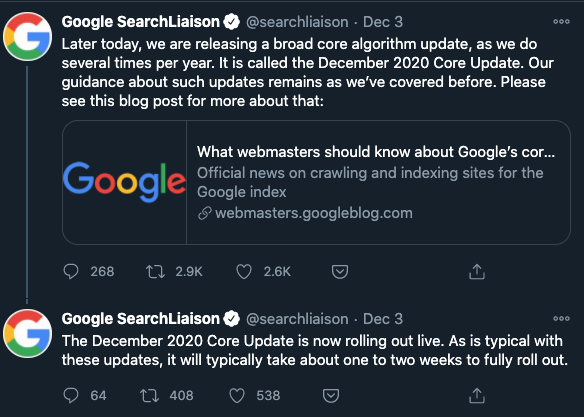 As with every core algorithm update, Google also indicated that it could take a week or two for the results of the update to become permanent. In our midst, we usually refer to this situation as the time it takes for the update to settle properly. During this period, you may observe sudden position increases or decreases on your site, and you may even notice certain web pages dropping from the index for a very short time.
In general, this is the reason why the pages that decrease during this period are not intervened before 2 weeks after the update. For example, in the May 2020 update, various SEO tools reported that the activity in the SERP continued between May 4 and May 18.
But this time, things are a little bit different. Those affected by the update say that the hustle started 1 or 2 days before the update and that they experienced organic traffic and position changes on the update day. There are even those who say they lost or gained traffic between 30% and 60%, right after the update. Normally, this process would also extend over the time of 1-2 weeks.
This was also reflected in the SEO tools that perform SERP monitoring. In the tables below, you can see that the SERP fluctuations increased sharply, especially on the 4th of December.
SEMrush: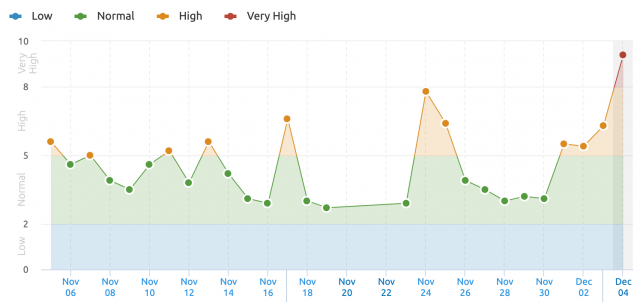 SERPmetrics:

Just as we thought the full update happened immediately, as of December 10, serious SERP fluctuations started to increase in monitoring vehicles.
SEMrush: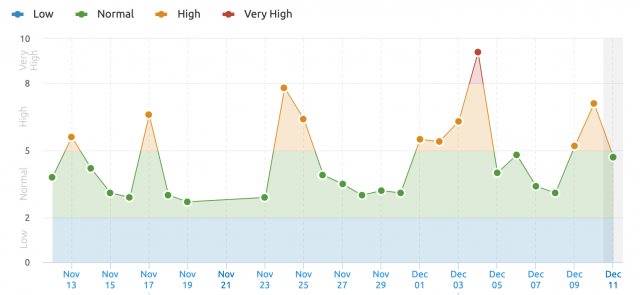 RankRanger:

This time, in the first days of the update, there were some websites that had a position increase, which suddenly began to decline. There are those websites that pull themselves together after the decrease. Thus, although such SERP fluctuations do occur on a daily basis during periods of algorithm updates, we have indeed seen with certainty that the data in the first weeks can be misleading.
With this meme below, I can explain the general responses of the SEOs on Twitter and the webmaster forums to this algorithm update in a nutshell, which caused mixed feelings to all of us in a short time.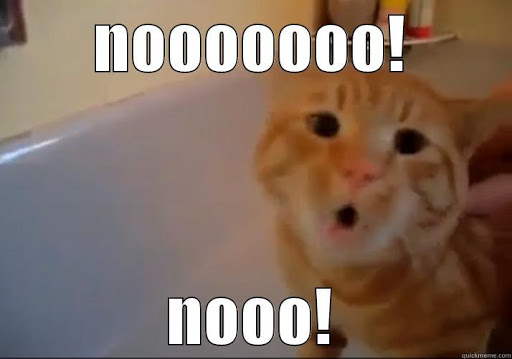 It is the shopping and holiday hustle, especially in those countries that celebrate Christmas. Adversely affected by the update and already wasted away due to the COVID-19 process, e-commerce companies reacted to the update. In fact, Google normally avoids releasing a new update, especially during the holidays. In fact, in 2013, Matt Cutts, one of Google's former employees, made a statement on this issue, especially on Twitter.
This statement was reposted by Marie Haynes, whom we know and love, especially for her expertise on Google algorithm updates, and most especially on Medic Update / E-A-T.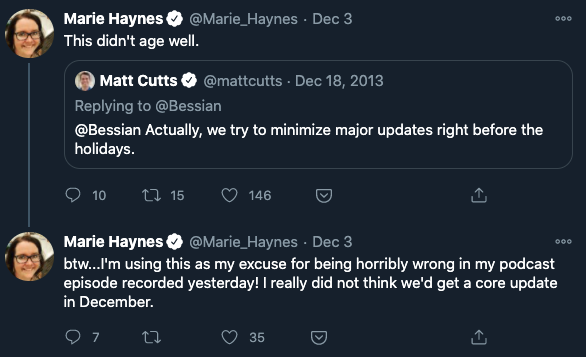 When Barry Schwartz from Seroundtable.com asked John Mueller about the timing of the update at the recent SEO Office Hours, Mueller stated that the update actually came out right after Thanksgiving, before the impact of the Christmas was not observed much, and that the release date was coherent for him. In fact, when we consider the world in general, we can say that Google waited at least for the consecutive events of Black Friday and Cyber Monday to end. Of course, we left the Singles' Day behind, on which some brands set sight, on November 11. However, people generally set aside a big budget for Christmas shopping abroad. In this period known as the "holiday season" in the USA, many companies launch their new products, especially in categories such as electronics, entertainment, and games.
Things are not different for us as well; Christmas is coming and almost all e-commerce sites have already started to carry out New Year's communication and campaigns. It will probably take up to December 18-19 for the update to become permanent. For this reason, we have a somewhat unknown process ahead of us for e-commerce sites that are negatively affected by the situation. Especially in the week of December 21, I highly recommend that you quickly perform a new scan of your site with Screaming Frog or a similar crawl tool and solve technical SEO problems that will not take much time. Content enhancements can be planned quickly for important category pages.
The only thing we know for sure about the update is that it doesn't target a specific industry. However, we scanned all the resources related to the update, apart from the data we have, and read all kinds of webmaster forums.
-First of all, as per the data published by SEMrush and the results of a Similarweb-based analysis, you can review the winner and loser categories in the update below.
Similarweb: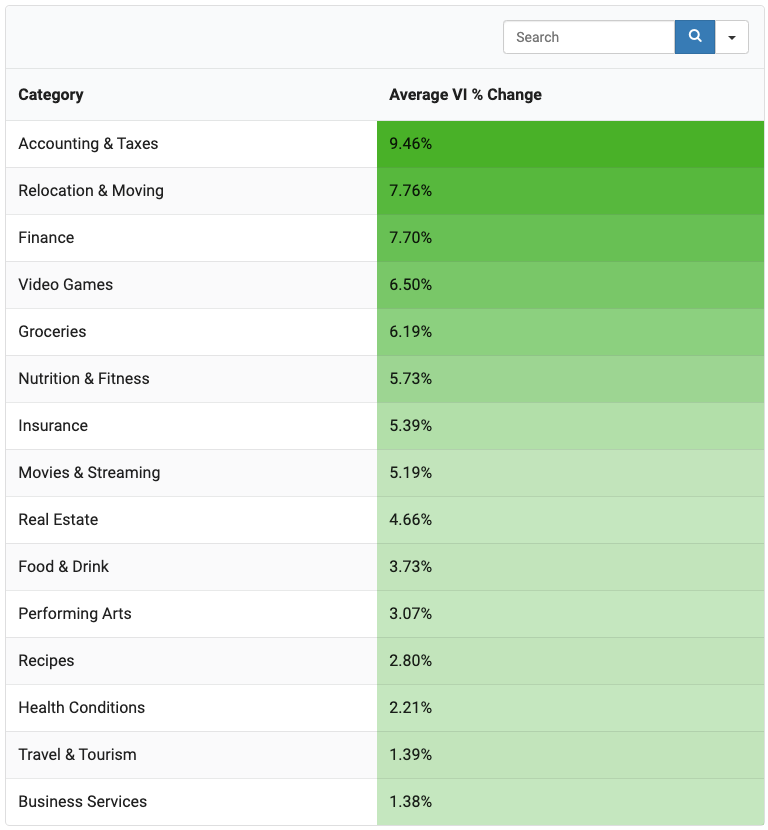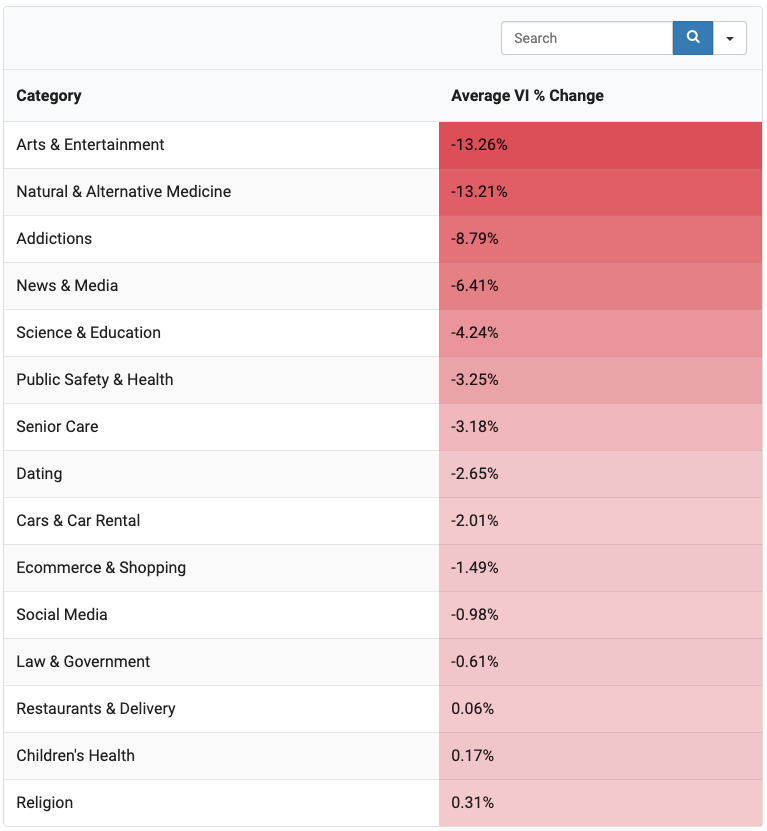 SEMrush: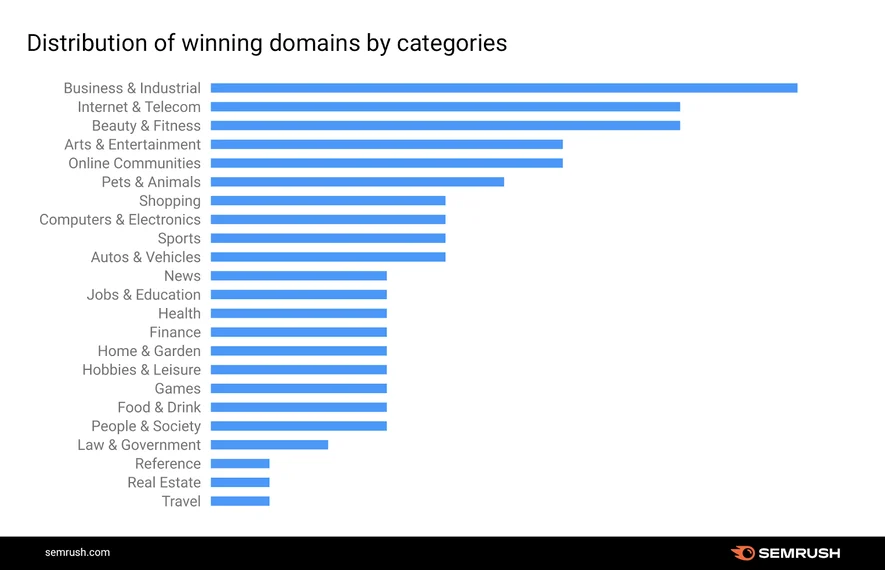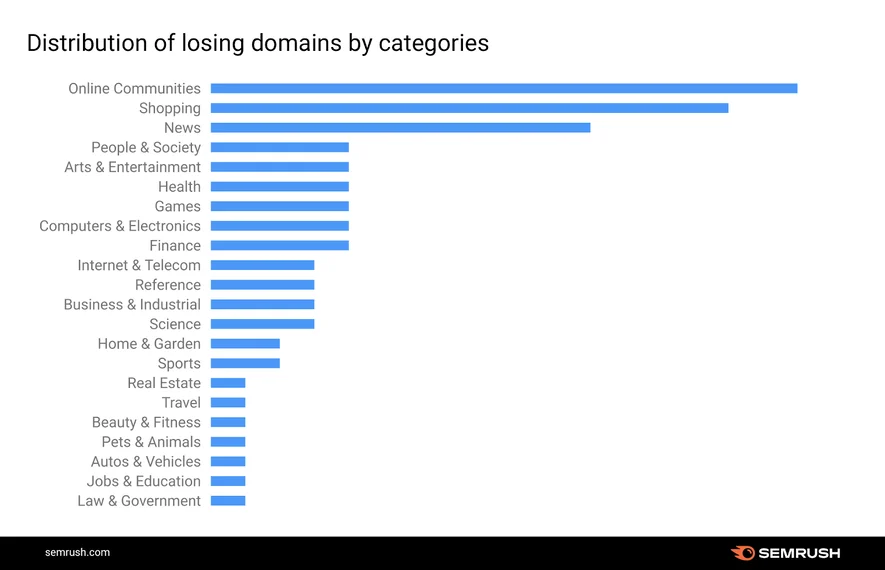 - According to the SEMrush report, 32.20% of the websites negatively affected by the update have over 10 million traffic per month. It was observed that websites that operate only in the e-commerce industry and that do not have a physical store started to lose traffic in particular. There are some claims that Google is trying to take a chance on small businesses that suffered greatly during the COVID-19 period.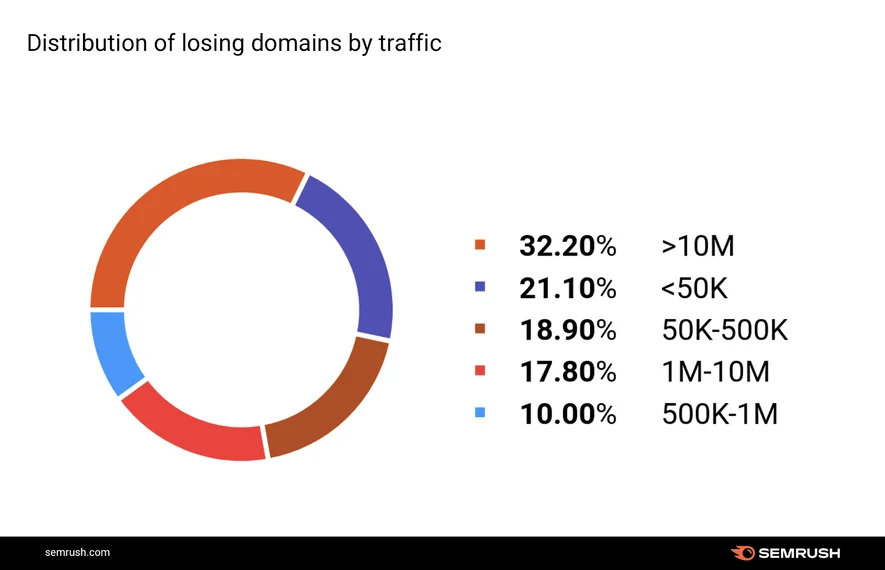 Below, you can examine some of the countries where Amazon suddenly experienced a traffic decline.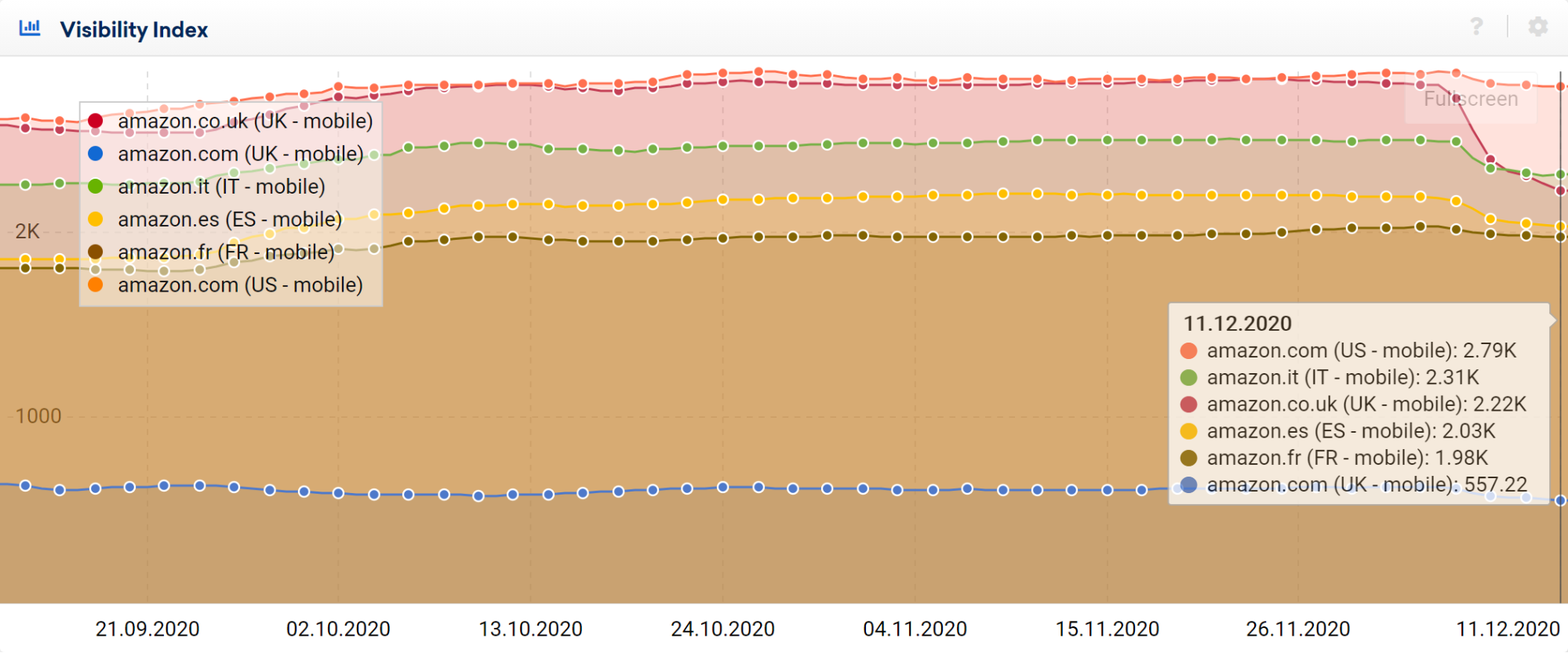 Sistrix lists the websites that incurred losses in the update period in the UK as follows: Apart from Amazon, there are also e-commerce/online marketplace giants such as Ali express, Asos, Argos, Wayfair. However, Amazon.co.uk seems to be the most adversely affected website on the list.

The winners are the following websites.

-Again, according to Sistrix data, the most viewed websites in the UK are as follows: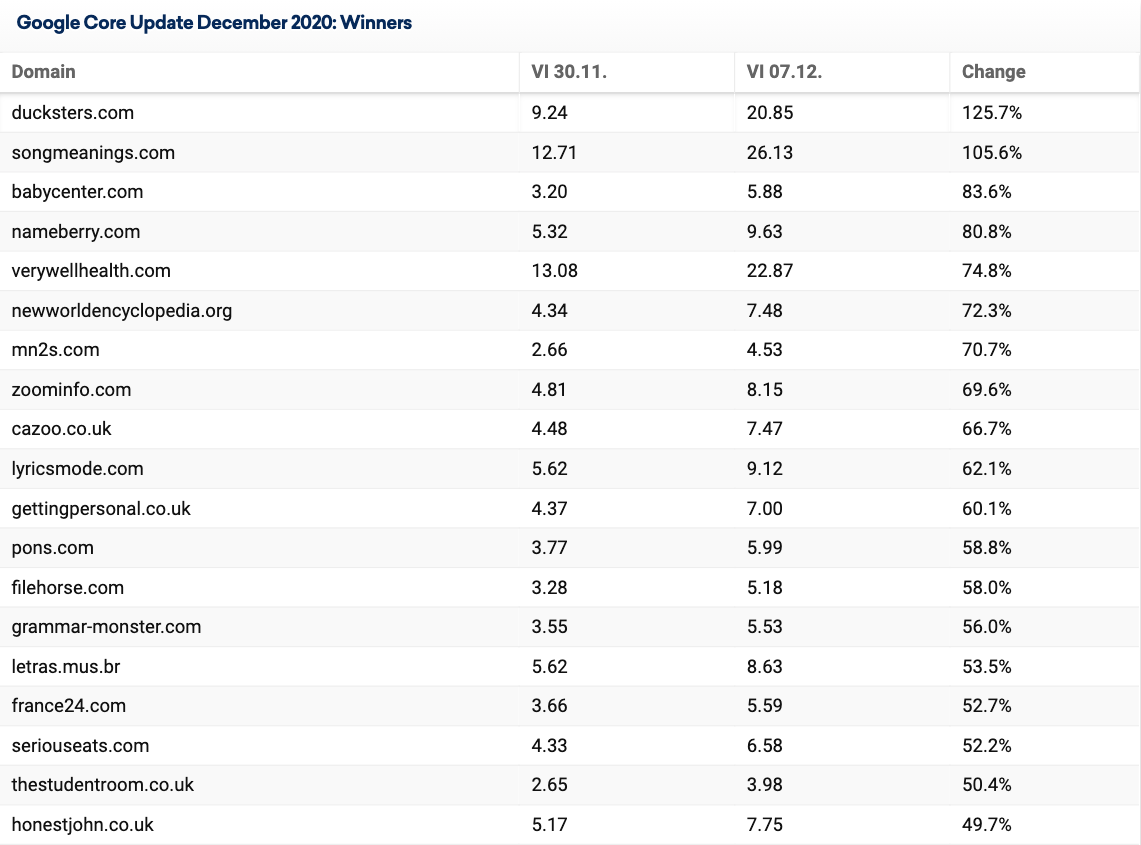 The losing websites are also listed as follows. On this side, you can make comparisons with your own industry.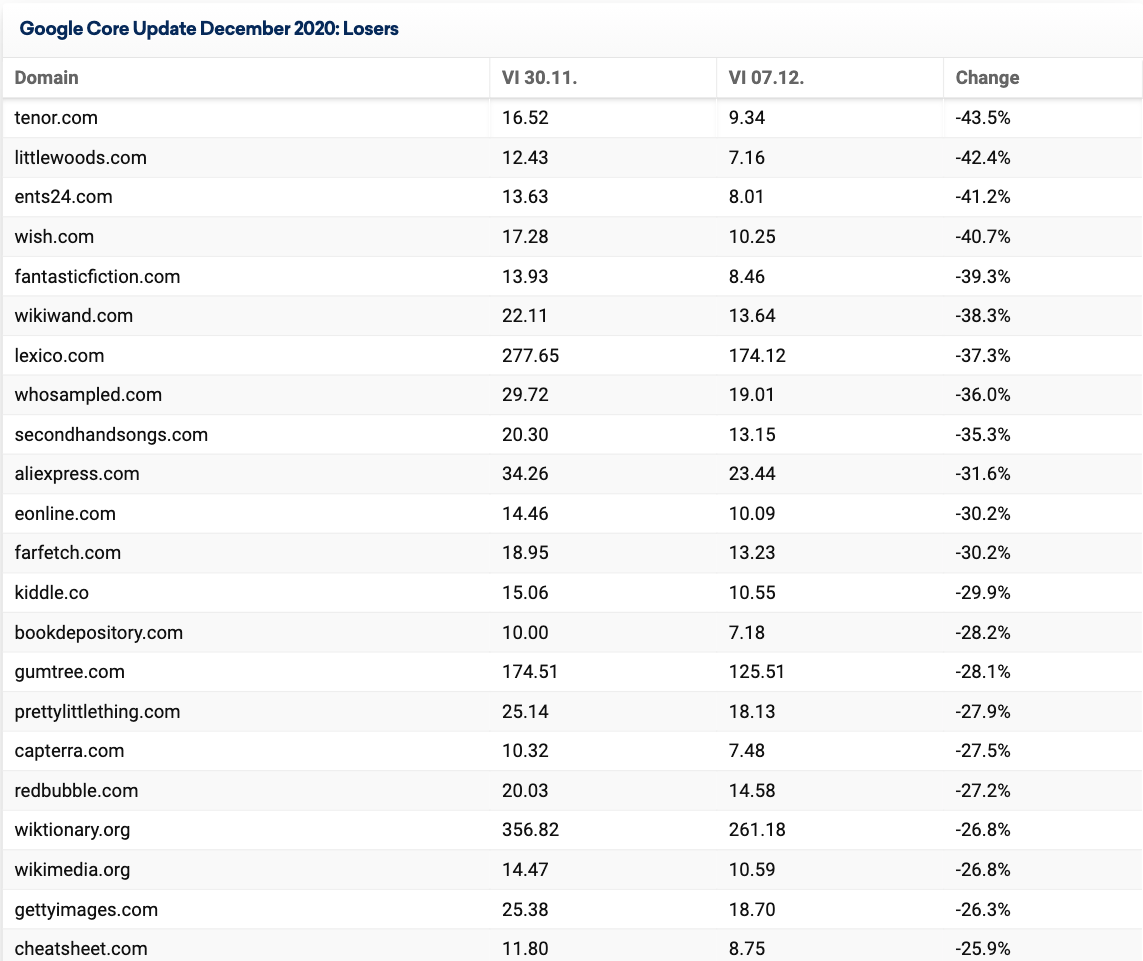 - According to SEMrush data, the sectors most affected by the update are the sectors with healthcare, real estate, legal, and government websites. Travel, career, and finance categories have also been affected seriously. The changes in the book and pet category have attracted attention on the e-commerce side.
-Except for Amazon, there have been decreases in websites that obtained very serious organic views during the COVID-19 period, especially in the USA such as Pinterest, CDC, Overstock, CNN, New York Times. Pinterest is also the only website to have experienced a decrease among social media sites.

In the last few years, large fluctuations have been observed in health, insurance, finance, etc. websites that are subject to Google's E-A-T algorithm during the core algorithm update periods, especially in cases where users provide false information to other users, due to their health or financial status. We can say that the healthcare industry in particular seems to be affected by this period again.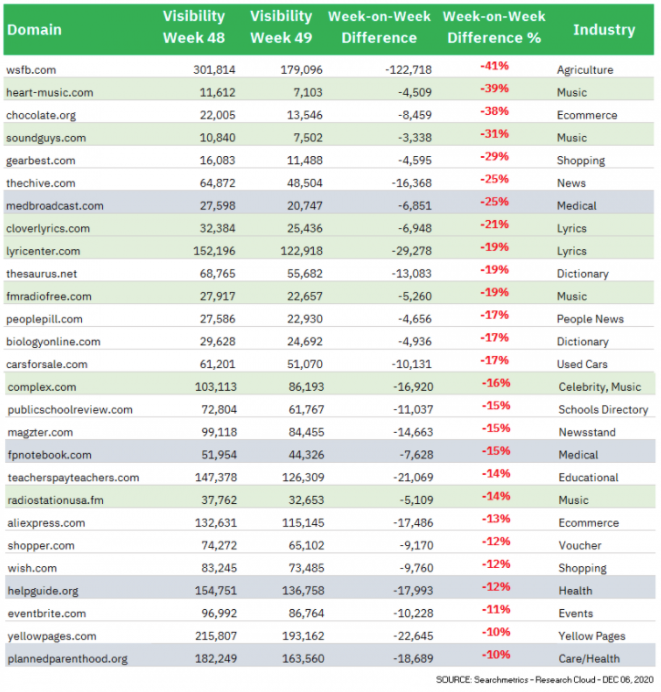 Especially websites that take the necessary steps to strengthen the reliability of their sites have reported an increase in traffic in general. For example, Verywellhealth.com, which had a very serious decrease after Medic Update, seems to have started to recover.

-In general, positive increases have been observed in financial and career websites.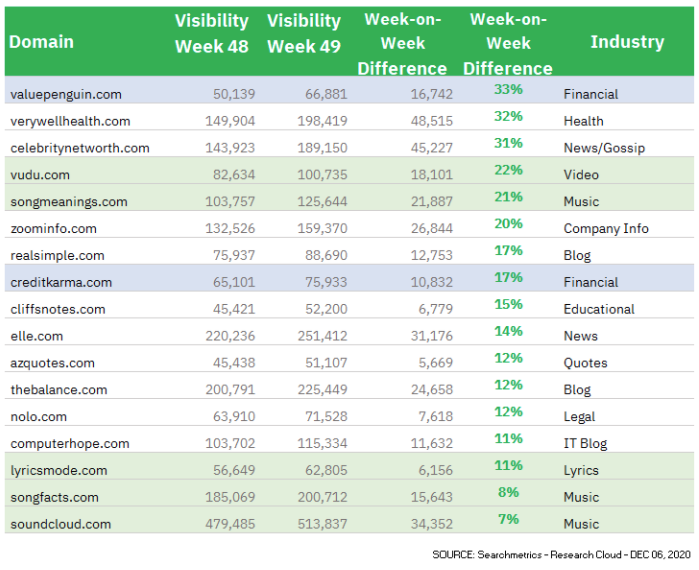 -The music and entertainment industry, in general, seems to have been negatively affected by the update.
-It is said that the update has positive results for the automotive industry in the first stage.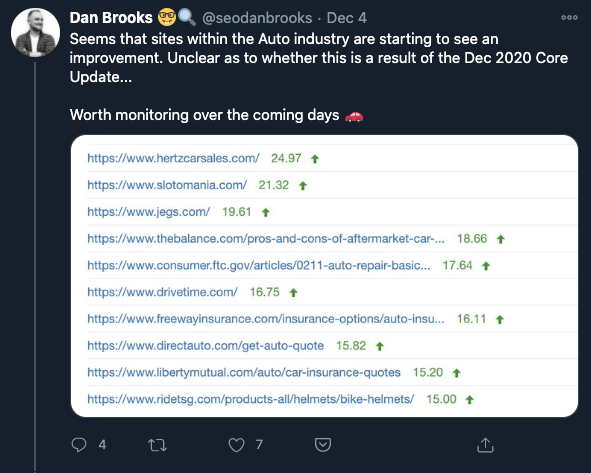 -Google renovated the Search Quality Rater Guidelines in mid-October and opened a new section here, called "Rating Dictionary and Encyclopedia Results for Different Queries". Google stated that these sites are very prominent in certain query types, but they may not be suitable for user experience for every query and suggested that quality raters should pay attention to context while scoring these sites. This is why there is an unexpected decline in dictionary/wiki sites.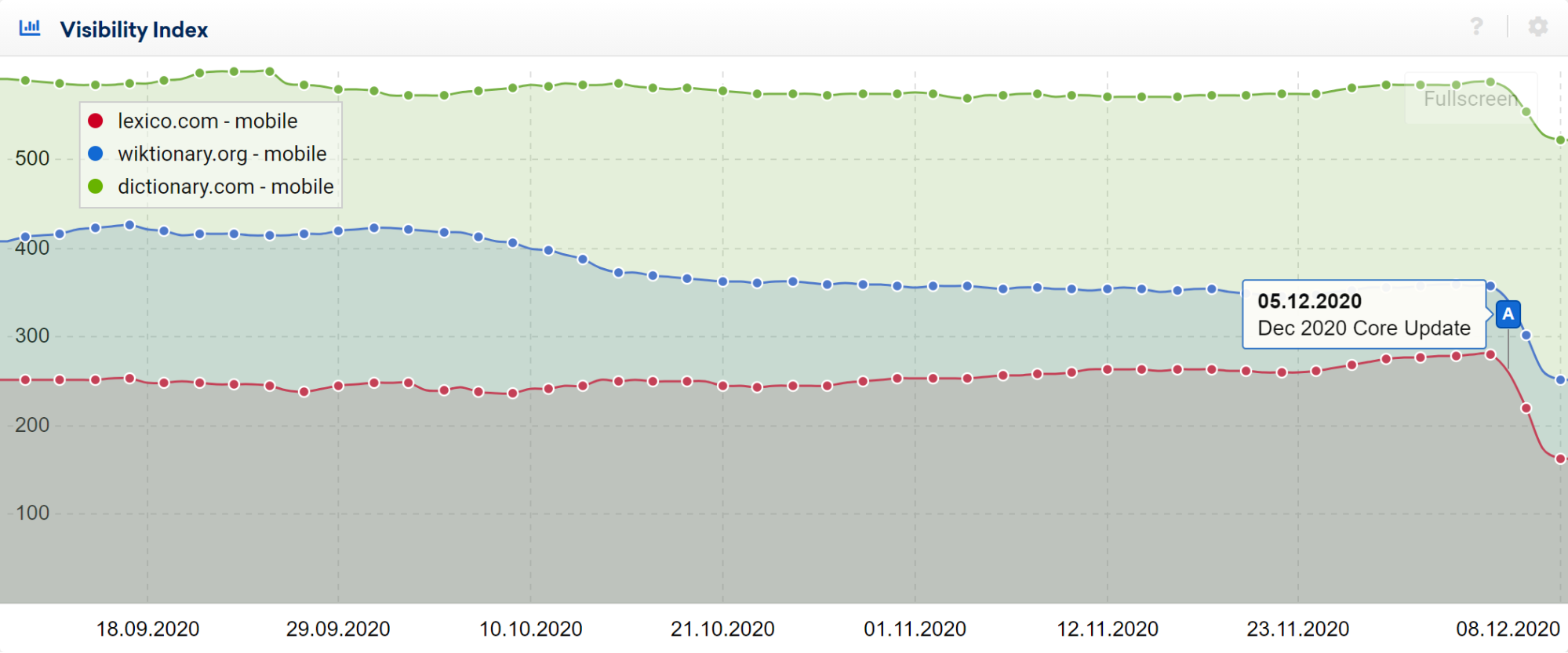 - Some websites lay heavy on SEO improvements or original content production processes such as Core Web Vitals, which would also contribute to the user experience. After being affected negatively by the algorithm update in May, some of these websites reported that they relapsed to the same position they were in before May. Our preliminary opinion is that this update is focused on a bit UX and content.
-Shortly before the update, we started observing stacked listings from the same websites in Google search results. But, after the update, such results are less common.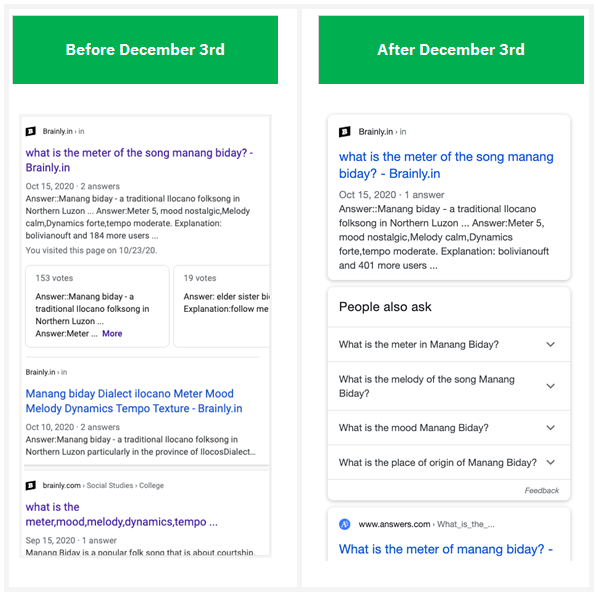 -If you observe extremely unexpected results in search results for significant words in your sector, I would like to remind you that sometimes, especially in non-English speaking countries, spam in search results after updates or low-quality pages, in general, may occur. But, during the daily updates made by Google, such situations usually straighten out by themselves.
Finally, it is quite normal to encounter comments, especially on social media or webmaster forums from the people negatively affected by the relevant update. All in all, people always tend to share negative experiences more than positive ones. For this reason, I highly recommend that you keep your mood after reading the horrific stories, especially if your site experienced a decrease. There are still a few days before the update slots into place, you can observe changes in the results instantly. And there is almost always a recovery between the two core updates on sites that are negatively affected by the update itself.
However, I strongly recommend that you take the following steps right after the update is completed, without hovering for your site to automatically recover itself.
First of all, the best SEO development is the one that can be performed quickly. So, if you have an SEO topic that you have been putting aside for a while, but that you can spare time recently, I suggest you focus on that matter first. For example, you may have a report regarding the website speed that you haven't implemented yet.
-As I mentioned in the middle of the report, I recommend that you start a scan immediately after the update and fix both technical and on-page deficiencies. If you experience monitoring or indexing problems on your website, or there are clear-cut situations that negatively affect the user experience, try to resolve them first.
-You can examine the organic traffic change pattern on your website and make specific optimizations for the pages that lost the most organic view traffic. Especially after the update, it will be useful to examine the pages that outdistance you in terms of both content and user experience. In certain situations, even a simple Title change can have positive results.
-Speaking of website speed, some people claim that sites that make improvements on our new site speed metrics, Core Web Vitals, were positively affected by the update. It may be worth concentrating on such issues, as they affect the user experience in particular.
-If you have lost organic traffic in especially e-commerce industry, you might want to increase the budgets of PPC and Social Media campaigns. As a matter of fact, when it comes to Digital Marketing, you better hedge one's bets.
If you have a website that falls into the E-A-T category such as health, insurance, finance, etc., you should focus on enhancements that will increase your website's reliability. Here's our handbook, which we published earlier on the subject.
-Be sure to review your content strategy. If you are writing SEO content, you might have taken a very SEO-focused approach in this matter. It may be useful to focus on more original content with high readability.
So, how was your site affected by the update, we look forward to hearing your news and questions!
Sources:
https://www.semrush.com/blog/google-december-2020-core-update-1/
https://pureseo.com/blog/google-december-2020-core-algorithm-update
https://www.pathinteractive.com/blog/seo/1000-winners-and-losers-of-the-december-2020-google-core-algorithm-update/
https://ignitevisibility.com/google-dec-2020-core-update/
https://www.sistrix.com/blog/core-update-december-2020-googles-christmas-present/
https://blog.searchmetrics.com/us/google-core-update-dec-2020-analysis/
https://searchengineland.com/googles-december-2020-core-update-was-big-even-bigger-than-may-2020-says-data-providers-344429