---
What is No-code? How Important is it for AI Products?
How to Connect Make, ChatGPT, and Google Sheets?
How to Connect Make, ChatGPT and Google Sheets?
---
With the increasingly influential role of AI products in our lives, their integration with third-party tools is critical in terms of usage. This is important for products with user habits. For example, a user with a pattern of using Google Sheets may want to integrate Claude, an AI product. He may not have any coding knowledge while doing this. However, we can integrate AI products with drag-and-drop actions using application-building platforms. So what is this process called?
No-code refers to visual programming tools for application and website development without the need to write code. Thanks to the platforms that offer this process, users can take action without code knowledge thanks to understandable situations and guide content.
The importance of no-code for AI products is quite high. Because coding knowledge is required to train and deploy AI models. Thanks to no-code, AI experts can easily perform these operations. At the same time, no-code platforms can be used to develop AI-based applications. Thus, AI can be productized without the need for software developers.
No code enables AI products to be adopted by a wider audience. Many of the no-code tools integrate ready-made AI models and NLP capabilities. This makes it easier for developers. In summary, we have the potential to revolutionize AI with no-code technology.
In Make.com, you can develop websites and mobile applications without any coding knowledge, just by drag and drop.
Make.com is a powerful no-code platform that offers easy and fast website design for non-coding users. It is possible to publish professional websites and applications in a short time.
The Make.com platform has many features that appeal to a wide audience. We can group the main features of this platform as follows:
Ability to create websites and applications without the need to write code thanks to the drag-and-drop interface

Provides ready-made templates, themes, and widgets

Possibility to create websites in different languages

Ability to publish a website and connect a domain name

Integrated e-commerce feature

Ability to make mobile-compatible websites and applications

View website statistics and analytics

Free and premium subscription options
Make.com is a useful tool for developing websites and apps, especially for small businesses, freelancers, designers, and others who have no coding knowledge. Professional-looking websites and applications can be made in a short time. Make.com allows you to create 1000 operations and visual workflows in the free version.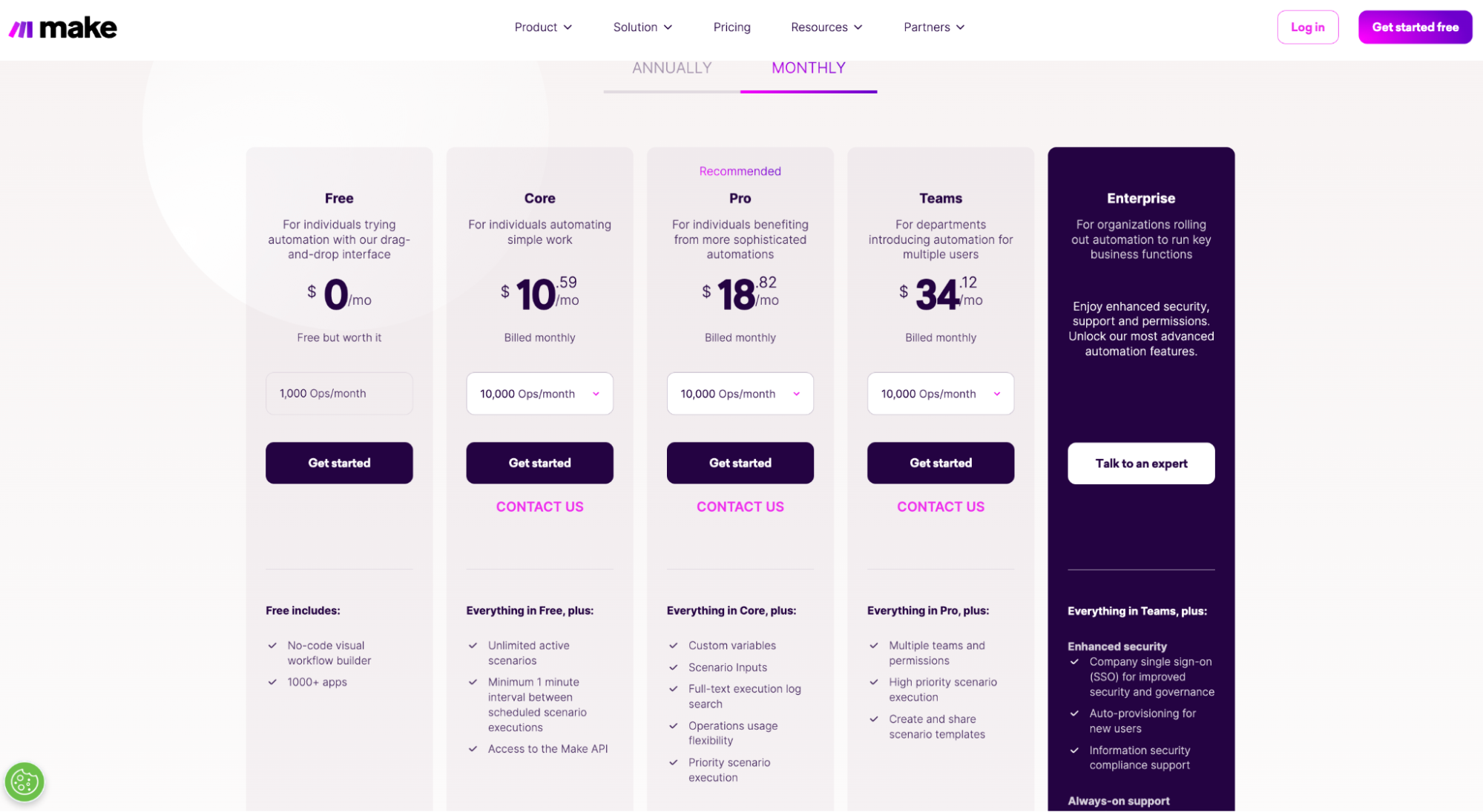 The main no-code features offered by the Make.com platform are database integration, a content management system, responsive design, ready-made templates/themes, forms, and automation.
We have examined the preliminary information before connecting Make.com, Google Sheets, and AI products. Now let's examine how to connect Make, ChatGPT, and Google Sheets.
First, we can create Google Sheets and name the prompt, run the process, and the columns we will output in a structure similar to the example below.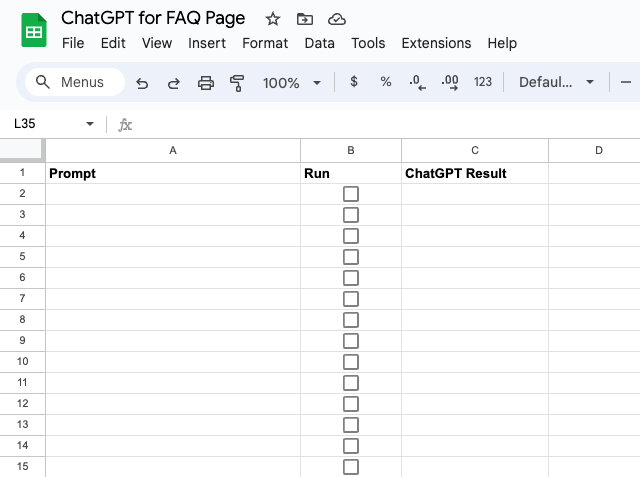 Then we need to sign up to the make.com platform and start the free trial. After logging in, we click on the "Create a new scenario" button at the top right of the screen.

As an application, we will connect an AI product with Google Sheets. In Google Sheets, we select Google Sheets from the "search applications" section by adding from the screen that opens. By creating a trigger with our related selection, we will observe the changes that will occur as a result of all actions taken in Google Sheets. For this, we must select "watch changes".
The Google Sheets selection will allow us to create a webhook. We copy the webhook address. Then we go to Google Sheets in the Drive we created earlier. Here, we need to install Make for Google Sheets with the "get add-ons" option in the "extensions" field. Then the relevant extension will be installed.

This will bring up "Make for Google Sheets" in the "extensions" field.

Click on the relevant field and on the screen that opens, we need to add the webhook address we got from make.com, the relevant sheet name, and the information on which column the trigger will be in.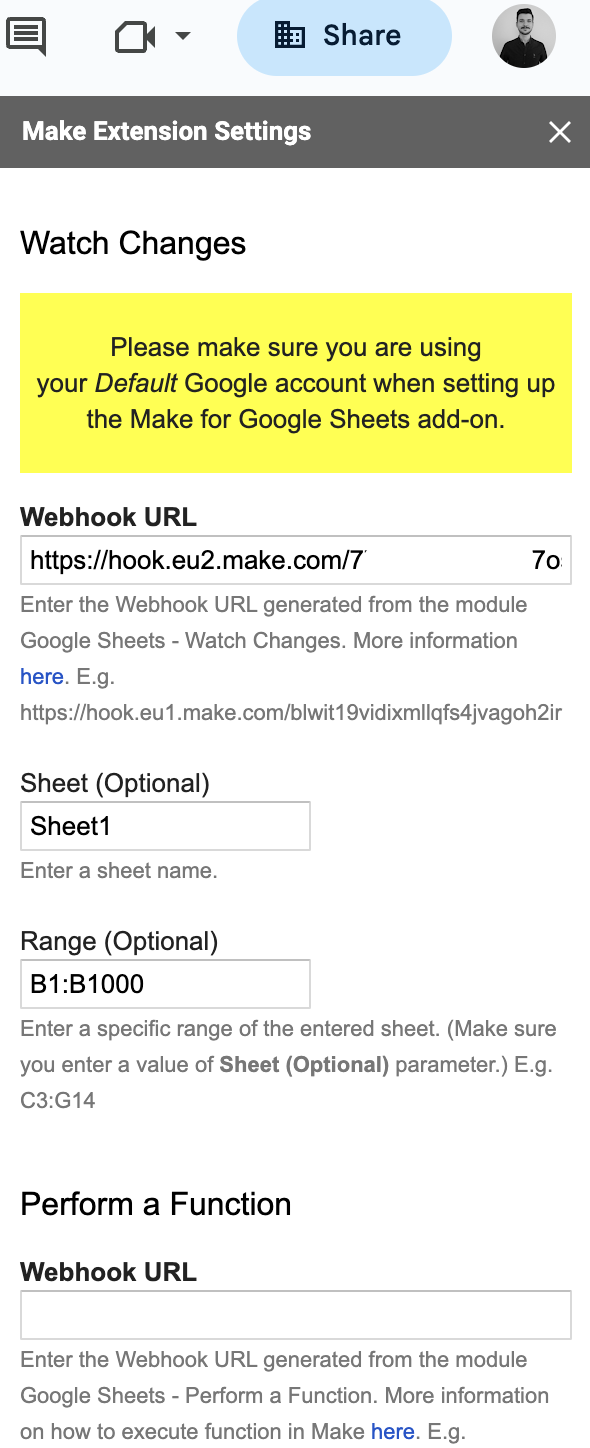 Then we go back to the relevant scenario we created in make.com and we will connect with ChatGPT. Here we click on the "add another module" button and select "OpenAI".

On the screen that opens, we select "create completion (GPT-3, GPT3.5, GPT4)" and specify which model we have selected by binding our OpenAI key. With this process, we must specify the message content to the system option in the "role" section in the same field.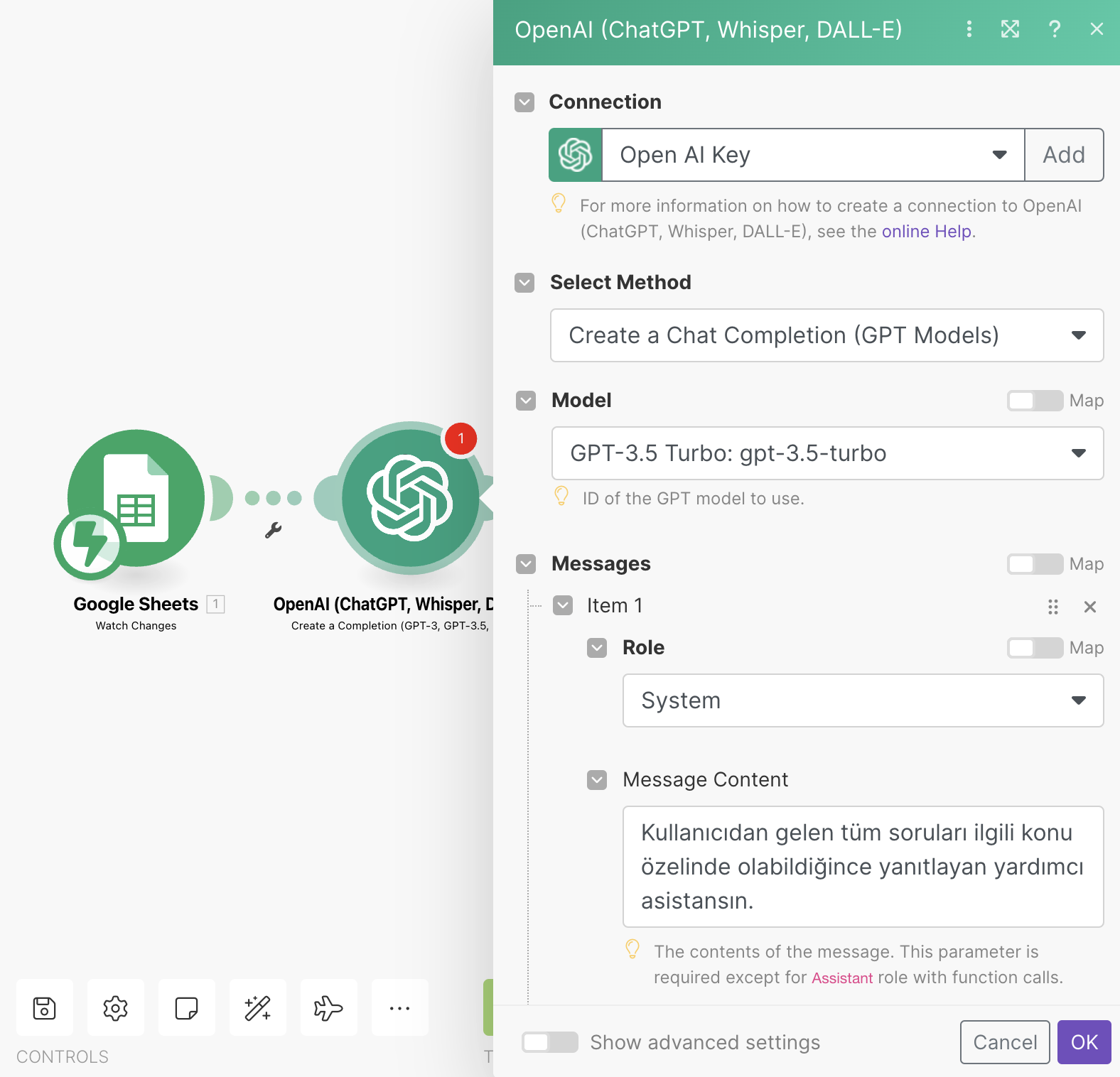 We need to add a new "item" and bind the data from the user role. Since Make.com also shows the data in the relevant sheet in this section, we can take action with drag-and-drop operations.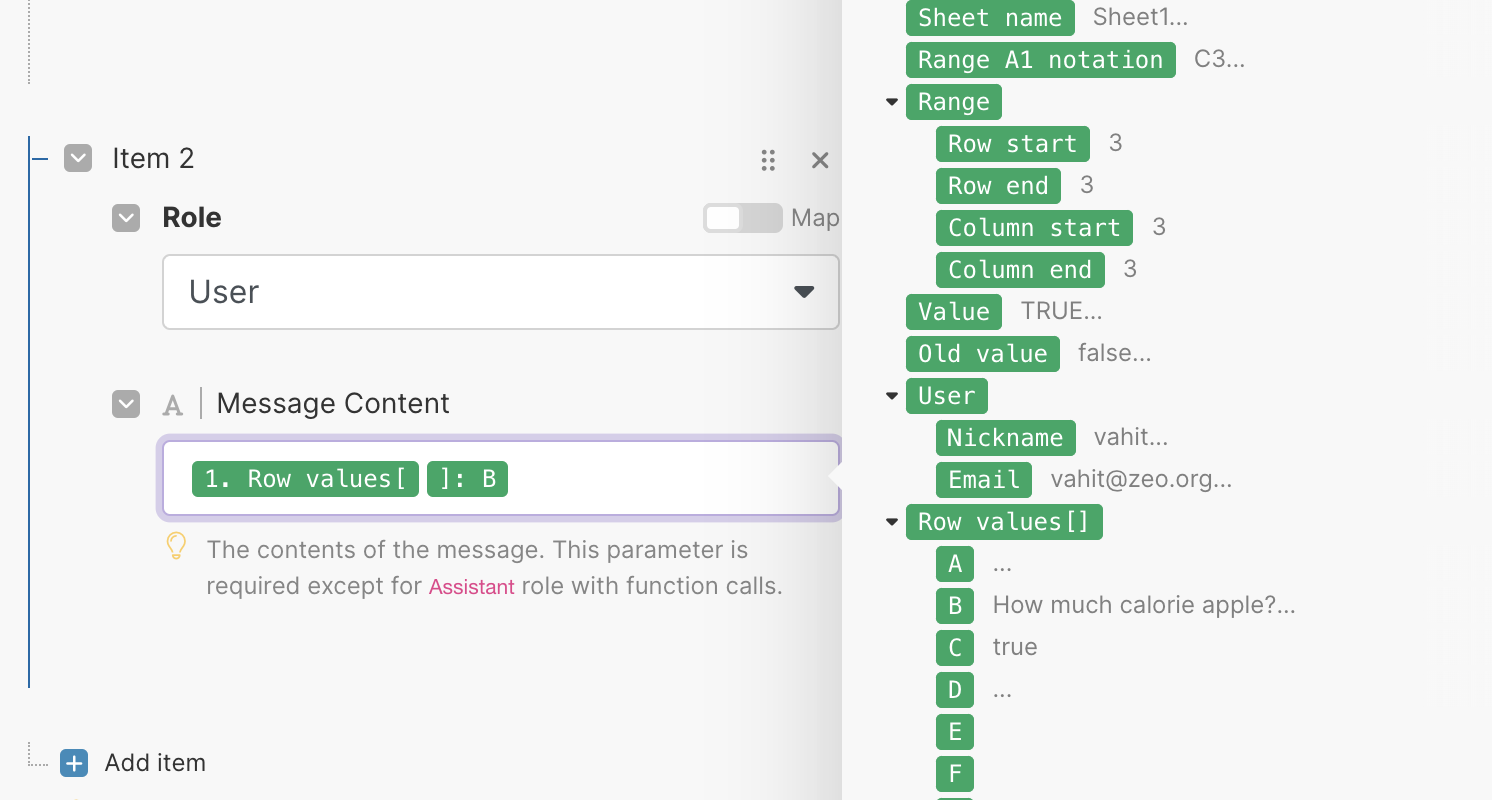 Then we click on the "add another module" button next to the ChatGPT item, select Google Sheets, and then select "update a row".

On the screen that opens, we will be able to update the rows in an integrated structure with Google Sheets. For this, we must select the path of the relevant sheet in the structure in the drive. In the "row number" section at the bottom, we should select the row where we will add the prompt in the relevant Google Sheets.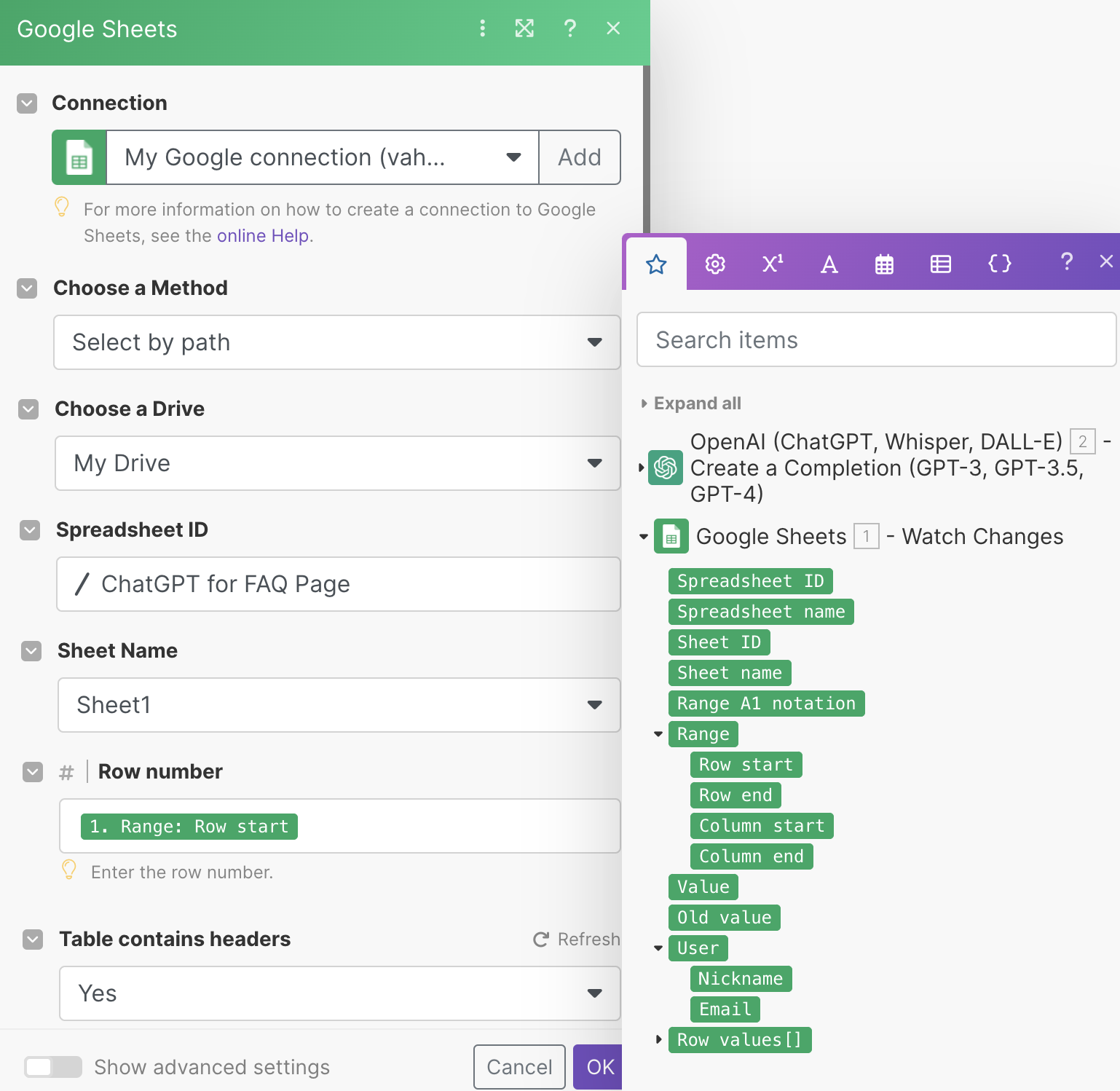 On the question that comes with the Prompt, we select the response from the GPT 3.5 turbo model in OpenAI from the "values" field. We can use the save button so that the operations we have done are not lost.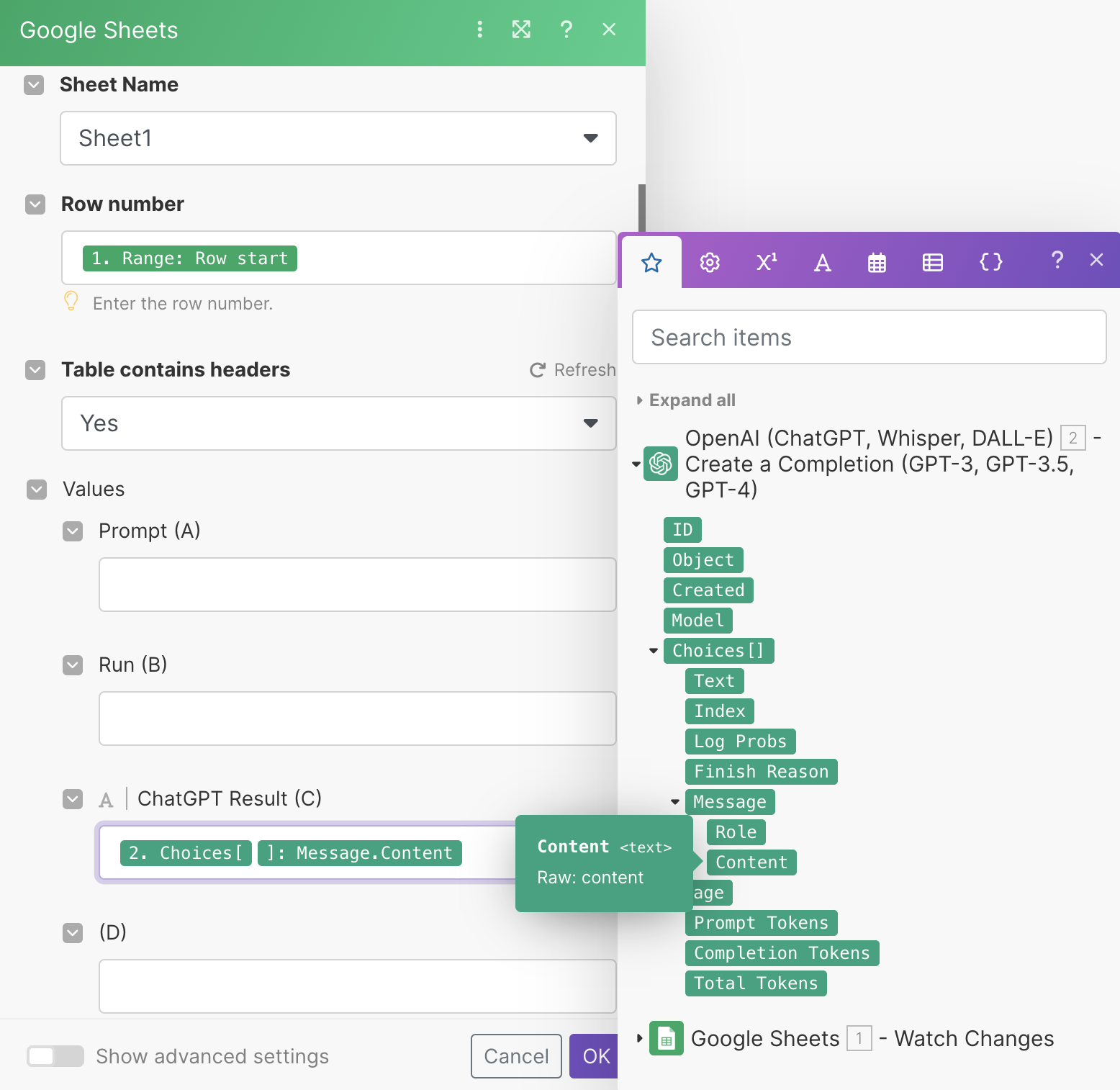 We have completed the connection between Make, ChatGPT, and Google Sheets. We go to the Sheets we created for the test and write our prompt. As an example as a prompt, we specified how we want answers by forwarding a few questions that we can use in the Frequently Asked Questions area.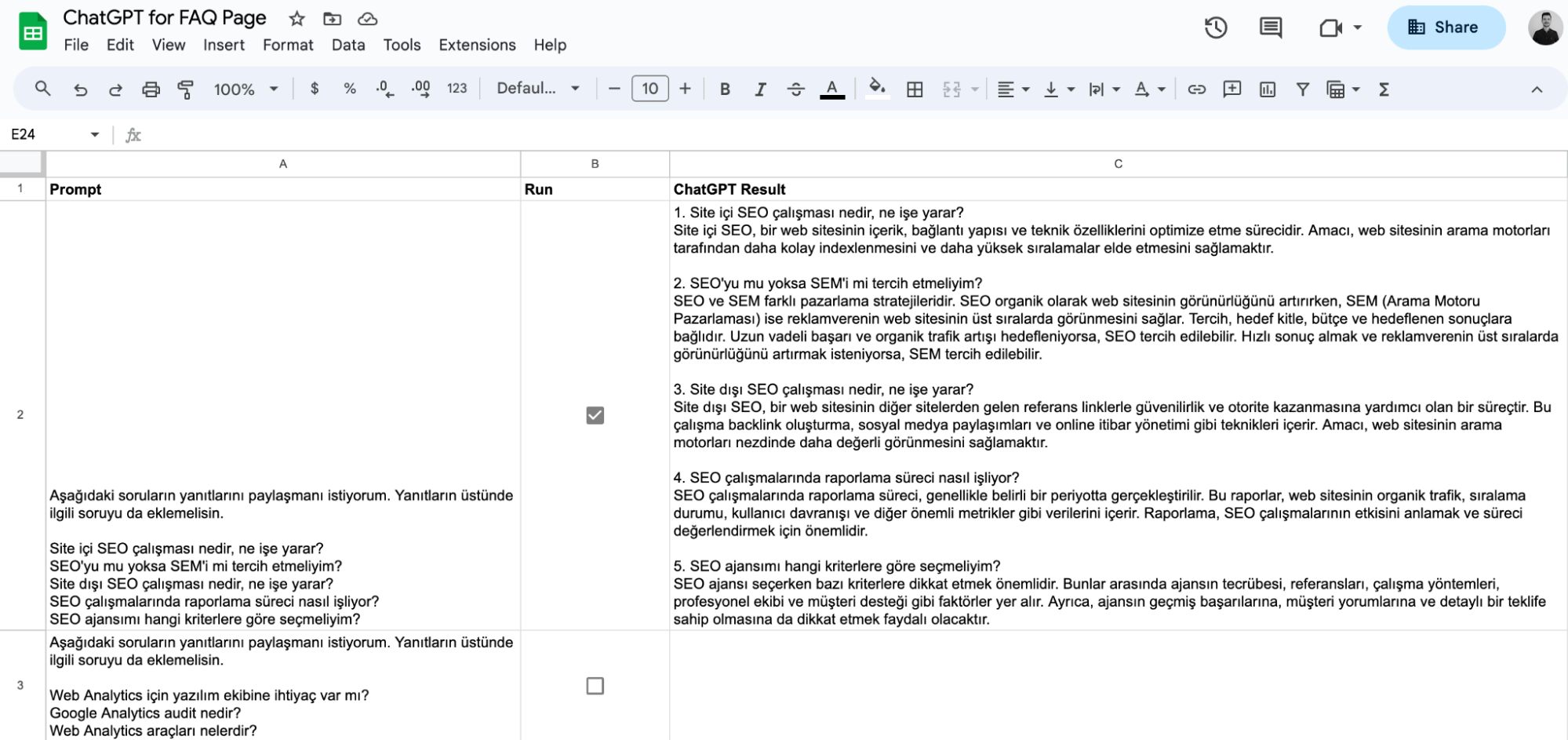 We checked the checkbox on the relevant line for the Prompt to work and the response from the GPT 3.5 turbo model was added to the relevant line. In this way, we have completed a basic installation together. We can use the related document by developing it according to our needs.
By integrating artificial intelligence products into platforms we frequently use, such as Google Sheets, we can benefit from no-code platforms without the need to change our adopted workflows. In this way, we can speed up our business processes by increasing our operational efficiency.
With the make.com platform, where there are many uses and we can develop in different areas, I wanted to create this article to give you, our valuable readers, a basic awareness that we can use AI products with no-code platforms. I hope it was useful, if you have any questions you want to add or have any questions in your mind, feel free to share them in the comments section.