Five Steps for Optimizing Thin Content
---
We hear over and over again the importance of creating quality content in many mediums where SEO is talked about such as blog posts, events, and podcasts. Yes, creating quality content is very important in terms of SEO, but what about the optimization of the thin contents we previously posted or of the thin contents we cannot avoid? Before we answer that question, let's take a look at what qualifies as thin content.
Thin content is defined by Google as "content with no added value".
With the Panda update released in 2011, Google has continued to make improvements in order for contents to meet the wishes of the users. This update aims to encourage the creation of quality content by penalizing the websites that index content that does not offer added value to users.
Google lists common examples of websites with little or no added value as follows:
Content that is automatically generated by a software may be perceived to be thin by search engine bots. A number of semantic shifts and spelling errors can be seen in content generated by such software. Creating such content is deemed as a policy violation by Google.
Affiliate Websites
If you own an affiliate website that does not feature reviews or comments and where you present the products of a brand of which you are a partial affiliate, keep in mind that Google classifies such websites as websites with thin content that offers no added value, too.
Duplicate Content
Google warns website owners that they should create completely original content, suggesting that duplicate or aggregate content, even if they are quality content, will not offer any added value.
Doorway Pages
Doorway pages such as member login pages are also identified by Google as pages with thin content.
When the history of the Core Updates made by Google to improve search results is examined, it can be seen that after each update, websites with thin content experience a loss of traffic due to the drop in search result rankings.
Aiming to improve user experience and to provide content in the search results that will benefit the users the most through Core Updates, Google penalizes websites with a high number of thin content, encouraging them to optimize their content and strengthening their tendency to offer users content with added value.
It is safe to say that one of the reasons for the drop in ranking in the search results after Core Updates is the thin content damaging the website authoritativeness. John Mueller from Google once stated that the authoritativeness of websites was determined by taking all indexed pages into consideration. Therefore, detecting and optimizing thin content is very important.
Let's talk about a couple of tools that help to detect pages with thin content according to the Google Webmaster Guidelines, as well as those with content that Google Guidelines do not deem thin but still can be classified that way.
cognitive SEO: Site Audit
At CognitiveSEO tool, 'Site Audit' can easily detect thin content with its 'Thin Content' section.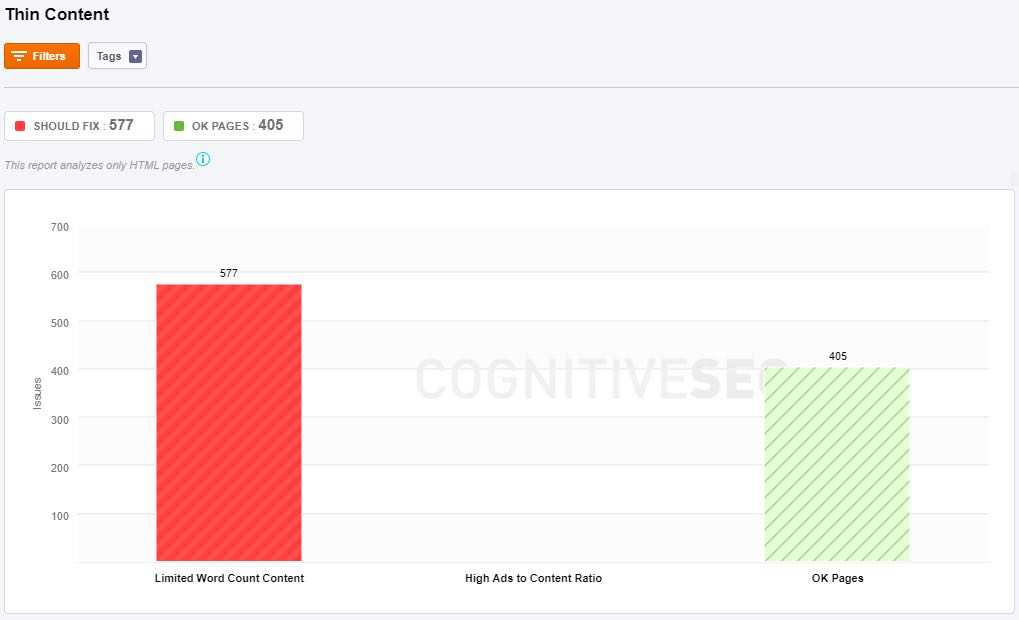 This paid tool crawls the content on your website and evaluates it according to the number of keywords it consists of.
Small SEO Tools - Plagiarism Checker
Plagiarism Checker developed by Small SEO Tool helps you detect if your content is copied or not.
You can crawl your content before or after posting to see which parts of your content are copied and from which websites.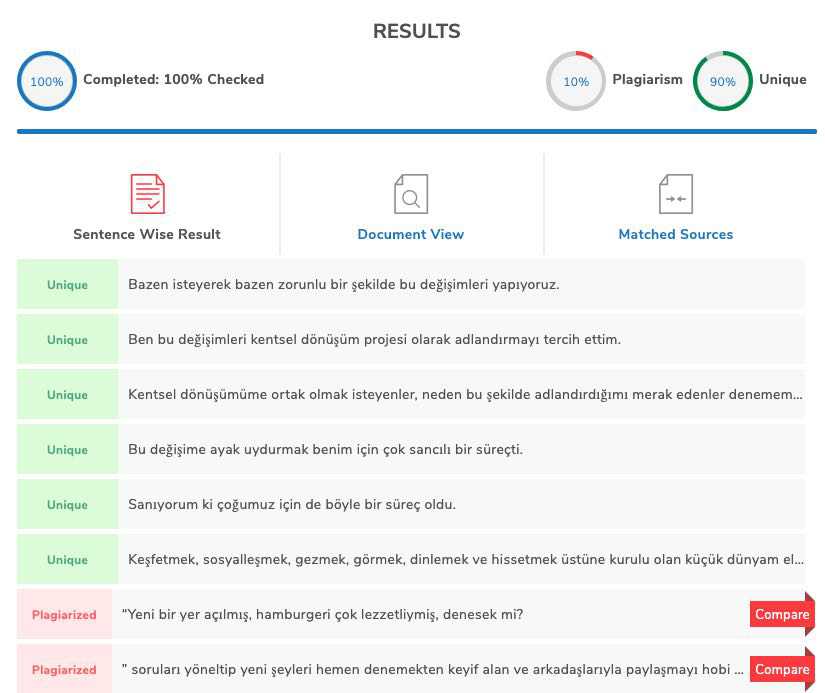 With this free Small SEO Tool, you can optimize your website of duplicate content, which Google deems to be thin.
Screaming Frog
You can crawl your website using this tool to detect the length of your content, and then optimize it if necessary.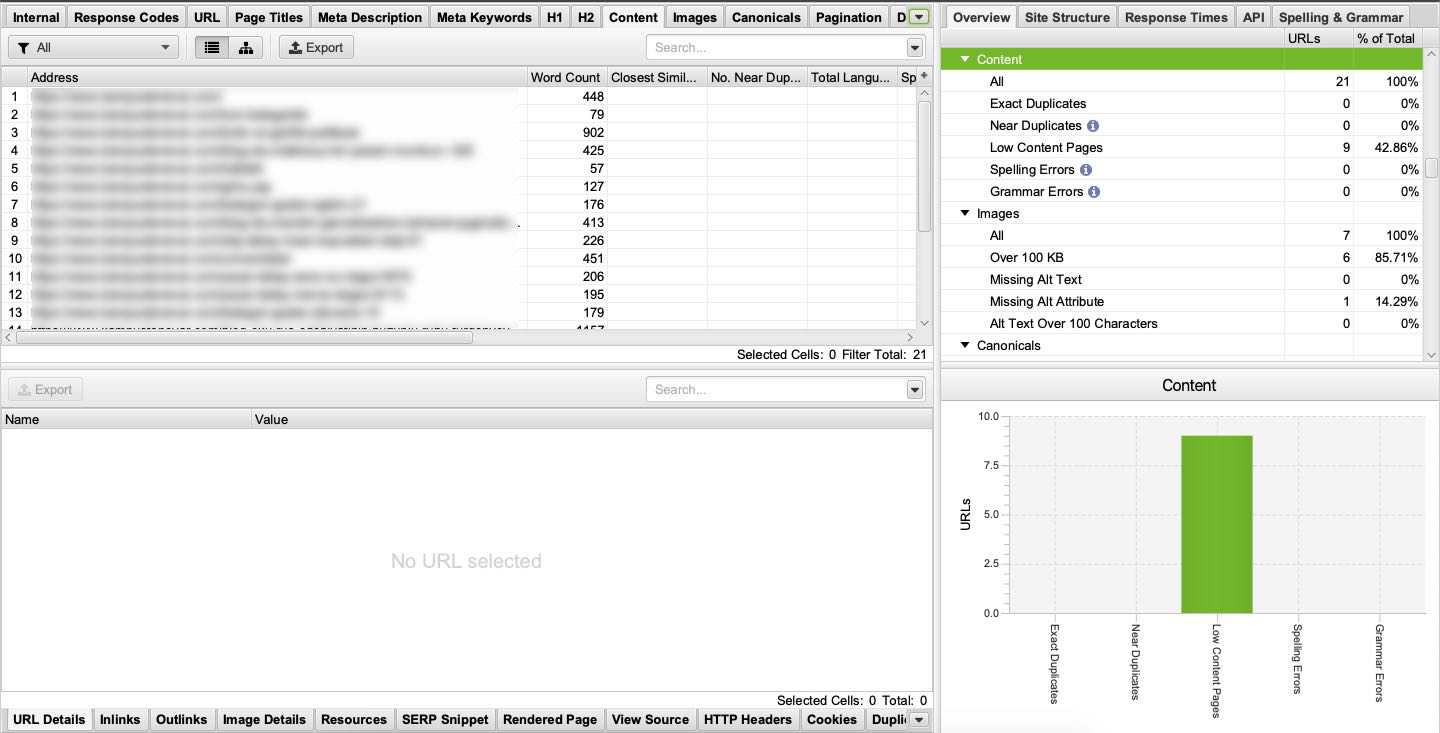 It is already known that thin content is content that does not offer any added value, but you should not confuse short content with thin content. You can integrate Google Search Console and Google Analytics API to Screaming Frog to detect your short content posted in a specified period of time that did not appear on the first search result page, not receive many clicks, and not bring organic traffic.
In the file you will export after integrating Google Search Console and Google Analytics API to Screaming Frog and crawling your website, you can examine many metrics such as the length of your content, the outbound links in your content, the number of sessions gotten in a given time period, the number of received clicks, and the rankings of your pages.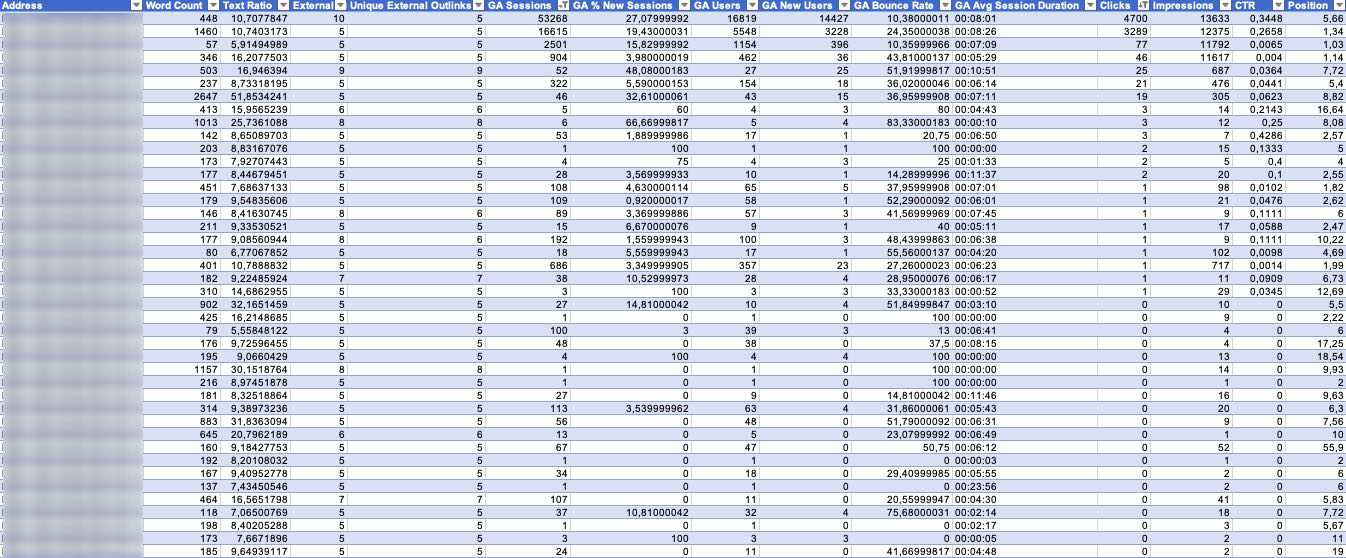 You can thus detect the short content posted in a given time period that ranks low and therefore got few clicks and sessions, and start optimizing them.
Screaming Frog is a paid tool; however, it offers free 500 URL crawls to users.
Google Analytics
On the Landing Page of Google Analytics, you can see your content that got few sessions in a certain time period, and evaluate your content in terms of the added value offered to users.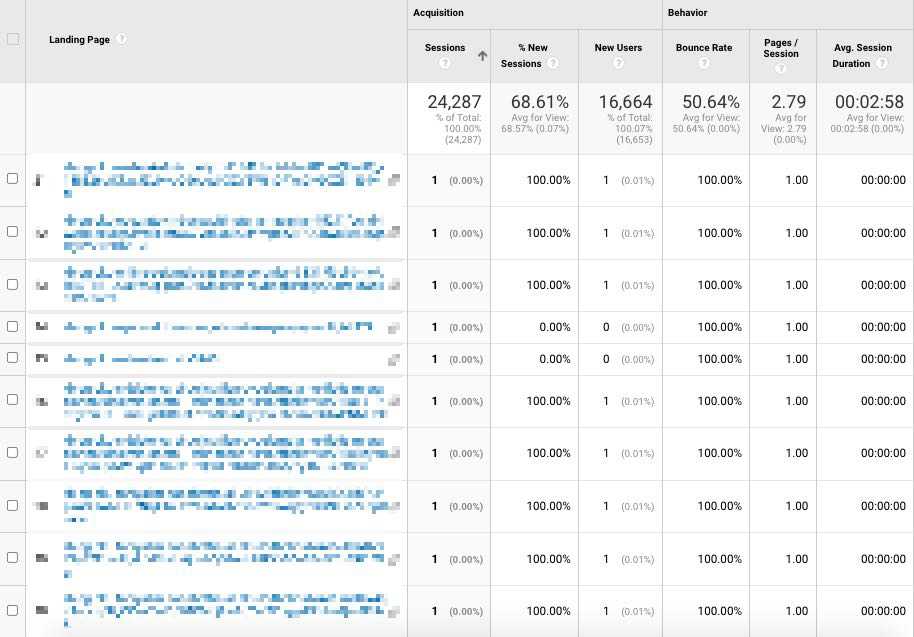 Here, you can also see the traffic your content received by channel and evaluate the number of sessions you got.
Search Operators
You can use search operators to check whether there are duplicates among your content and choose how you handle such content. Search operators will help you to avoid the problem of duplicate content and enable you to examine your duplicate content if you have any.
For example, we can easily see the content that contains the word 'content' posted on Medium by searching for 'site:https://medium.com/ intitle:content'.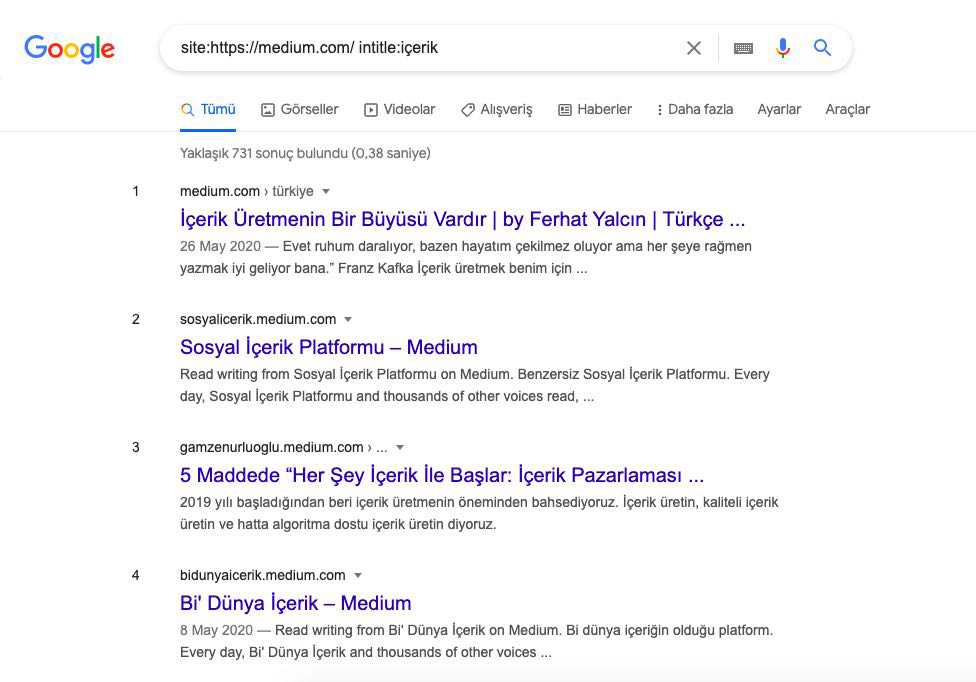 With search operators, you can find the content on your website that was created on a given topic and detect thin contents. You can also detect content that has the potential to cause keyword cannibalization.
data·yze - Thin Content Checker
A free tool developed by data·yze, Thin Content Checker crawls your website and helps you detect the length and authenticity of your content.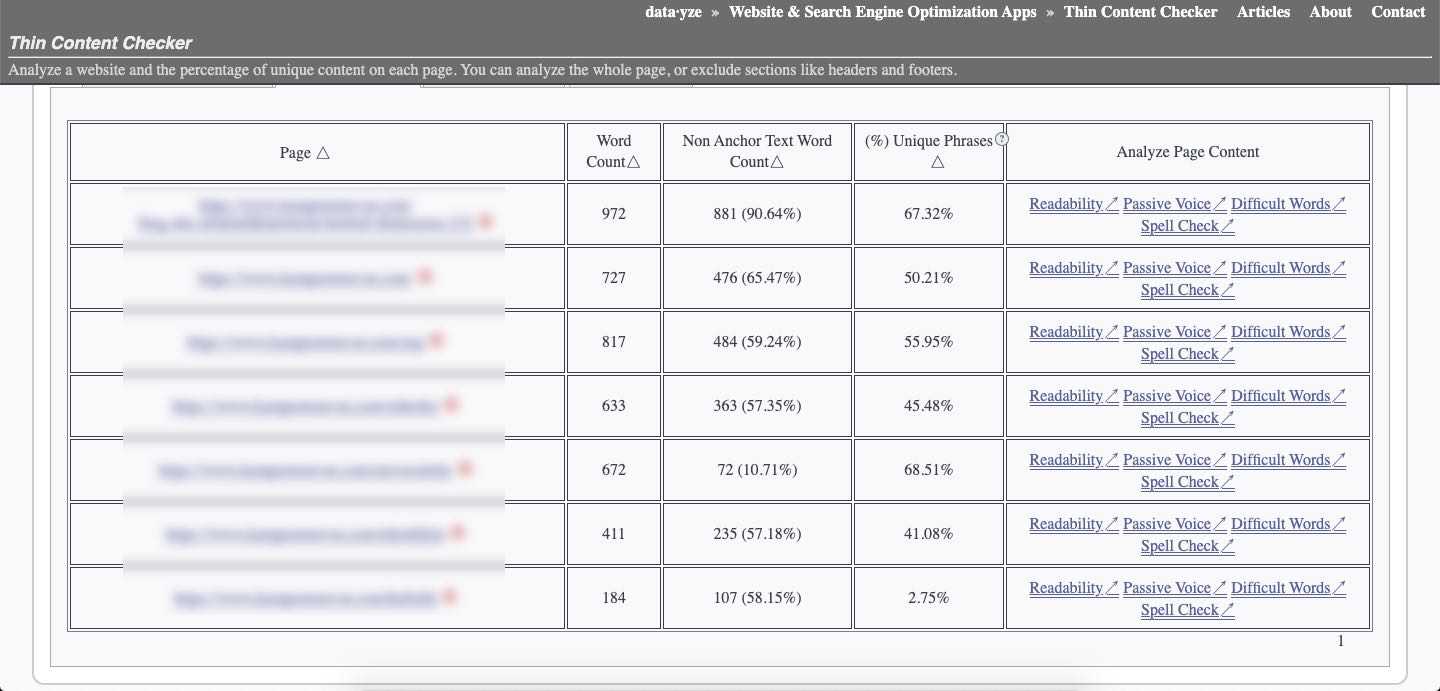 As I mentioned above, the length of your content is not necessarily related to them being thin. Content that is long but offers low added value is thin as well. Detection of short content is made with the idea that the level of information provided in it may be insufficient.
Let's take a look at how to optimize content with low added value you detected using one of the methods I mentioned above or manually.
1) Add Value to Your Content
Improving the value of the thin content you detect is one of the methods you are recommended to adopt SEO-wise.
For example, if you have content named 'Places to go in Istanbul' and this content offers less added value than the content of your competitors, it is thin content. In improving this content, it is very important to first examine what kind of added value the content of your competitors offers to users.
If you examine your competitors' content on 'Places to go in Istanbul,' you can see the additional value they offer users, as well as the number of different locations they provide information about.
For example, when we look at the 'Places to go in Istanbul' content of Etstur, we see that it has 5754-word and gives information about 51 different locations, which was supported with images.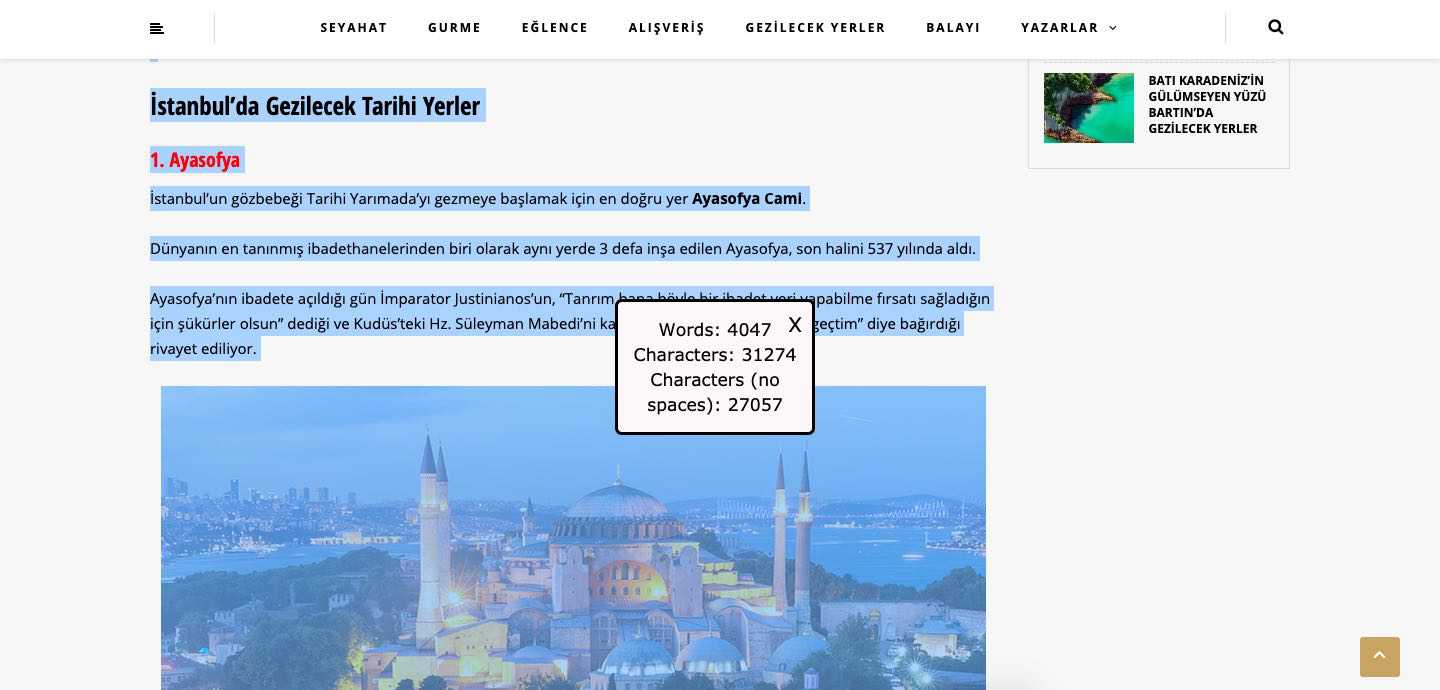 In addition, it can also be seen that in-page links are being used to direct users to other relevant content on the website.
If this content mentioned locations that yours did not, you can consider including these locations in your content.
Identify locations that you mentioned in your content but that didn't get enough attention as the competitor's, provide more information about those locations.
After reviewing your competitors' content, I would recommend that you do keyword research before moving on to improving your content. With keyword research, you can find out the search volumes of the keywords you will use while creating or improving your content, and you can try to offer users more added value on related topics in line with these volumes.
For example, while improving your existing content on 'Places to go in Istanbul', you may offer further information and added value to users about locations you choose based on the search volumes. Since Hagia Sophia has a higher search volume than Dikilitaş, for instance, you can provide relatively more detailed information about Hagia Sophia in your content.
Use of keywords, but not too often, is as important as choosing topics.
Using videos in your content is another way to add value to it.
For example, if a recipe page of yours offers low added value, you can enrich it by embedding a video that shows how the meal is cooked.
2) Redirect Your Thin Content
You may choose to redirect your thin content to other relevant content if there is any.
For example, if there is thin content on your website on Mount Ararat (Ağrı) and there is another value-added content named 'Highest Mountain in Turkey', you can permanently redirect your thin content to that other relevant content, which is basically written for the same goal.
Thus, you will be able to both avoid cannibalization, too and clear your website off of thin content.
3) Close Your Thin Content to Indexing
John Mueller of Google said in a Hangouts chat that if it was not possible to add value to thin content, he would recommend such content to be closed to indexing by using the 'noindex' tag.
Since thin content being open to indexing may affect in time the content with high added value and hurt the authoritativeness of the website, John Mueller recommends pages of thin content to be closed to indexing with the use of the 'noindex' tag.
4) Create a 404 Page for Thin Content
In the same Hangouts chat, Mueller said that if it was not possible to improve the thin content and they could be discarded, 404 pages should be created for such content for search engine bots to see. Thus, the thin content would neither negatively affect quality content nor hurt the authoritativeness of the website.
Here, instead of creating 404 pages for thin content, you can also choose to redirect users to the pages of relevant content by setting a 301 redirect. Thus, you can redirect users to relevant pages without losing backlinks coming to your page and the authoritativeness of the website.
5) Prevent the Crawling of Thin Content
If you are to post an excessive amount of thin content on your website that you do not have the chance to improve, you can prevent the crawling of this page by using robots.txt. If your content has already been posted and added to the index, it would be a good idea to first remove those pages from the index using 'noindex' and then prevent crawling by using robots.txt.
Thanks to this method, you will both be able to optimize your crawl budget by preventing the crawling of these pages and maintain the authoritativeness of your website from the negative effects of your thin content.
You can make the prevention of the crawl of thin content easier by gathering them under a subfolder or a subdomain.
To sum up, it is important to provide quality content and optimizing thin content in terms of SEO. Providing users with content from which they can receive the maximum benefit will always give you an edge.
In this article, I addressed the courses of action that can be taken to prevent thin content from damaging the hard-earned authoritativeness of a website. I hope it will be helpful to you.