What are Different Types of Content Marketing? Inspirational Examples of Content Marketing from All Around the World
---
https://www.adobe.com/express/create/infographicContent marketing, which has made quite a name for itself in recent years, is a strategic marketing approach that focuses on creating valuable, relevant, and consistent content to attract, retain, and ultimately win over a target audience, helping to build a strong "organic relationship" between the consumers and the brand.
Before going into the depths of the world of Content Marketing, I will briefly mention the purpose of content marketing and some key points;
Purpose:
The purpose of content marketing can be summarized as keeping the brand up-to-date, establishing a relationship and loyalty between the brand and dynamic leads, increasing brand reputation by using email marketing, creating a brand story, fostering brand loyalty, and increasing conversion rates.
Key Points:
Identifying a target audience ⇒ Divide the target audience into segments and create different content marketing strategies for each segment
Ensuring that each content is catchy, striking, and understandable ⇒ Use a sincere language that is fun to read
Deciding on sentence structure ⇒ Create sentence structures that are informative, slogan-like, exciting, and engaging
Creating short video content and stories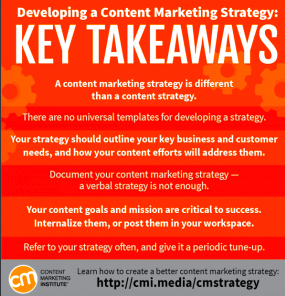 Written content (Text content) ⇒ The most frequently used content strategy in digital marketing
Audio content (Podcast etc.) ⇒ A strong content marketing strategy preferred to increase brand awareness and establish a relationship between the brand and consumers on an alternative platform
Broadly, we can detail these two content types as follows:
➢ Blog content
➢ Visual content
➢ Video content
➢ E-book
➢ Case studies
➢ Infographics
➢ Podcasts
➢ Social media posts
➢ Webinars
➢ Tests and quizzes
➢ Surveys
➢ Email newsletters
➢ Email notifications
➢ Presentations

Social Media Posts:
McDonald's Question Time - McDonald's aims to strengthen its relationship with the customers by offering them the chance to ask questions about its food, and they have answered around 10,000 questions so far.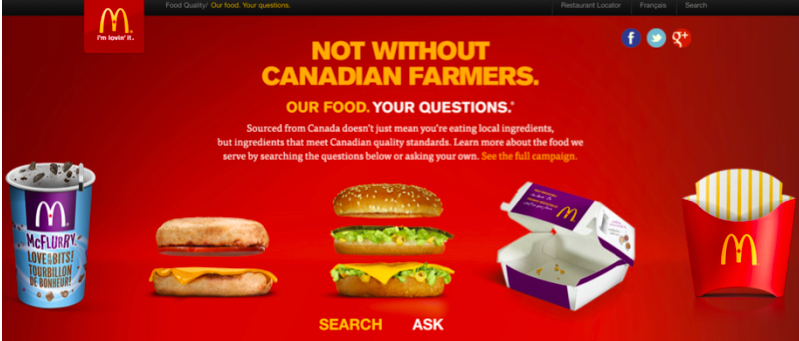 GoPro And Visual Content - GoPro places great importance on quality visual content and infographics. GoPro has millions of followers on YouTube and Instagram thanks to the quality, fun, interesting, and somewhat unusual visual content they post on these platforms. It is noteworthy that when used correctly, infographics have the potential to double the website traffic.

E-book Examples:
Prophix – Adapt & Innovate
The e-book published by the finance company Prophix to explain how artificial intelligence affects the financial industry features audio clips from financial experts and an interactive menu powered by a virtual assistant that helps to navigate between different sections.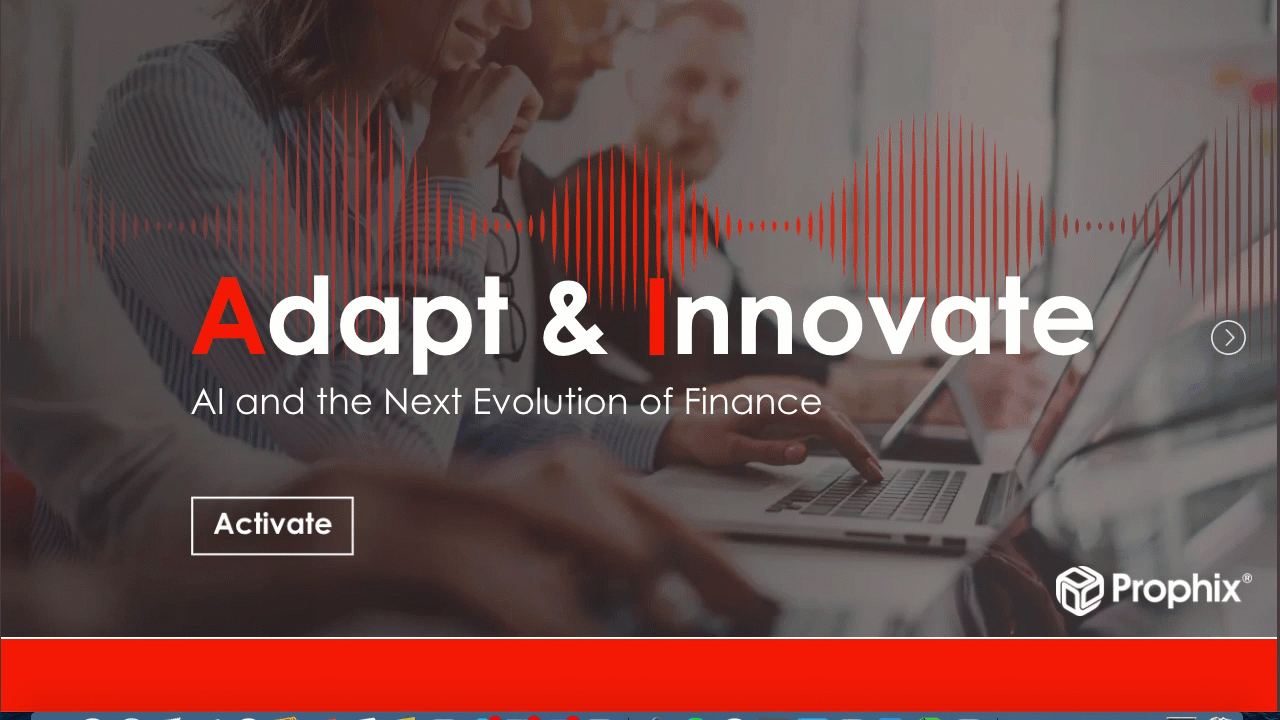 Top Rank Marketing – Break Free of Boring B2B
Top Rank Marketing published an interactive e-book in which comic book-style animated graphics were used to attract the readers' attention with clickable elements.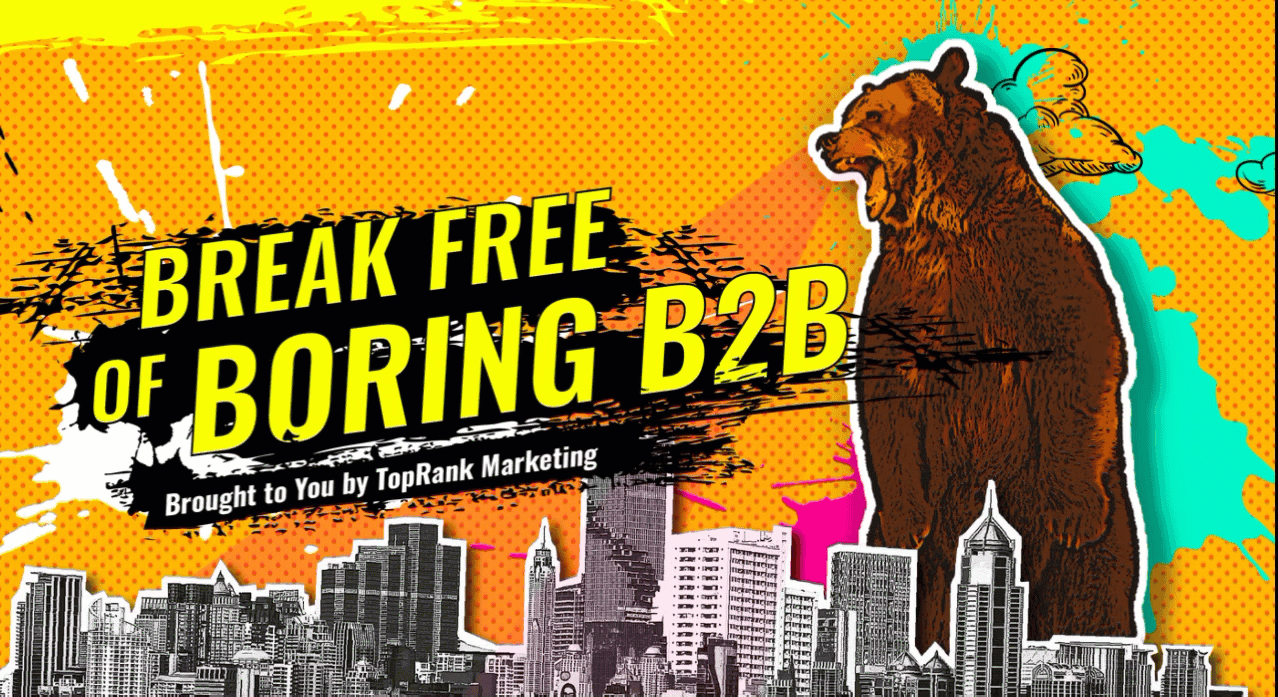 Pace – Your Corporate Custom Publishing Solution
Marketing agency Pace published an e-book with clickable elements, embedded videos, and relevant compelling images to showcase examples of digital storytelling.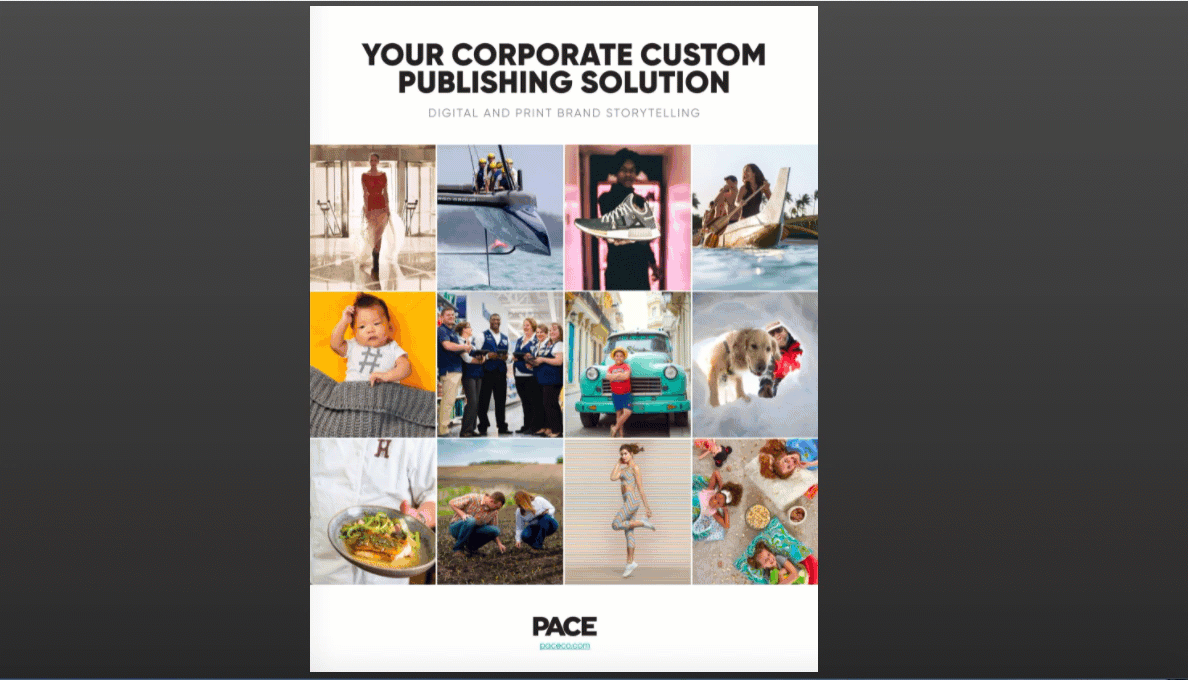 DivvyHQ – Back to the Future: Insights & Tips for Content Strategy, Planning, and Measurement
The e-book published by DivvyHQ features video interviews with content experts as well as tips on DivvyHQ's content analysis module.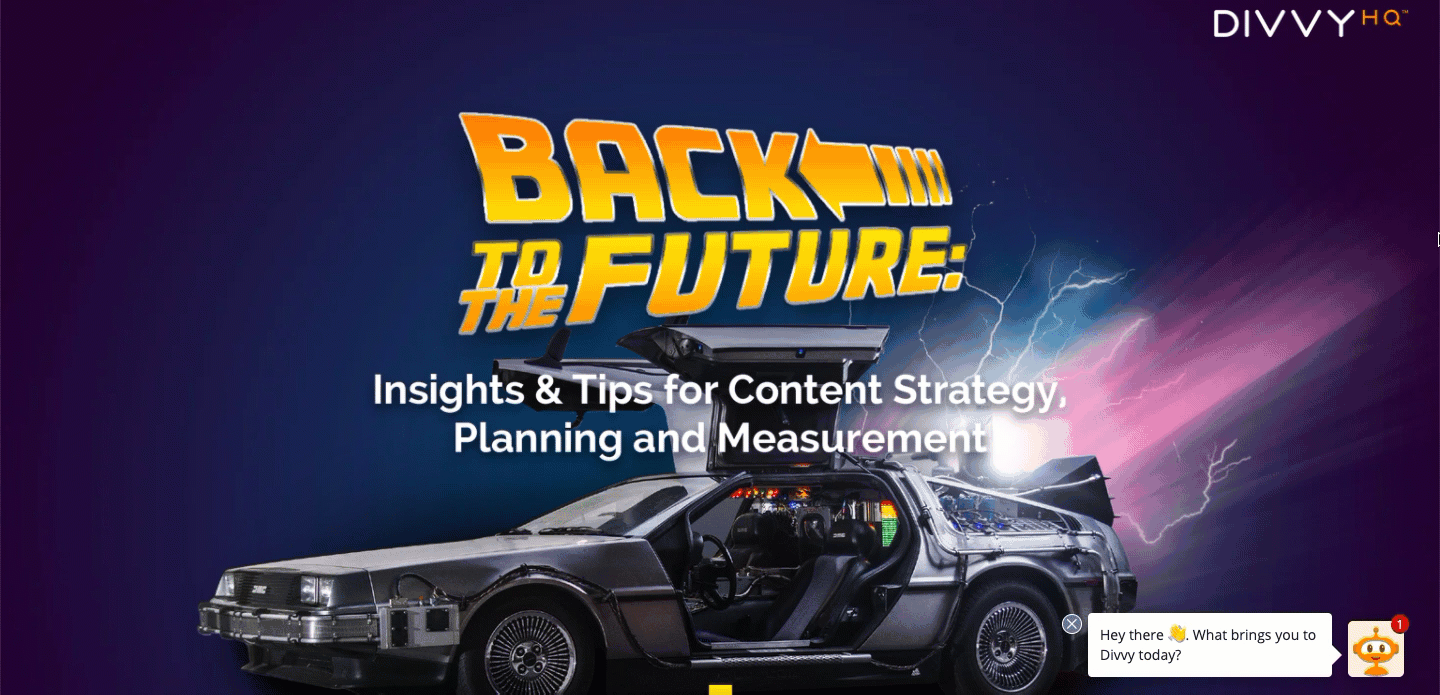 Case Study Examples:
Case study: Colgate Palmolive Gamification
On Christmas 2019, Colgate-Palmolive carried out a case study in order to raise product awareness and increase the number of online sales for various Palmolive gift sets.
This special promotion, combining gamification and Facebook Augmented Reality (AR) to attract new users, was embedded on a landing page with a game setup in which users popped bubbles in the bathroom with their noses.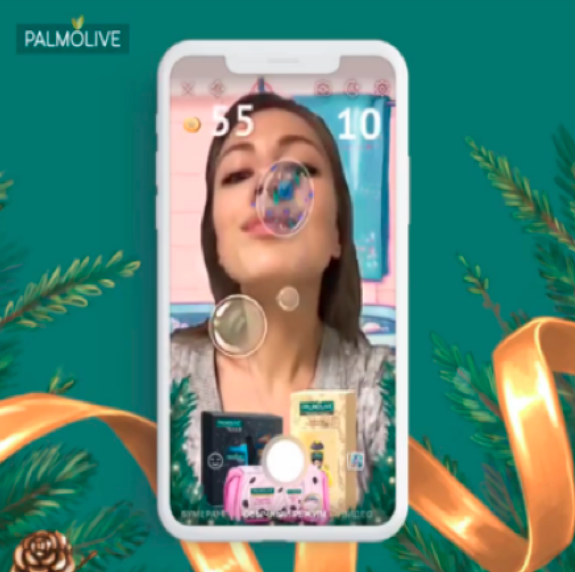 The results were as follows:
➔ A total of 12% increase in YoY sales,
➔ More than 1 million players in two weeks on one platform (Facebook),
➔ More than 10,000 players were directed to the e-commerce site from the special promotion landing page to shop online.

Case study: Shutterstock Creative Trends
Shutterstock, which provides high-quality photos, vectors, illustrations, and videos to marketing agencies and media outlets, prepared a Creative Trends report last year. This report, which was drawn up based on data from the images, videos, and music searched and downloaded by Shutterstock customers, serves as a handbook of the latest trends.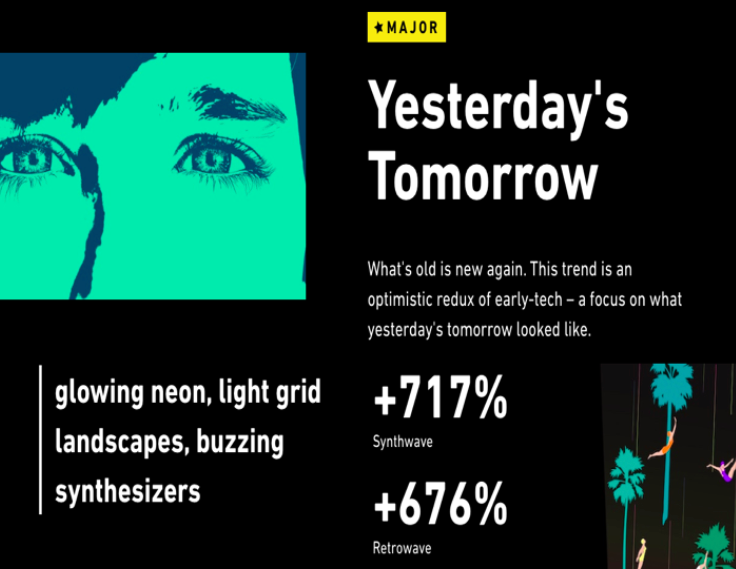 Containing creative trends in images, videos, and music, this report offers great guidance to Shutterstock's two primary target audiences —businesses that purchase the images' right of use and visual artists who put their work up for sale.
On the launch day, an infographic was released in 20 languages, which was featured in over 170 articles in the following two weeks, including Adweek, Campaign, Vogue Australia, Design Jungle, Follow the Colors, and W&V.
The results were as follows:
➔ More than 160,000 page views and 146,000 sessions in the first two weeks following the release of the infographic.
➔ 22% email open rate, which was directly converted into revenue.

Podcast Examples:
A podcast is a series of audio content that is broadcast regularly, generally in the form of episodes. These episodes feature interviews or conversations and they may differ in length and format. Podcasting can add a new dimension to your brand, as well as your content marketing strategy.
Here are the five great benefits of podcasting:
1. Currently in-demand
Podcasts have become extremely popular in recent years and their popularity will continue to increase as people become more connected to the digital world.
2. Ease of access
Creating podcasts can be considered relatively easier than other types of content. In order to create a podcast episode, all you need is a few pieces of readily available equipment; you don't need any special audio engineering training to create an episode that is a joy to listen to!
3. Potential to create multiple content
Podcasts are a great way to simultaneously produce multiple types of content. For example, when you have a video interview with an industry leader, you can make use of this content in three different ways and post it as a video, a podcast, or a blog post.
4. Partnership potential
This interactive audio experience is a very good way of creating partnerships. For example, other industry experts can be guests of your podcast, and this interaction may help you create better content. This will help you in creating new content as well.
5. New audience segments
With creative podcast content you can reach new segments and expand your target audience.
Contribution of Podcasts to SEO
You can share your new podcast episodes in the form of standalone landing pages on your site, like a blog.
You can increase the search engine visibility of your website by adding a title, meta tags, and transcripts related to your podcasting content.
In this way, you will be able to make each new podcast episode a piece of content that can be discovered on search engines.
As the popularity of your podcast increases over time, you will be more likely to get backlinks, which means you can increase your website's authority and improve its ranking.
Also, respond to as many comments as possible on your podcast episodes, regularly thank your listeners, and engage with your listeners on social media; you might even consider starting a Facebook Group or a similar network for your fans!
How to Evaluate Podcasts
You can measure and analyze your ratings to see whether your podcasting strategy is effective or not, and you can gain insights on the following: How many new listeners and subscribers do you get? How many times is each episode downloaded? Does your podcast bring new traffic to your website? How many website visitors download an episode of the podcast? Again, similarly, are people more responsive to a particular type of episode? What trends do you see emerging over time?
You can use Google Analytics to keep track of these metrics.
Podcasting is a powerful tool in content marketing and, if utilized correctly, can be a way of generating revenue. In order to be successful and one step ahead of your competitors, you need to give great importance to quality and have an aptitude for continuous improvement with the help of measurement and analysis.
Podcast - Online Marketing Made Easy
Online Marketing Made Easy is a platform where marketing expert Amy Porterfield hosts marketing podcasts for entrepreneurs.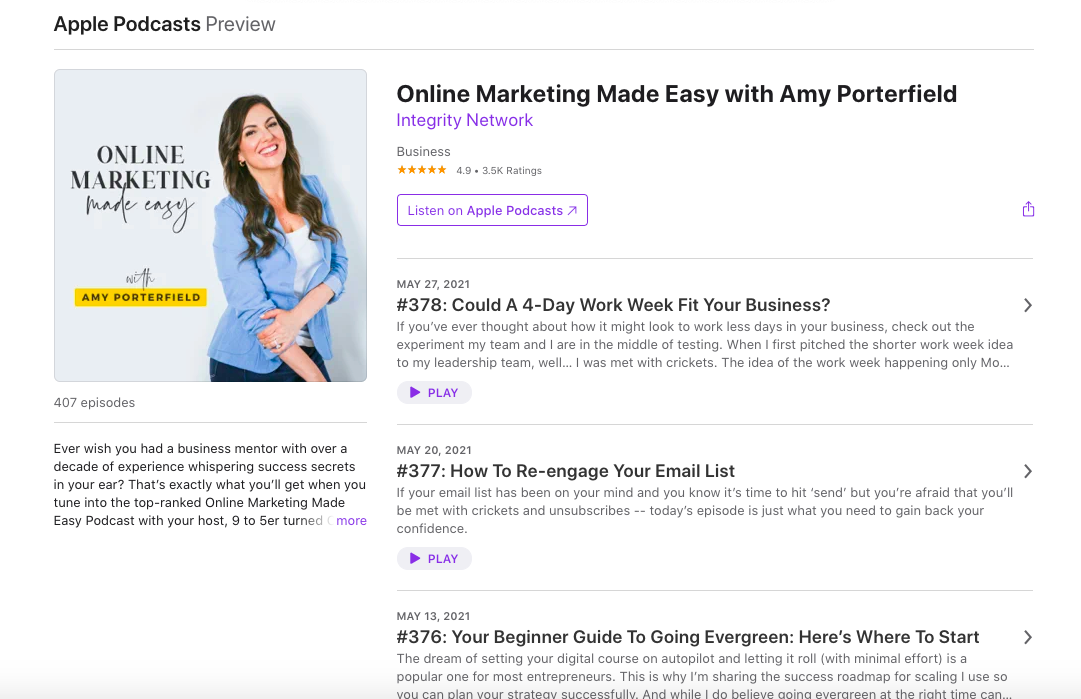 On Online Marketing Made Easy platform, there are more than 400 podcasts hosted by Porterfield, in which she both interviewed people from various industries and shared personal experiences.

You can click here to listen to these podcasts.
Podcast - Marketing School
Neil Patel's podcasts are undoubtedly among the most prominent of marketing podcasts. Blog posts, videos, and podcasts are some of the best examples of content marketing in the context of digital marketing.
Patel's co-host Eric Siu is the CEO of Single Grain, a digital marketing agency that has partnered with some of the world's most successful businesses.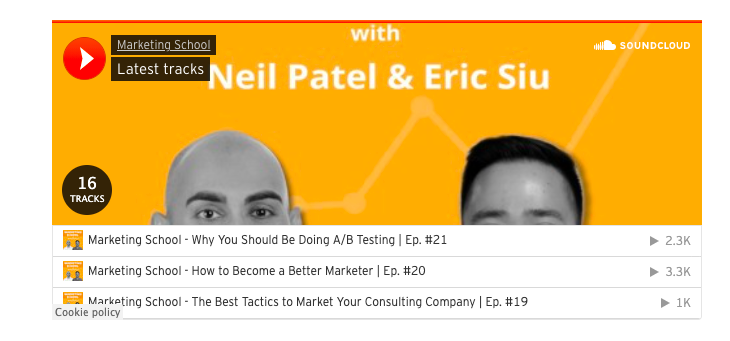 Marketing School is a podcast platform where new episodes are released every day. Full of tips, tactics, strategies, and information on a given topic, each episode is only 5 minutes long.
You may be interested in some of the topics such as "Is Pinterest a Good Platform on Which to Advertise?", "How to Uncover Your Competitor's Facebook Strategy" and "How Long Does It Take to Rank in Google?".
Test and Quiz Examples:
Quizzes and tests not only engage users, but also inform them about your industry, what your company offers, and how your team differentiates you from your competitors.
You can use quizzes to collect email addresses. One way to do this is to send the result of the quiz/test via email. In this way, users will be more likely to give you their real email addresses so that they can see the results of the quiz/test.
Quizzes allow you to gain valuable insights into your target audience. For example, if your brand sells clothing and accessories, you can create a quiz and feature it on your homepage to help users "find their ideal style". Doing so, when new users visit your website and take the quiz, you can make recommendations based on their answers. You can also collect email addresses and send out emails targeting users' preferences.
Another example, if your website is education-oriented, you can measure users' knowledge with a quiz, and then, provide feedback on the areas which need improvement. This will increase the number of page views because, after the feedback you provide, users will be using your pages as a resource to refresh their knowledge.
Tests, which are an effective tool to utilize in segmenting your audience and developing a lead creation strategy, will enable you to get in contact with your users in an entertaining and engaging way, enrich your content marketing strategy, and build a loyal customer base for your brand.
Quiz - Warby Parker
Warby Parker uses a quiz with questions about the size, color, and shape preferences of users to narrow down the available eyeglass frame options.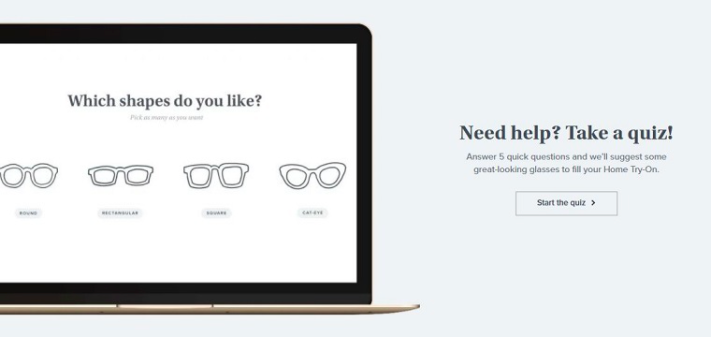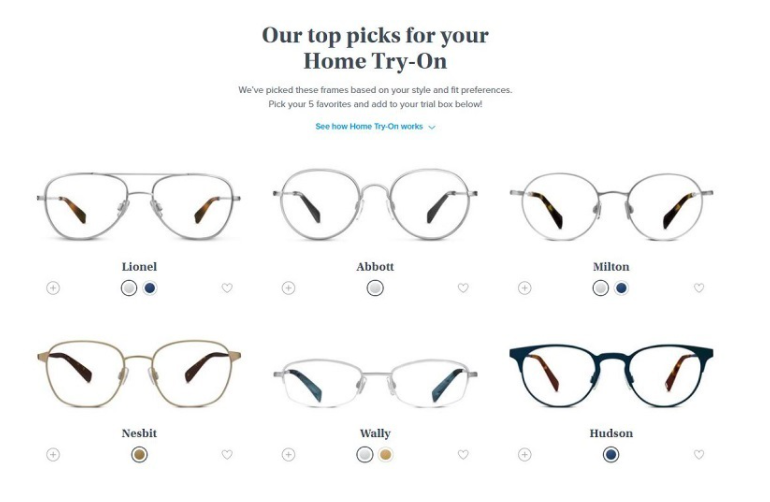 In this way, the brand not only helps indecisive customers but also cleverly collects data from them.
Quiz - Zenni Optical
Zenni Optical, which is another eyewear brand, uses the "You've Been Framed" test to increase brand awareness and attract more traffic to its website.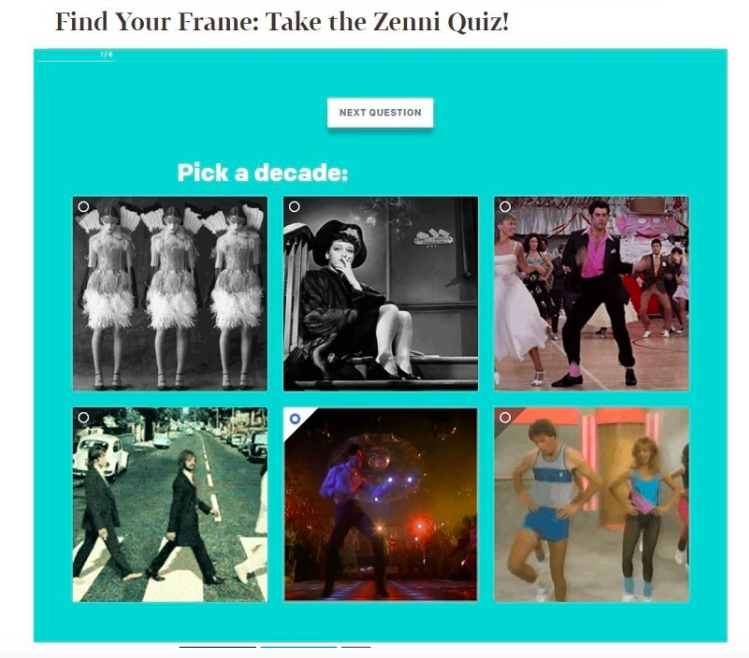 It seems like the brand has encouraged users to share this test, in which questions are asked in a fun and humorous manner to match users with glasses that fit their lifestyle.
Contribution of Tests to SEO
In content marketing, extra effort is needed to attract users to a website, have them read the content there, and then ensure that they stay on the page. This affects your bounce rate and time on page statistics.
One of the benefits of using tests/quizzes is that they increase user engagement significantly. Users who spend more time on the page are more likely to click on other content, especially when they see suggestions based on their answers to questions in the test or to their test results.
Tests are a great way to turn your leads into returning customers. With the right setup, you can collect data that you can use in creating personalized email campaigns, and in these email campaigns, you can use different marketing materials depending on the target audience segment.
With a visually appealing, fast-loading test, you can achieve a lower bounce rate and longer on-page time. If the test redirects the user to a results page, you will also be able to achieve increased page depth.
Creating a Test
Tests should be fun, engaging, and informative. Remember, the goal should not be to make the users feel like they are taking a test but to make them feel like they are playing a game to kill time.
You can make the tests personality-related, as well as about your products or brand, and make a strong impression on users.
Start the process of using a test in your content by determining a goal. Do you want to enlarge your email list? Do you need more leads? Or maybe you just want the content to bring new traffic.
Next, decide on the type of test you will create. Personality tests, matching tests, and knowledge tests are some of the most popular options.
You must come up with an impressive title for your test. 59% of users will judge the content only by its title without reading it. Here, let's emphasize the importance of the title and H1 tag you will choose for your test.
Write down all your ideas on a Google Docs document, and then, use a tool like Survey Anyplace that will enable you to customize the test questions depending on your needs and show the test results in a visual dashboard.
Survey Examples:
If you want to measure how successful you are in terms of Content Marketing, you need useful and actionable feedback. Surveys are the best way to learn about what people think of your content and to get a comprehensive picture of your content's effectiveness in terms of raising brand awareness and marketing.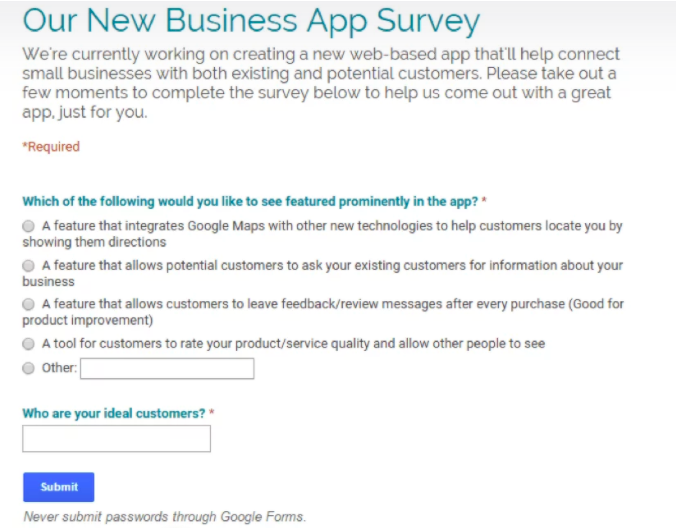 Surveys can measure the following in terms of content marketing:
● The demographic characteristics and preferences of your users or target audience (audience analysis)
● Perceptions/impressions of your content and your brand
● Impact of your content on users' decision-making
In content marketing, it is important to make sure that your content supports three "Rs": Reach, Reputation, and Results.
Reach: Does your content attract the right leads?
Reputation: Does your content position your brand the way you want? Is your brand perceived to be distinctive from your competitors? Is your content perceived as a reliable source for useful information rather than just some brand propaganda?
Results: Does your content influence how people make their decisions?
Here are three tips for making the most out of surveys:
1. Don't ask people what they will do: It is better to ask users if they have purchased a product rather than asking them if they would like to buy it. So, ask people what they did and what they have decided on. You can ask the question "Do you recommend…" instead of "Would you recommend…".
2. Don't ask too many open-ended questions: In order to make sure that your survey provides you with quantitative data, stick to multiple-choice or matching questions, for the answer of which you can set some parameters. For example, ask questions like "Which of these statements best fits your impression of our digital magazine?" and provide users with answer options.
Invite people to take the survey at the right time: Direct users to surveys after giving users enough opportunity to consume the content. If you direct users to the survey at the right time, your survey will be more likely to be taken and answered carefully. It can be useful to invite users who open email newsletters and campaigns to take surveys.
Email Newsletter Examples:
A regular email newsletter is one of the best ways to keep your audience notified about your content, which is, according to the Content Marketing Institute, the reason why 83% of B2B marketers use email newsletters for content marketing. Here, it's important to offer valuable content that appeals to the wants and needs of your audience.
Here's what you need to know:
Personalization increases email open rates.
You can increase your e-mail open rate by 50% by adding the names of the subscribers in the subject of the email. A higher email open rate means more views for your newsletter, which will lead to more engagement with your content, resulting in more traffic to your website.
Choosing the correct frequency of sending out newsletters can prevent users from unsubscribing.
Research shows that 67% of unsubscribes are made by recipients who receive too many emails. In order to have a successful content strategy, you need to be careful about how often you send emails.
You can start with sending out emails for longer intervals; for example, with a monthly newsletter. Make sure to monitor not only email open rates but also click-through rates to see how your audience engages with your content. In the meantime, you can start increasing the frequency of your newsletters. For example, you can transition from a monthly newsletter to a weekly newsletter.
For example, Rolling Stone uses a weekly newsletter to inform users of upcoming events.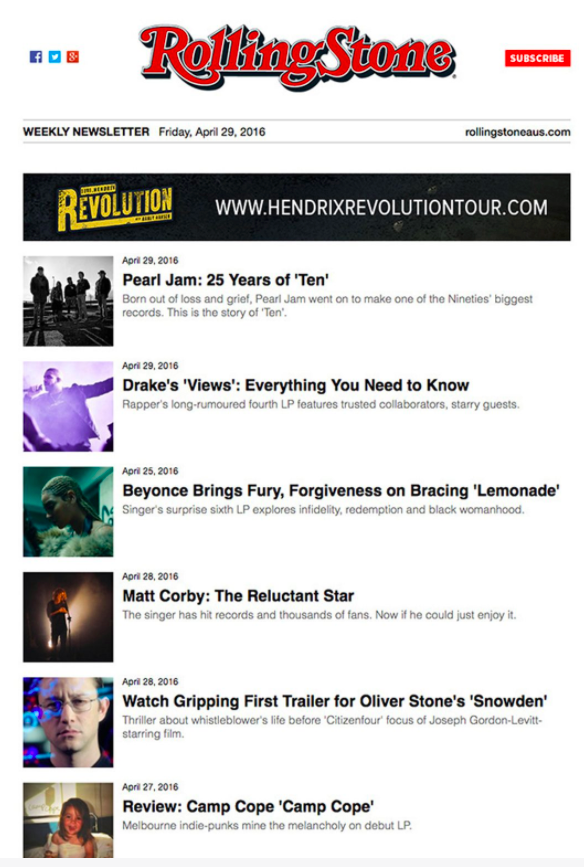 Create newsletters quickly and easily.
To save time and create quality newsletters, you can use templates. Using a template makes creating emails quicker and easier.
The design of an email is the most important element that attracts the attention of its readers and encourages them to engage with the content. A well-devised email will attract your audience to the content that interests them.
Use engaging images.
The best way to make the email you send stand out among others is to use quality images and engaging text.
Make sure the images are compatible with your content and aligned with the titles of the content.
Don't reveal the entire content in the headline.
Instead of revealing all the content in your headline, make sure to provide enough information to get your subscriber to click the link.
For example, Parkrun encourages subscribers to engage and learn more by using a short bio phrase to spark curiosity about the content of the email.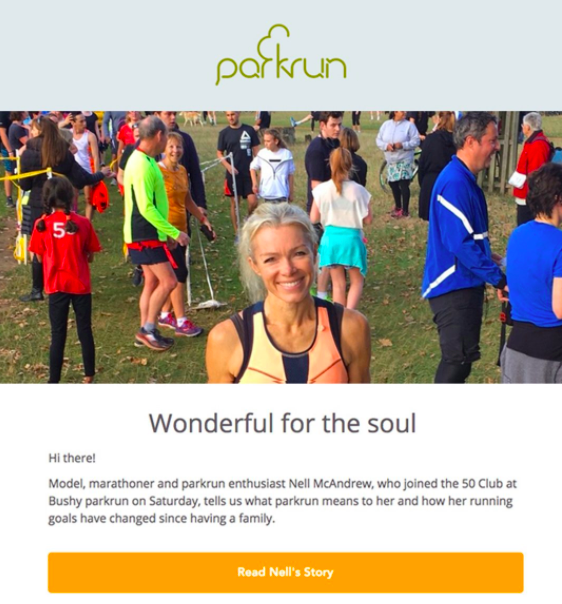 Use your old content.
Don't feel like you have to create new content pages for every newsletter, or that your weekly (or whatever frequency you choose) emails should contain only your most recently posted content. You can incorporate old blog posts into your existing email strategy as well!
Divide your target audience into segments.
Every lead you have has different goals, comes from various industries, and searches for different products, etc. You can develop different email strategies for each specific situation and expectation by using segmented campaigns.
Final remarks:
Including the types of Content Marketing mentioned above into your overall content marketing strategy will help you strengthen your position in the digital world and establish a strong relationship with your leads by increasing brand awareness.
To see content such as "Content Marketing for Beginners" and "How to Make Content Analysis" you can click here.
Have a happy and healthy day full of content marketing!
Kaynaklar:
https://contentmarketinginstitute.com/what-is-content-marketing/
https://divvyhq.com/content-marketing/8-interactive-ebook-examples-to-inspire-your-b2b-content-marketing/
https://blog.hubspot.com/marketing/content-marketing-plan
https://contentmarketinginstitute.com/2020/03/brands-content-marketing-examples-convert/
https://www.brafton.com/blog/creation/6-marketing-podcasts-every-content-marketer-needs-to-hear-in-2018/
https://www.searchenginewatch.com/2020/06/25/how-to-use-podcasting-in-your-content-marketing-campaign/
https://surveyanyplace.com/blog/15-marketers-share-how-quizzes-have-helped-their-content-marketing-efforts/
https://contentmarketinginstitute.com/2013/12/surveys-help-create-effective-content-marketing/
https://www.campaignmonitor.com/blog/email-marketing/what-content-marketers-need-to-know-about-email-newsletters/
https://www.brandpoint.com/blog/6-reasons-why-you-need-email-newsletters-in-your-content-marketing-strategy/
https://econsultancy.com/eight-effective-examples-of-quizzes-in-content-marketing/