---
Keyword Research for Content Marketing
Keyword Research in Content Marketing
---
Content marketing, whose place in our lives is increasing day by day, has direct or indirect connections with many areas, especially digital marketing. Content marketing, which has a direct connection with SEO, is very valuable in terms of interacting with the target audience of our website and keeping the brand up to date. In addition to keeping the brand up to date, it is necessary to develop a strategy for content marketing in many aspects. We can summarize the contributions of content marketing as follows.
Ensuring that the brand meets with the potential and target audience and making it a loyal user status.

Gaining sectoral dynamism.

Keeping the brand up to date.

Creating brand prestige and awareness.

Creating the story of the brand and creating loyalty.

Contributing to conversion rates within the scope of lead.
Content marketing, which has many contributions, allows us to reach the target audience with the right strategy in keyword analysis. Especially businesses aim to reach the target audience by prioritizing this work. You can access our comprehensive content on why businesses need a content marketing strategy here.
Keywords refer to the word groups that users have realized in search engines. Individuals with word groups can use their actions in the content in a structure suitable for the target audience. In this way, it is aimed to provide users with meaningful content related to keywords and to list the content to users in the top ranks. These words make it easier for us to determine our content marketing strategy.
Failure to include keywords on the page may cause us not to be listed on the search results page. Therefore, it is very important to conduct accurate keyword research and use these words in a meaningful structure. Although there are paid tools such as Ahrefs, Semrush, and Search Metrics that we can use in keyword research, there are also free tools such as Ubersuggest, KeywordTool.io, keyword planner, and Google Trends. We can use any one or more of these tools in our keyword research.
Now let's talk about how to do keyword research in content marketing step by step.
Keyword research is very valuable for reaching the target audience and increasing brand awareness while building a content marketing strategy. For this, we can choose many paid and free tools. First of all, let's examine keyword detection in free tools.
For this, we can basically examine Google's suggestions for the focus word on the search results page. For example, we can see 10 suggestions as a result of the content marketing query. To increase the number of these suggestions, we can add an asterisk (*) at the beginning, middle, or end of each word.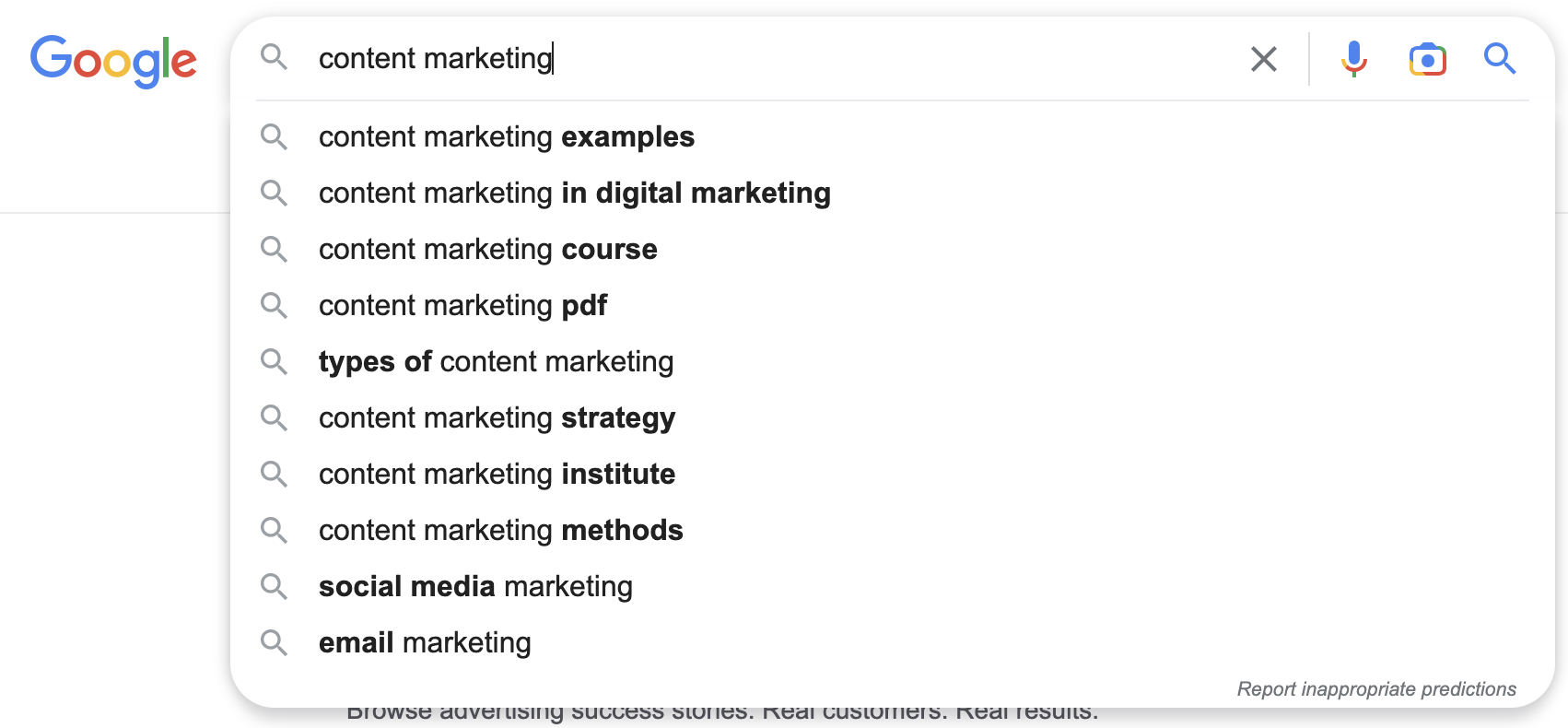 In addition, as a result of Google query, there are some queries the people also asked. Examining these words is also very important in order not to miss opportunities.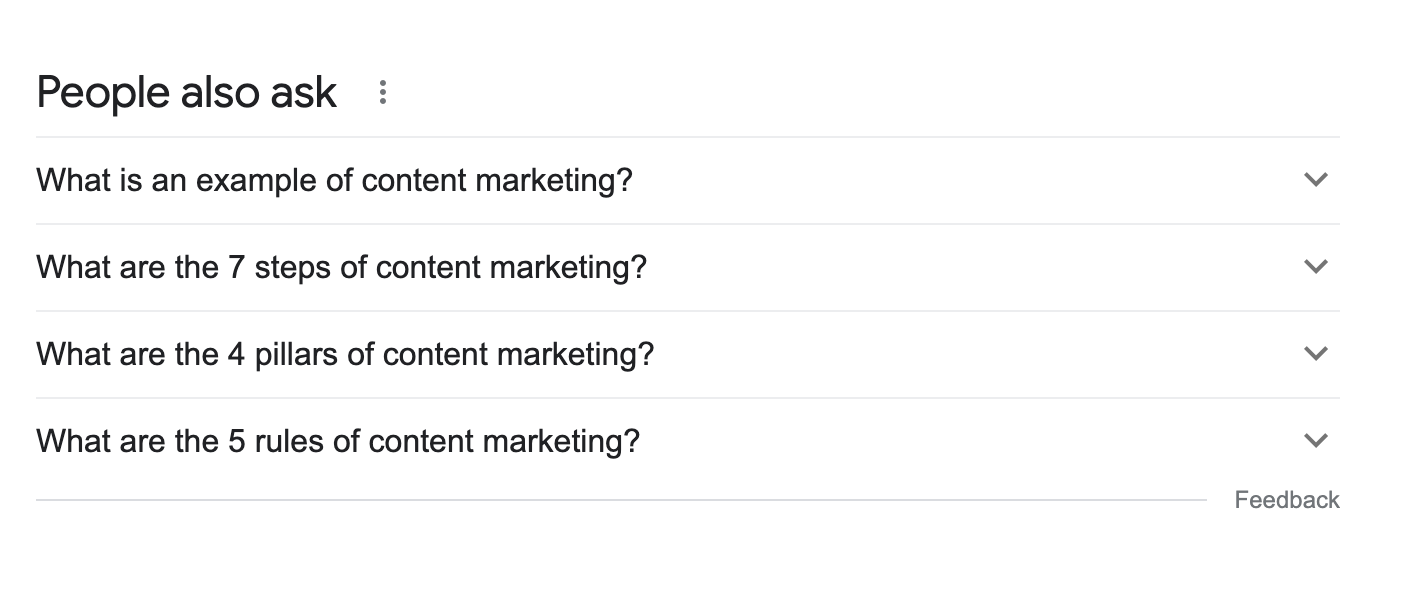 At the bottom of the page, we should also take a look at the words in the related searches section.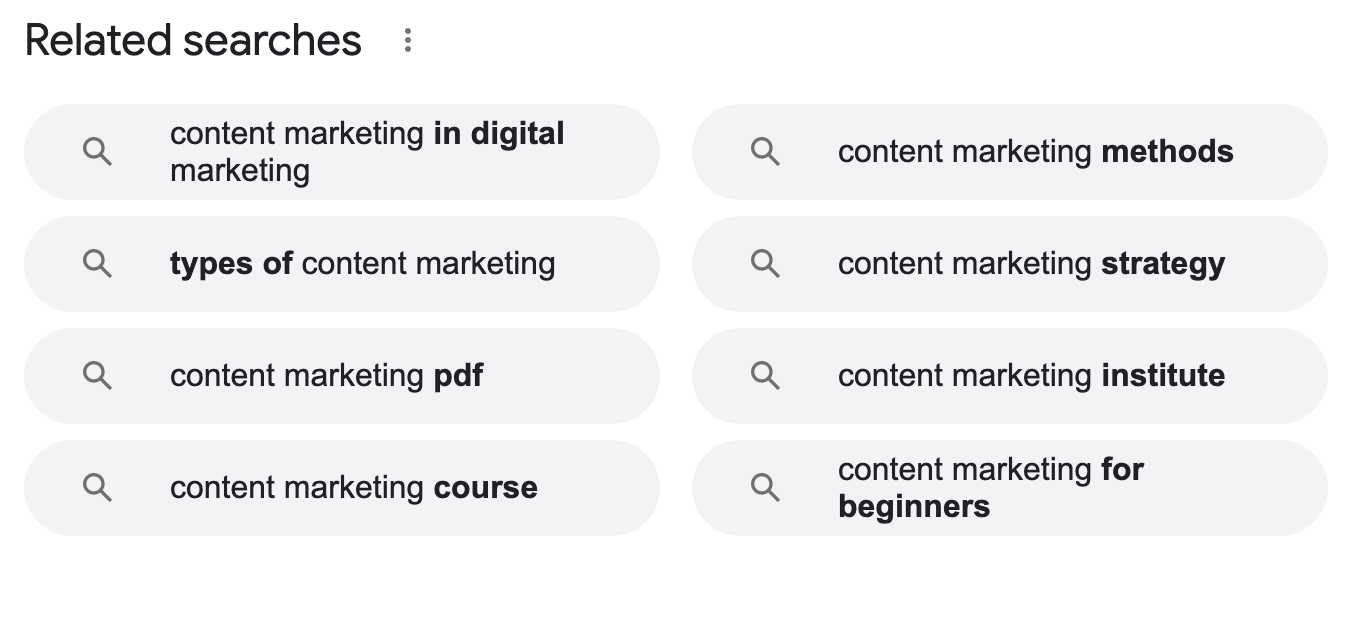 We can also use Google's keyword planner tool for keyword research for free. For this, we can access it by clicking here after logging in with a Gmail account. In the window that opens, we can access data on the detection of new keywords or search volume and forecasts.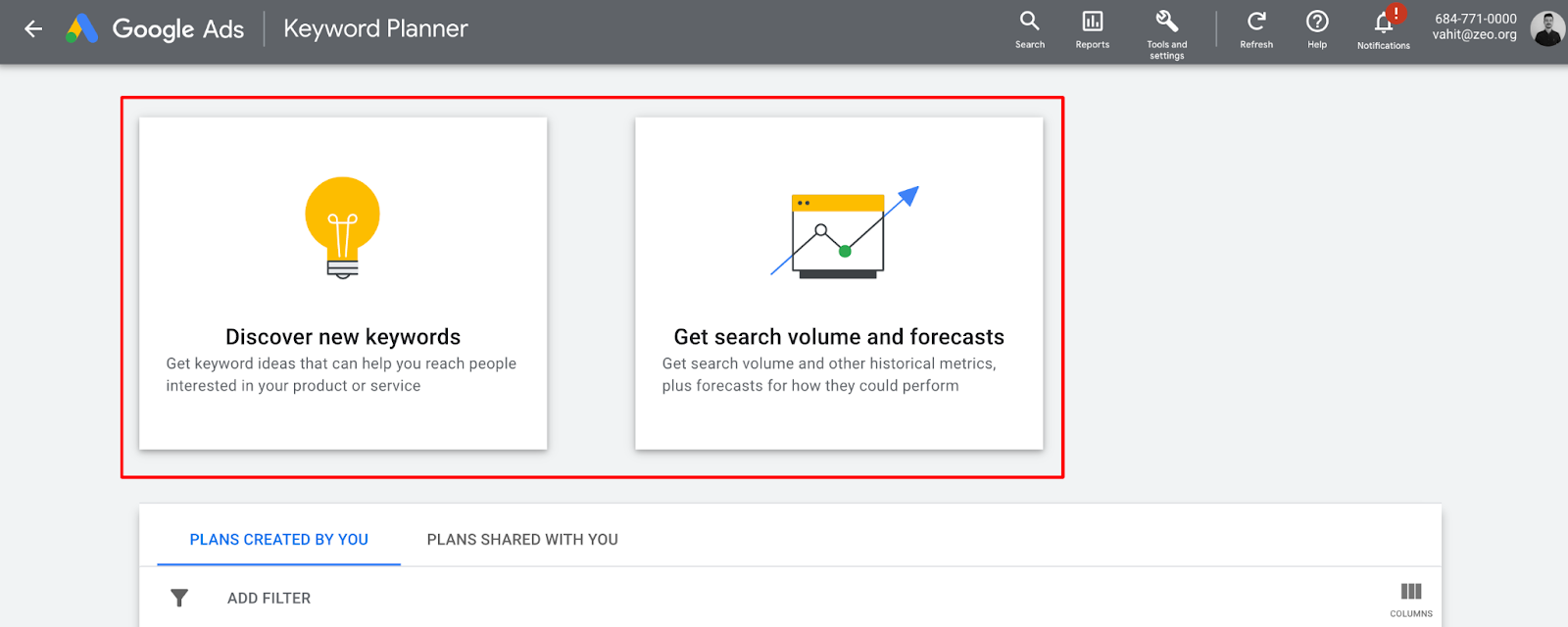 Using the Ubersuggest tool, we can access suggestions that can support the process with keyword research and more comprehensive data.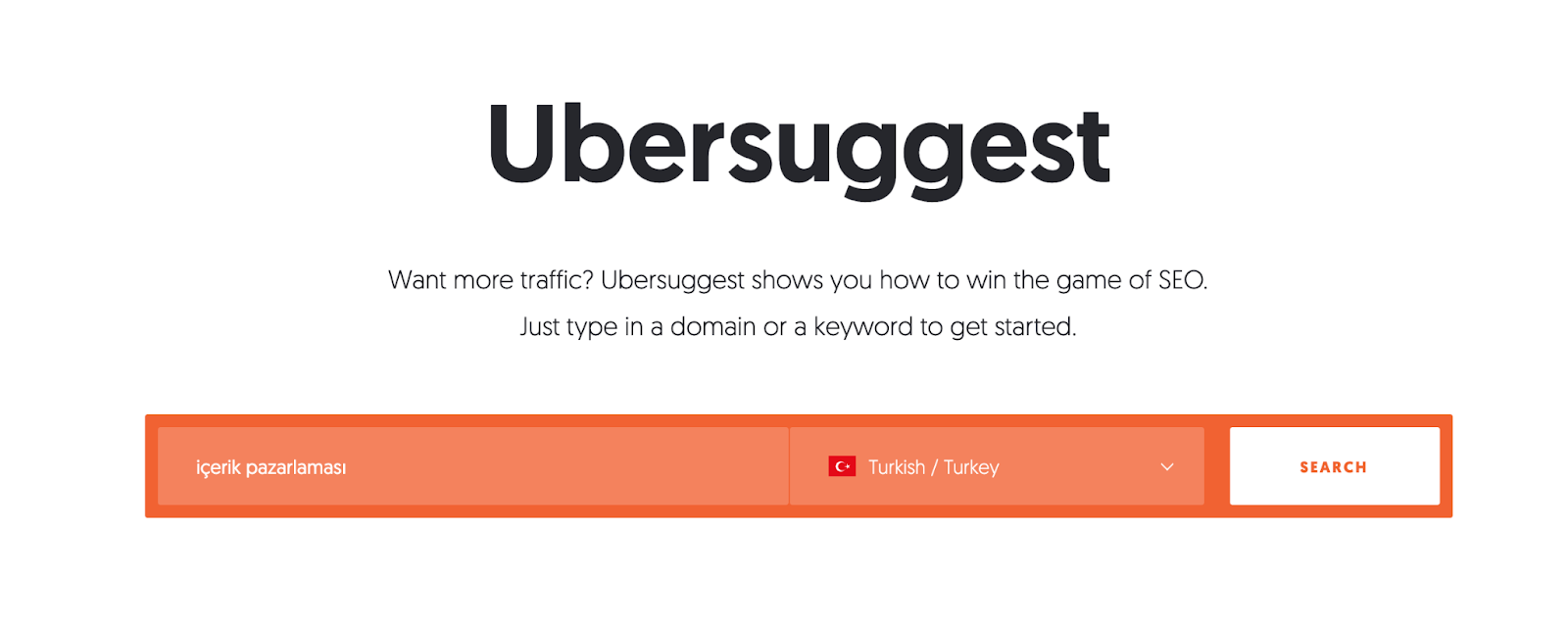 Keywordtool.io is another tool to check out for keyword research, although it offers some limited features.

With the help of Google Trends, we can track the popularity potential and trending status of words. Apart from these tools, there are also many websites that offer free keyword suggestions. If we want to access more data to improve our content marketing strategy, we can also use paid tools such as Ahrefs, Semrush, and Search Metrics. You can find detailed information about the keyword research module in the Ahrefs tool here and how to conduct keyword research with Semrush here.
After explaining which paid and free tools can be used for keyword research, we can examine how to conduct keyword research for content marketing.
Identifying and Grouping the Topics in the Content Strategy
It is not enough to prepare content that can be useful to users on the website. The content and the page should be created in accordance with the target audience from a wide perspective. When we want to ensure brand awareness, we can start by thinking about the desired issues and areas of expertise. For example, we want to be visible in content marketing services and create brand awareness. For this, we want to be recognized for content service, slogan content, podcast production, and infographic design. To implement these, you need to develop a strategy for your topic clusters on the website. For this, you can review the Topic Cluster content that we have prepared in the past months by clicking here. If we develop the strategy for our topic clusters, we can take the most effective actions to increase both visibility and traffic.
After determining our target topics, we should include other supporting topics around the main topic in our content strategy. For example, let's assume that we have a topic cluster focused on content marketing. We can also consider content titled the impact of content marketing on SEO as a supporting part of our cluster.
Investigating Keyword Variations on Topic Cluster
After determining which theme we will create the target topic within the framework of which theme and with what strategy, the most important issue is to determine which queries and terms the target audience wants to access our topic cluster by using tools for keyword research. For this, we should categorize the relevant queries using the paid and free keyword tools mentioned above.
Here, let's collect all the words obtained from the tools in a list, especially for keyword research. We can group the words in this list in more than one metric if possible. For example, we can add information about the type of relevant word, search volume, user search intention information, and appearance on the search results page.
In this section, Semrush's word research module in particular provides very meaningful metrics for keyword research for content marketing.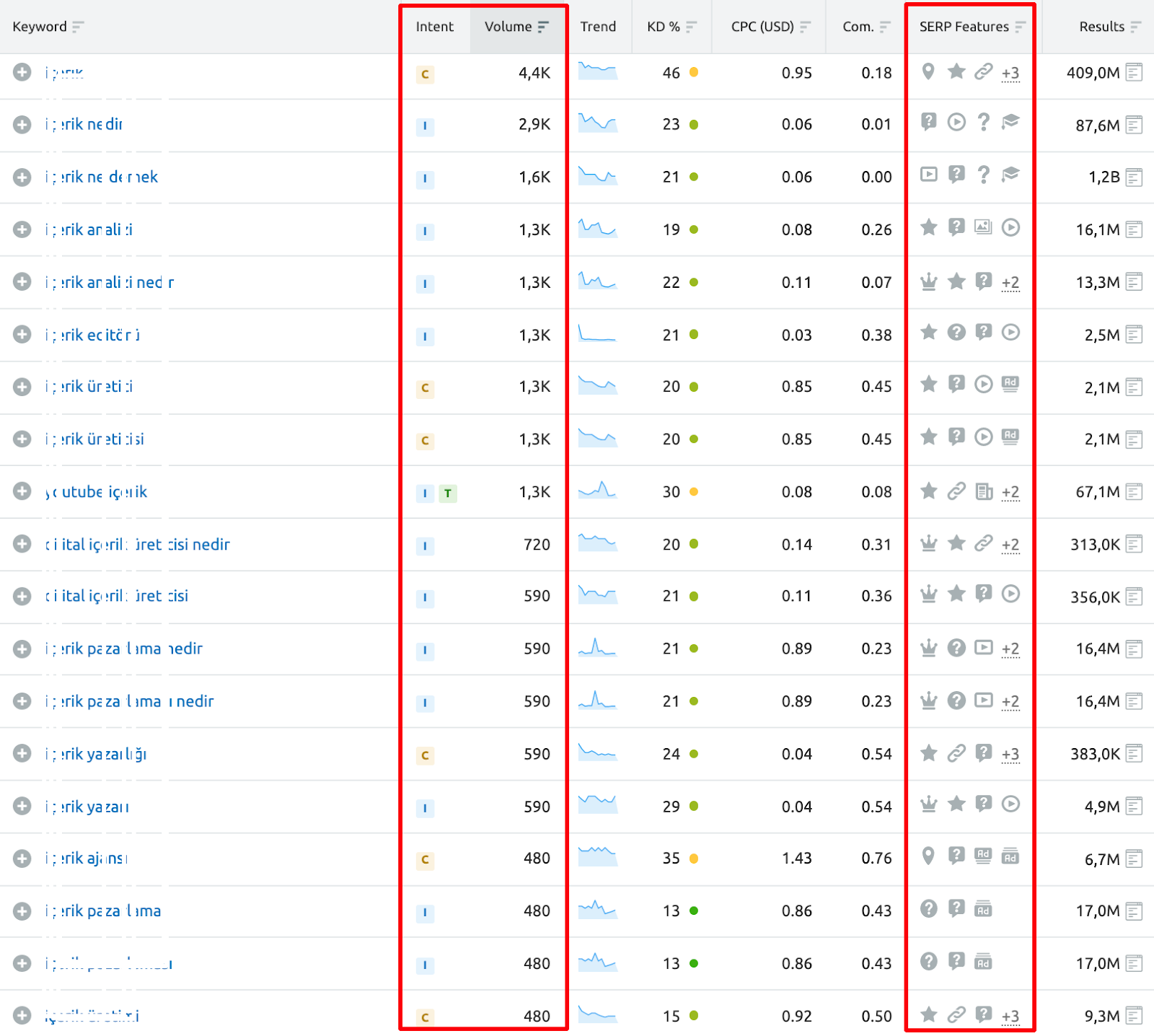 Combining Keyword Variations
Once we have searched for all the keywords and their variations, we can add them to excel as a grouped whole. Here we can determine the type of the related word. Generally, keywords with high search volume and consisting of one or two words are called short-tail keywords. Generic words are very similar to short-tail words. Keywords other than these keywords, which usually consist of three or more words and have lower search volumes, can be referred to as long-tail keywords.
If possible, we can add the search volume of the relevant word to our excel work through tools such as Keyword Planner, Ahrefs, and Semrush. Here, let's specify the structure in which we can target the relevant subject set, that is, what kind of page the user wants to encounter as a result of the search tendency, as the search intention type.
Informational: These are the types of queries that users are looking for an answer to a question or to obtain information about a specific topic.
Navigational: This type of query is performed when the user performs a search for the place they want to go or brand/location information. For example, a user who performs a Zeo query has a navigational type of search tendency.
Commercial: These are the types of queries that the user has not yet made a decision on or is in the process of making a decision.
Transactional (Transactional, Purchase Purpose): These are the queries that the user performs for purchasing purposes. For example, a user who searches for Zeo content marketing services has a transactional type of search tendency. These types of queries are the highest type of queries that websites can convert. For detailed information on user search trends, you can review our guide content by clicking here.
The information on which SERP features a query is listed on the search results page is as important as the user intent information.

Information about SERP features refers to how the relevant query is listed on the search results page. For example, when we query "what is topic cluster", we see that there is a SERP feature like the one below and our website is listed. We can access information about which SERP features the words can be listed with, especially from tools such as Ahrefs and Semrush.
After supporting the relevant queries with additional information on various issues, we should make a choice about which words we will start working for.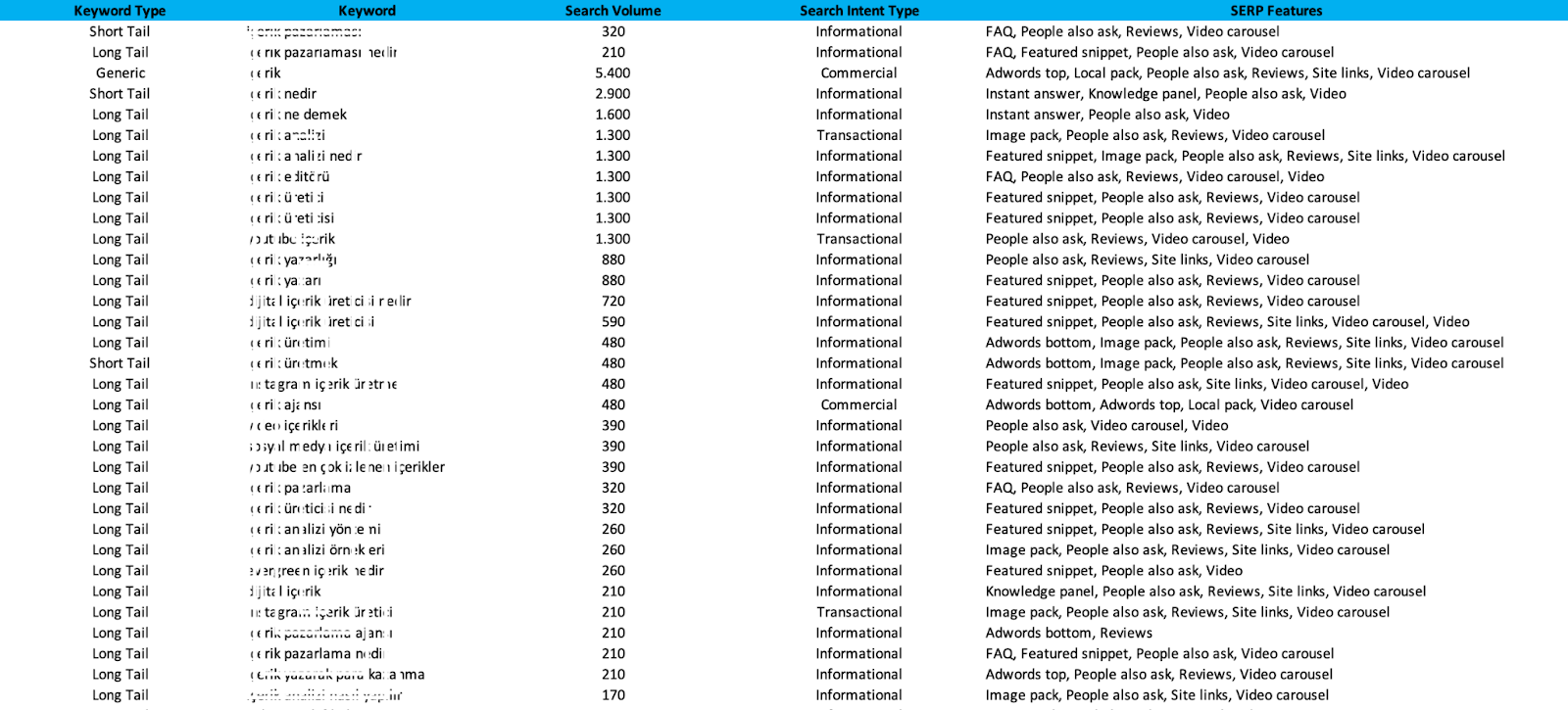 Especially for a new site with no traffic, starting to work on long tail words will provide a faster increase in traffic. You can access our content on the contribution of content marketing in SEO efforts while obtaining organic traffic here.
After choosing the words and target audience, we should decide which type of content we will benefit from. For example, while creating a page on content marketing, a checklist content structure can be used, while on a success story-specific page, we can benefit from the case study structure in the infographic content type. You can access comprehensive information about the types of content marketing we can use on our pages from our content here.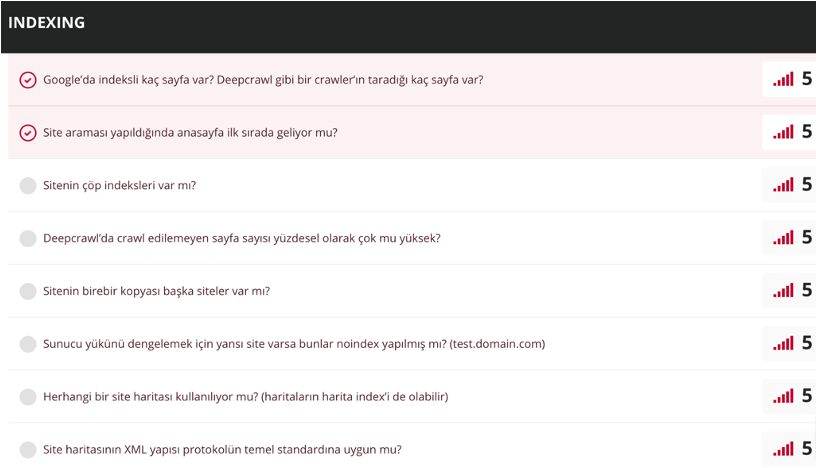 After information such as the type of content that can be used in the page structure, which words will be targeted, and what kind of structure the page will be created, we can prepare the page content and present it to the users in a useful structure. We can access the content brief creation tool in Zeo tools here and get support.
In summary, by developing a strategy for content marketing, you can make your website more visible in many ways. In this context, we wanted to share with you how we can perform a keyword analysis in a structure where we can capture the target audience and how we can present these words to users in a suitable structure. If you have any questions, you can share them with us in the comments area.